Once upon a time my husband and I decided to buy "real art" for above our fireplace.  It was a great idea until we grew tired of it, because then we felt obligated to keep it because we knew how much it cost.  It stayed up there much longer than I would have liked.  Since then, I have only bought my "art" at thrifty spots (like Minted, World Market, or Target), or made my own, because I don't feel guilty swapping the pieces out when I need a refresh.
After repainting the foyer and stairwell, it was time for some new art at the top of the landing.  I turned to my favorite trick of using wrapping paper for art and made the Easiest DIY Wall Art Hanger ever, and now I have two adorable new art prints on my staircase landing!  You won't believe how simple this project is.  I have a feeling you'll want to update your "art" with some wrapping paper and a DIY wall art hanger, too!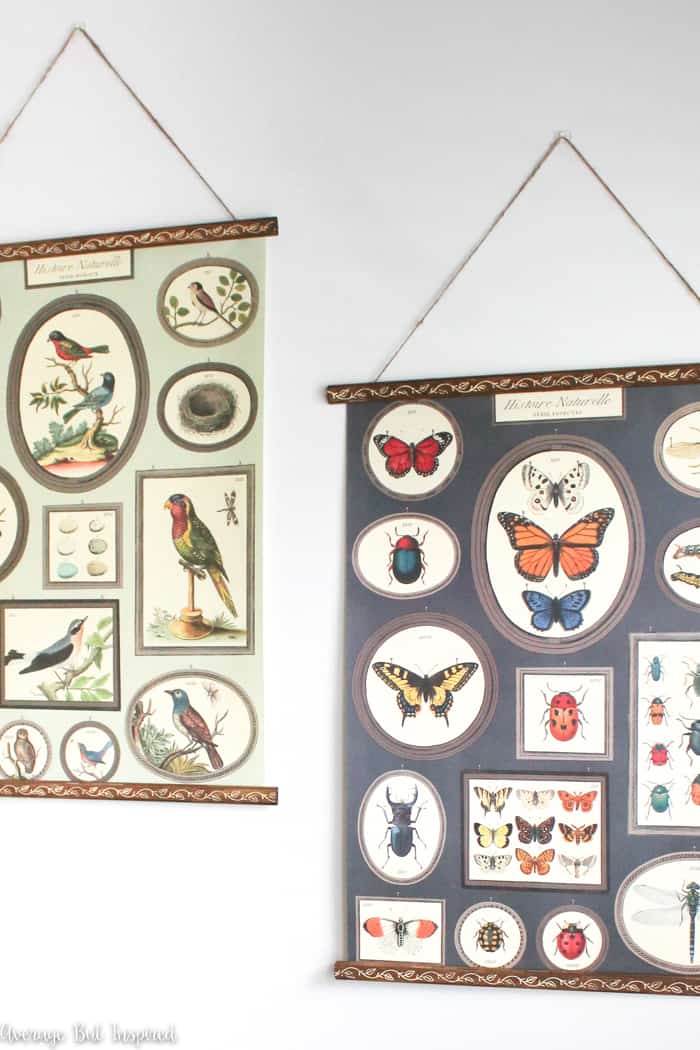 Supplies Needed for a DIY Art Hanger
Some of these links are affiliate links.  To read my full disclosure policy, please click here.
How to Make a DIY Art Hanger
Begin by measuring the width of the poster you're hanging, and then add approximately two inches to that measurement.  Mark your trim piece and cut it with the wood saw in the miter box.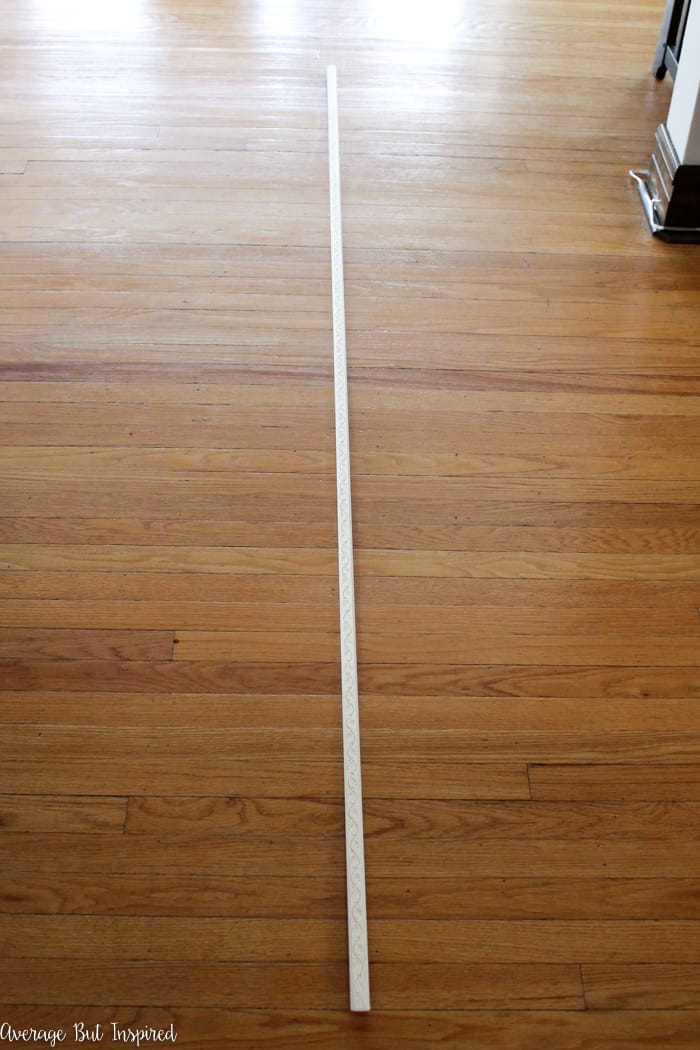 Then, stain or paint the trim pieces however you like.  I used my favorite wood stain cloths for this project because they have no odor (so I can use them indoors), and the stain dries really quickly!  I love how using a light coat of stain on the trim left the leaf pattern unstained.  The contrast is awesome!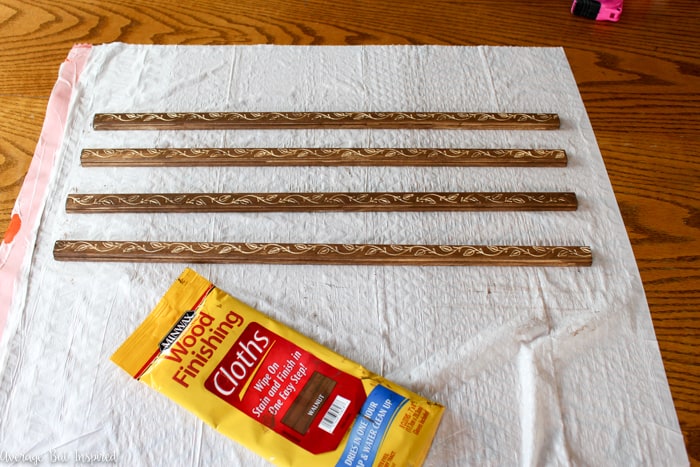 Once the stain dries, flip the trim pieces over and measure about two inches in from each end of the trim.  Mark that off with a pencil.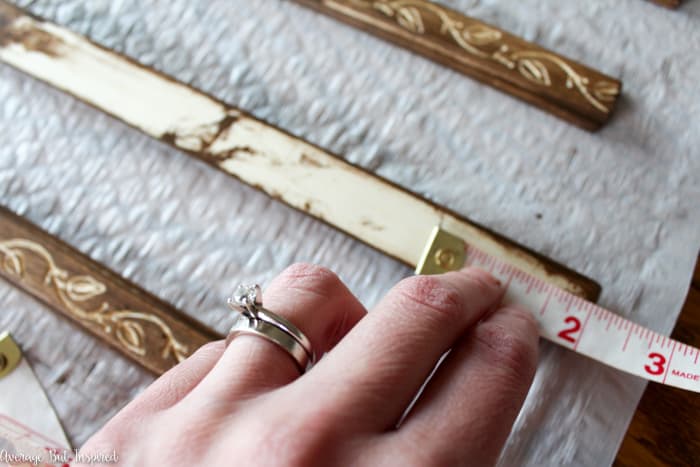 Cut a piece of twine to serve as the hanger (so, cut it to whatever length you want).  Place a line of hot glue on the pencil marks you've just drawn, and press one end of the twine into each line of hot glue.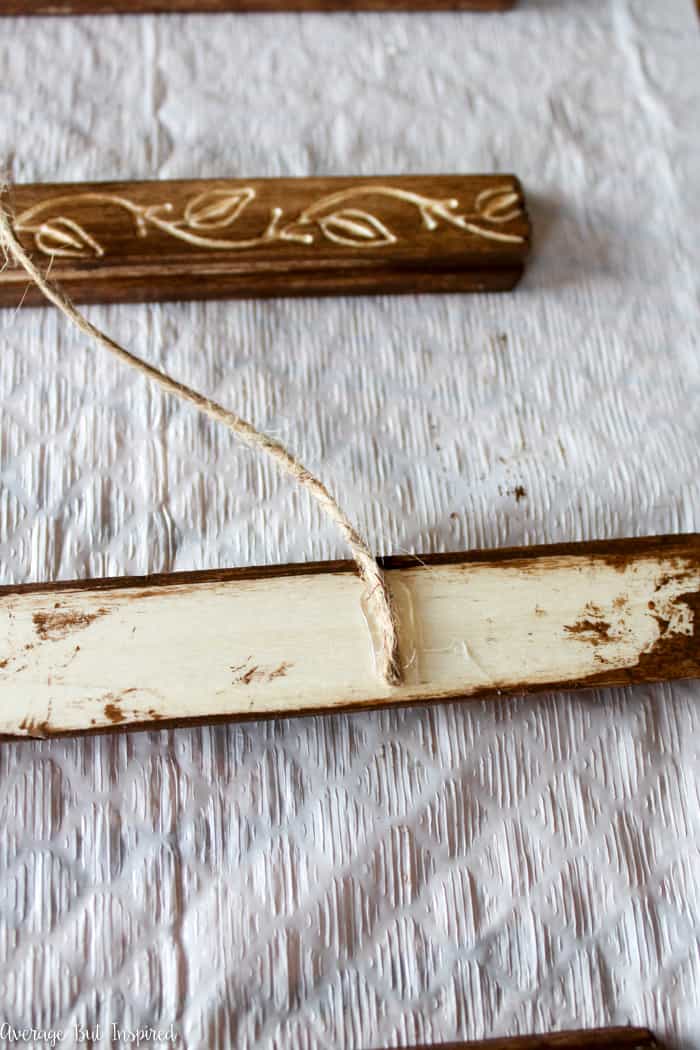 Once the hot glue is dry, press permanent double-sided mounting tape along the backside of the trim piece.  If you can avoid it, do not run the tape from edge to edge (like I did) – leave a little bit at each end untaped since your poster or artwork is not that large.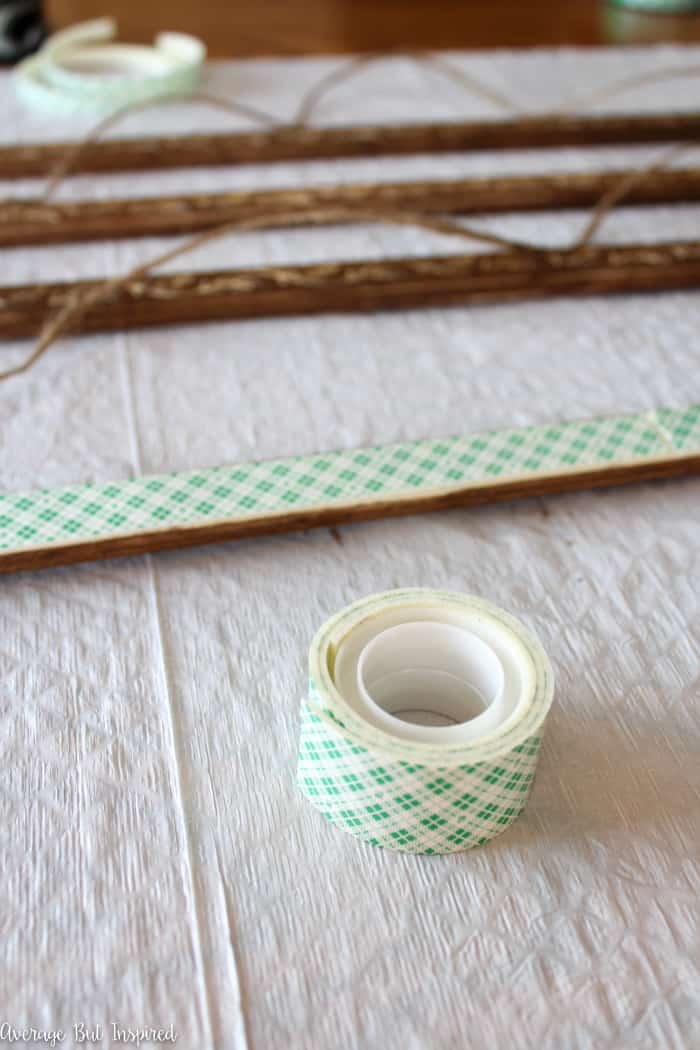 Once the tape is in place, remove the top protective layer and press the trim piece into place on top of the art.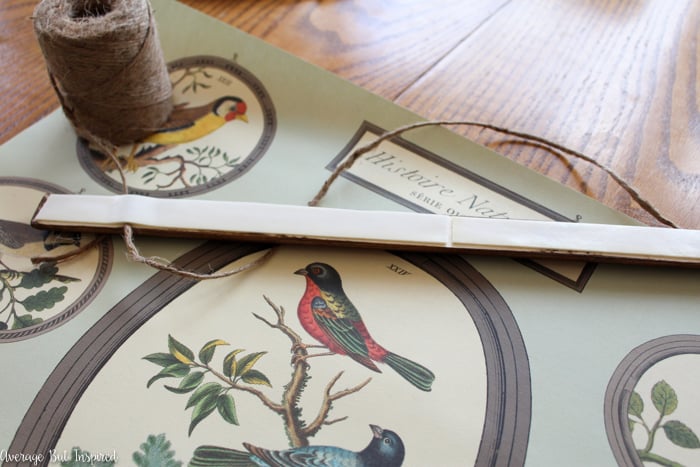 Do the same for the bottom piece.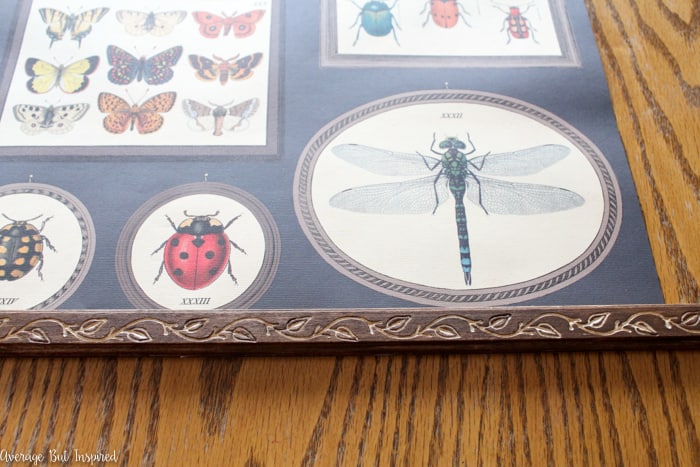 Make sure the trim pieces are secure on the art and then you're ready to hang and enjoy!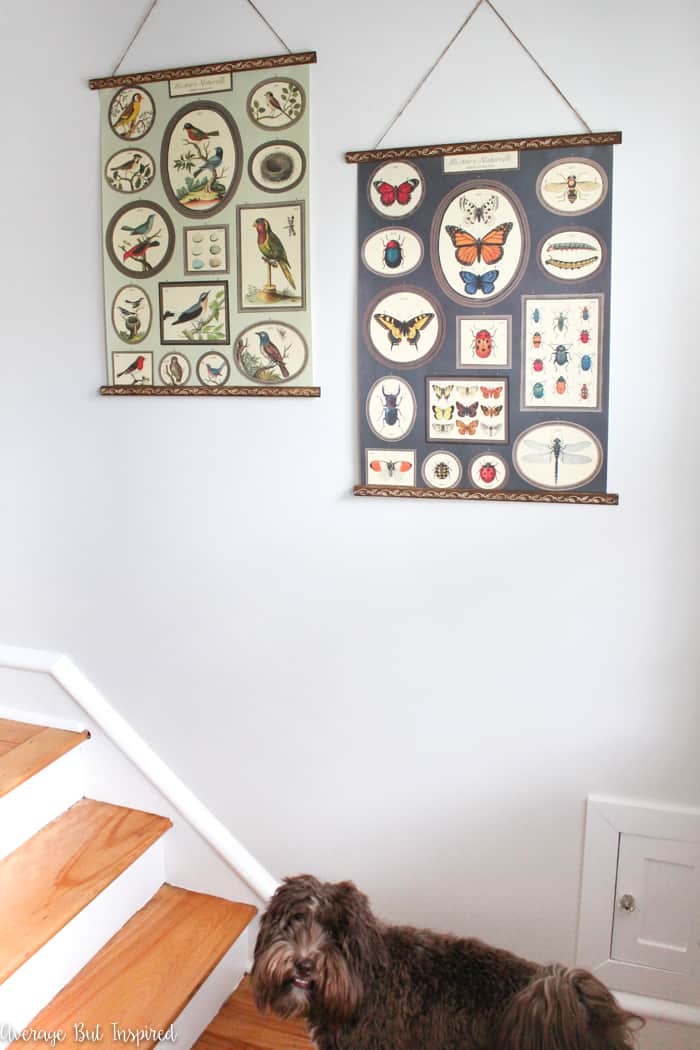 This easy DIY Wall Art Hanger makes it so easy (and affordable) to add new art to your home!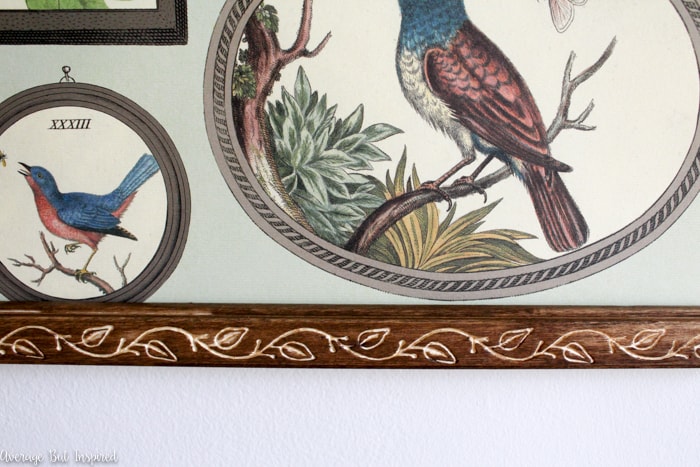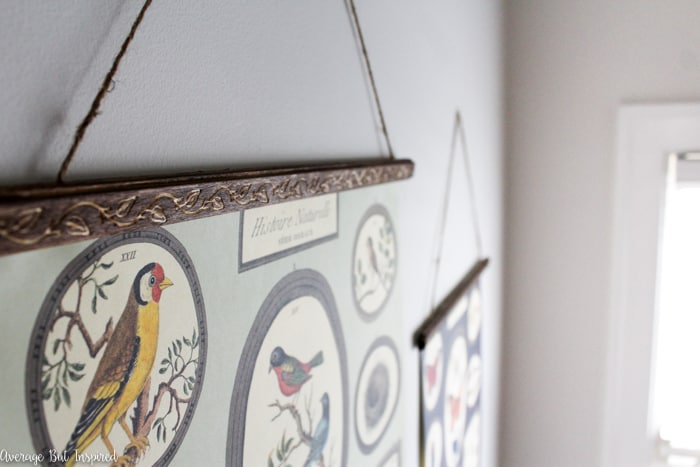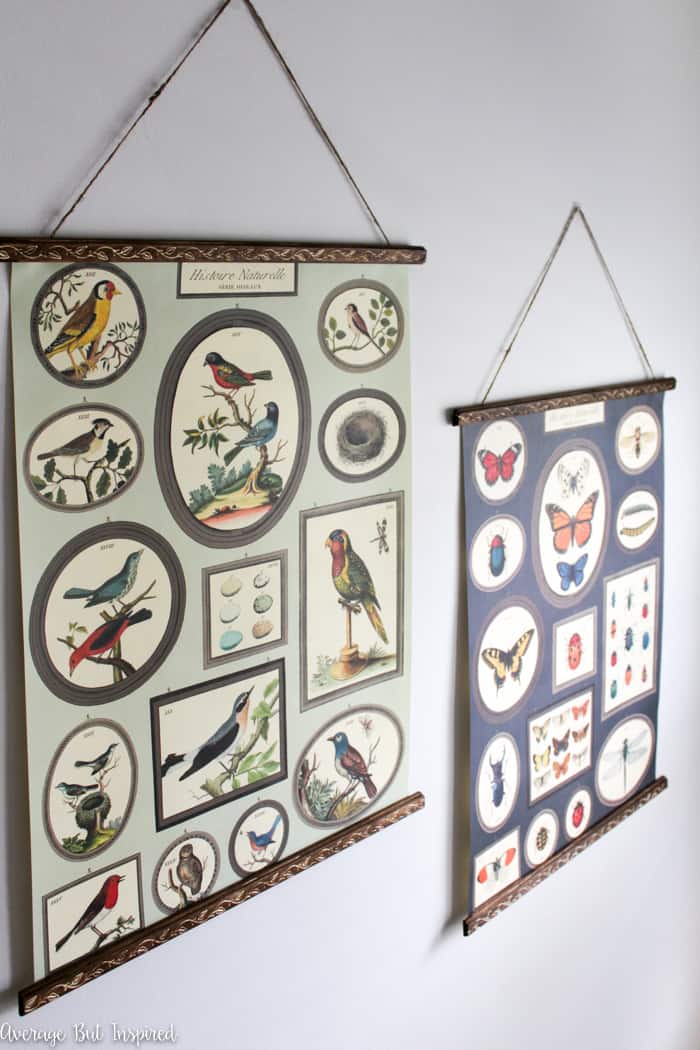 I'm already so happy with how this little spot in my home is shaping up, but I am SO EXCITED because I have even more big plans in the works for this area and I can't wait to show them to you in the next few weeks!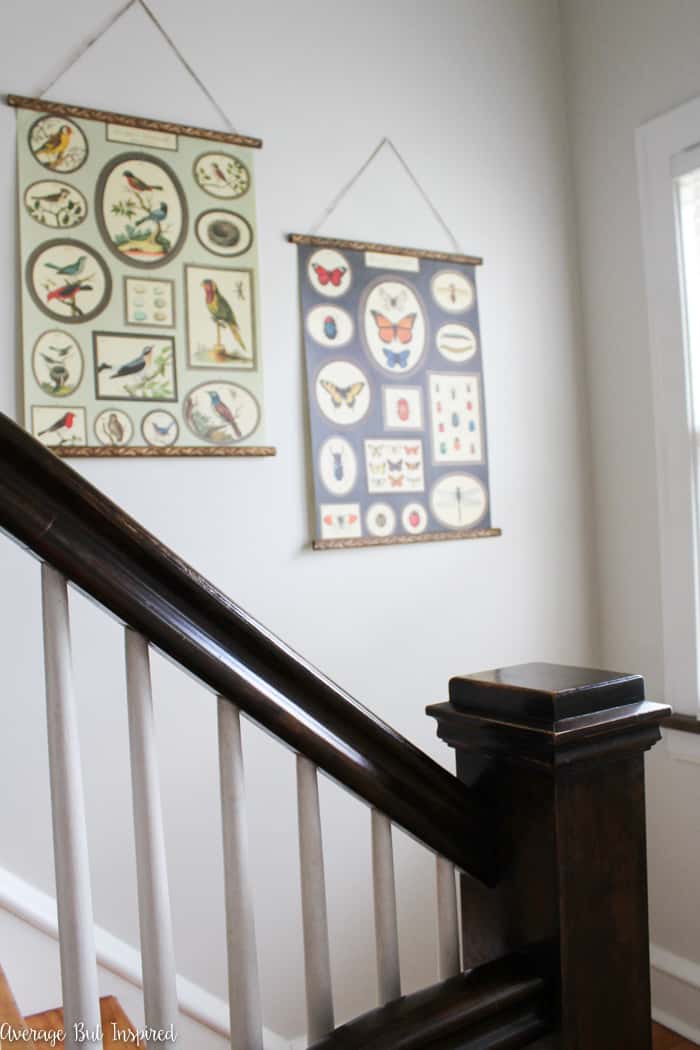 Stay tuned!  And until then, think about where you could use a DIY Wall Art Hanger in your home!
-Bre