I hope I'm not jinxing it by saying that spring has finally arrived in Chicago, but with beautiful sunshine and temps in the 70's, I think it's safe to say that winter is gone! I am really looking forward to sprucing up my backyard and patio this season, and I have the first project to share with you – my new outdoor hula hoop wreath!
Yes – I turned a hula hoop into a large outdoor wreath and I'm going to show you how to make one for your outdoor space, too!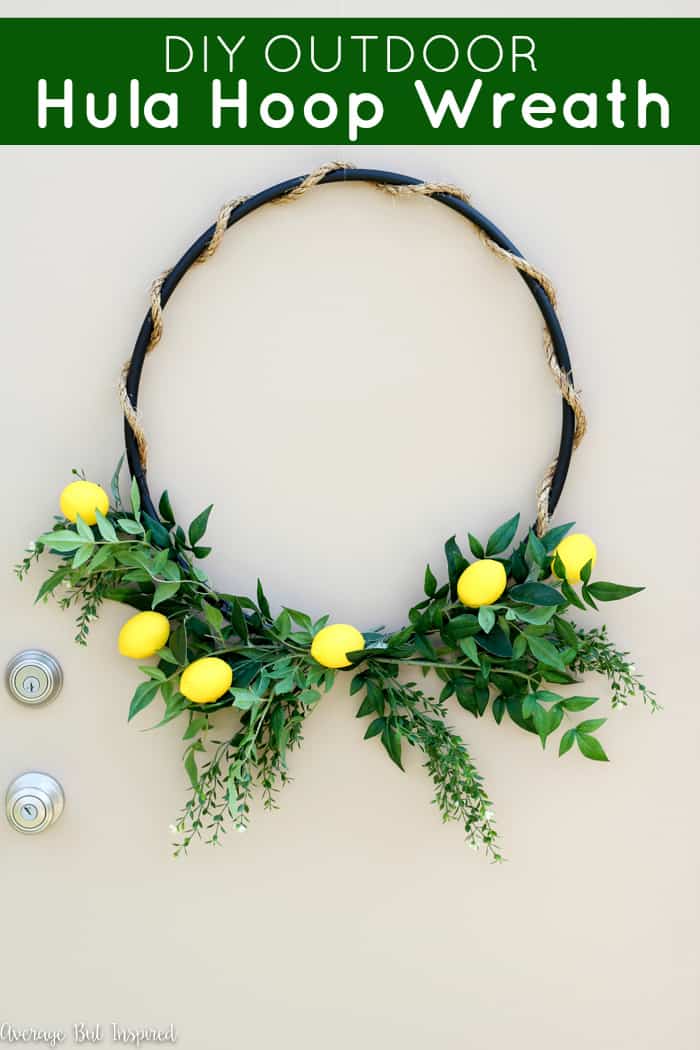 I wish I had some pretty backyard shots to show you, but my grass is barely growing, I have no flowers, and everything still looks kind of blah. So you'll just have to see my wreath for now and check back later in the season to see how it looks with the rest of my backyard setup!
Supplies Needed for a DIY Hula Hoop Wreath
This post contains affiliate links. To read my full disclosure policy, please click here.
These are the supplies I used to make the hula hoop wreath as shown in this post. You can substitute anything to make the wreath your own style!
Hula hoop (I bought mine at the dollar store)
Faux greenery (I picked out two types at Michaels)
Scissors
How to Make a DIY Outdoor Hula Hoop Wreath
If you've read this far, I think it's safe to assume that you're into this project. But in case you're not, let me tell you why you'd want to use a hula hoop for a wreath. The answer is that hula hoops make very large wreath bases at a very inexpensive price point!
OK, so let's get started on crafting a wreath with a hula hoop.
Hula Hoop Wreath Step One: Make the Hoop Plain
When I started, my hula hoop looked like this – it had a bright pattern all over it.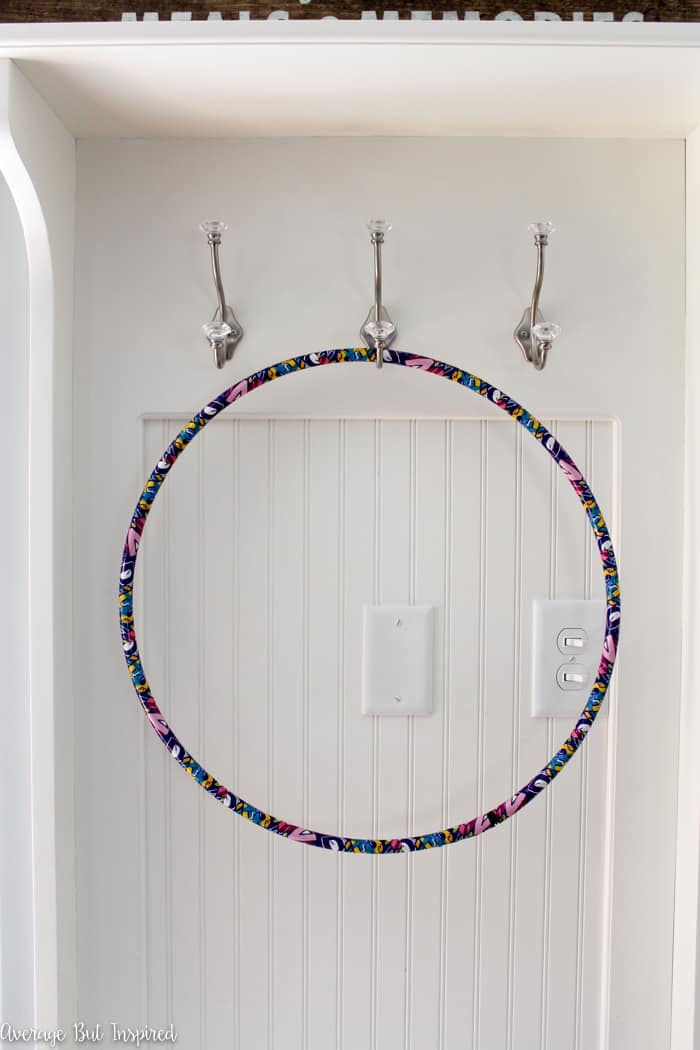 The pattern was just tape, so I peeled it all off to reveal a plain, brown hula hoop. Not so good for kids, but perfect for my wreath!
If your hula hoop is not decorated with tape, you could spray paint it to get a solid color.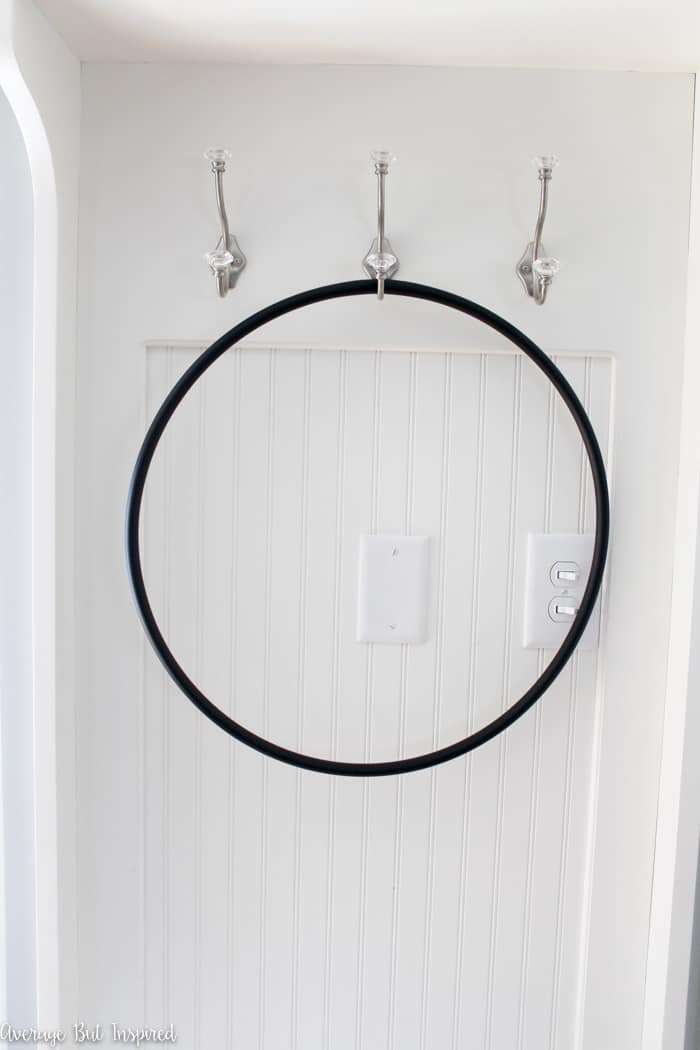 Step Two: Attach Greenery to the Hula Hoop
I started to transform the hula hoop into a wreath by attaching pieces of faux greenery to the it with Gorilla Tape. This tape worked perfectly because it is the same color as the hula hoop and because it is SO STRONG and waterproof – perfect for outdoors!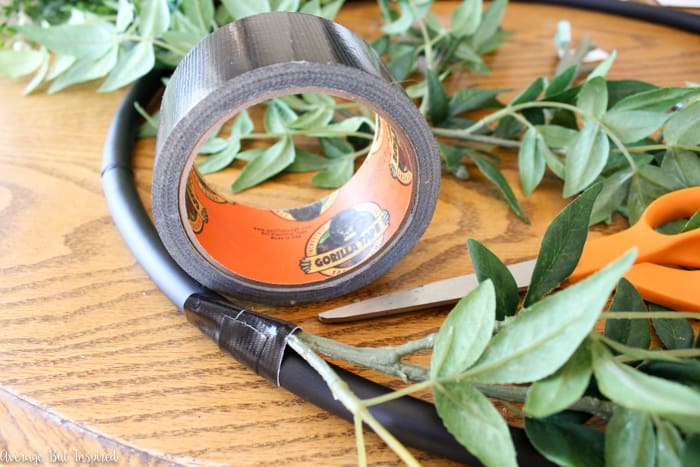 After I had a first layer of greenery on the hula hoop, I attached a different type of greenery to the hula hoop – also with the Gorilla Tape. The first type of greenery had large leaves; the second had small leaves and tiny white flowers.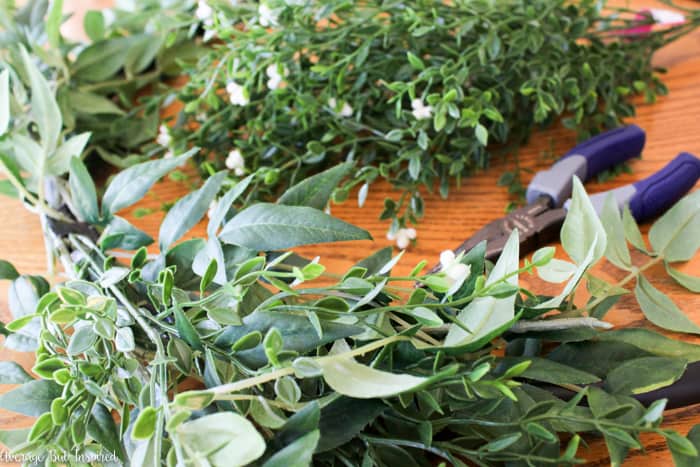 Then, I used floral wire to wire in some faux lemons. I liked the pop of color the lemons added. Plus, they're summery and fun. (If lemons leave a sour taste in your mouth, skip them. :-))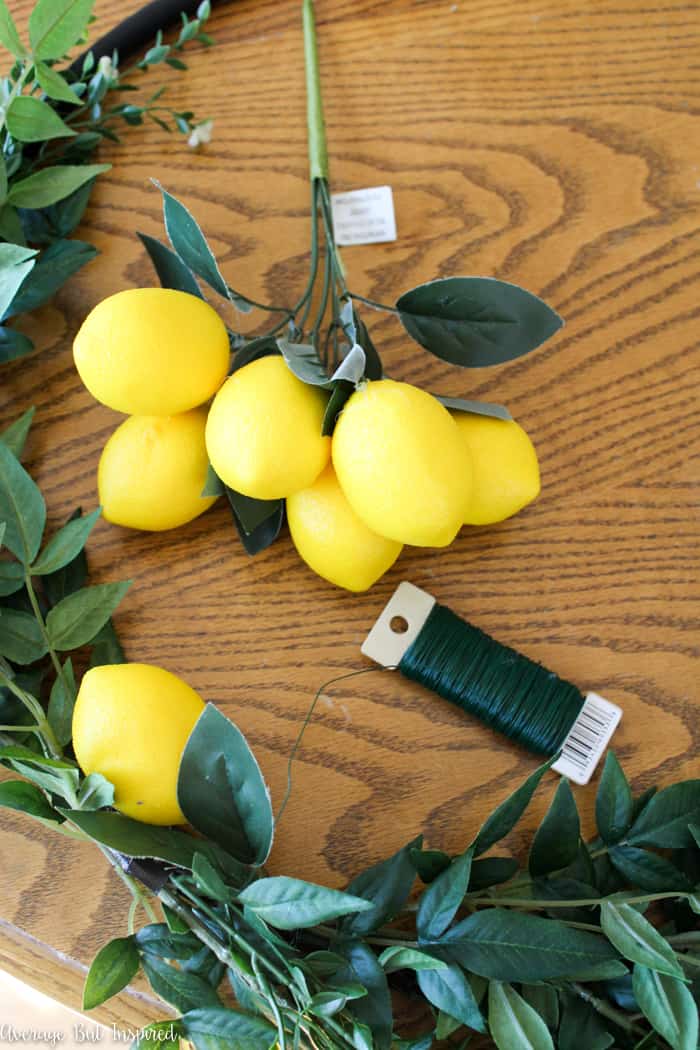 Hula Hoop Wreath Step Three: Protect the Greenery from Fading
Once I had everything on the hula hoop, I took it outside and sprayed it with UV Floral Protectant.
Faux flowers and faux greenery can become discolored by the sun when left outside, so spraying them with this UV Floral Protectant helps preserve the color. The vibrant colors will last so much longer!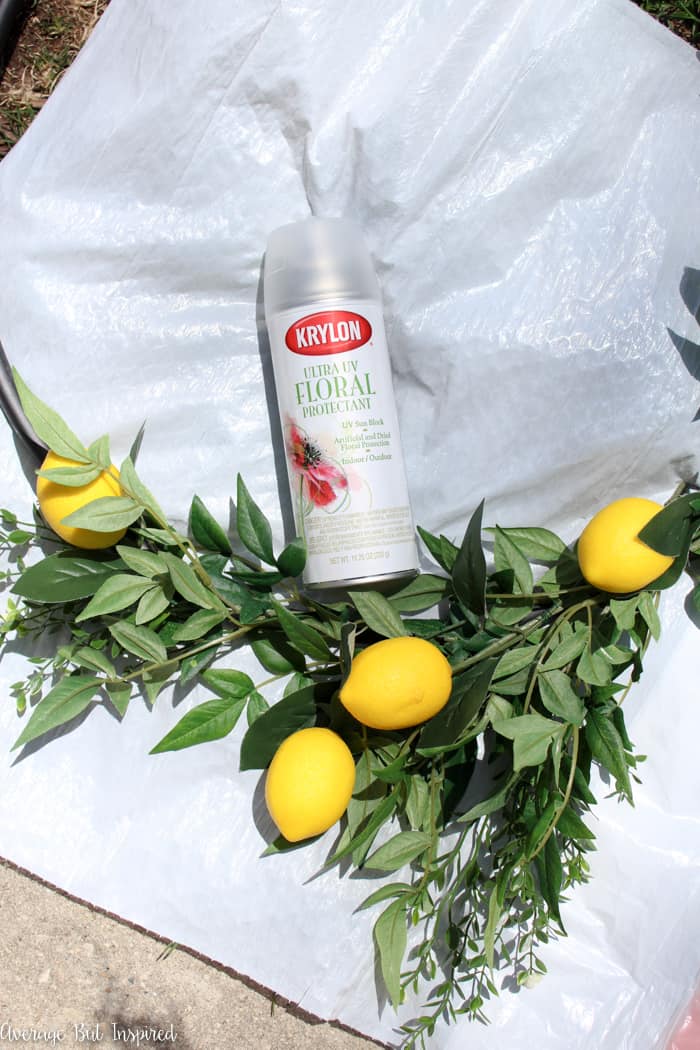 Step Four: Wrap the Hula Hoop with Rope
After that dried, I cut some rope and fastened it to the top part of the hula hoop (where the greenery doesn't show), with the Gorilla Tape.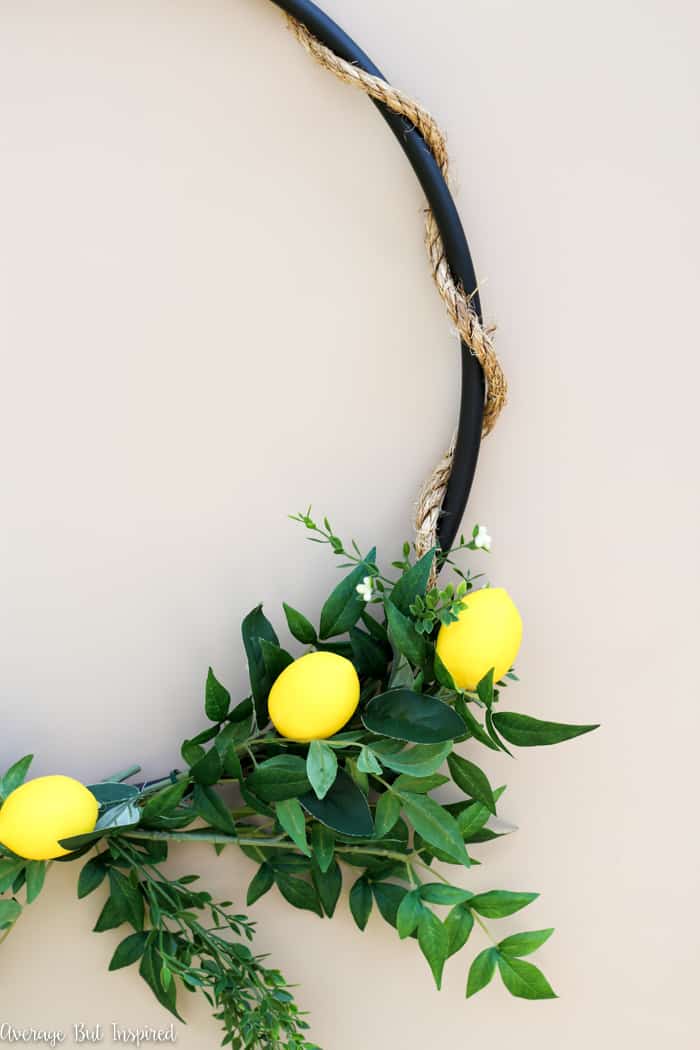 I then hung the hula hoop wreath from the side garage door (I have a detached garage that is next to my patio), with fishing line. I put the hook on the inside of the side door and strung the fishing line over it so that the wreath hanger is not visible on the door.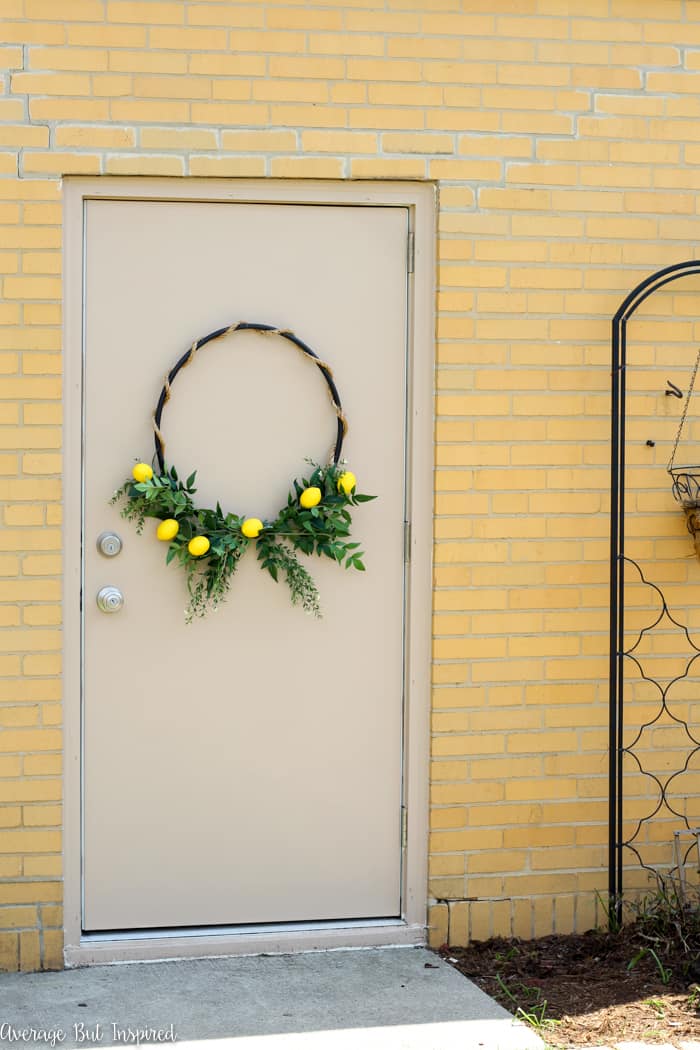 This outdoor hula hoop wreath is super cute and was such an inexpensive way to add a decorative touch to my (currently) bare patio area!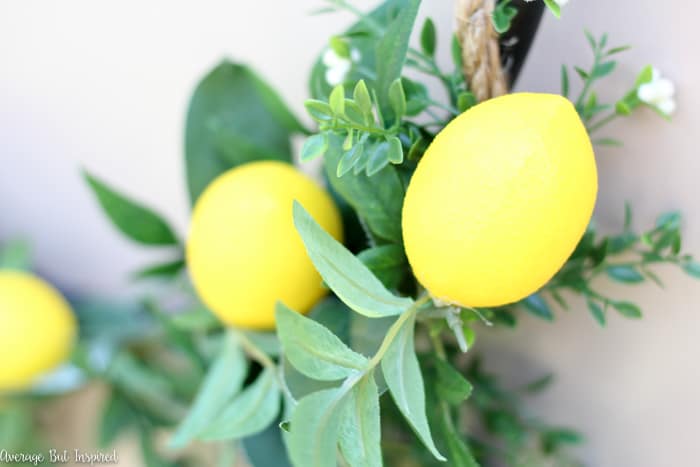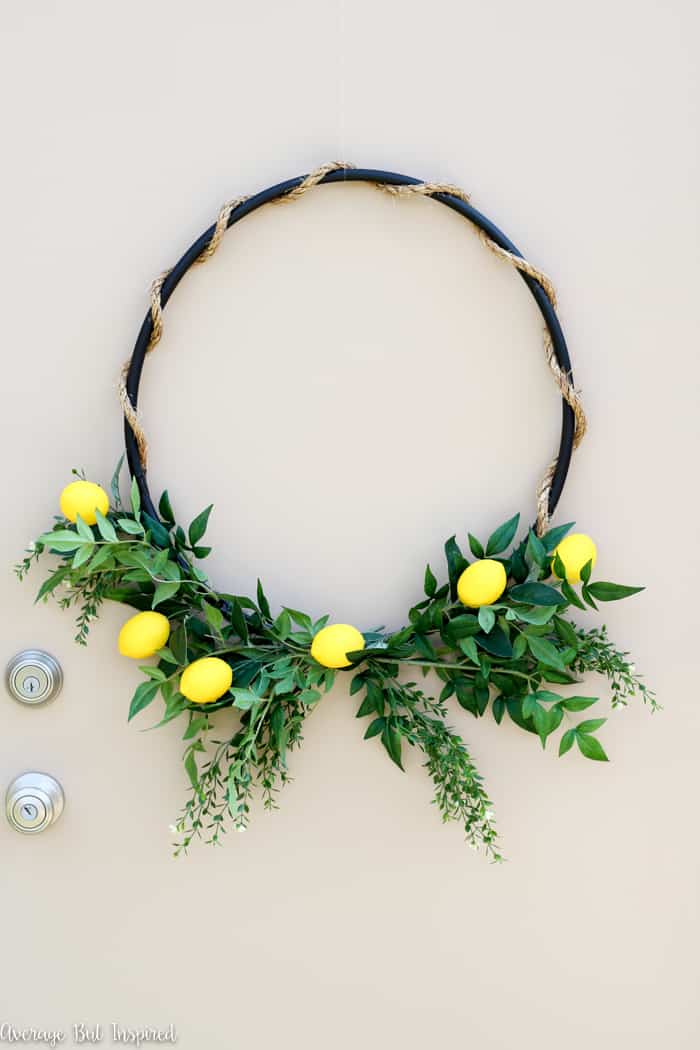 Now I just hope some flowers bloom out there soon so we can really enjoy the patio and its pretty colors!
-Bre