Several years ago I refinished my childhood dresser for use in my son's bedroom. I recently got the matching lingerie chest of drawers back from my sister, and I couldn't wait to give it a makeover, too! My son's room has enough furniture already, so I decided to make over this piece for my husband (as, like most men, he needs all the storage and organization help he can get!). I tried a new denim faux finish furniture painting technique on it and I'm so excited to show you how to replicate the look on your own projects! Before we get to the good stuff, however, take a look at the dated "before" of this chest of drawers!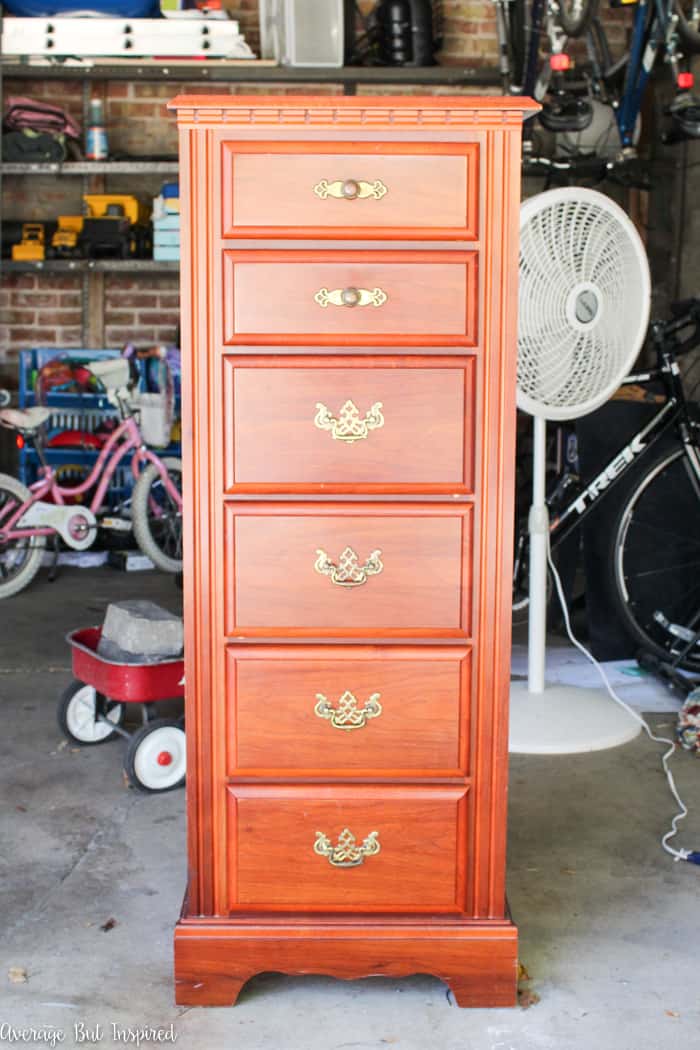 It's hard to see in this photo, but the chest had a lot of dings and scratches. The orangey red cherry finish was not my favorite, either! Because of that, I hatched a plan to make this piece extra manly with a denim inspired paint job.
Supplies Needed for a Denim Faux Finish for Furniture
This post contains affiliate links. To read my full disclosure policy, please click here.
How to Create a Denim Faux Finish for Furniture
For this piece, I began by removing the hardware and wiping it down to clean off the dirt and grime. Once it was clean, I used a cheap chip brush to paint on chalk paint in a sage green color. Some areas got a heavier application than others.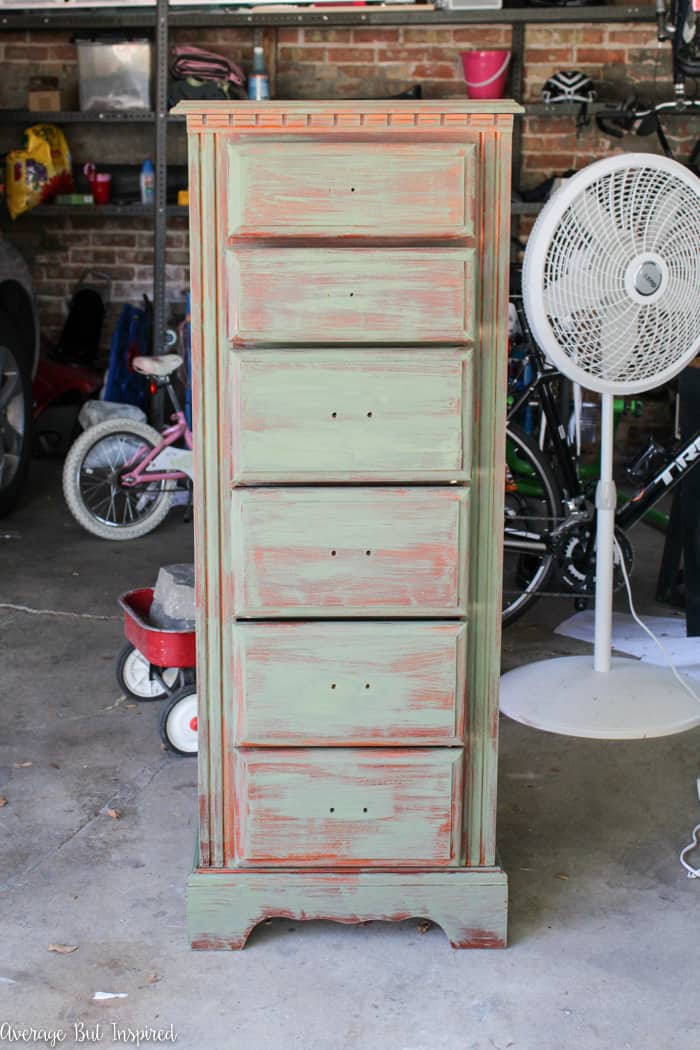 Once that paint dried, I did the same thing with the bluish gray chalk paint. At this point the chest of drawers looked CRAZY, and I cringed with embarrassment every time the garage door opened. I'm sure my neighbors thought I was working on the ugliest furniture piece in history!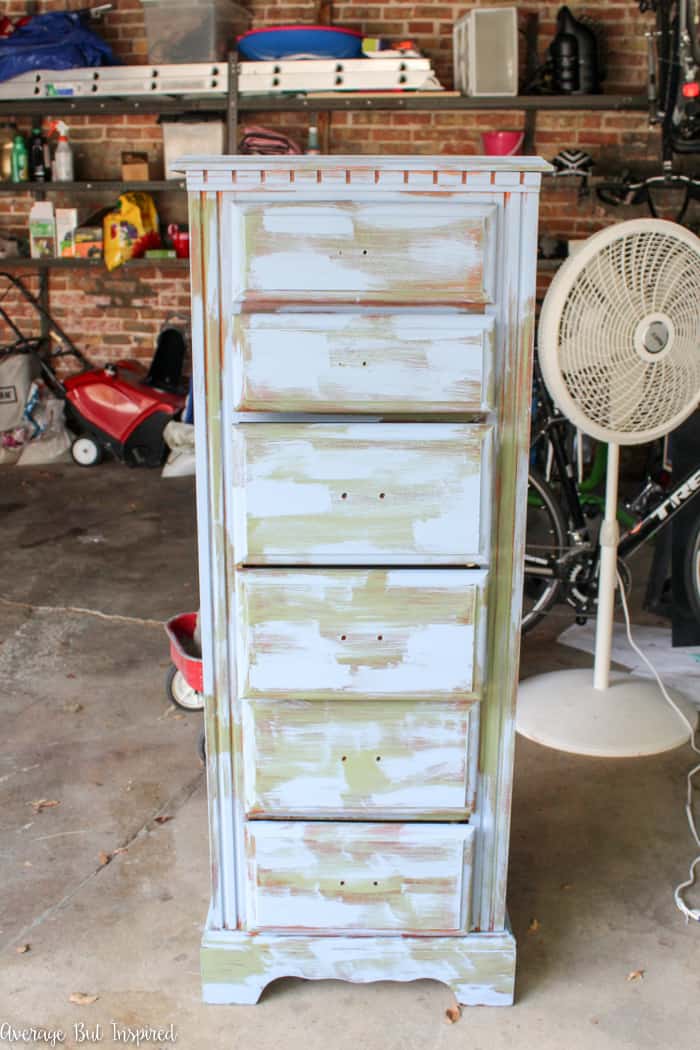 I made sure to leave some of the green paint showing, as well as some of the original cherry finish. As with the green paint, some areas of the light blue paint went on thicker than others.
After this second coat of paint dried, I switched brushes to a real paint brush (from the cheap chip brushes, which give a streakier look), and began applying the dark blue chalk paint in sections. I brushed the paint on, let it sit for a minute or two, and then sprayed it with a mist of water from the spray bottle.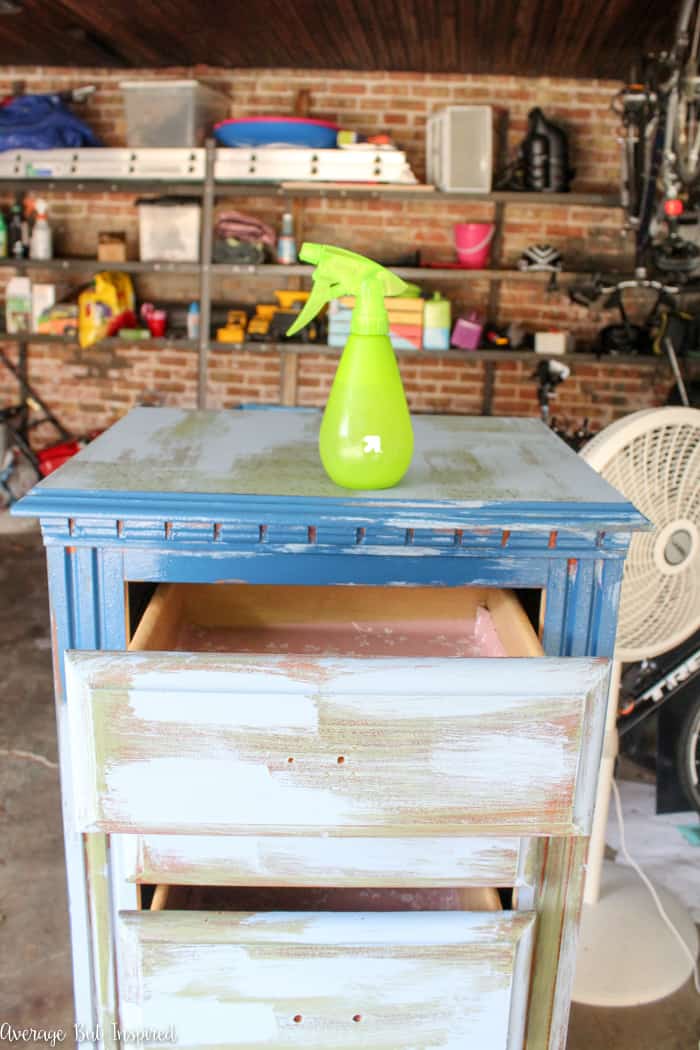 I then went over that area with the same paint brush and worked to blend the paint and water throughout that section. Using the spray bottle allowed more of the colors underneath the dark blue paint to show through, and created a blended paint look.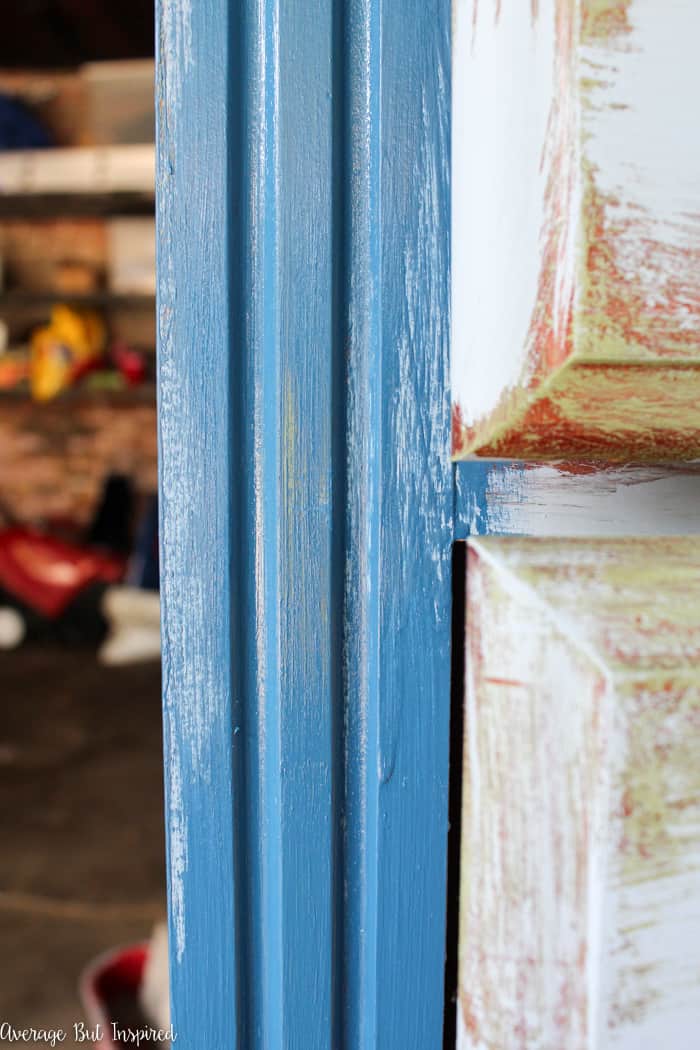 I worked in sections until I covered the whole chest of drawers with the paint / spray bottle technique.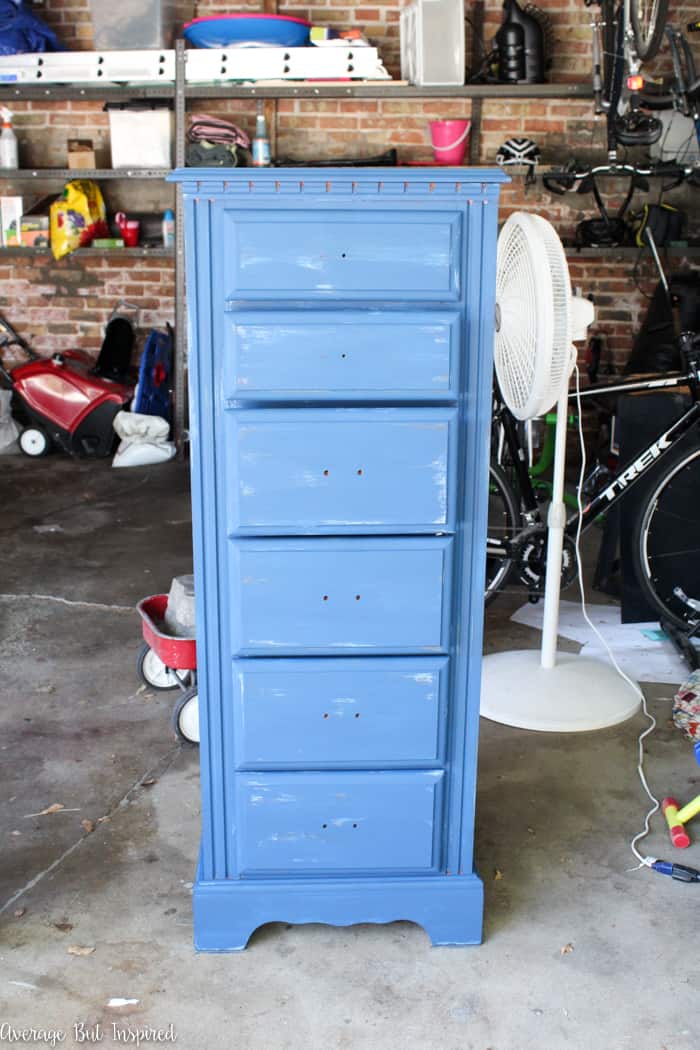 I let the chest of drawers sit overnight to be sure it was completely dry, and the next day I got to work sealing it with my favorite clear finishing wax. Once the entire piece was sealed, the final step in creating a denim faux finish on this piece began. I applied black wax with a stencil brush to the raised portions of the chest, and then I used a clean rag to rub it in.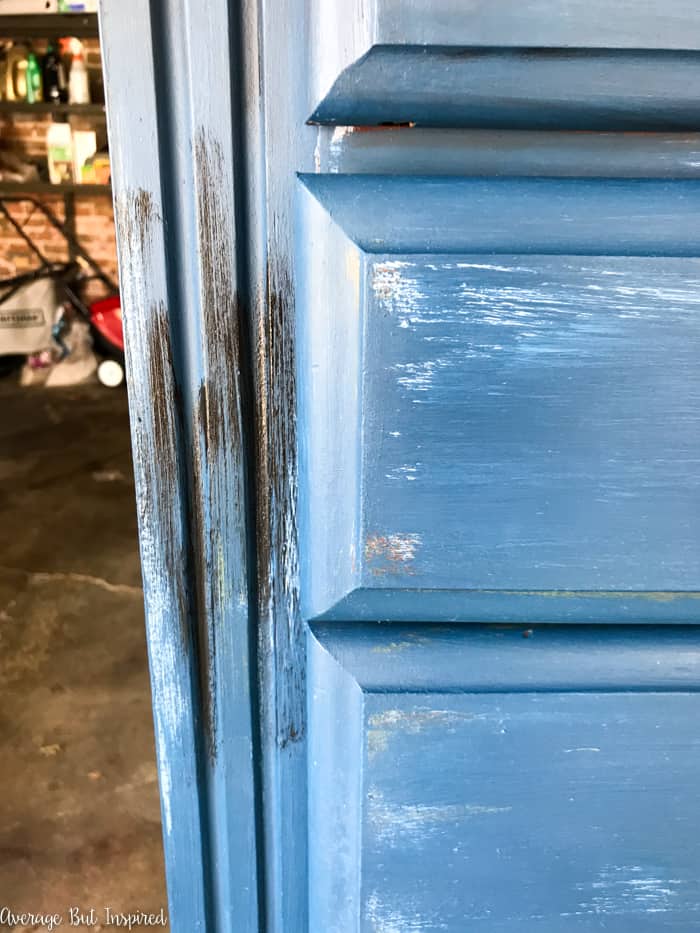 For the drawers, I applied black wax along the outer edges and then rubbed it inward so that the outer portions were darker than the middle portions of the drawers. (I don't normally wear a dress to paint furniture, but it was 92 degrees that day and this was one of the coolest things I had to wear! My husband snapped this picture while he was sitting there "supervising." ;-))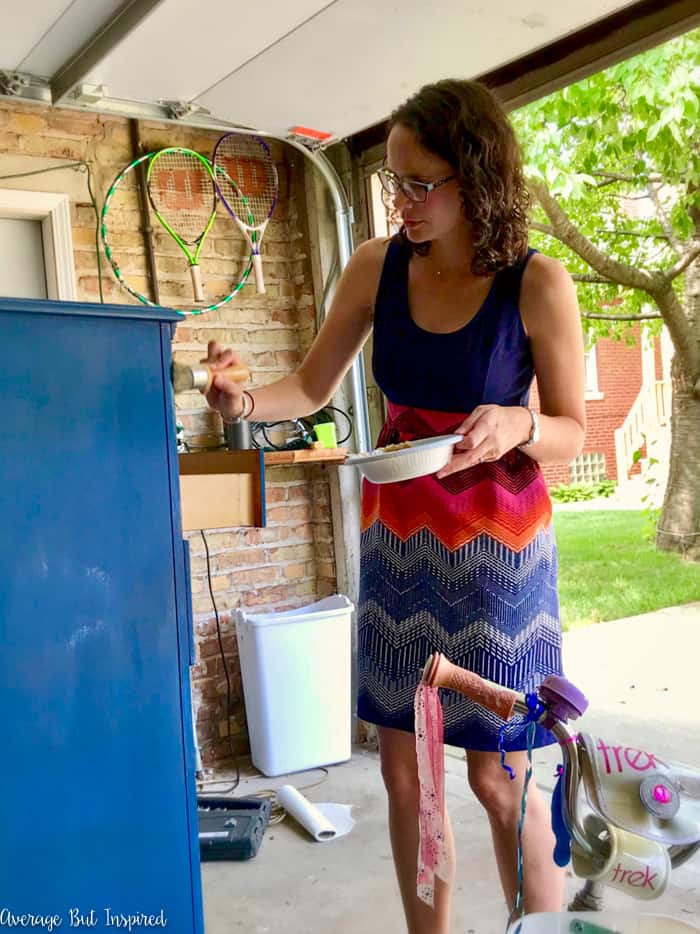 The black wax is the KEY to giving the furniture a moody and worn denim feel! So are you ready to see the finished piece?

It's so masculine, don't you think?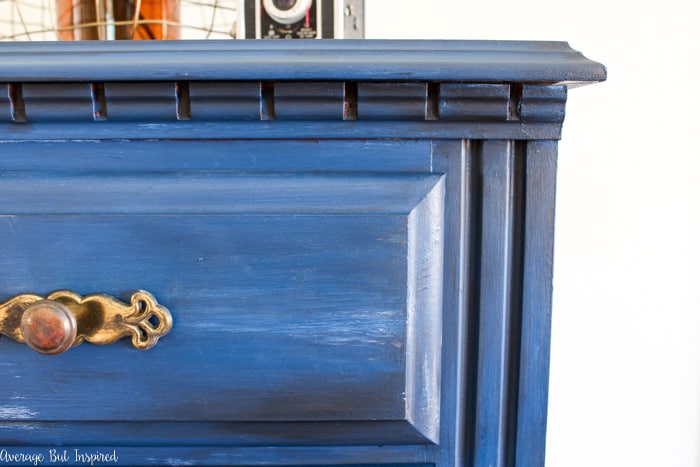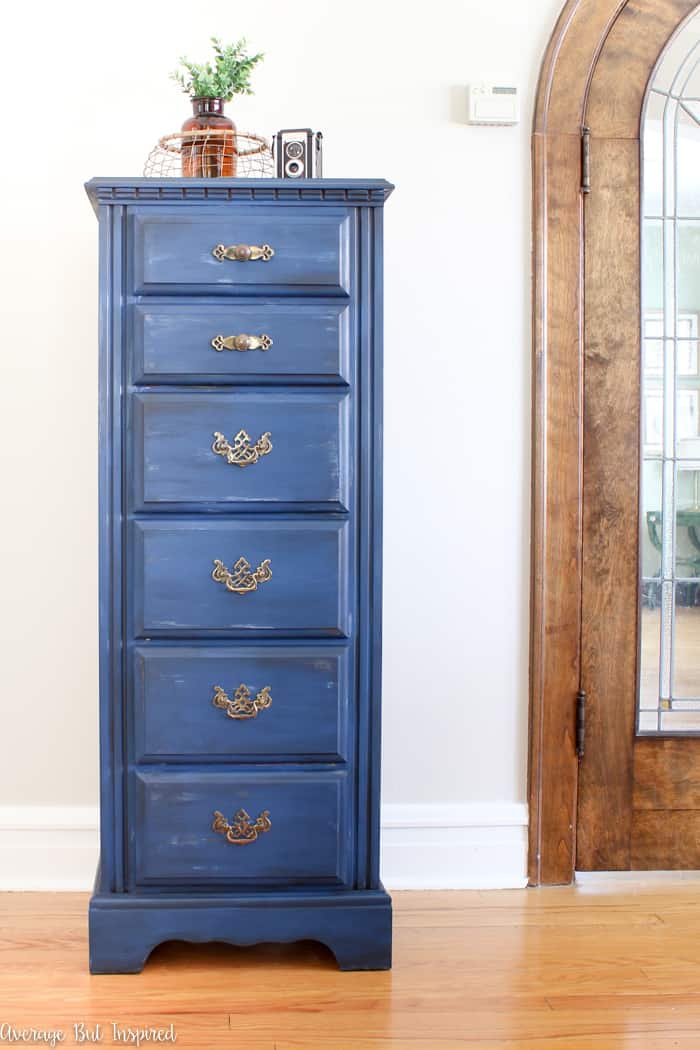 The black wax adds so much depth to the finish! I really think it makes the piece special and is what makes it feel like an old pair of jeans instead of the new, stiff ones you just picked up at the Gap.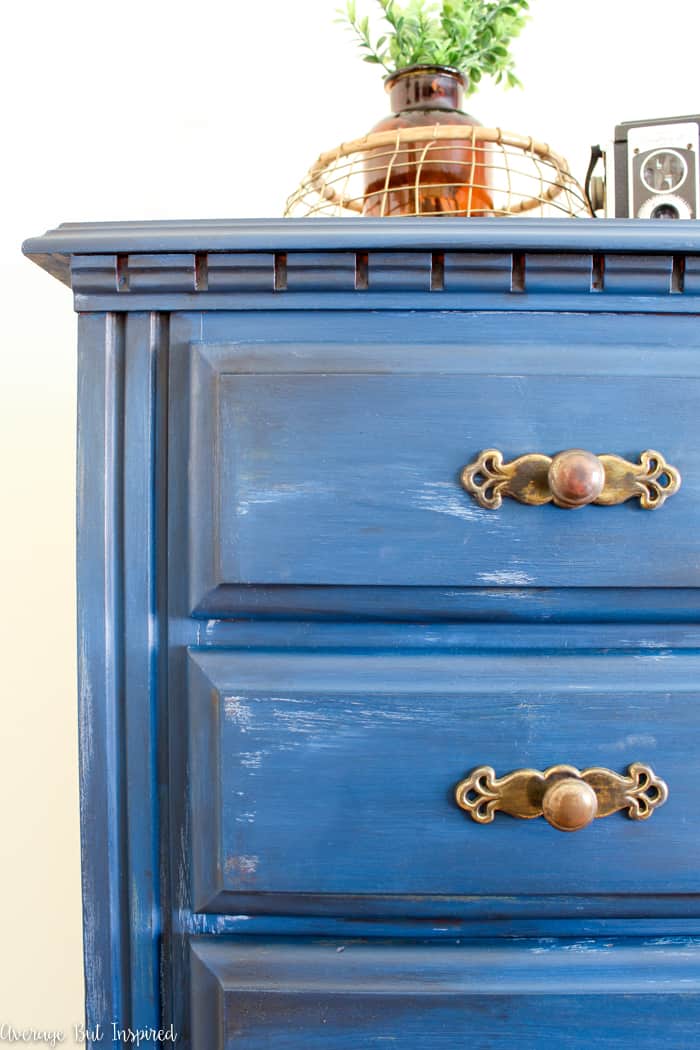 The blended layers of paint and moody colors make this chest of drawers perfect for my husband! Now I just have to make sure he keeps the contents within tidy! (Easier said than done.)
I would really appreciate it if you'd share this post with anyone you think would enjoy it! Pin it or share it on Facebook to show how easy it is to make a dramatic statement with paint!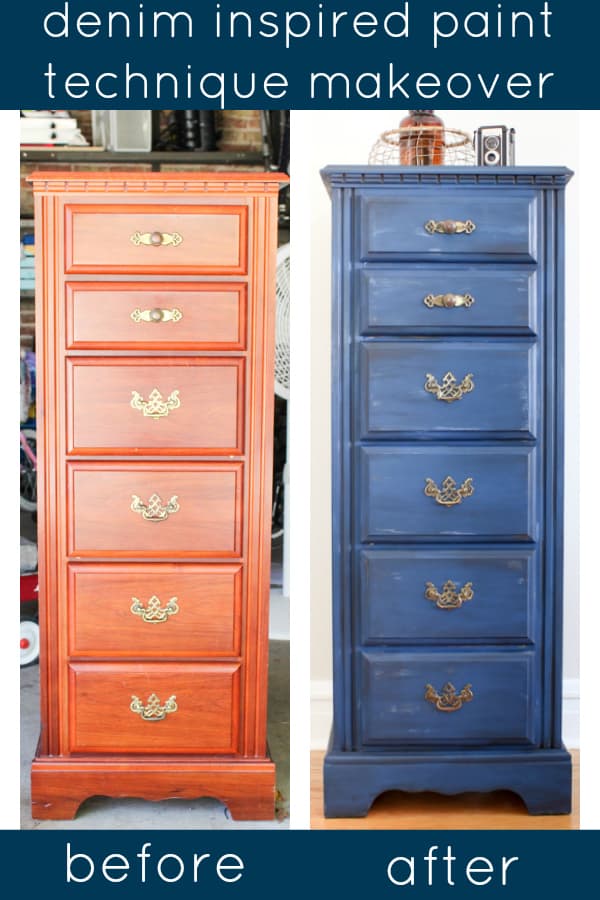 -Bre