Another Halloween has come and gone, and Thanksgiving will be here before we know it.  Although there's increasing pressure from every direction to jump straight into Christmas, I remain steadfast in my dedication to giving Thanksgiving the respect it deserves!  As such, I made this little Thanksgiving Embroidery Hoop Wreath to help acknowledge the holiday AND keep my family grateful during this special season!  The "interactive" component lets you and your family add things for which you're thankful all season long – so sweet!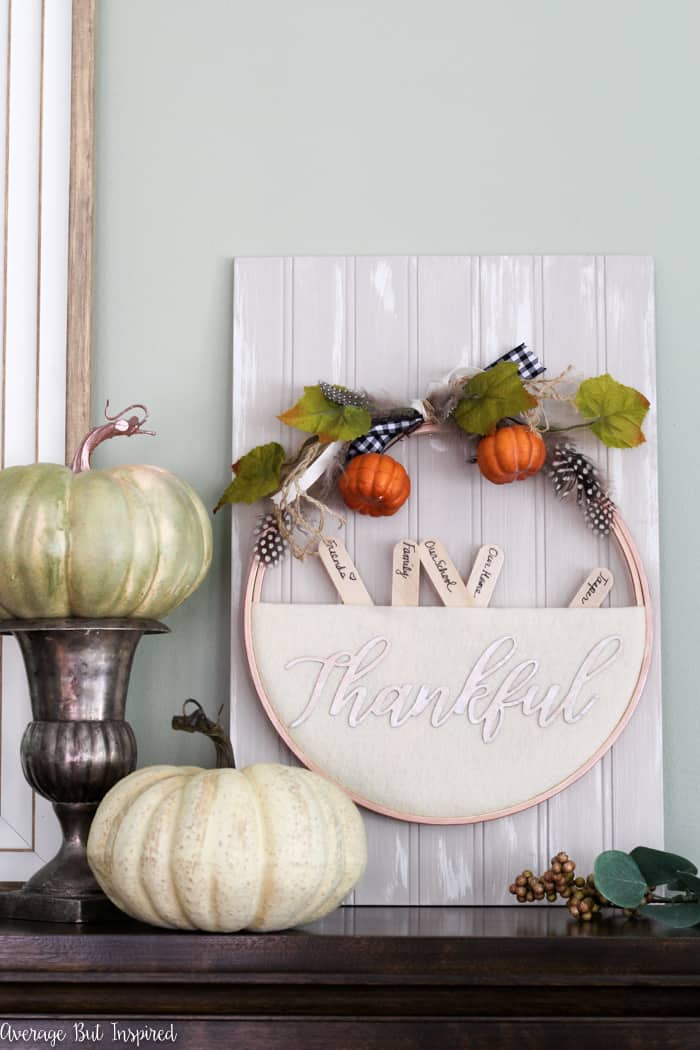 Supplies Needed for Embroidery Hoop Thanksgiving Wreath
This post contains affiliate links.  To read my full disclosure policy, please click here.
How to Make an Embroidery Hoop Thanksgiving Wreath
Before I jump into the tutorial, I have to tell you that I did not buy anything new to make this project!  I've challenged myself NOT to buy any craft supplies for the rest of 2018, so I'm only using what I've got.  The first project I made in my "craft stash de-stash challenge", was my leaf stamped tea towels, and this is the second project in my challenge!
To give my Thanksgiving wreath something "special," I applied rose gold wax to the outer edges of the embroidery hoop, but that is totally optional!  You could leave your embroidery hoop plain or paint it.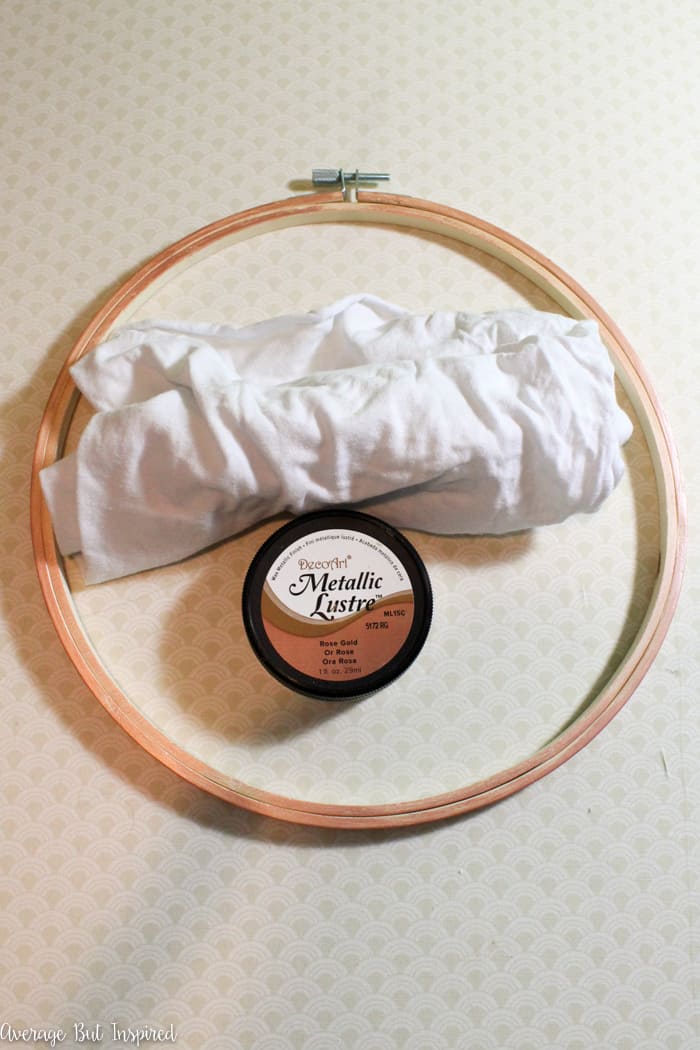 Next, I stacked two sheets of acrylic felt on top of each other and put them into the embroidery hoop.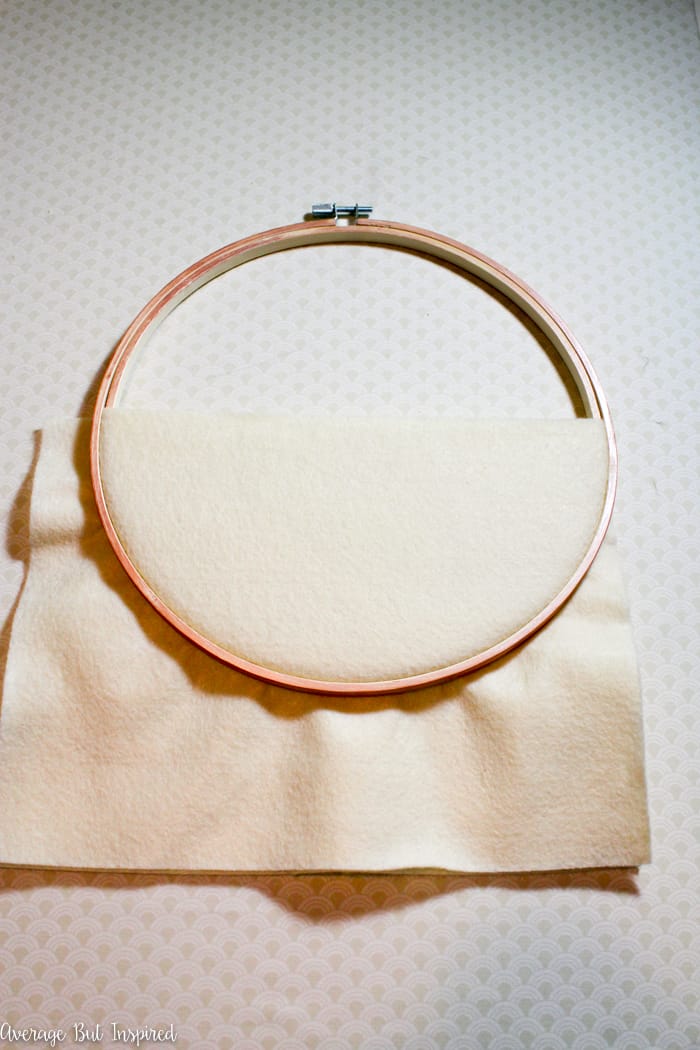 When they were secure, I cut off the excess felt from around the edge of the embroidery hoop.  This created a pocket in my wreath.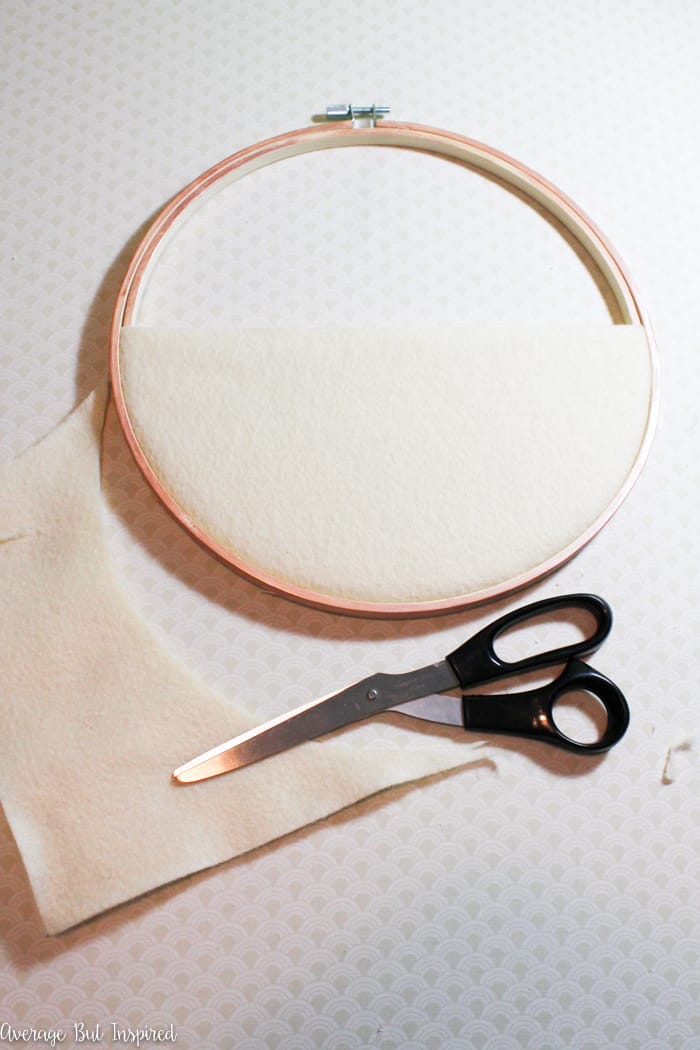 Next, I tied several different ribbons to the top of the embroidery hoop.  I mixed some burlap, gingham, and solid cream colored ribbon for a fun look.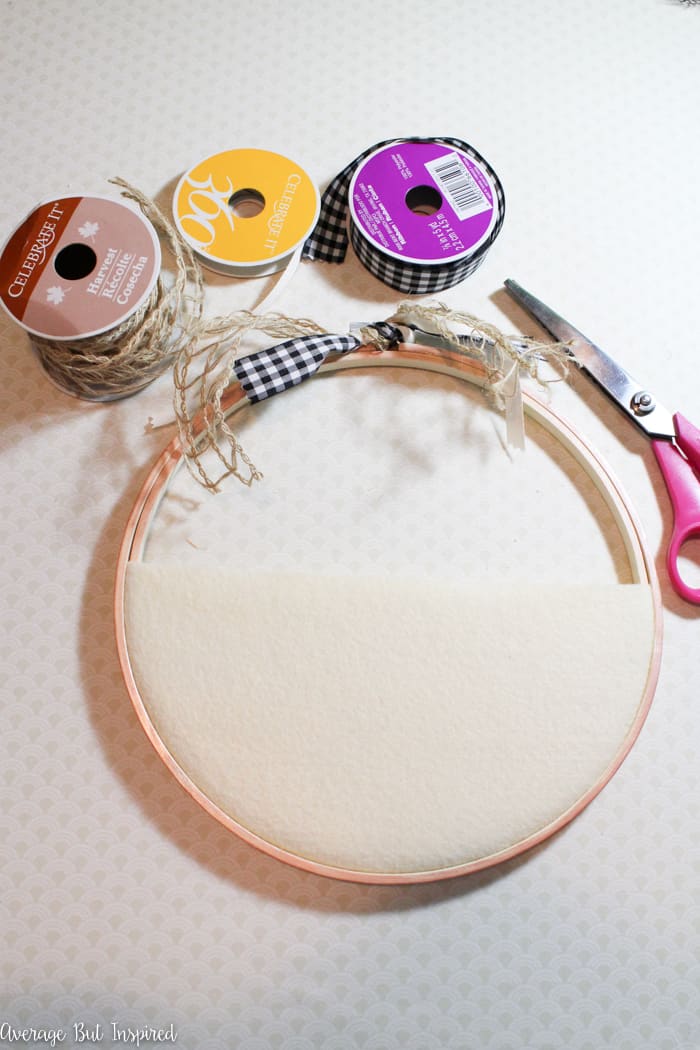 After that, I put some feathers and pumpkin picks into the ribbon.  This really bulked up the top of the wreath and gave it an abundant look – perfect for the Thanksgiving season!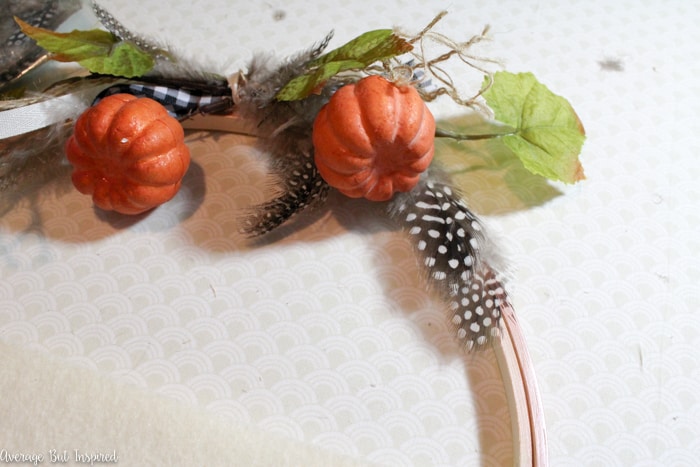 Finally, I glued the "thankful" word art to the front of the felt pocket.  I carefully applied a bit of the rose gold wax to the word art to make it blend better with the embroidery hoop.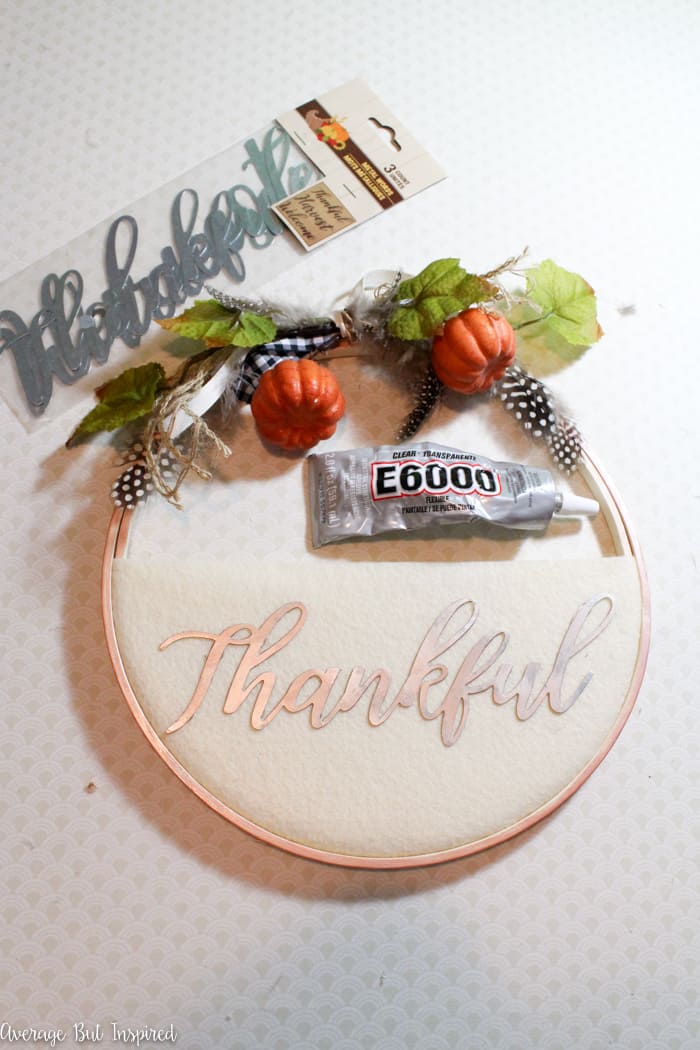 To make this Thanksgiving wreath even more special, I wrote some things my family and I are thankful for on popsicle sticks and put those in the pocket.  We will add to this in the weeks leading up to Thanksgiving.  I think it will be a great conversation starter at dinner!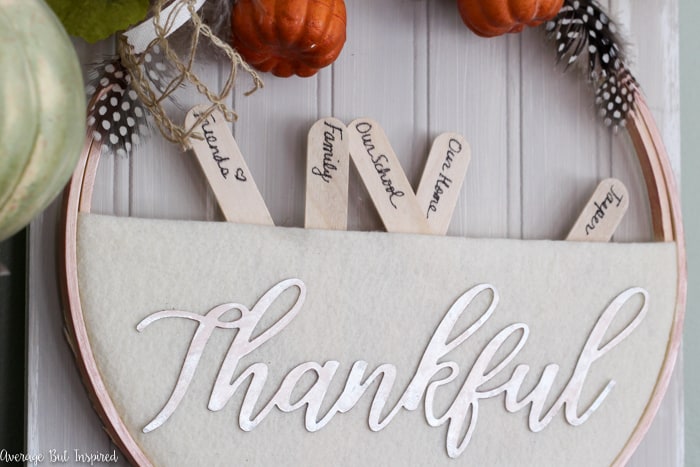 I think this wreath is beautiful and sentimental, and perfect for the Thanksgiving season.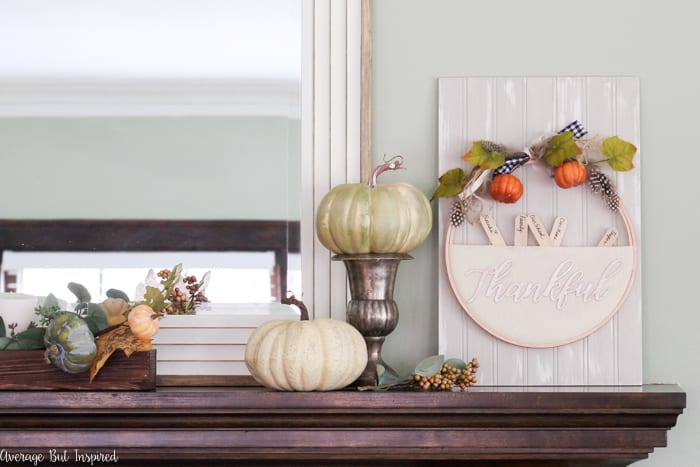 It's currently on my fall mantel, but I will probably move it into the kitchen so we can all easily see it and remember to add our "grateful sticks" each day!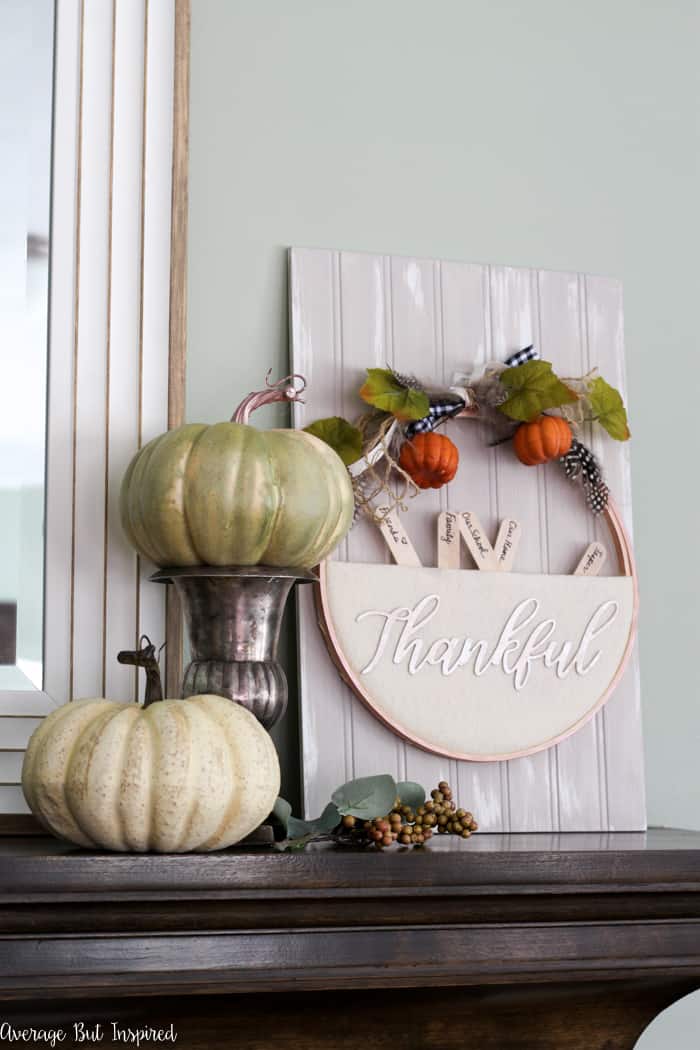 How do you remember to be grateful for the blessings in your life during this time of year?
-Bre