Though I would love to be one, I am not a plant lady. All plants have a hard time surviving in my care. So when I updated my living room last month and decided to add a fiddle leaf fig tree, I knew I needed to go fake. I know there are others of you like me out there who cannot keep plants alive, so let me show you how I made my fiddle leaf fig tree look real! (And p.s. – this trick will work for making any fake plant look real – not just fiddle leaf figs!)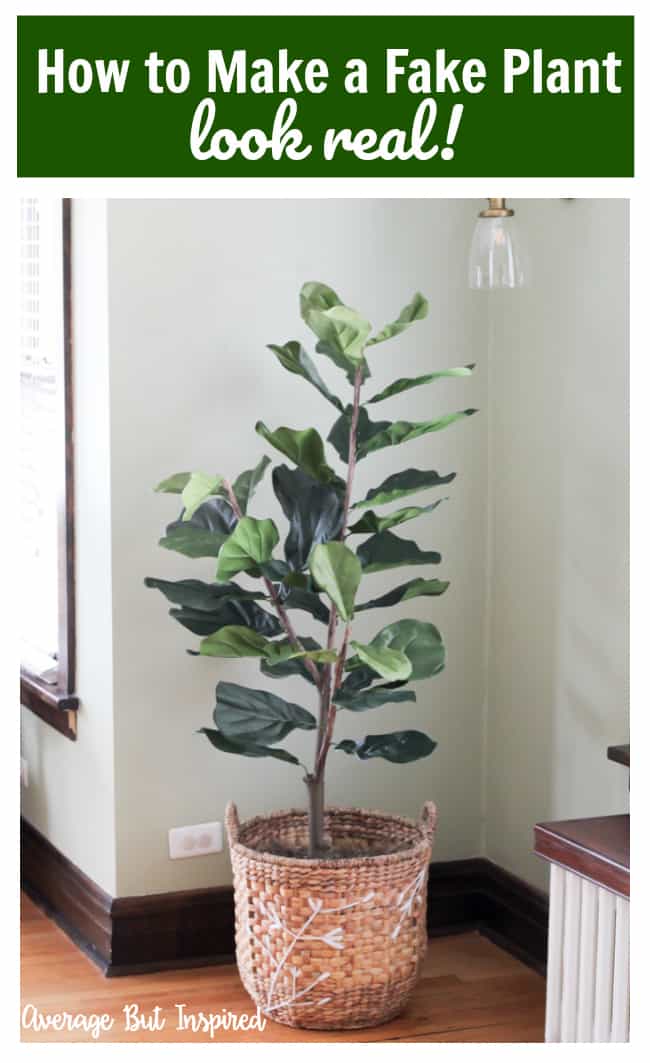 This post contains affiliate links. To read my full disclosure policy, please click here.
After searching for realistic but fake fiddle leaf fig trees online one day, an ad popped up for this faux fiddle leaf fig from a surprising place, and the price could not be beat! I promptly ordered it and was ecstatic when it arrived on my doorstep. After unboxing it, I loved how the plant itself looked, with its varying shades of green and intentional imperfections, but immediately knew that it would take a little bit of work to get it looking real.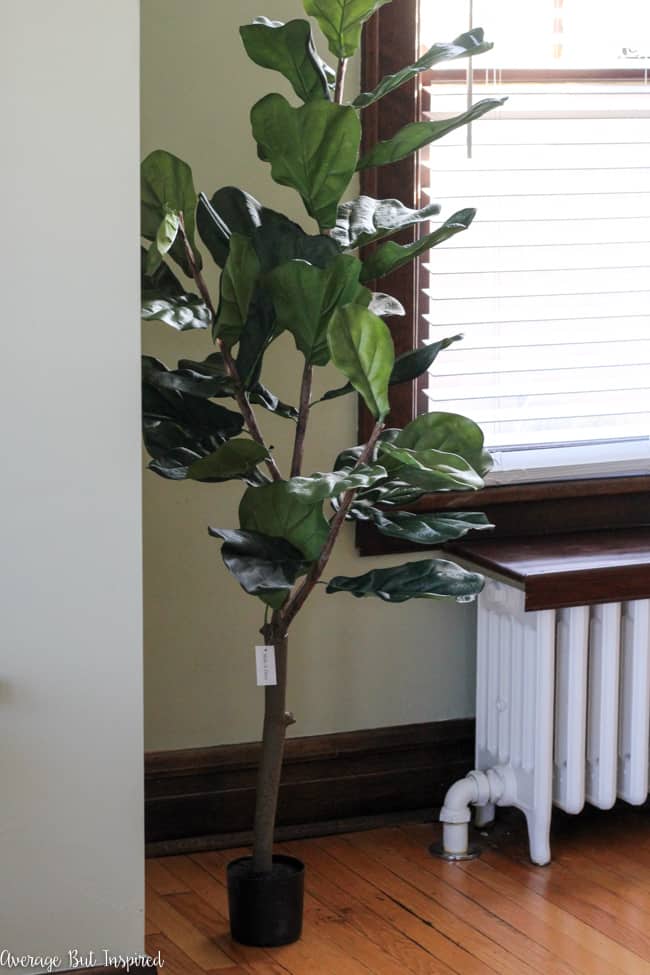 For one thing, the tag had to be removed (lol), and for another, that tiny black pot in which the fiddle leaf fig rests was not doing it any favors.
So, I ran up to Dollar Tree and picked up everything I needed to make my fake fiddle leaf fig tree look real!
First, I put the small black pot inside a larger plastic pot.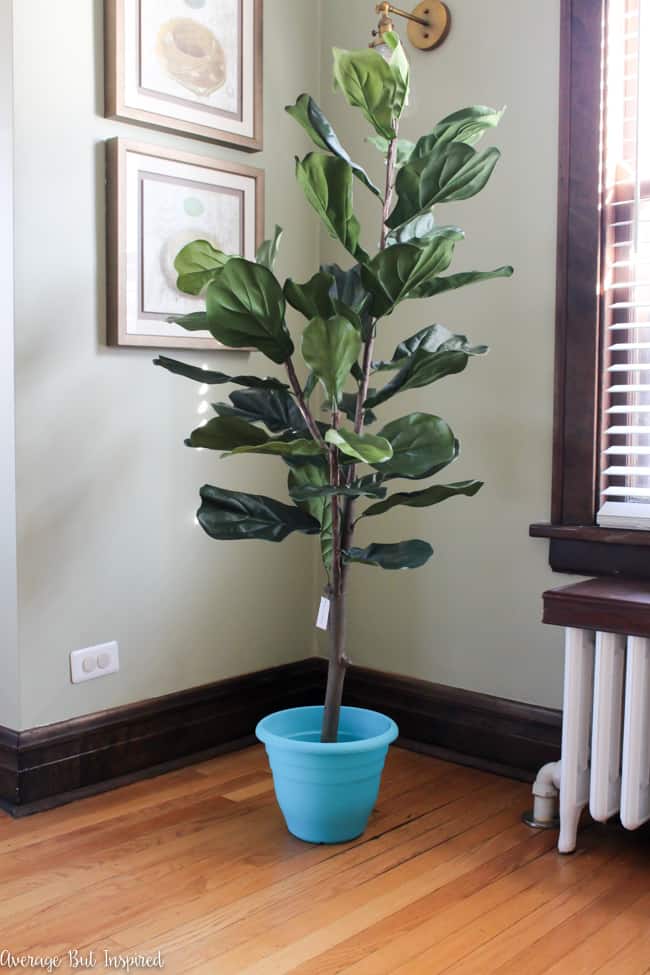 Next, I placed the pot and the fiddle leaf fig inside this gorgeous, embroidered basket.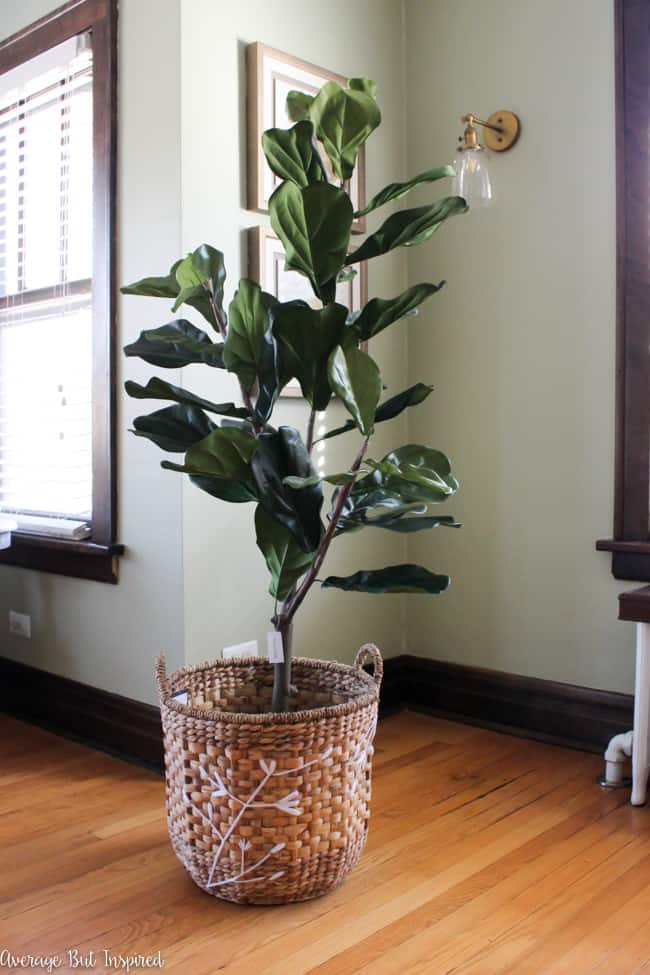 Everything looked okay from this angle (minus the tag still hanging from the tree), but I knew that anytime you'd look in the basket, you'd see those ugly plastic pots. Not very realistic at all! So, the next step was to cut a piece of black foam core board from Dollar Tree into a circle that fits inside the basket, with a slice cut out for the fiddle leaf fig tree trunk to rest in.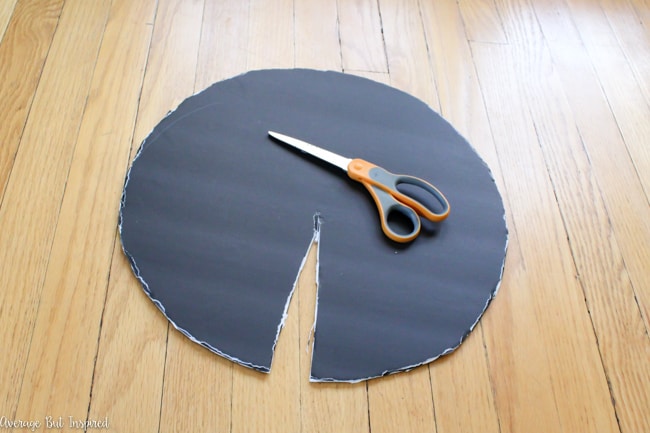 Once that was cut, I laid the foam core board circle into the basket, resting it on top of the larger plastic pot, and shoved the fig tree trunk into the cutout.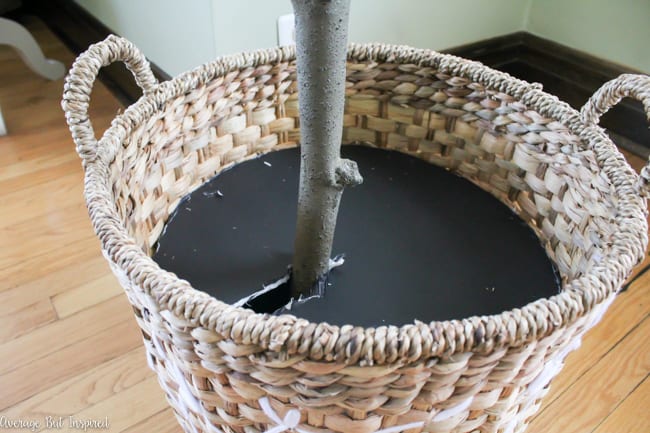 Finally, I pressed Dollar Tree craft moss into the basket, allowing it to cover up the foam core board. I used two bags of craft moss to cover this piece of foam board.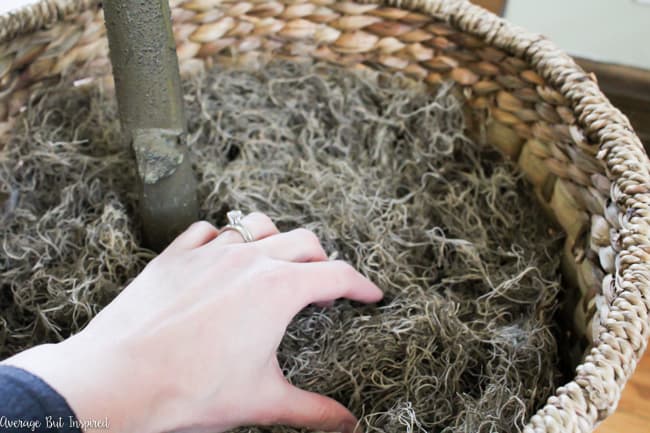 Now the fake fiddle leaf fig tree looks real! But thank goodness I don't have to water it or try to keep it alive.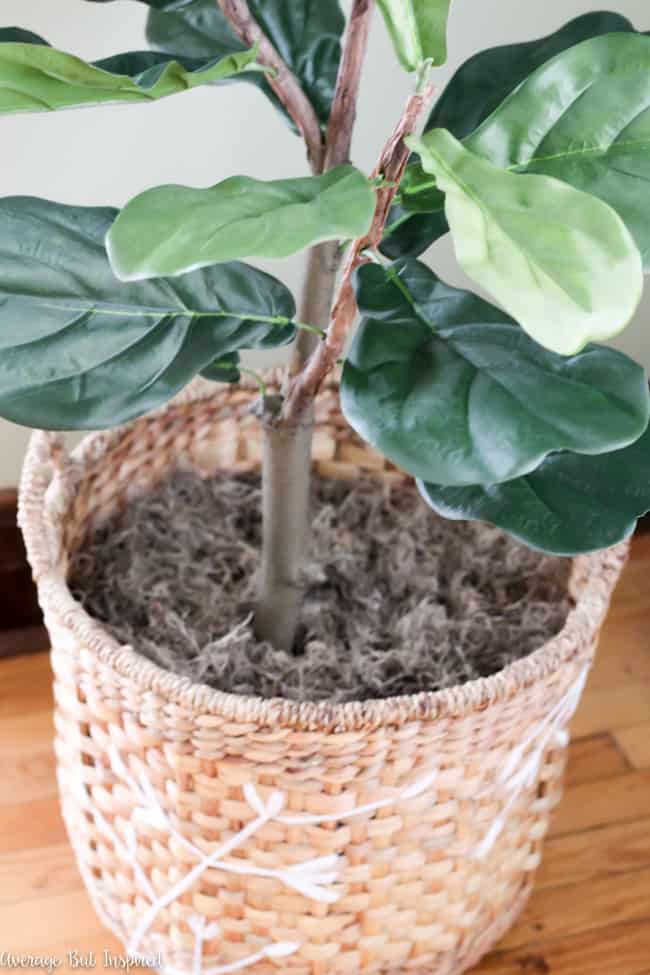 I moved it into the spot where my grandma's painted green table was. (Don't worry – I kept that table! I moved it to our basement family roombasement family room for a pop of color and to replace the junky table we had down there.)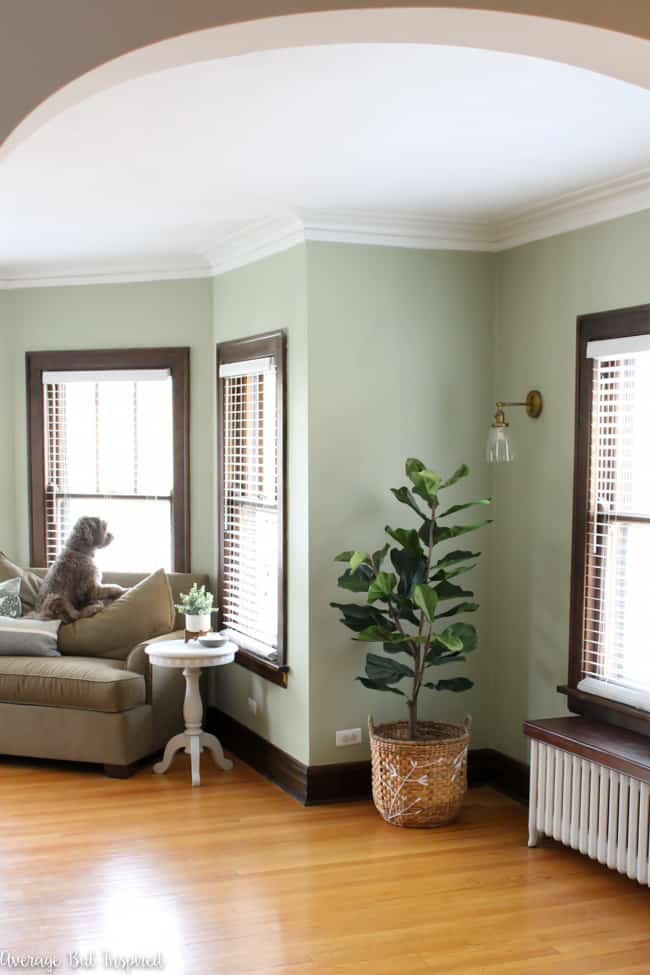 It adds a nice touch to the room and looks great with my new brass sconces, too! (Those were also a bargain!)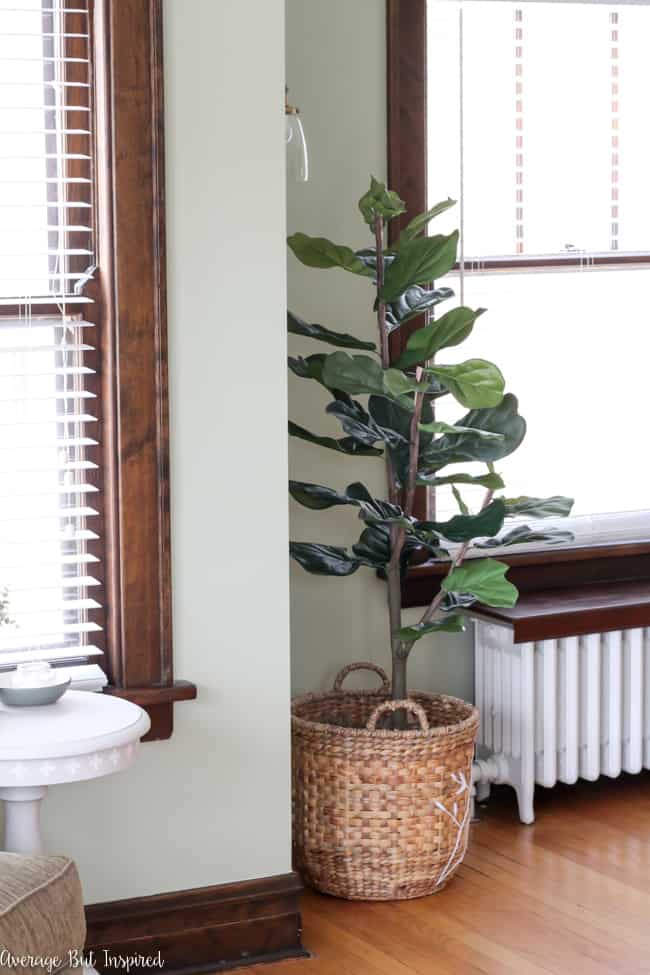 I just love how easy and inexpensive it was to make my fake fiddle leaf fig look natural. Can you believe it basically takes some dollar store supplies to do it? Do you have any fake plants on which you could use this technique?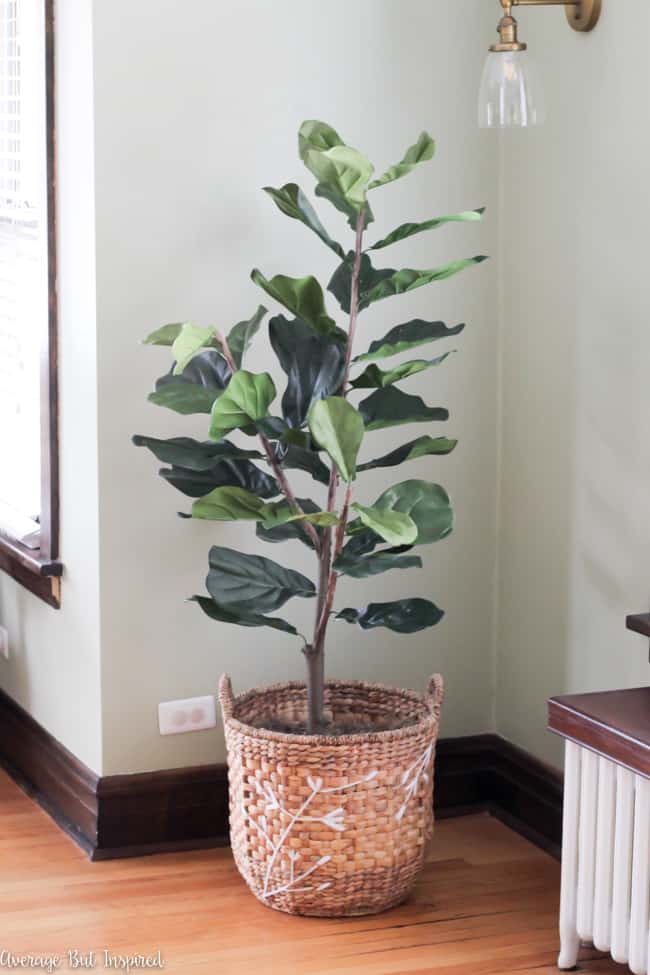 -Bre