We're four weeks in to gut renovations of two of our bathrooms, and while we're not finished yet, we're starting to see a light at the end of the tunnel! This renovation journey has not been totally smooth sailing, but we're making it through and have learned some important things along the way. If you have a bathroom remodel in your future, read these five tips for surviving a bathroom renovation and file them away. They just might save you from losing your mind!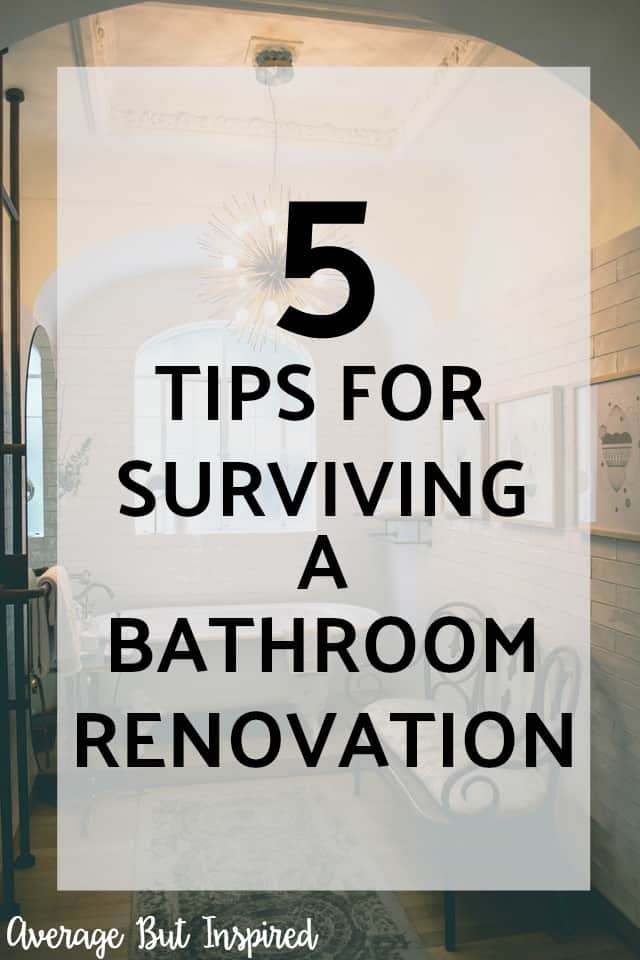 This post contains affiliate links. To read my full disclosure policy, please click here.
Tip 1: Pack it up, move it out
Before construction starts, make sure to get everything out of your bathroom. Take this time to toss unwanted or expired products and pare down to the necessities. My husband and I each filled up our favorite travel toiletry bags and limited ourselves to those items during the bathroom renovation.
The rest of the items went into moving boxes that we purchased at Home Depot. (I didn't know you could buy moving supplies there before this renovation!)
If you have spaces other than your bathroom that are impacted by the renovation, you'll also want to prepare those areas. My husband and I have moved out of our master bedroom and into the basement while construction is ongoing.
He chose to pack and move everything in his closet and dresser, while I packed some clothing items and put the others into bags in my closet and dresser. The clothing items that we brought to the basement with us now hang on a portable rolling clothes rack, which has been a lifesaver! Once we're finished using the clothing rack for ourselves, our guests can use it when they visit us, or we can use it to hang coats during winter parties.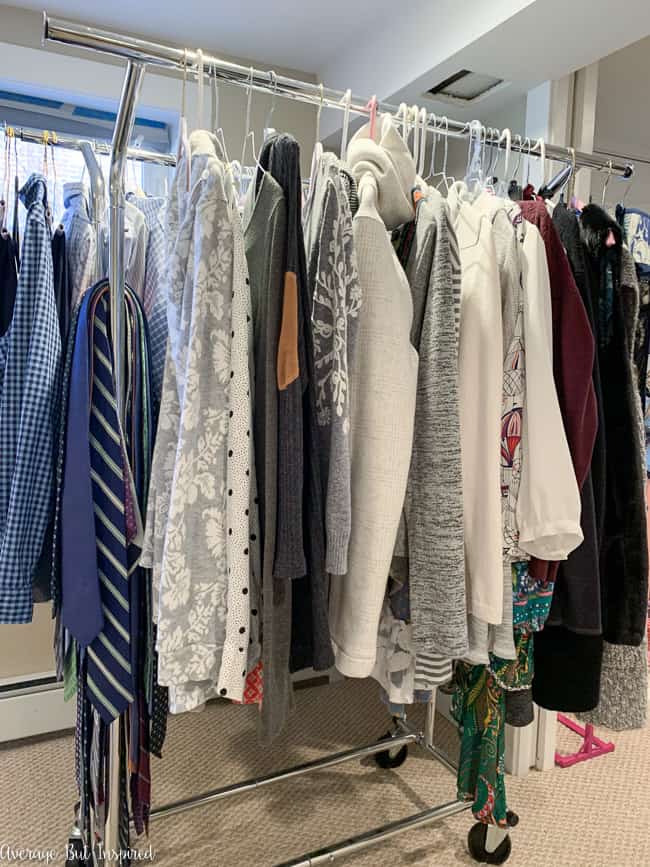 Basically, you don't want to be interfering with construction because you need to get something you left in the space, or be unable to get it because it got damaged or thrown away. So, pack carefully and plan ahead!
Tip 2: Protect Your Surfaces
If you've renovated anything in your home, you know how much dust flies around! It's pretty crazy! Because of that, it pays to protect surfaces and areas that you don't want to be covered in dust.
My kids' bedrooms are upstairs where the construction is happening, and they had to stay there during the project. We covered their bedroom doors with thick tarps, and then used these awesome tarp zippers to create entrances for them. During the day we zip up the tarps, and unzip at night to let them back in to go to sleep. This has helped tremendously in preventing dust from spreading throughout their rooms!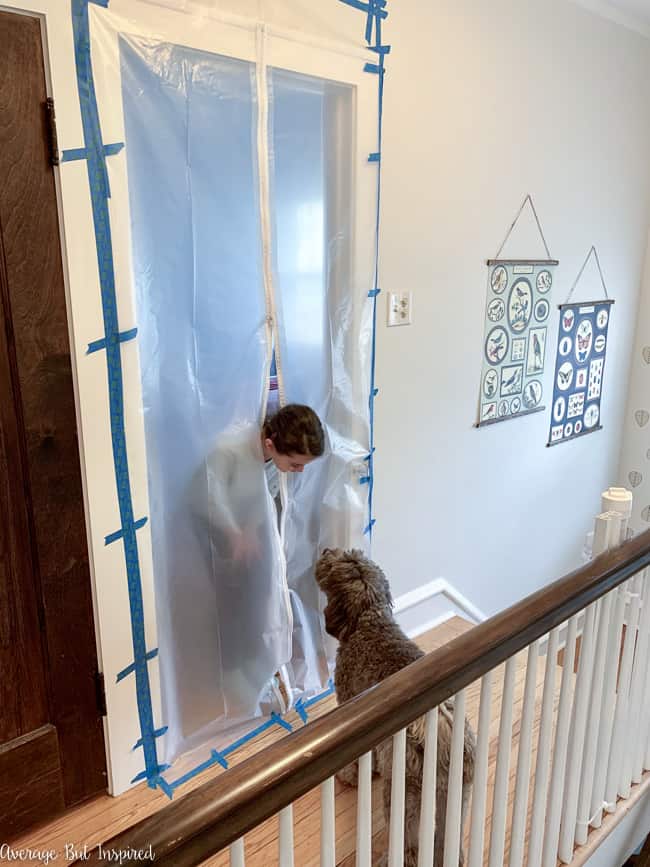 Other closets on the second floor that we don't need to access got covered with regular tarps (no tarp zippers).
Finally, in our bedroom, we put our box spring and mattress into mattress moving bags, to shield them from the dust, and wrapped our furniture pieces with moving stretch wrap.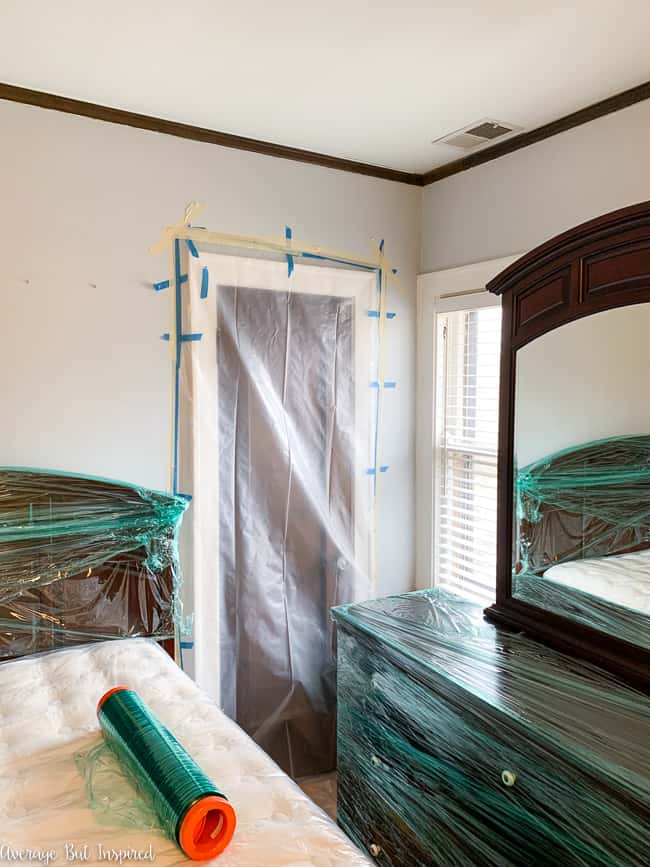 Tip 3: Stock Up on Cleaning Supplies
Our contractors are awesome and try their hardest not to destroy my house, but construction is messy – there's no way around it! Before the project started, I stocked up on cleaning supplies, and I'm so glad I did! Every day after they leave, I have to clean the upstairs and downstairs – it's that dusty and messy.
Here are the must-have cleaning products for a bathroom renovation:
Broom and dust pan
Mop and bucket
Floor cleaning solution (I'm using Murphy's Oil for my hardwoods)
Swiffer WetJet for in between mopping sessions
Pledge and dust cloths
Swiffer dry cloths
Vacuum cleaner (if you're in the market for a new vacuum, I absolutely LOVE my vacuum cleaner)
Mentally prepare yourself for cleaning every single day. There's no way around it.
Tip 4: Be Flexible
No matter how prepared you are for a bathroom renovation, there are bound to be hiccups in the process. You need to expect the unexpected and mentally prepare for there to be collateral issues. During the course of this project we've had to open up a wall in our foyer downstairs, have had water leaking through the ceiling of our living room, failed our plumbing inspection because of the tub faucets I chose, and had major plaster cracking in my son's bedroom adjacent to the hall bathroom.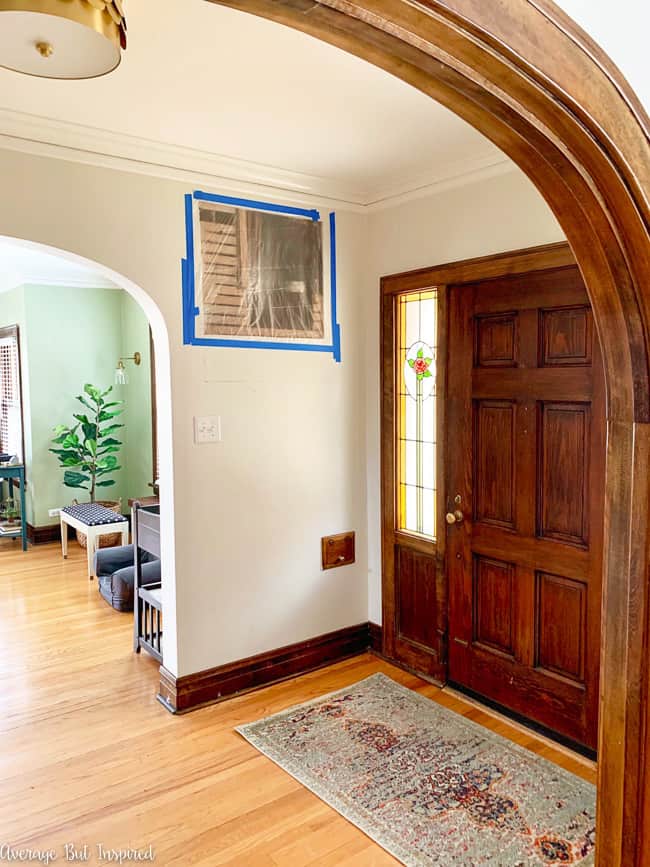 It's always something. But we get through it, and so will you!
You also need to be flexible with your own schedule and routines. I can't tell you how many times my day has gone off course because of this project. I've had to drop everything and go to Floor & Decor for tile and tile-related items more times than I can count. Or I've had to push dinnertime to finish cleaning up the mess from the day's work.
Tip 5: Communicate
Finally, my biggest tip for surviving a bathroom renovation is to communicate!
First, make sure to keep the lines of communication open with your contractor. He or she needs to know about concerns you have, how you want various design aspects to look, who the main point of contact on the job is, and more. Making sure to do a daily check in on tasks accomplished and the next day's plan will help you feel more in control during this stressful time.
It's also important to communicate with your family members to see how you can help one another cope with this intrusion in your lives. I have been shocked at how frustrating this process has been for my kids. Letting them talk it out and helping them understand how this will benefit them in the long run has been helpful. Being able to vent my own feelings of stress to my husband has also been important for me to handle the intrusion into my daily life. Since I work from home, I am here while all of this is going on, and since I'm serving as my own designer, I'm fielding all of the questions from the contractor.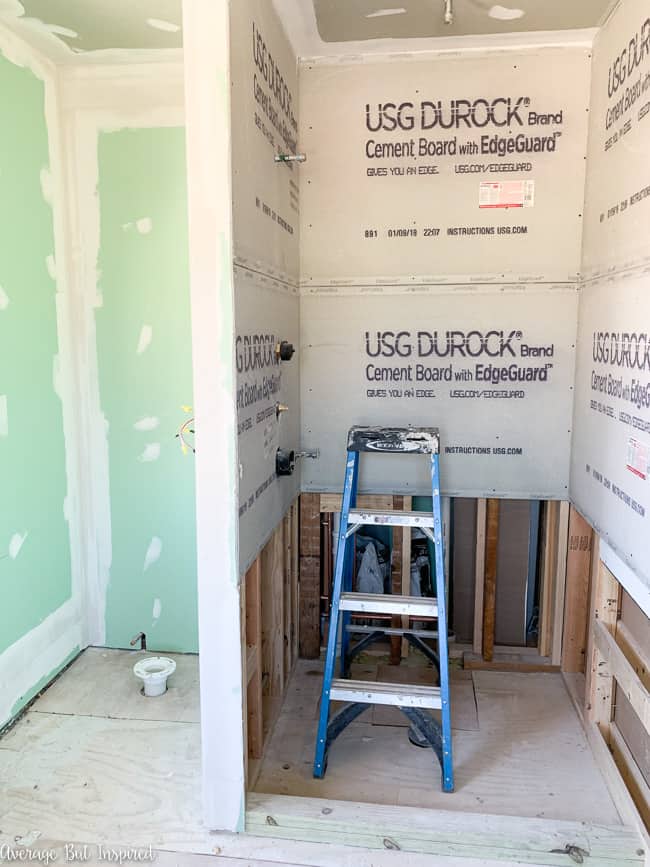 While renovating a bathroom is definitely stress-inducing, it will serve as a place of calm and relaxation once the project is finished! Follow these tips and give yourself grace, and you'll come through unscathed – I just know it.
If you have any tips of your own to add, please leave them in the comments!
-Bre