Outdoor rugs are an amazing way to add color and style to a deck or patio – when they're clean, that is! Not surprisingly, outdoor rugs can go from fabulous to forlorn (and even disgusting) in no time, since they're exposed to the elements.
My outdoor rug was totally nasty: covered in mildew and completely discolored. But I figured out a way to get it looking brand new again, and I'm happy to share with you how to clean an outdoor rug without bleach!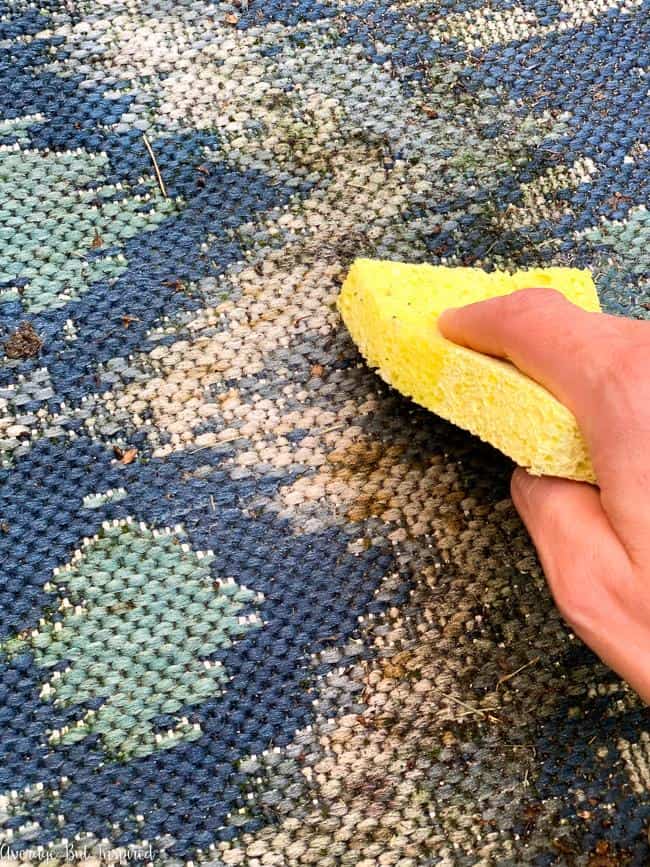 Step 1: Sweep Off The Outdoor Rug
In order to get my outdoor rug clean again, I started by sweeping off all the loose debris and marveling at all of the nasty mold and mildew spots covering the rug. This rug was truly disgusting!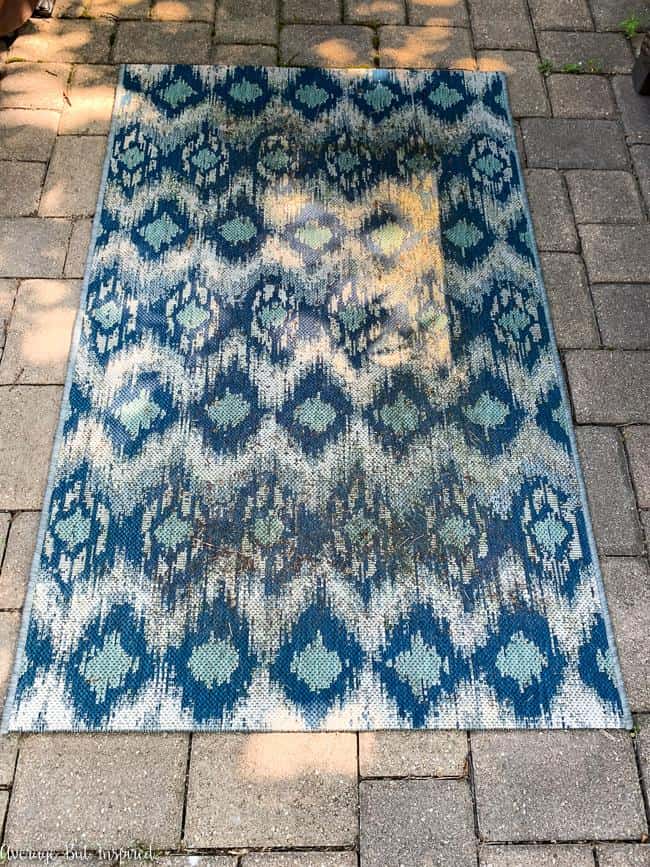 Step 2: Mix a Batch of OxiClean Versatile Stain Remover
Next, I mixed up a batch of OxiClean Versatile Stain Remover in a small plastic bucket. Getting specific, I measured 16 ounces of hot water and poured it in the bucket, and then used the scoop that came in the OxiClean bucket to fill it to the line marked 1.
I mixed the solution together and headed outside. (Note: make sure to read package directions if you purchase OxiClean. If you purchase a type different from the kind I used, the instructions may be different.)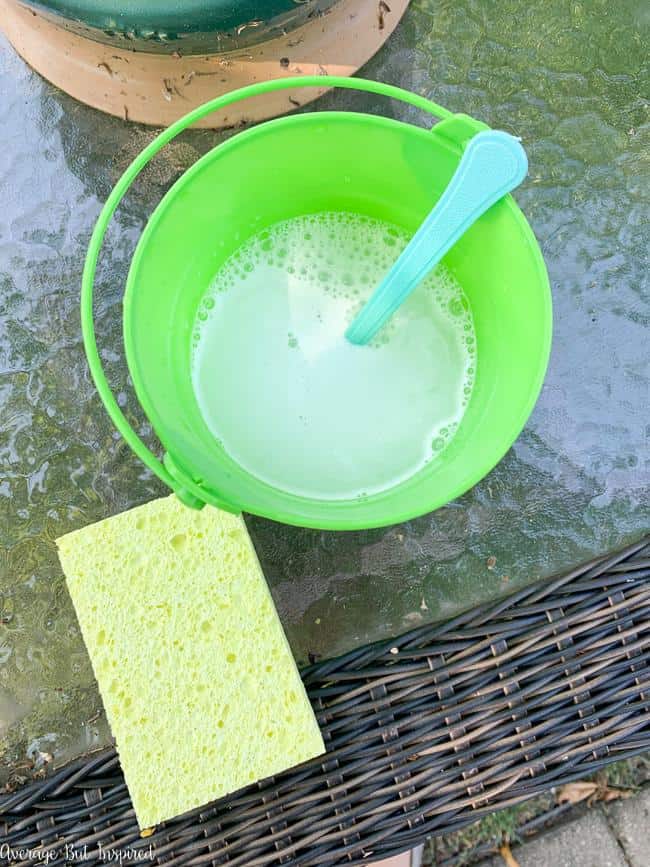 Step 3: Apply the OxiClean to the Outdoor Rug
From there, I liberally applied the OxiClean solution to the rug with a sponge. Of course, I made sure to do this in an area where it didn't matter if OxiClean seeped through the rug and onto the surface below.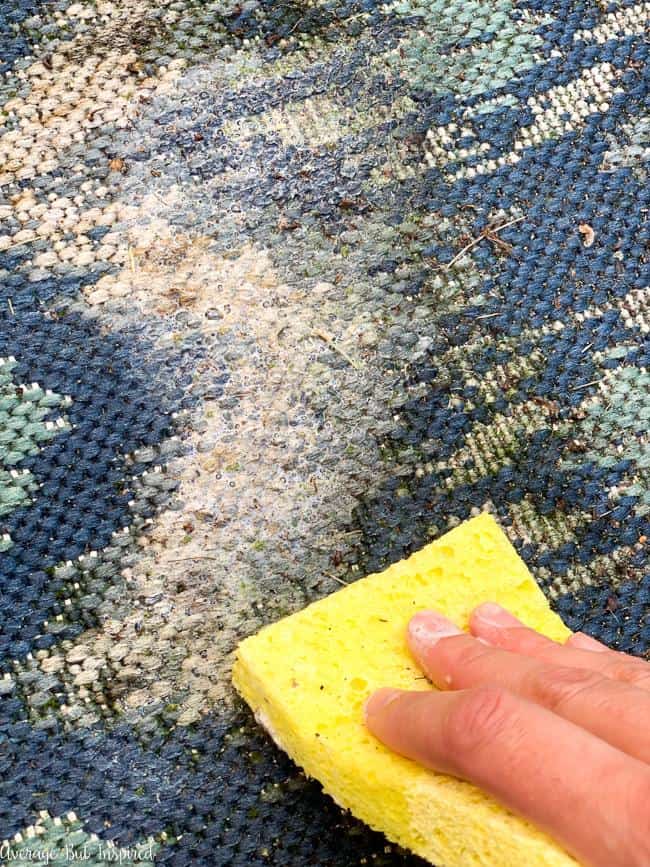 I let the OxiClean solution sit on the rug for about an hour. Then I hosed it off to reveal a rug that was cleaner, but not yet pristine!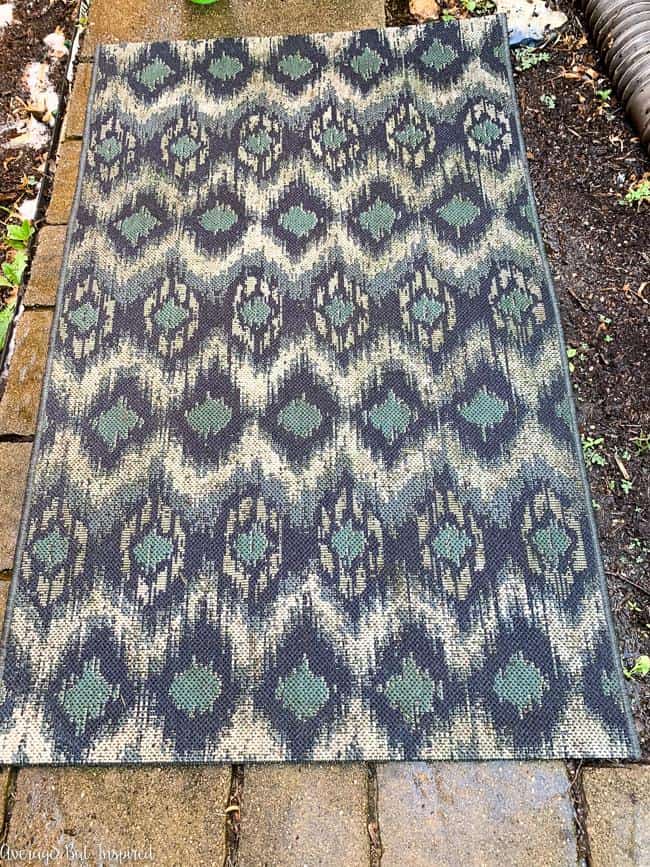 Because there was still some mildew and/or staining on the outdoor rug, I repeated the process of mixing up the OxiClean solution and liberally applying it to the rug. And this time, I rubbed it in to the rug even more – making sure to pay special attention to the green spots.
I again let the rug sit with the OxiClean solution for approximately one hour, and then I hosed it off again. The second time was a charm! The outdoor rug was clean and bright and fresh!
Step 4: Let the Outdoor Rug Dry in the Sun
I pulled it over to a sunny spot in the driveway to start drying out.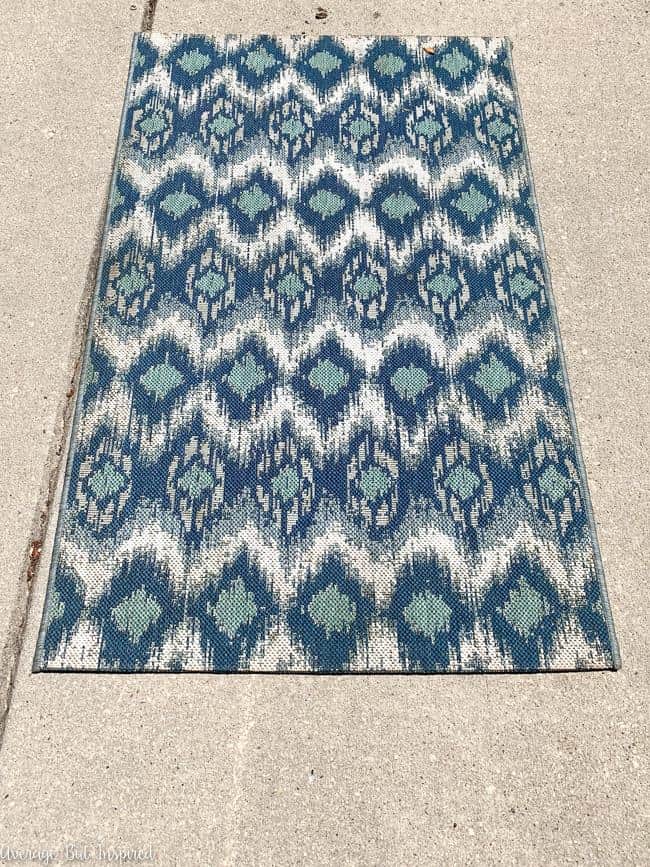 It took about 12 hours to fully dry (which was really surprising to me), so keep this in mind if you plan to wash your outdoor rug!
Once it was dry, I pulled it back over to the lounge area of the patio and admired how bright the whites were and how there was no more mildew on my outdoor rug!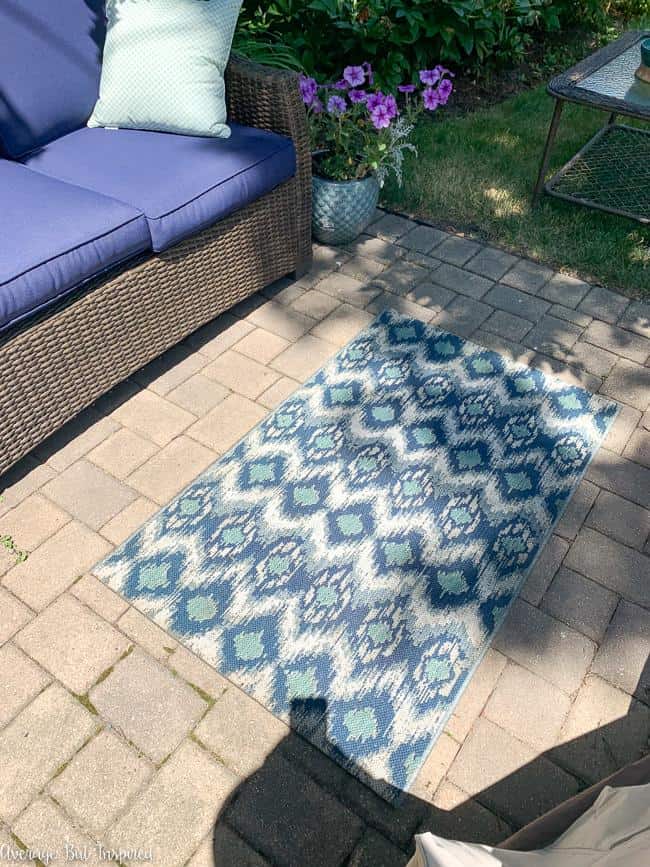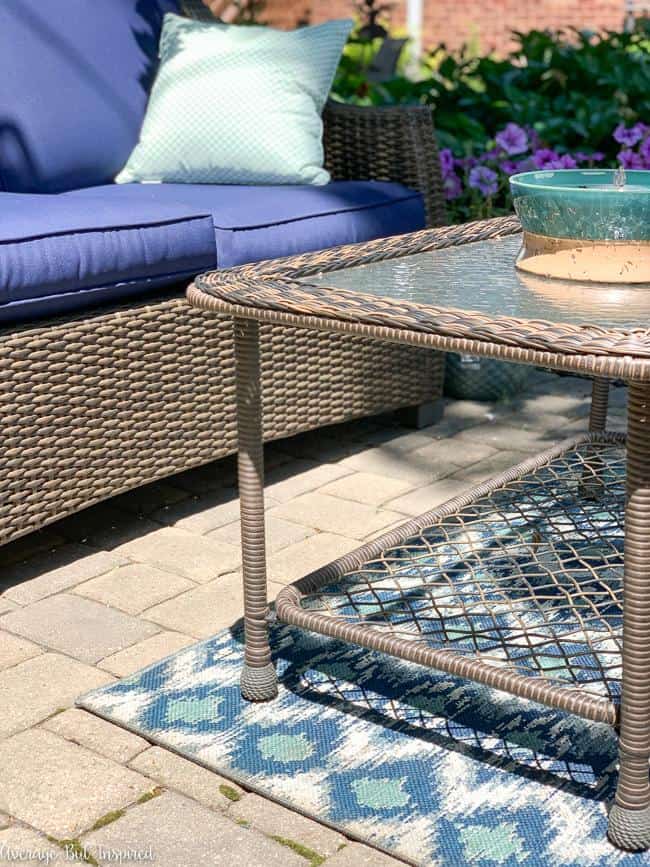 This rug cleaning process really made a difference in the look of my outdoor space!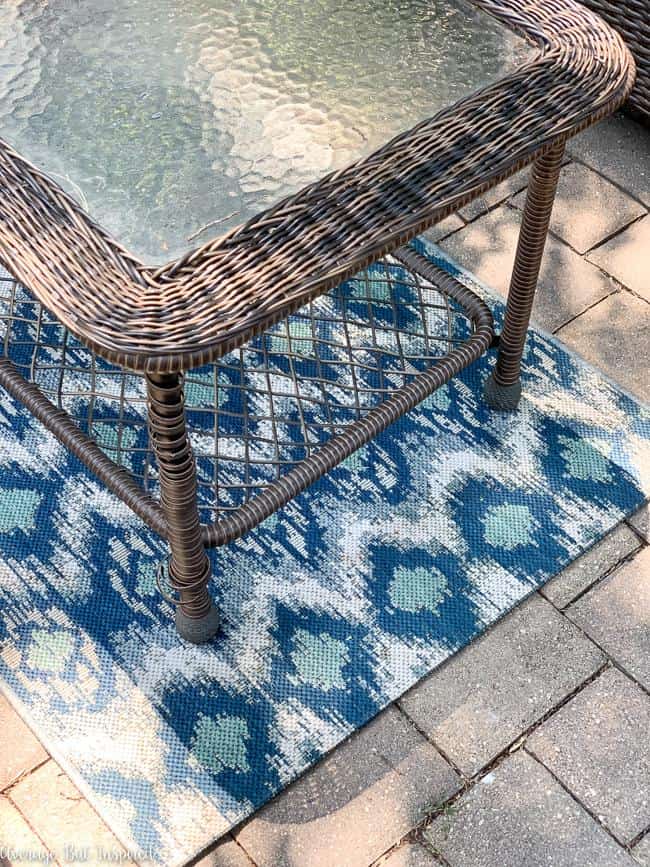 Now when we enjoy making s'mores out here in our DIY Outdoor Fire Pit, we won't be thinking how the patio is so nice EXCEPT for the nasty rug. (HA! I'm pretty sure I was the only one thinking that. My family definitely does not notice those types of things.)
Thank goodness for this easy way to clean an outdoor rug without bleach! Please make sure to save this image to Pinterest if you agree!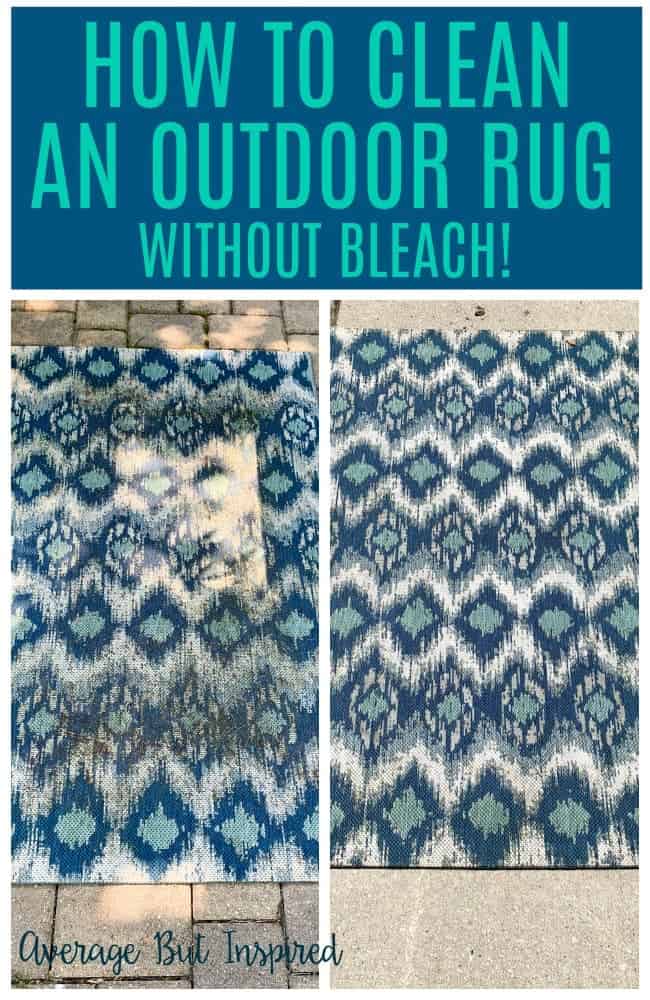 -Bre