Thank you Angel Soft® for sponsoring this post. Ditch the spray and switch to Angel Soft® with Fresh Lavender-Scented Tube.
Welcoming family and friends into your home is an act of generosity and grace. Whether you host friends and relatives frequently or infrequently, it's important to go the extra mile to make your visitors feel comfortable.
That doesn't mean you have to stress out about hosting, however! With some easy advanced preparation, you'll be ready for visitors with any amount of notice. And, the five helpful tips I'm sharing in this post for preparing your bathroom for guests will have them feeling cared for and welcomed!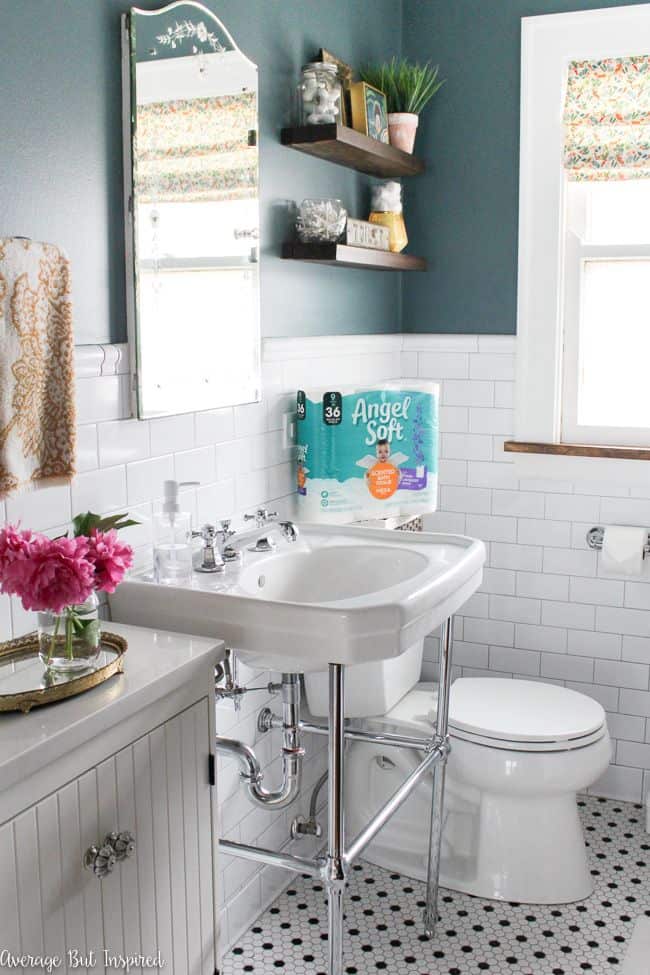 Anytime visitors are in your home, you can count on them spending some time in the bathroom. Because of that, you want to make your guest bathroom as relaxing, functional, and luxurious as possible! How do you do that? Let me help you!
TIP ONE: DEEP CLEAN THE BATHROOM
Let's face it – some visitors are nosy: sifting through the medicine cabinets and giving your spaces the white glove test! Even if no guest actually does that, I like to pretend that anyone who visits my bathroom is going to be inspecting every surface for cleanliness. Because of that, I deep clean it much better than I do for my own family. (#truthbomb)
I also put away any personal items that don't need to be seen by others, and make sure the drawers and cabinets are not hiding a disaster inside. I just assume that nothing is off limits!
If you have a dedicated guest bathroom that is rarely used, make sure to check the shower curtain and shower curtain liner (if you have these objects), for mold and mildew. You'd be surprised how many nasty shower curtains I've been greeted by in my day, simply because the bathrooms weren't used regularly and the issue was unknown to the hosts!
TIP TWO: MAKE IT SMELL GOOD
Of any place in your home, the bathroom is the one that needs the most help smelling fresh. It's just the reality of life! But attempts at masking unpleasant odors can be embarrassing in and of themselves, especially when you're not in your own home! Don't put your guests through that embarrassment!
The perfect solution for this age-old problem is Angel Soft® with Fresh Lavender-Scented Tube, which has an amazingly soft-but-effective fresh lavender scent applied right in the tube.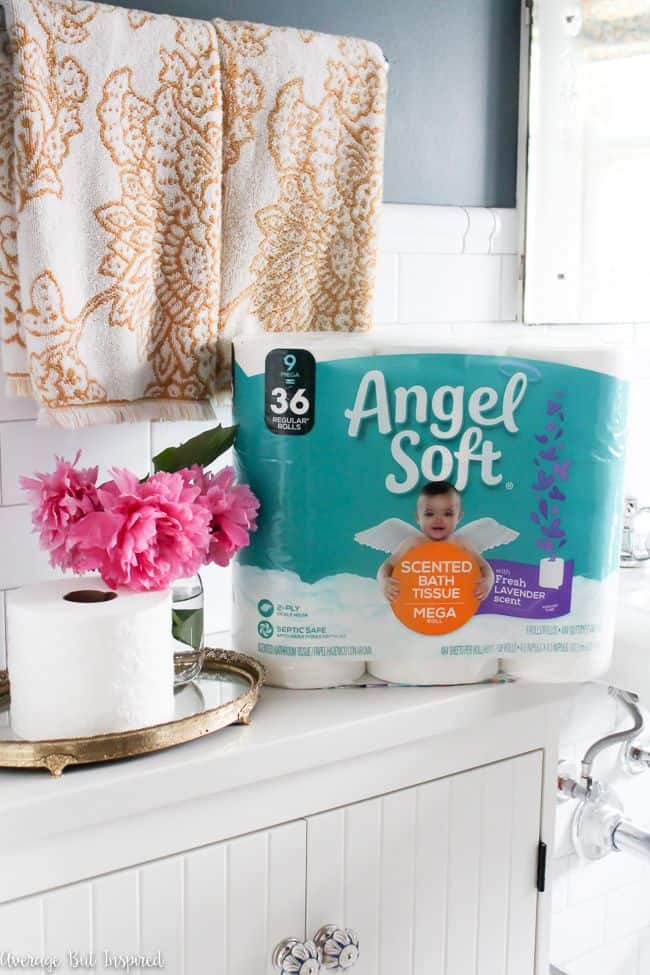 I personally LOVE this toilet paper, not only for its soft texture, but also for its ability to make my bathroom smell fantastic at all times without the need for candles or sprays.
A nice lavender scent goes a long way toward making my guest bathroom feel luxurious, and is another special way to make guests feel welcome.
TIP THREE: PUT AWAY THE RATTY LINENS
While you might be able to overlook your faded, threadbare towels and washcloths, your guests probably won't enjoy using those linens during their visit. Just thinking about the history of old linens leads the mind to some scary places!
So, do your guests a favor and provide them with clean, stain-free, and plush towels, washcloths, and hand towels – and enough of them! If you don't have quality linens already, consider purchasing inexpensive new ones at any big box store. You're bound to find them on sale somewhere!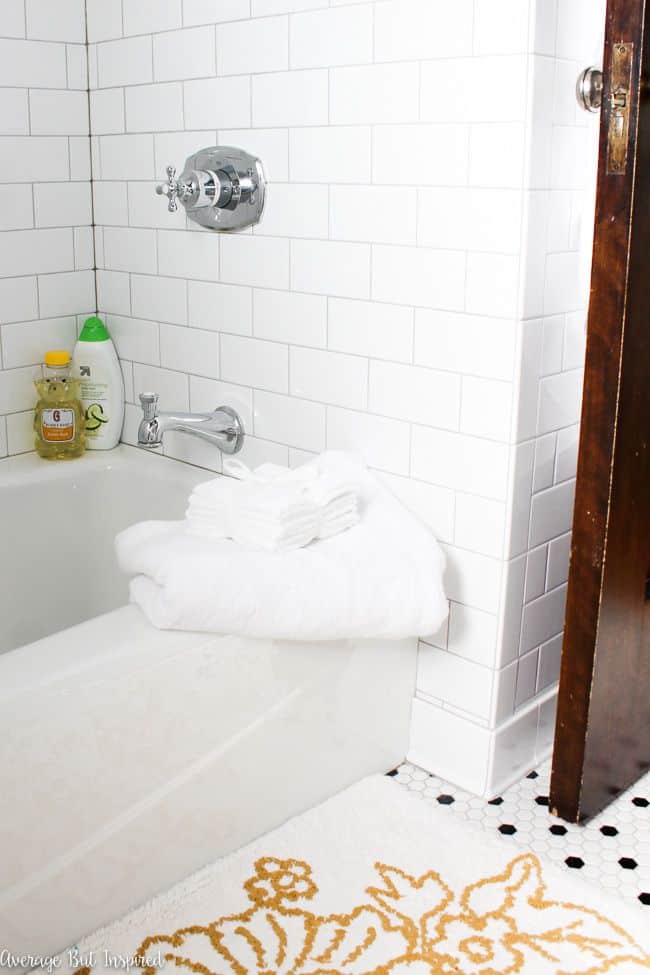 If your guests happen to be staying longer than a couple of days, change out their towels and washcloths for them during their stay. Just like you enjoy that when staying at a hotel, your guests will enjoy that when staying at your home!
TIP FOUR: GIVE THEM WHAT THEY NEED
Another great way to make your guests feel welcome in your home is to stock the bathroom with things they might need during their stay.
Set out a small basket with travel-size toiletries in case they forgot any essentials. Some guests are too shy to ask to borrow something, so make it easy on them and have it there already! You can even fill this basket with travel-size items you've picked up on your travels – no need to go buy new ones.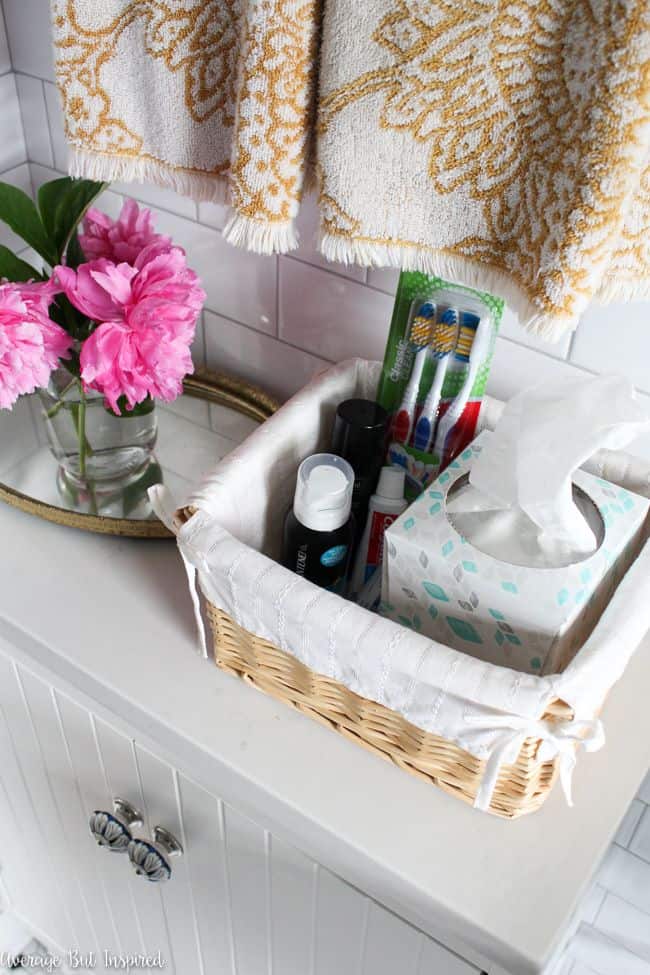 A small hair dryer and iron tucked in a drawer or cabinet is also a nice touch, if you have the space!
And of course, make sure there is PLENTY of toilet paper! Can you imagine being in someone else's bathroom only to discover that you've run out of toilet paper? So embarrassing! Keep an extra supply of Angel Soft® with Fresh Lavender-Scented Tube in plain sight to prevent that situation from happening and to keep your bathroom smelling delightful at all times.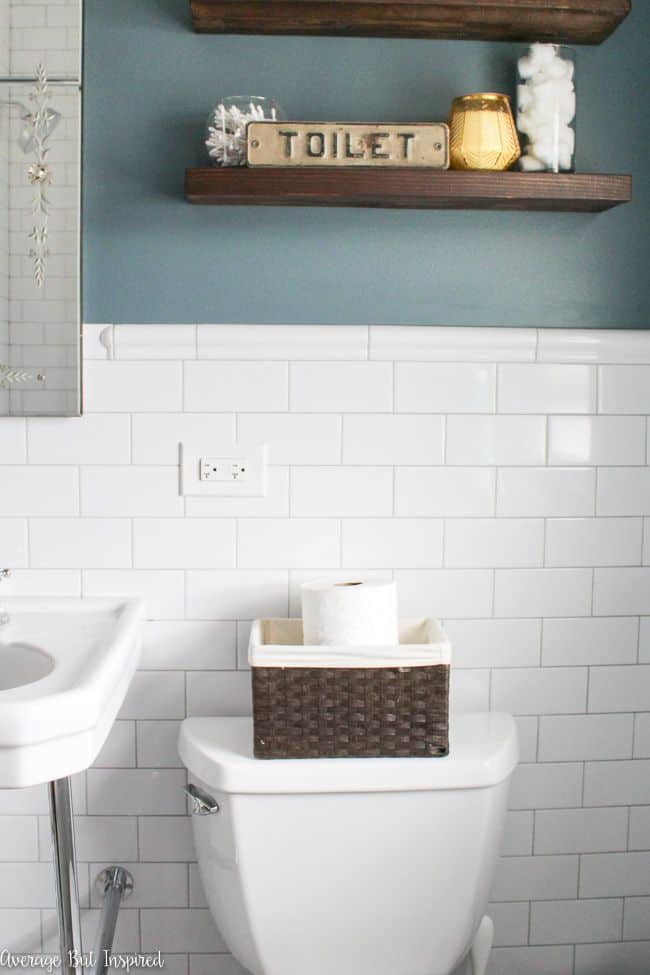 TIP FIVE: ADD FRESH FLOWERS
The last thing to do before turning over your bathroom to any guests is to add some fresh flowers to the space. It might sound silly, but popping even one flower in a vase shows your guests that you were thinking about them and their visit, and that you care! Cut some flowers from the yard or grab a $3 bouquet at the grocery store – either way will be beautiful and be the final touch in a space that will impress even the pickiest of houseguest!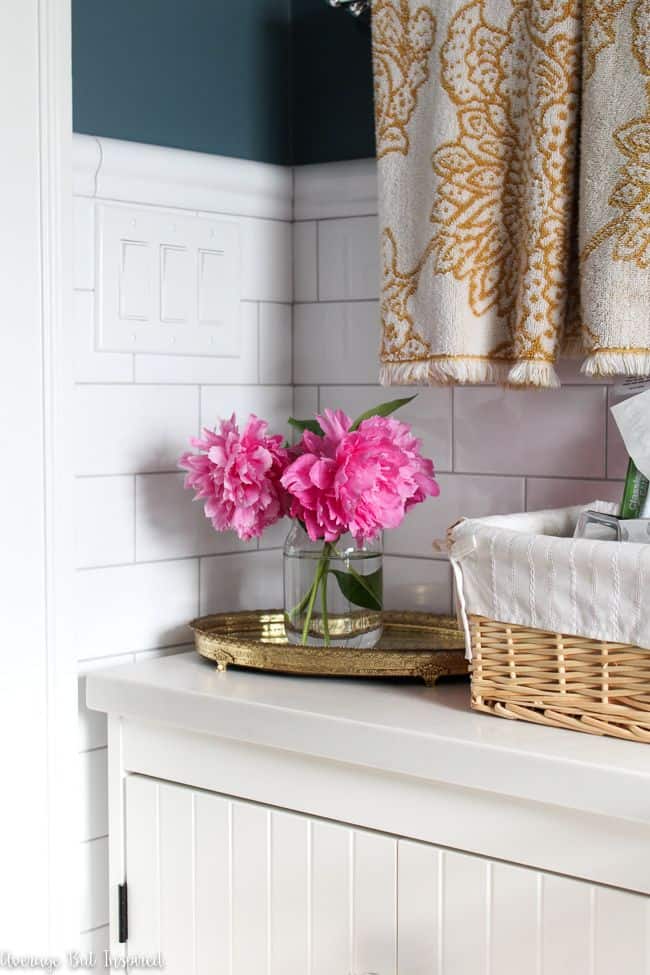 With these five tips for prepping your bathroom for houseguests, you'll be well on your way to successfully hosting even the most demanding visitors. I know I'll be doing all of these things in anticipation of my family's arrival for my sister's wedding this week!
When are you next expecting houseguests? Pin this image so you can easily find this post again before they get there!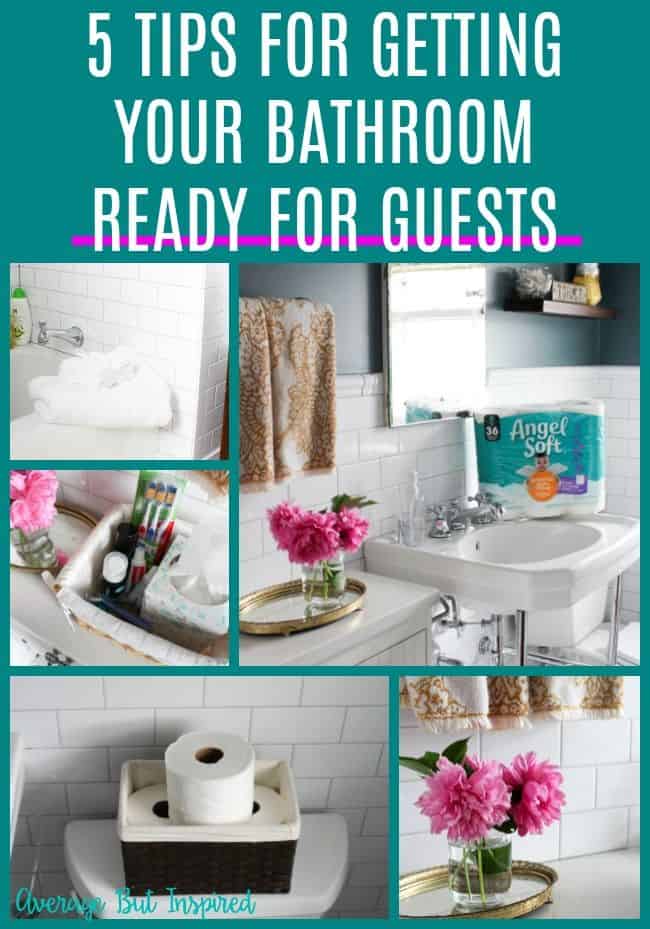 -Bre