Confession: I used to hate sunflowers. Like, passionately. That's pretty weird, right? Now recently I've started liking them. I don't know what's happened to me! I think I've begun to appreciate sunflowers because of the way they add pretty color to yards and gardens at the end of summer. And now, I have some faux sunflowers adding the same color to my back door because of this cute DIY Dollar Tree Sunflower Wreath I made!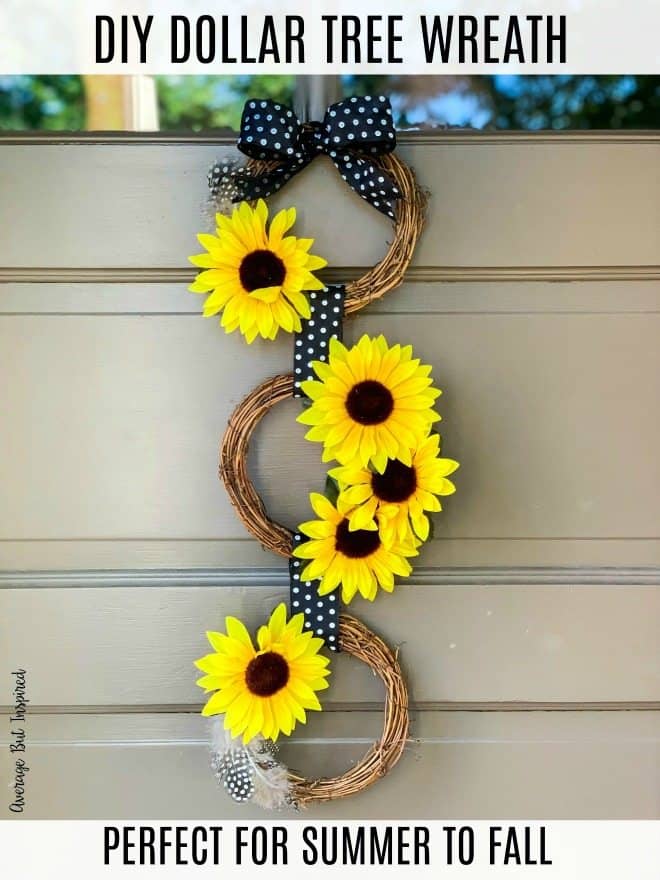 Supplies Needed to Make a Dollar Tree Sunflower Wreath
Because this wreath was made almost exclusively with Dollar Tree supplies, it came together for $5! Can you believe it? Here are the items I used:
Small grapevine wreaths
One bunch of faux sunflowers
Black and white polka dot ribbon
Faux feathers (purchased at Michaels)
Scissors
Hot glue and glue gun
How to Make a Dollar Tree Sunflower Wreath
I think the unique look of this wreath or door hanger is due to the fact that it uses three small grapevine wreaths to form a larger door hanging. I just love having something unique on my door!
Step One
Begin by cutting two pieces of ribbon to be about 6″ long.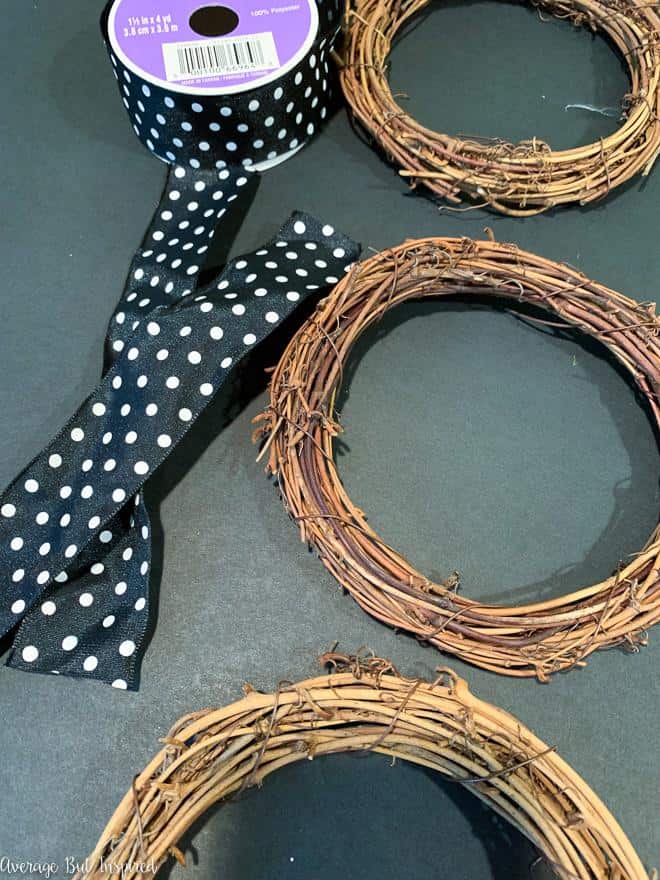 Step Two
Next, hot glue the ribbon around the top of one grapevine wreath and around the bottom of another grapevine wreath to form a loop.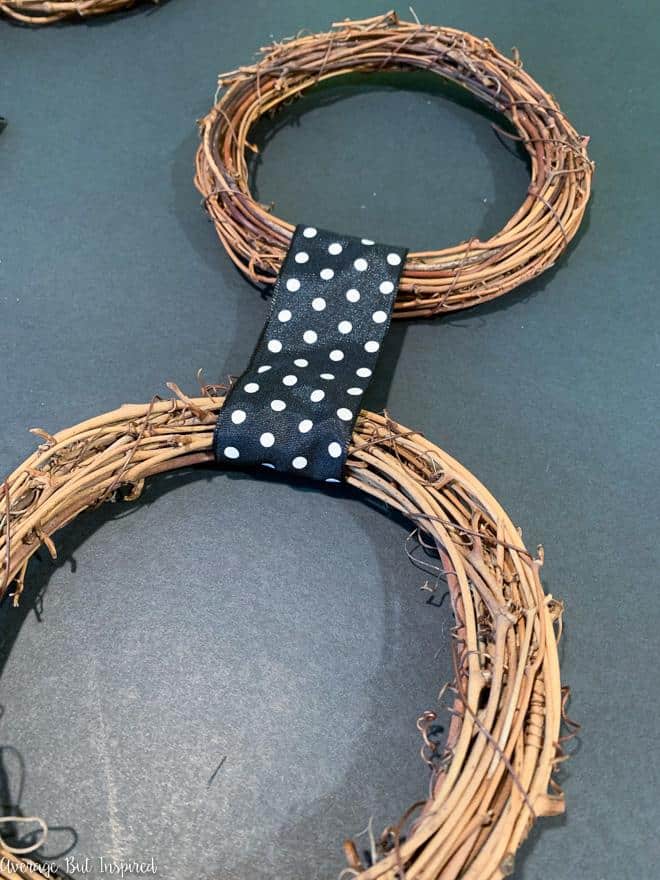 Step Three
Repeat step two so that you end up with three grapevine wreaths attached together with two pieces of ribbon.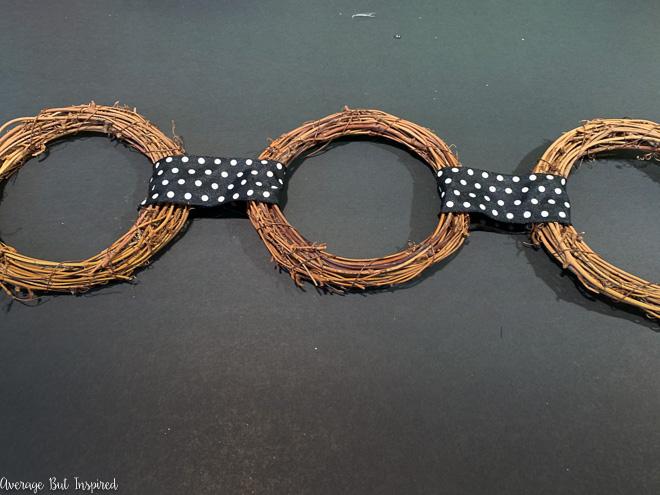 Step Four
Cut the sunflower blossoms off of a bouquet of Dollar Tree sunflowers. There are approximately six sunflowers per $1 bouquet, and I used five blossoms on this wreath. Once the sunflower blossoms are cut off, glue them onto the grapevine wreaths in any manner you like.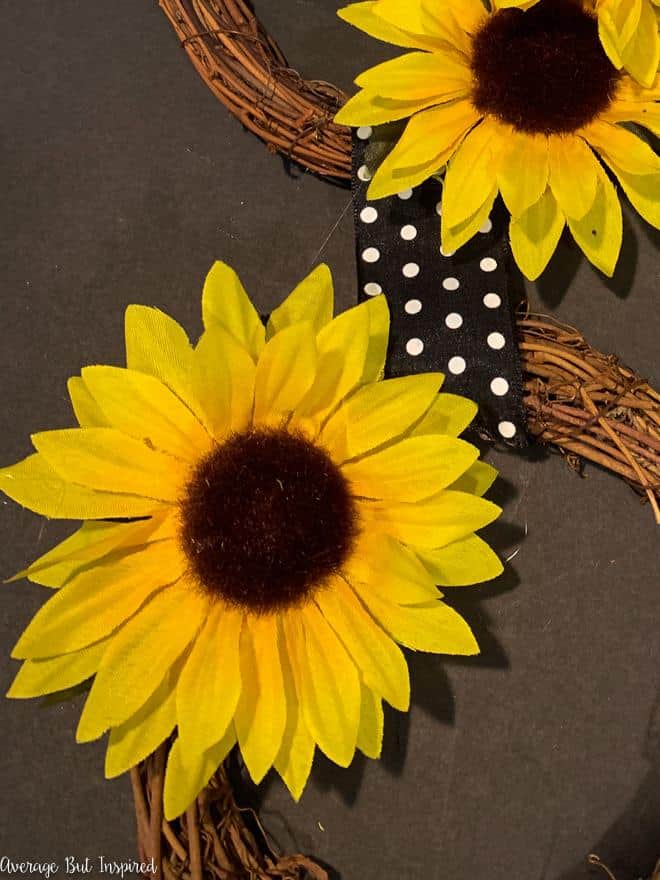 Step Five
Finally, add some feather accents around the sunflower blossoms, if you like! I purchased these cute spotted feathers at Michaels last year and used them on this Thanksgiving Embroidery Hoop Wreath, too! There are so many in the package that you can use them for lots of projects!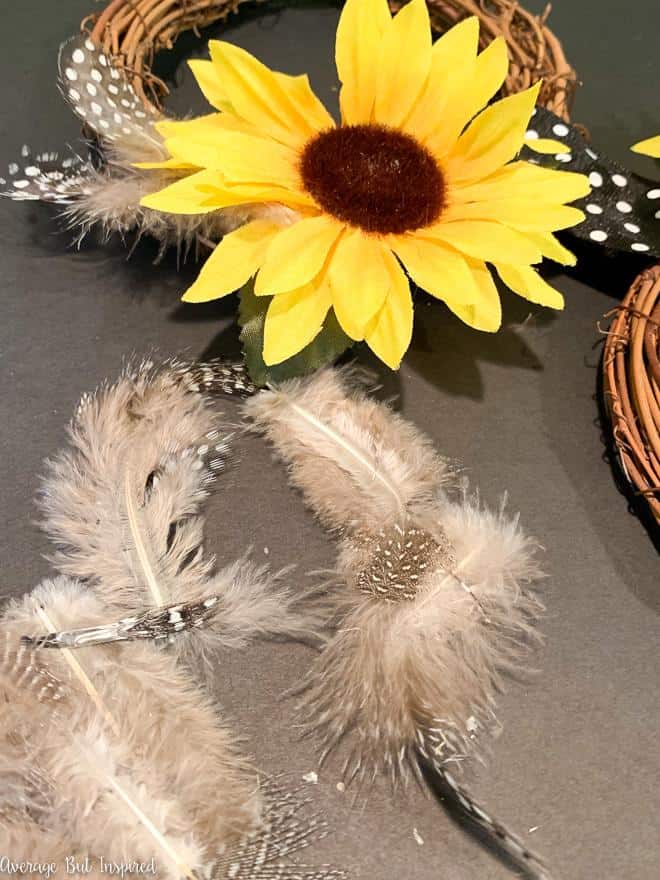 I love the natural touch they add to projects!
Step Six
Finally, cut a piece of ribbon about 12″ long and tie it into a bow. Then, hot glue it to the top of the sunflower wreath for a finishing touch.
And with that, your Dollar Tree Sunflower Wreath is finished!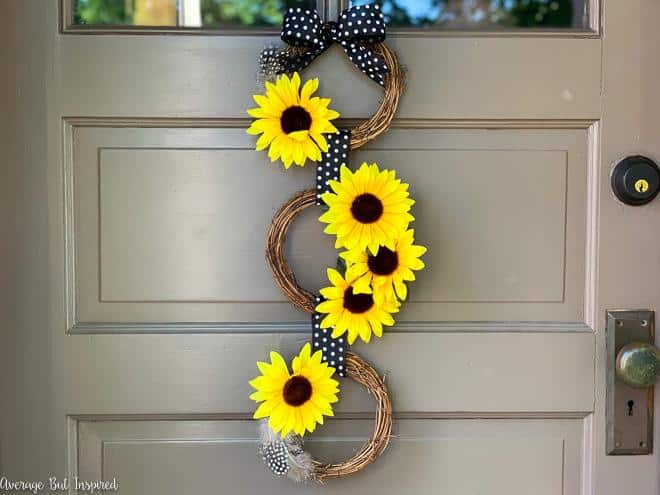 The contrast of the bright yellow sunflowers with the natural grapevine wreath is so beautiful! This is truly the perfect wreath to bridge the gap from summer to fall.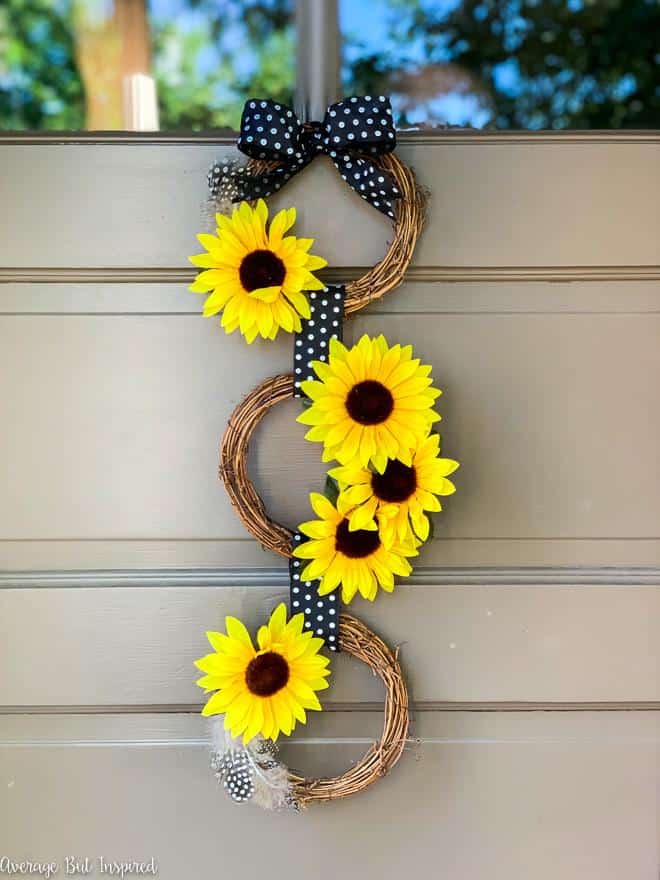 If you agree, I'd love for you to let me know in the comments and share this project on Pinterest or Facebook! It means so much to me when you share my work.
Happy crafting!
-Bre
You May Also Like This Dollar Tree Faux Chalkboard Wreath Project