This is a sponsored post written by me on behalf of Cricut. All opinions are 100% mine.
Entertaining season will be here soon! Though our celebrations are sure to be different this year, chances are we'll all still have a need for a hostess gift or two (or maybe a neighbor gift, teacher gift, or co-worker gift!). That's why I'm excited to partner with Cricut to share two FAB-U-LESS dollar store hostess gifts that you can make with the new Cricut Joy machine and/or the Cricut EasyPress 2!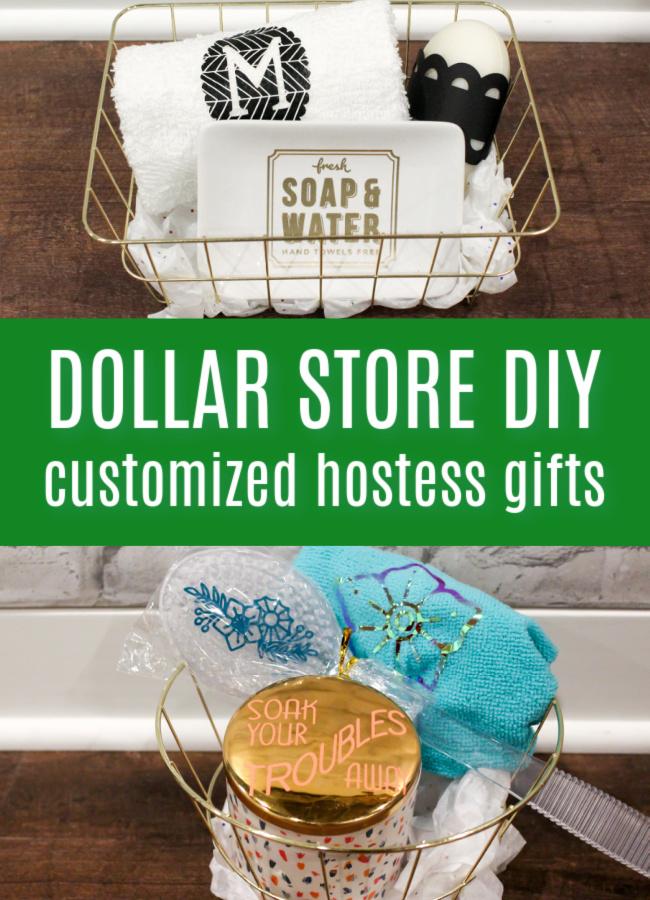 Before we jump into the step-by-step for making these dollar store hostess gifts, I need to tell you that if you do not own a Cricut electronic cutting and writing machine, you are missing out!
Full disclosure: I was scared to jump on board with using a Cricut because I wrongly assumed it would be confusing, time-consuming, and too big for my small craft table. I could not have been more wrong! I regret not incorporating Cricut into my crafts sooner. I know you'll see why as you learn how to make these adorable gifts! (If you already own a Cricut, can you believe how foolish I was?)
Dollar Store Hostess Gift #1: Customized Soap Set
For this first project, you will create a luxe-looking soap set that's practical and pretty!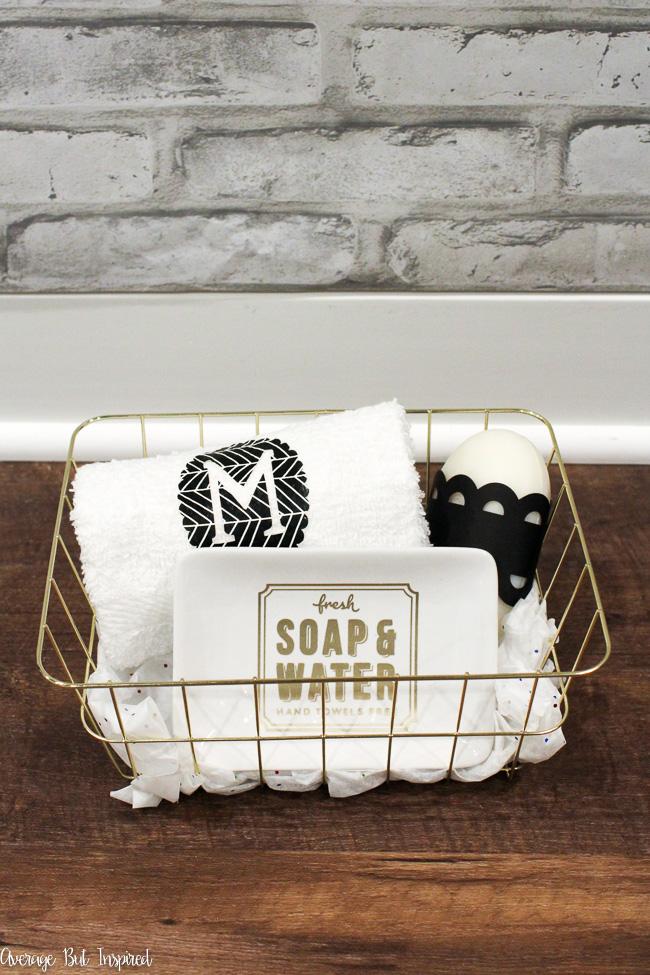 Supplies Used to Make The Dollar Store Customized Soap Set
This post contains affiliate links. To read my full disclosure policy, please click here.
Plain soap tray (purchased at Dollar Tree)
Plain terrycloth hand towel (purchased at Dollar Tree)
Luxury hand soap (I chose Oatmeal & Lemon Verbena – purchased at Dollar Tree)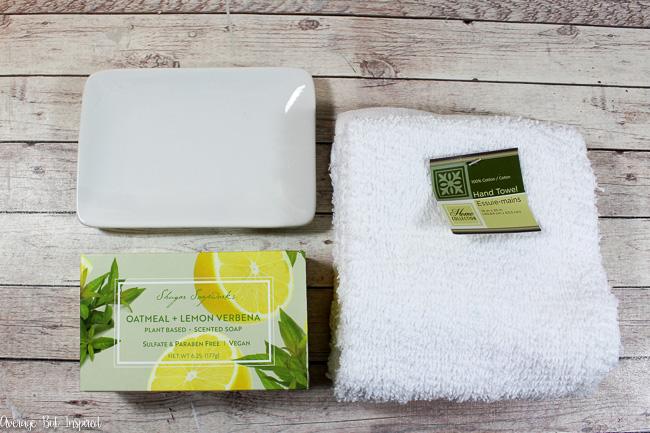 How to Make the Dollar Store Customized Soap Set with Cricut
This dollar store hostess gift could not be easier to put together! I will walk you through each of the elements so you can see how quickly and inexpensively you can transform plain dollar store items to custom pieces!
Customize the Dollar Store Soap Tray
Begin by opening Cricut Design Space, which is the software or app on your computer or smart phone (yes – you can connect Cricut Joy to your phone and design from there!), and searching for "soap" in the projects tab on the left of the screen. From there, select whichever soap image you like.
One of the great things about Cricut Design Space is that you can purchase designs individually for a reasonable price, or you can get unlimited designs with a Cricut Access membership (which you can pay for monthly and cancel at any time!). Once you see how versatile the Cricut products are (the Cricut Joy alone cuts over 50 materials!), you'll be hooked and probably want the membership to save money on your projects and always have fresh designs!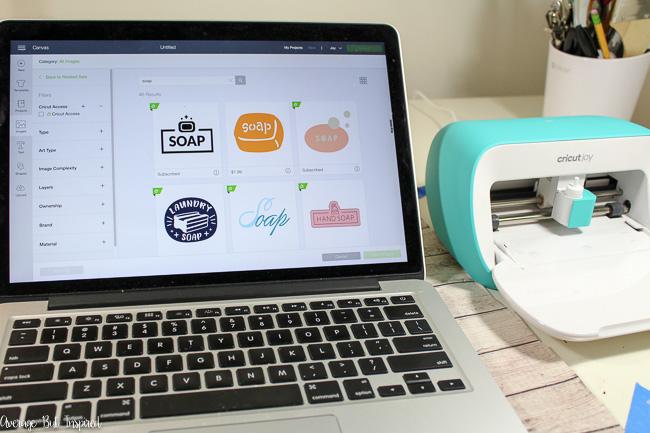 I chose an adorable image that reads "Fresh Soap & Water Hand Towels Free" since this hostess gift also incorporates a hand towel. #clever
I clicked the image to add it to my design canvas, changed the dimensions of the design so that it would fit perfectly on the soap tray, and then sent it to my Cricut Joy (which connects to my computer (or phone) wirelessly via Bluetooth). I did not have to think about ANYTHING – the program immediately told me what to do! First, I loaded the Cricut Joy Smart Vinyl in gold into the machine. Since this is a Cricut Joy Smart Vinyl product, I didn't even need to use a mat underneath the vinyl!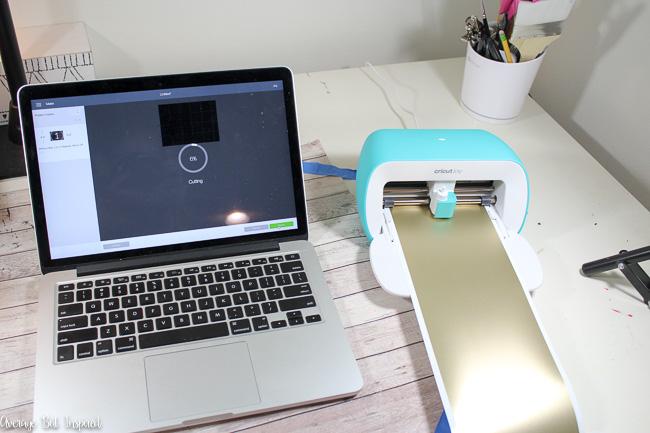 The machine then ran a self-test to make sure I had the right blade loaded and to make sure I had enough vinyl to cut this design. Foolproof! Then it cut the design in a matter of seconds.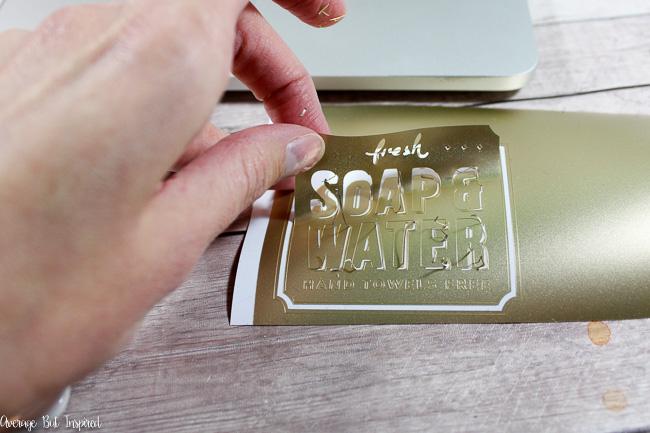 Once I unloaded the vinyl with the cut design, I removed the parts that I didn't want on the soap tray (the professional Cricut crafters call this "weeding."). I gently pulled off those parts with my fingers and with the helpful Cricut weeding tools that come in the Starter Tool Set.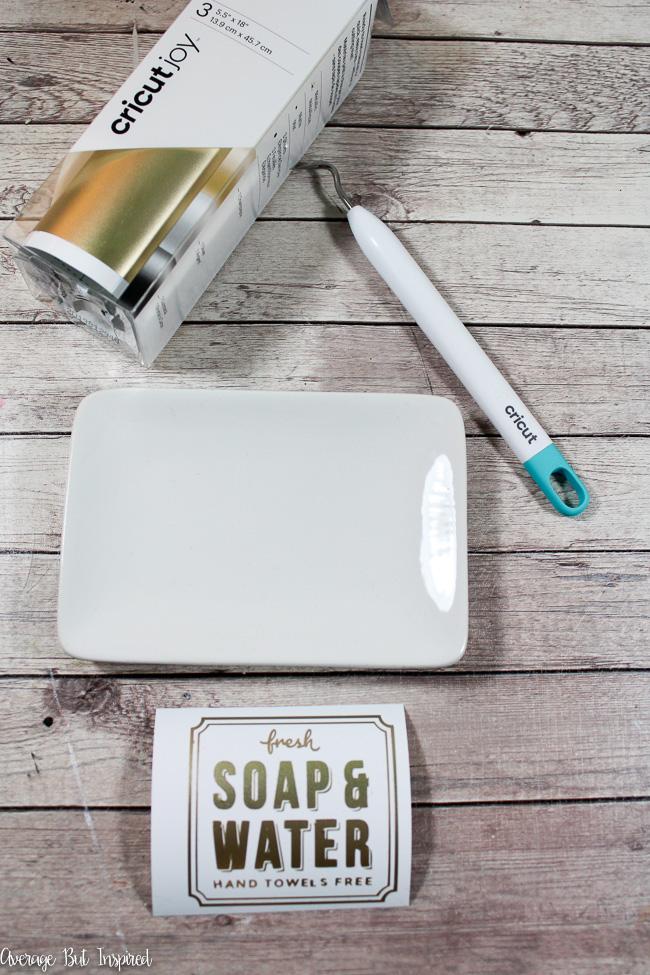 Then I transferred the vinyl design to the Cricut Transfer Tape and applied it to the plain dollar store soap tray, again using one of the tools in the Starter Tool Set.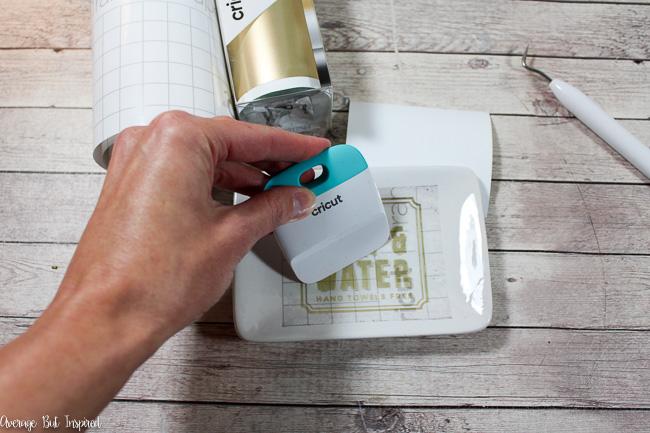 Look how cute it is!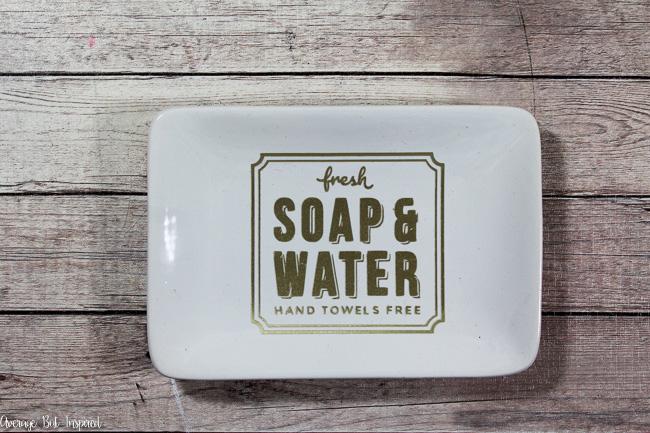 Customize the Dollar Store Hand Towel
The next part of this adorable hostess gift is a monogrammed hand towel. Monograms send a message that you were truly thinking of the gift recipient, and Cricut Joy makes it incredibly easy to monogram anything!
Just like the soap tray, I picked a monogram in Cricut Design Space, added it to my design canvas, and sized it to fit the dollar store hand towel.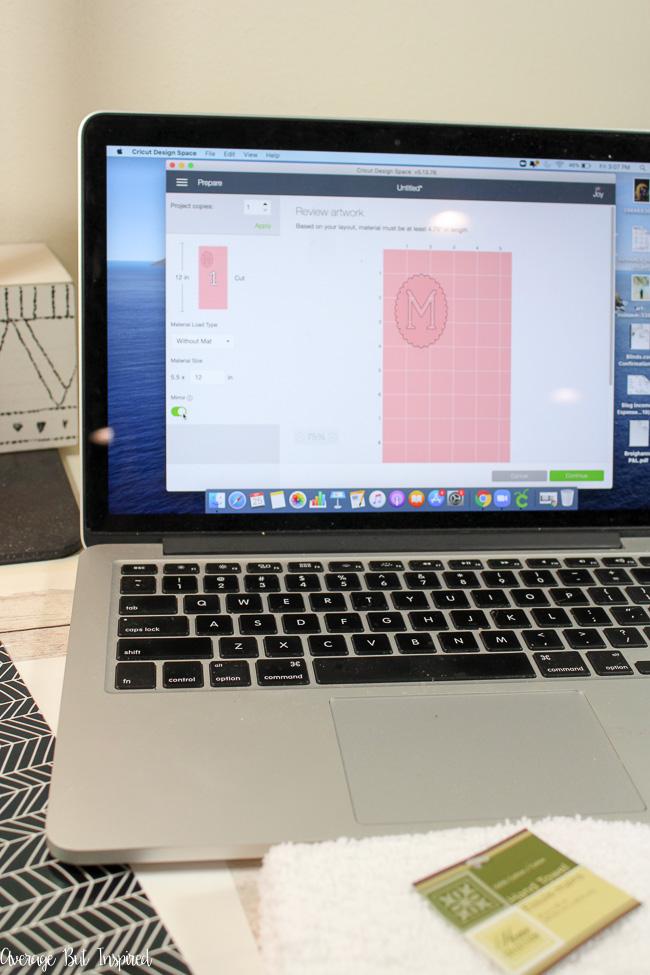 I chose a black and white herringbone vinyl from my Cricut Joy Smart Iron-On Patterned Sampler, Nature Walk Basic, and then clicked to start the cutting process, and was reminded that I needed to mirror image my monogram because I was cutting iron-on vinyl, which is cut upside down. Cricut Design Space is SO SMART! I would have ruined the vinyl had the smart software not reminded me to fix my design for my project. It also told me how to load the iron-on vinyl properly – upside down in this case. This makes it practically impossible to mess up. I love it!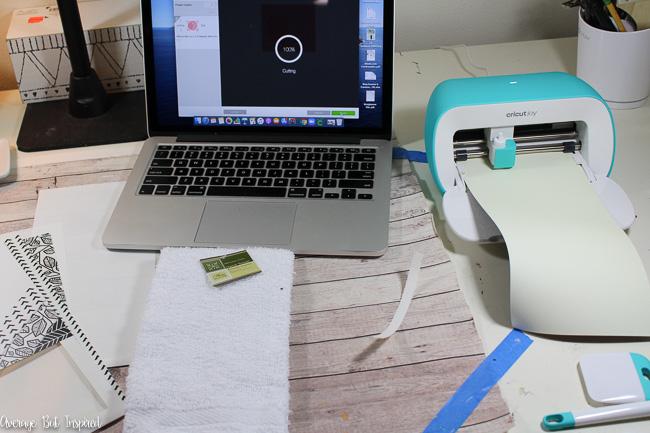 Once it finished cutting, I weeded (see, I'm already becoming a professional!), and then plugged in the most fantastic tool, the Cricut EasyPress 2, so that I could get this monogram onto the towel!

The EasyPress 2 is essentially a combination of a heat press and an iron, and it ensures that iron-on projects go off without a hitch! I consulted the Cricut EasyPress online guide, which told me exactly which heat settings and timing to use to affix the monogram to the towel. No guessing!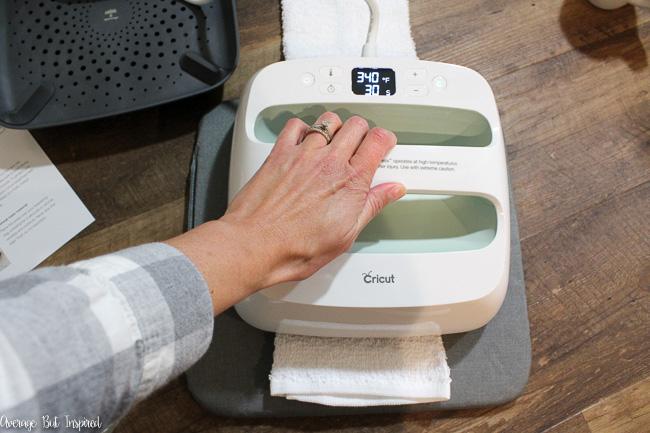 In less than a minute from start to finish, I monogrammed this hand towel, and it is so cute! And I know that because I used the right temperature and time, this monogram will not come off of the towel – even with repeated washing.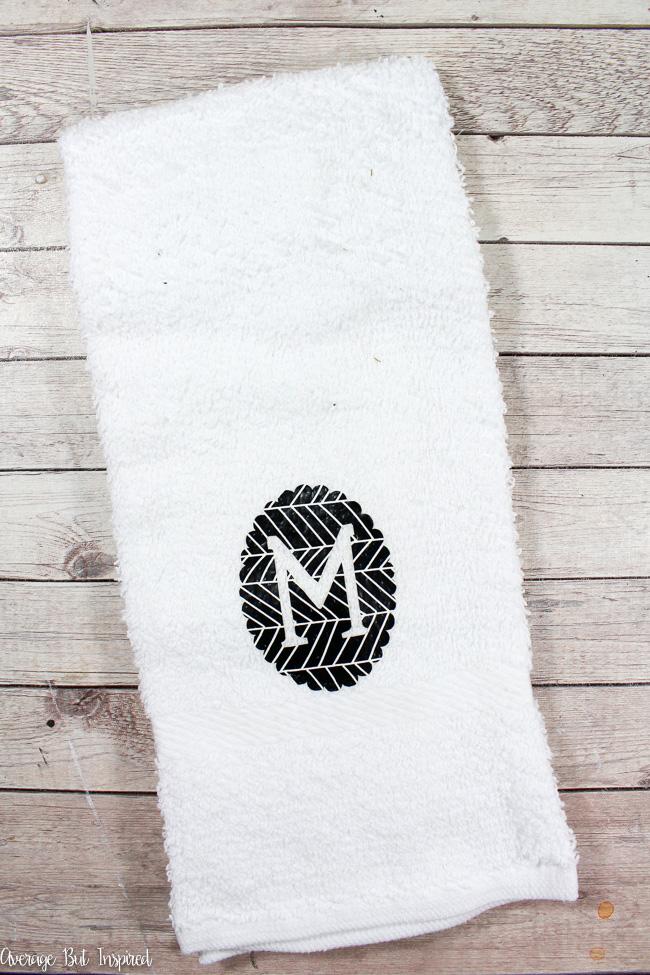 Customize the Hand Soap
Finally, to take this dollar store hostess gift to the next level of cuteness, I embellished the dollar store soap! I found a cute border element in Design Space and popped it onto my canvas.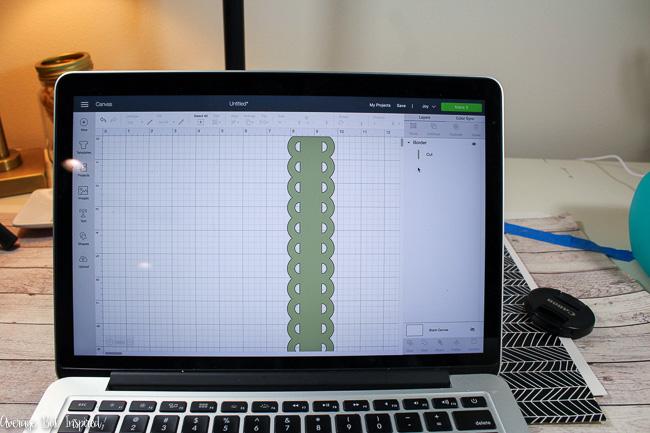 I narrowed the width to about 2″ and the shortened it to about 9″ long, and then added black cardstock (that I cut into a smaller strip) to the CricutJoy LightGrip Mat. Unlike Cricut Joy Smart-materials, cardstock requires use of a mat underneath.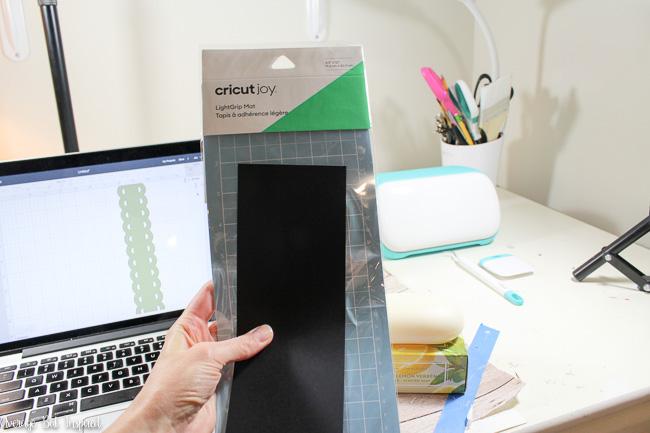 Once again the program told me everything I needed to know about how to cut this cardstock, so I set it up and got to cutting!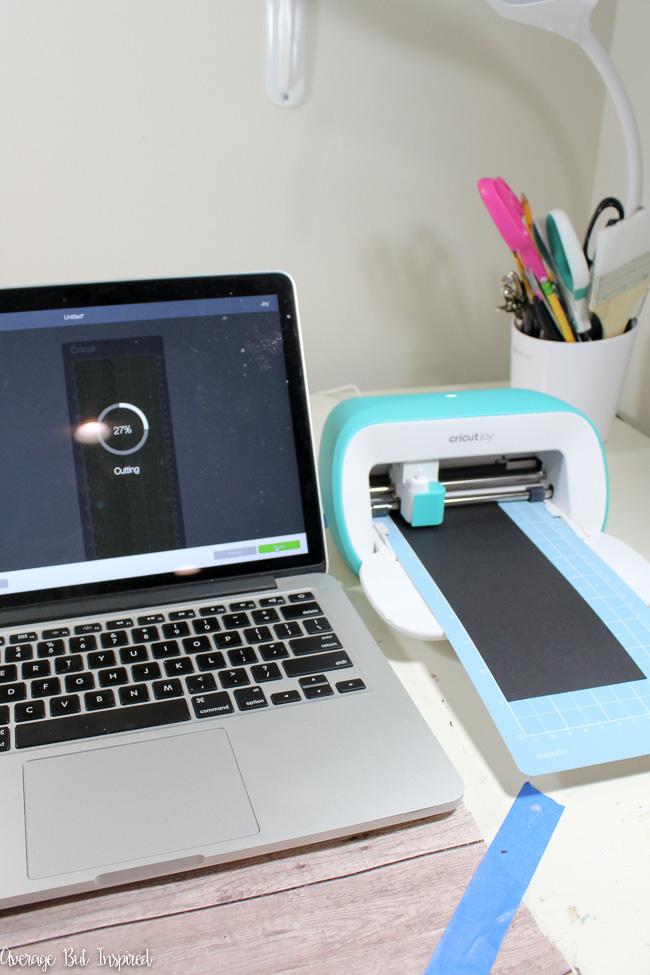 In just a few seconds my paper border was ready! I got it off the mat and then wrapped it around the soap, which I removed from the box. I put adhesive on one end of the cardstock and pressed the other end on top.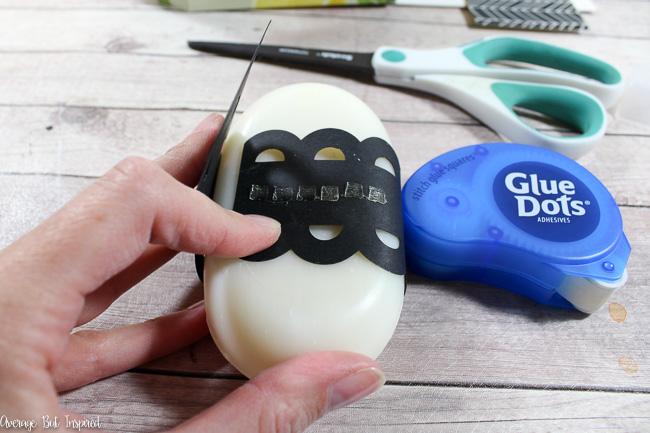 It could not be easier to upgrade a nice soap even more!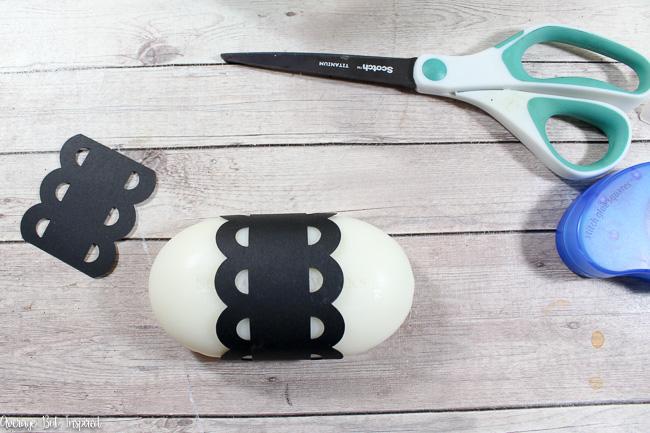 Put it All Together
To make these dollar store items into a cohesive and lovely hostess gift, I put all of them into a pretty gold wire basket (also from Dollar Tree)! When I present them to the hostess, I will wrap them in clear cellophane and tie with a beautiful ribbon. Oh, and I might even get crazy and make a pretty gift tag or thank you card with my Cricut Joy to tie on there, too. (The Cricut is SO versatile that you can make practically anything with just about any material!)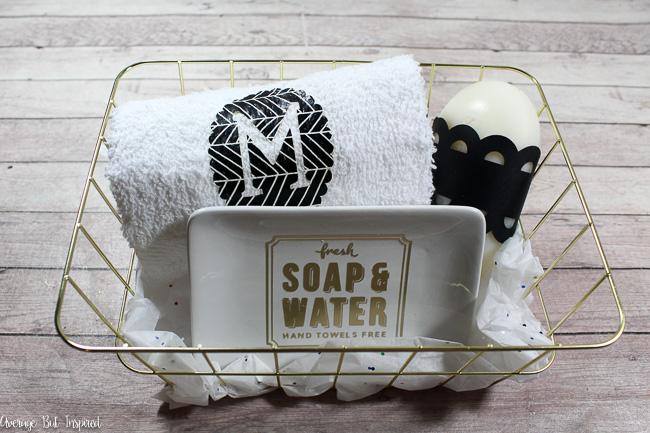 Dollar Store Hostess Gift #2: Customized Bath Spa Set
For the second dollar store hostess gift, you will customize dollar store bath spa blanks with Cricut to create a luxe gift that will help the hostess relax during the stressful holiday season!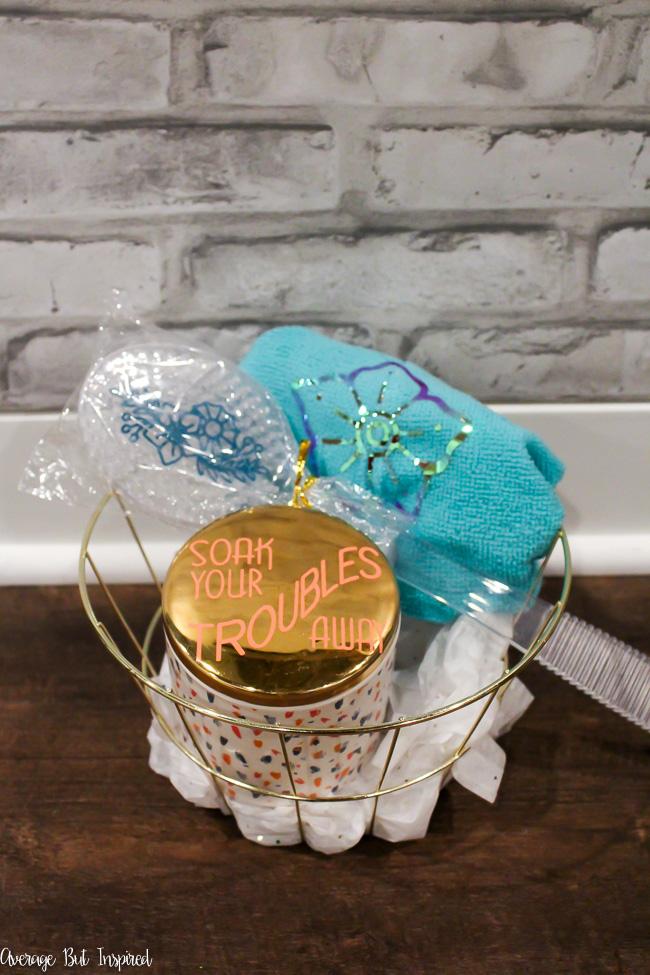 Supplies Used to Create the Dollar Store Bath Spa Set
Decorative storage jar (purchased at Dollar Tree)
Bath salts (purchased at Dollar Tree)
Bath scrub brush (purchased at Dollar Tree)
Microfiber hair wrap (purchased at Dollar Tree)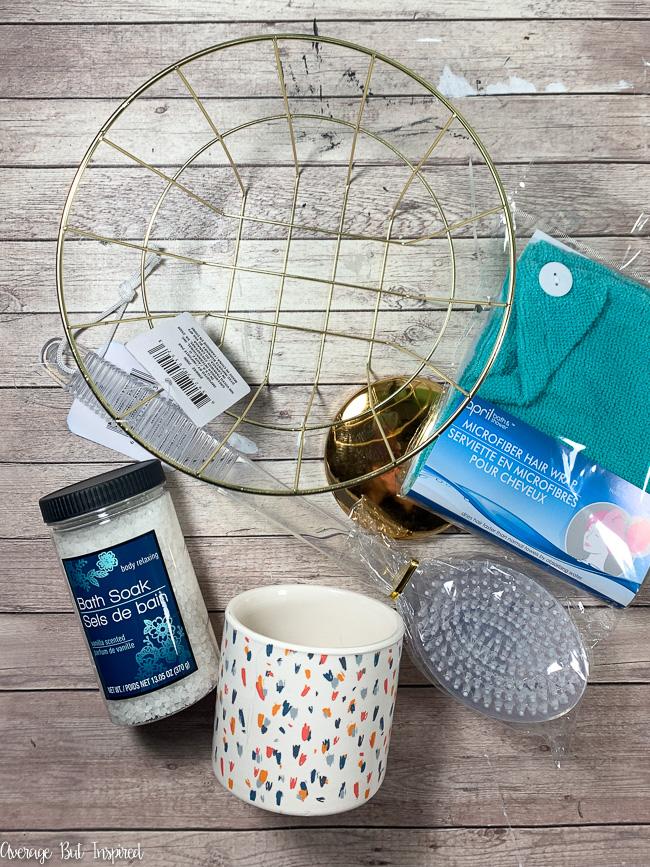 How to Make the Dollar Store Bath Spa Set with Cricut
Just like the dollar store hand soap set, this bath spa set is so easy to create, and perfect for any level Cricut user – even beginners like me! I will walk you through each of the steps.
Customize the Bath Salts Jar
For this portion of the gift set, you need bath salts and a pretty decorative jar – both from the dollar store! I started by searching in Cricut Design Space for spa-type designs, and I found this text art that was perfect for soaking in the tub with some luxurious bath salts: "Soak Your Troubles Away."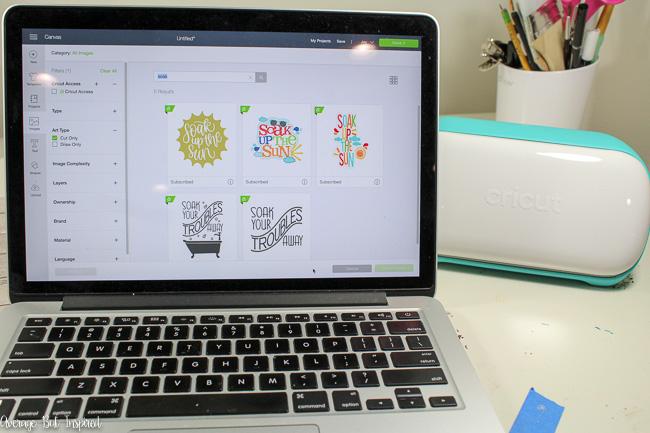 I measured the lid of decorative jar, placed the design on my Cricut canvas, resized it to fit the jar lid, and sent it to Cricut Joy to cut!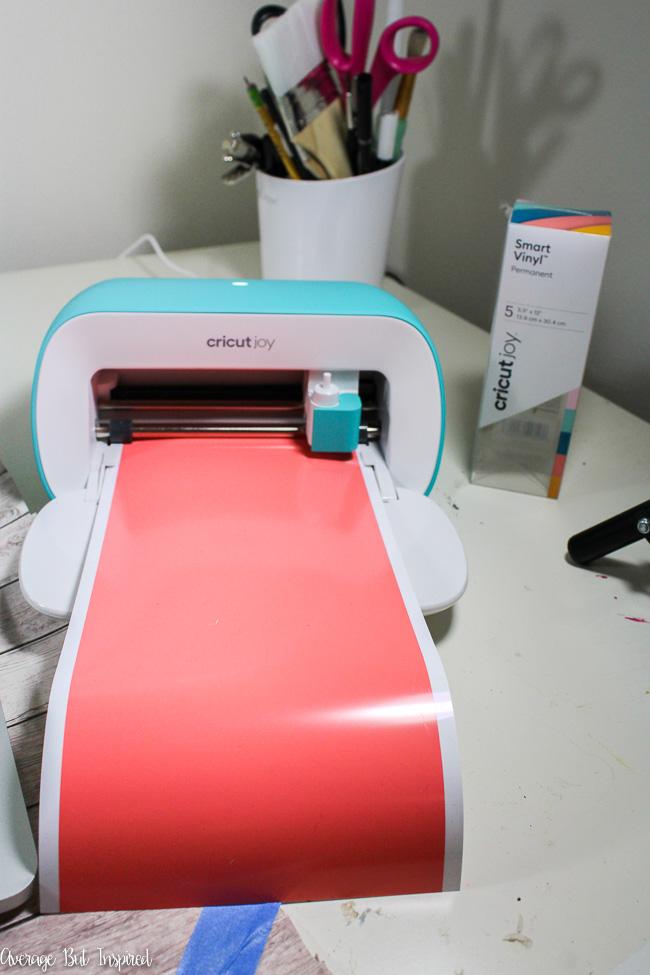 Because I used the Cricut Joy Smart Vinyl- Permanent, I didn't need a cutting mat. The Cricut Joy double checked that everything was aligned and that I had enough material, and it cut flawlessly!
I followed the same steps as the soap dish above: putting the cut vinyl design on Cricut Transfer Tape, and then applying the text art to the jar lid.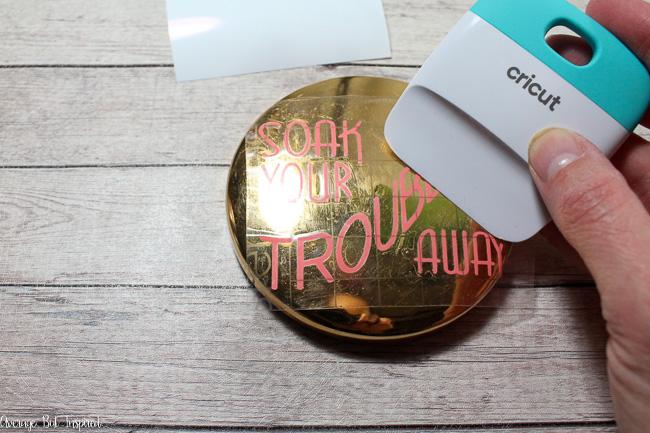 I filled the jar with the bath salts and had the first component of the dollar store bath spa set finished in under five minutes!
Customize the Bath Brush
For the next part of this relaxing hostess gift, I used Cricut Joy to customize a dollar store bath brush! I followed the same steps as the bath salts jar lid (finding the design in Cricut Design Space, resizing it on my canvas, and cutting it on Cricut Smart Vinyl- Permanent).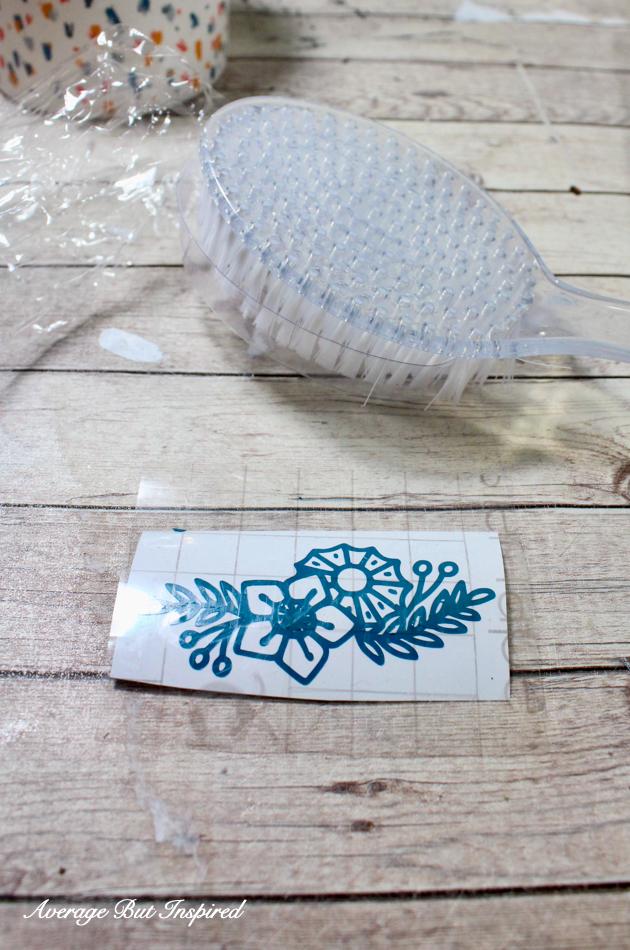 After I applied it to the bath brush with the Cricut Transfer Tape, I rewrapped it in the clear packaging it came in.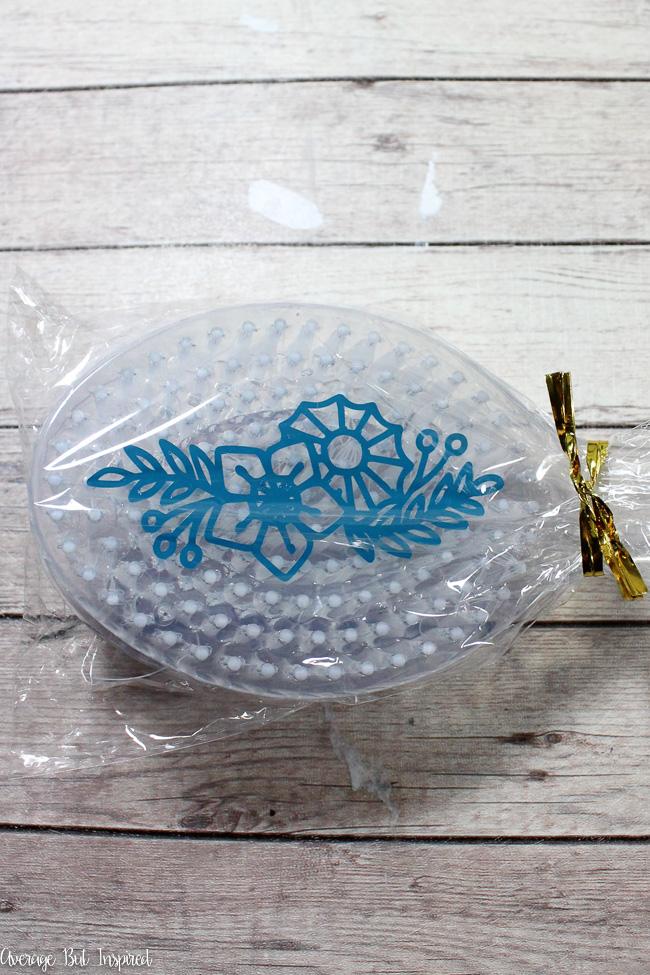 Customize the Microfiber Hair Towel
For the last part of the bath spa basket, I decided to add a similar floral flourish to the microfiber hair towel. This was extra fun because I tried out the Cricut Smart Iron-On Vinyl in a Holographic material. I love all of the iridescence and beautiful colors in this vinyl!
After I found my design and cut it per the instructions that Cricut Joy gave me, I fired up my Cricut EasyPress 2 and consulted the online guide for the exact way to add this holographic design to the microfiber hair wrap.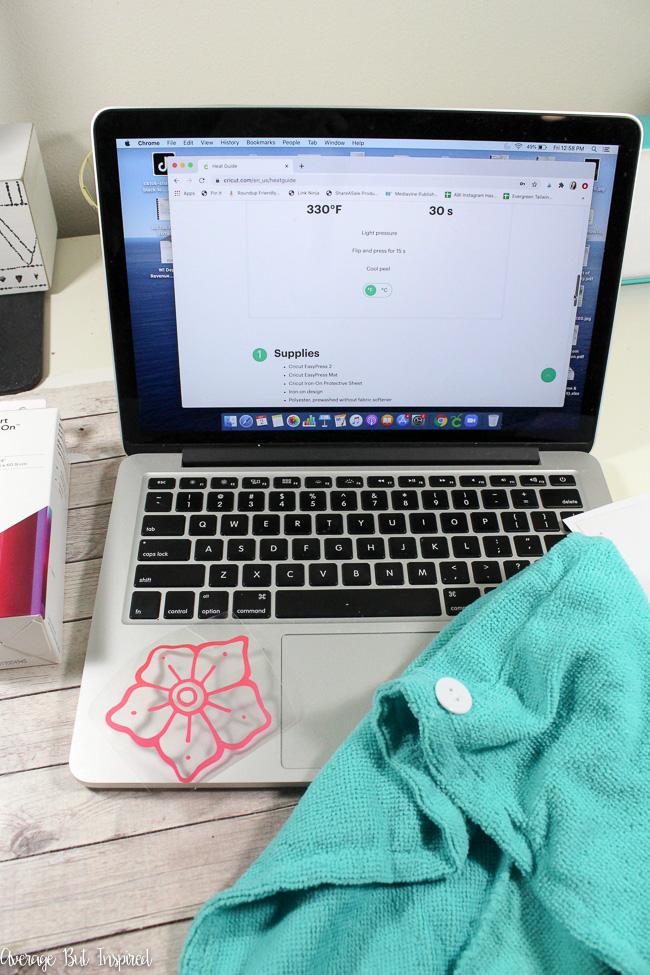 Because this hair wrap is 100% polyester, I was so glad that the online directions told me exactly how to apply the vinyl for a lasting hold! No guess work AT ALL!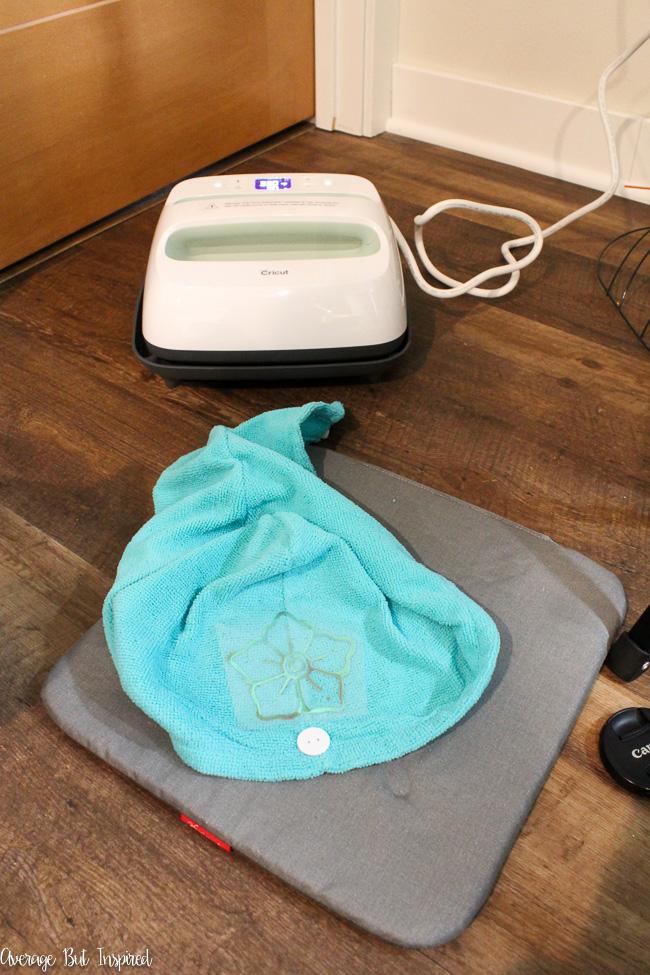 Once the heat press part was finished, I was able to see the flower embellishment shimmer and shine!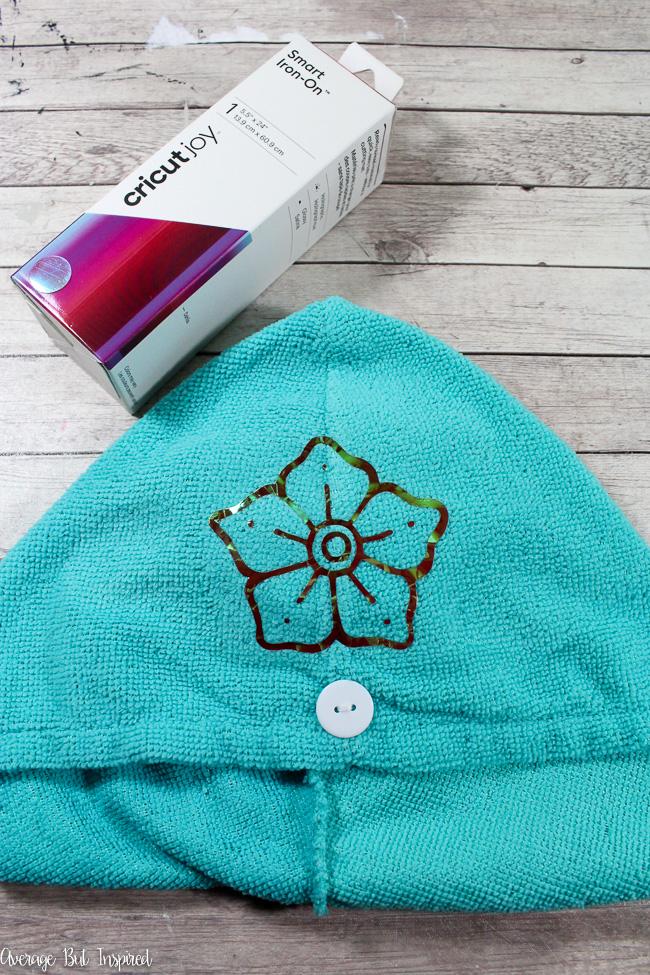 Put It All Together
As I did with the soap tray gift set, I put these lovely bath spa products all together in a gold wire basket – also from the dollar store! When it's time to present this gift to the hostess, I will wrap it up in clear cellophane wrap and tie with a beautiful bow.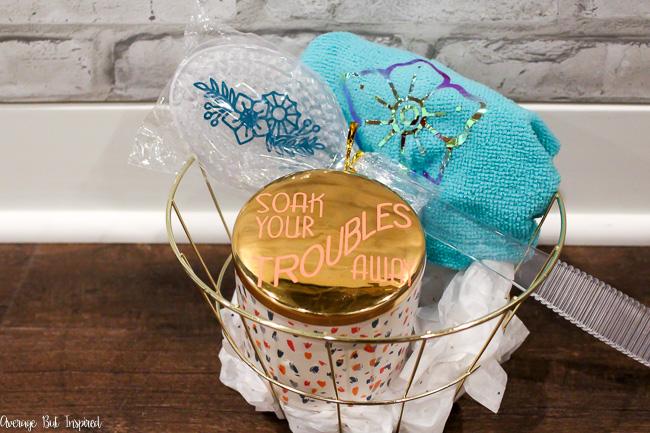 These lovely DIY hostess gifts are made extra-special with the customization elements I was able to create with my Cricut Joy and Cricut EasyPress 2. With the amount of use I will get out of my Cricut products (and the ability to make even simple dollar store products look so good!), these machines will pay for themselves in no time!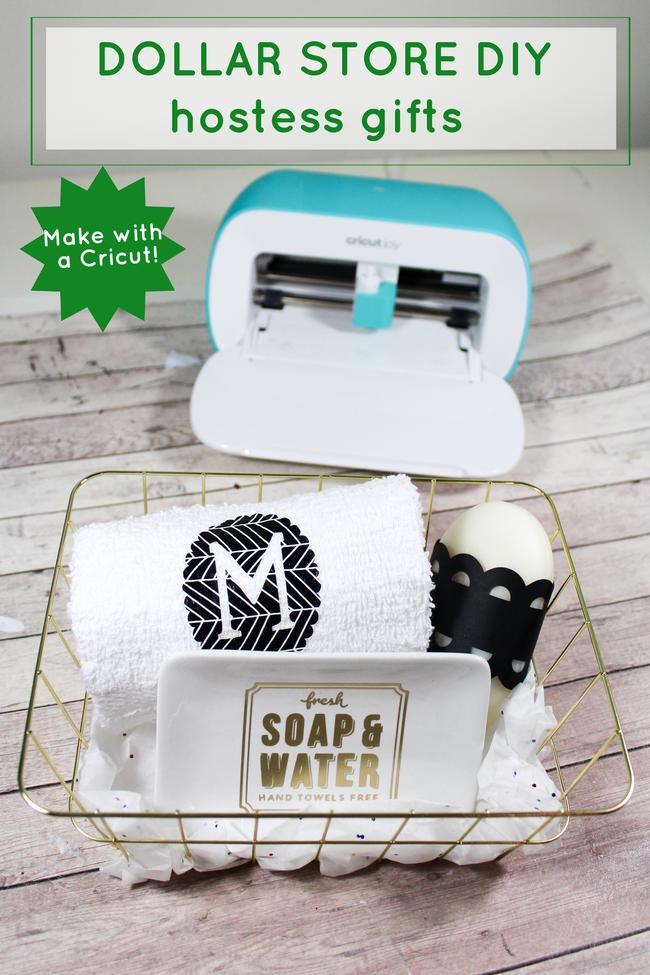 Seriously, if you don't have a Cricut yet – what are you waiting for? Treat yourself (hey, it's 2020 – we ALL deserve a treat!), or maybe ask Santa for one.
-Bre