There's something charming about aged terracotta flower pots. Layers of color and hairline cracks evoke memories of seasons past spent digging in the dirt and watching the fruits of your labor bloom. When you don't have old pots lying around, sponge painting terracotta pots is a really easy way to get that authentically vintage look.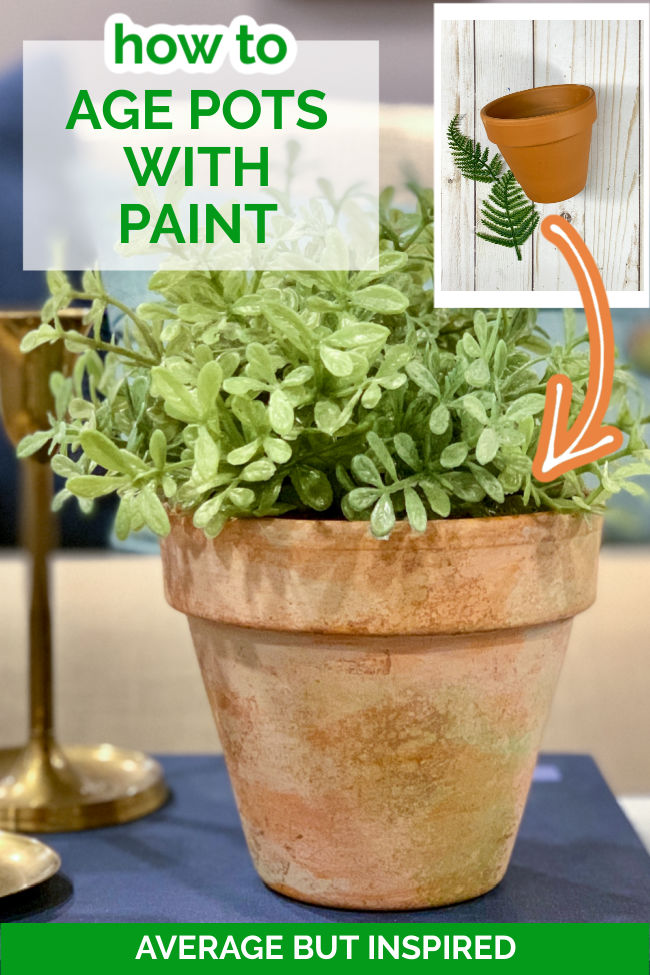 The good news about this method of making new terracotta pots look old is that the imperfections are part of the beauty. Because of this, even a novice painter or crafter can paint these pots and get a convincingly aged finish!
This post contains affiliate links. To read my full disclosure policy, please click here.
What kind of paint do you use on terracotta pots?
To paint a terracotta pot to look old, you should use matte paint.
Glossy paint or satin paint will be too shiny and will not give an authentically-aged look. Think about the old pots that you have seen before: is the dirt shiny? Is the moss shiny? No way!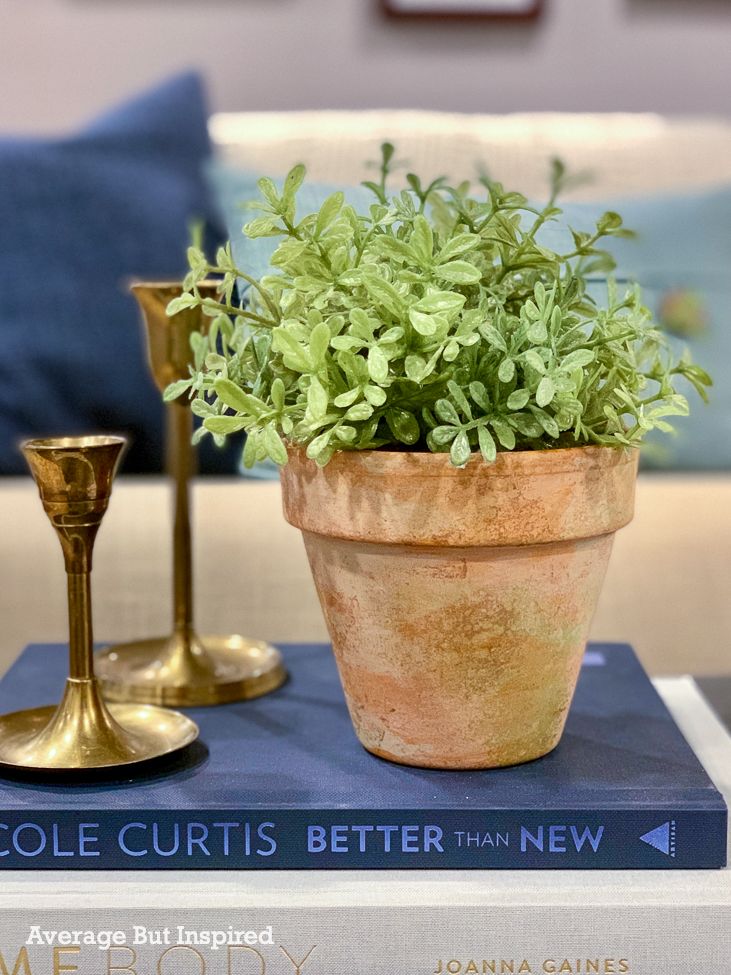 Because a matte finish is best, chalk paint works great when painting terracotta pots to look old. Matte acrylic craft paints also work well.
Do you need to seal painted terracotta pots?
The answer to whether you need to seal painted terracotta pots is "it depends." Helpful, huh?
Because I'm teaching you how to sponge paint terracotta pots to look old, I do not think you need to seal the painted pots. Any changes to the painted finish will add to the aged look and character of the flower pots.
Should you decide to seal the painted aged pot, use a matte sealer like a spray polycrylic to keep that matte look going strong!
If you're painting flower pots in a different style and want to maintain the precise look you've achieved, then you should probably seal the painted pots.
How do you sponge paint terracotta pots to make them look old?
I know you're going to love this faux finish technique for painting terracotta pots to make them look old. It's so incredibly easy, and it's similar to the technique I used to antique a mirror from the front side.
Read or print the project steps below, and watch my video on how to age terracotta pots with paint for even more help!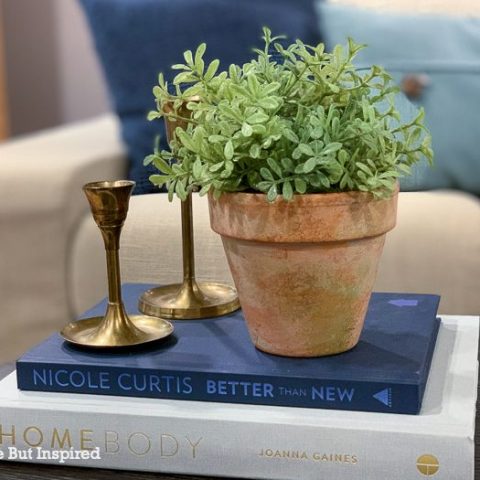 How to Sponge Paint Terracotta Pots
Additional Time:
10 minutes
Sponge painting terracotta pots to look old is the easiest way to age new pots. This is an easy faux finish technique that any level of crafter or DIY'er can do.
Materials
Terracotta pot
Brown paint (matte)
Cream paint (matte)
Green paint (matte)
Sponge
Paint brush
Water
Paper towel
Instructions
Make sure that the new flower pot doesn't have any stickers or residue on it. Once it's clean, it's ready for painting.
Apply brown paint to a sponge (or part of a sponge like I used). Press the paint-covered sponge onto a surface (like a paper plate), to remove extra paint.
Dab the sponge all over the terracotta flower pot.
Once the paint has dried, load a paintbrush with watered-down cream-colored paint. Brush the paint all over the flower pot.
Working quickly so the paint doesn't dry, use a paper towel or paper napkin to dab off much of the paint. This will allow the brown paint to show through and create a layered effect.
When that layer of paint has dried, use a sponge to apply bits of green paint on random spots of the terracotta pot. Do not put green paint all over. The point of this green paint application is to look like mossy spots on portions of the flower pot.
After the paint has dried, you may choose to seal it, if desired.
Notes
To speed up the drying process in between coats of paint, use a hairdryer on a low heat setting.
-Bre