One of the biggest challenges in my Office and Guest Room Combo Makeover was modernizing a mirrored wall that screamed "hello, it's 1980." OK, obviously it didn't really scream that, but it might as well have!
Of course I thought about removing the mirrored wall altogether. But when I researched how to do that, I decided it was too much work and that the wall repairs would be too expensive for what I wanted to spend at this time.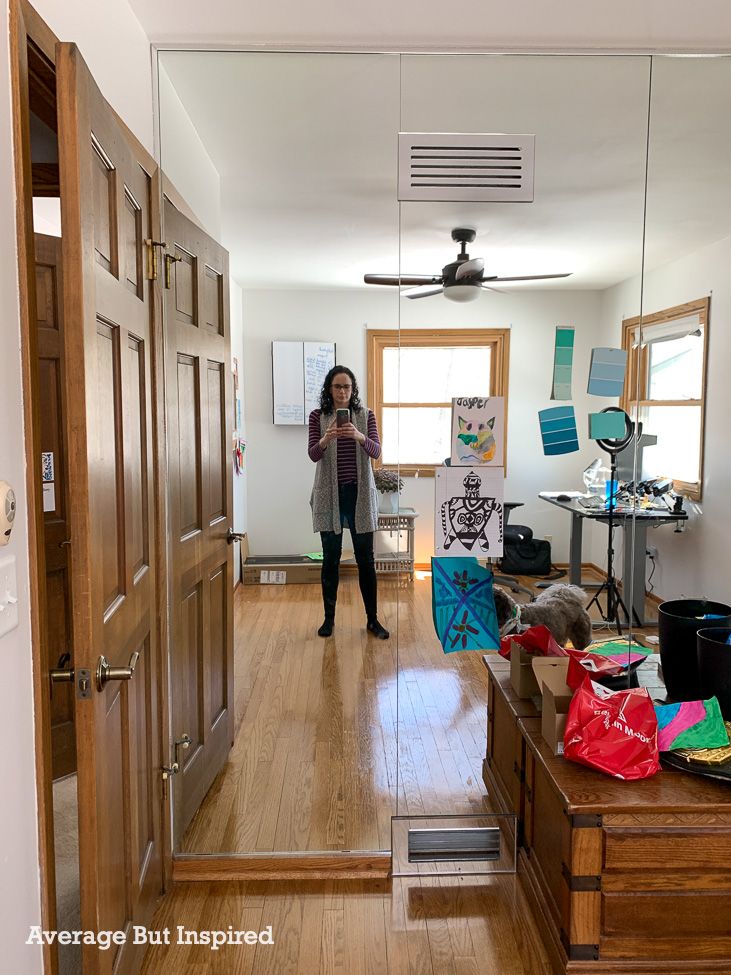 So then, for months, I brainstormed other creative ways to updated mirrored walls. I had already updated mirrored bookcases with removable wallpaper, and antiqued a large plate glass wall mirror in my dining room . . . so what could I do here?
I considered covering the mirror wall in fabric, but knew I would not have good luck getting any pattern straight. I also considered painting over the mirror, but I had slight concerns about the durability and look of that option.
Then, one night, I was cooking dinner and an idea popped into my mind: create a mirrored accent wall with tape!
I could see it in my brain, and it was the perfect solution! I patted myself on the back for this stroke of originality and genius.
Then I hopped on Pinterest and found out that this has been done before. Among others, Caroline at Food52 added electrical tape grids to her mirrored closet doors, Chelsea at Making Manzanita also used black tape on mirrored closet doors, and Hometalk created a gold fretwork mirror with washi tape.
Womp womp. I am not a pioneer in adding tape to mirrored walls after all.
Despite that, I'm sharing this tutorial because it's a huge part of my office and guest room makeover, and because IT LOOKS COOL! 🙂
Supplies Needed to Modernize a Mirrored Wall with Tape
This post contains affiliate links. To read my full disclosure policy, please click here.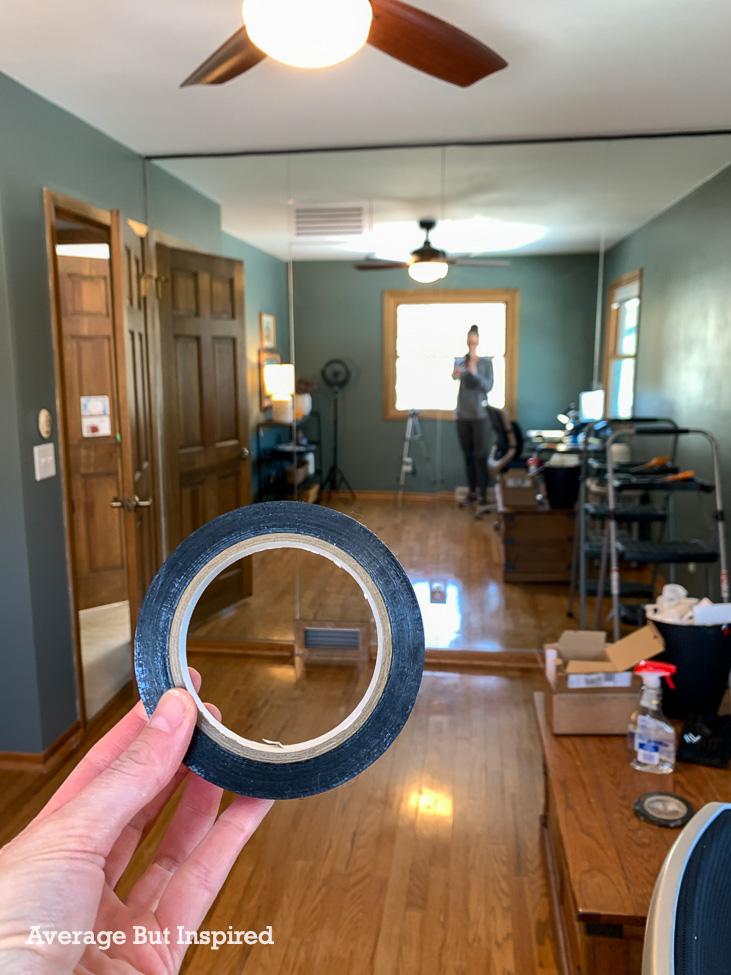 How to Update a Mirrored Wall With Tape
First things first, I took down all of the artwork my kids had taped on the mirrors, and then I scrubbed it with Windex. Even if you don't have kid art tacked onto your mirrored wall, you should definitely clean it before starting.
Step One: Cover the Mirror Wall Frame with Tape
For this part of the project, I used the 3/4″ vinyl pinstriping tape because the frame around the mirrors was just about 3/4″ wide.
If you decide to do this project, measure the mirror frame before ordering tape. You may need a different tape width than I used, depending on the width of your mirror frame.
Starting in the far left corner, I worked my way across the top of the mirror frame – covering it in the black vinyl tape.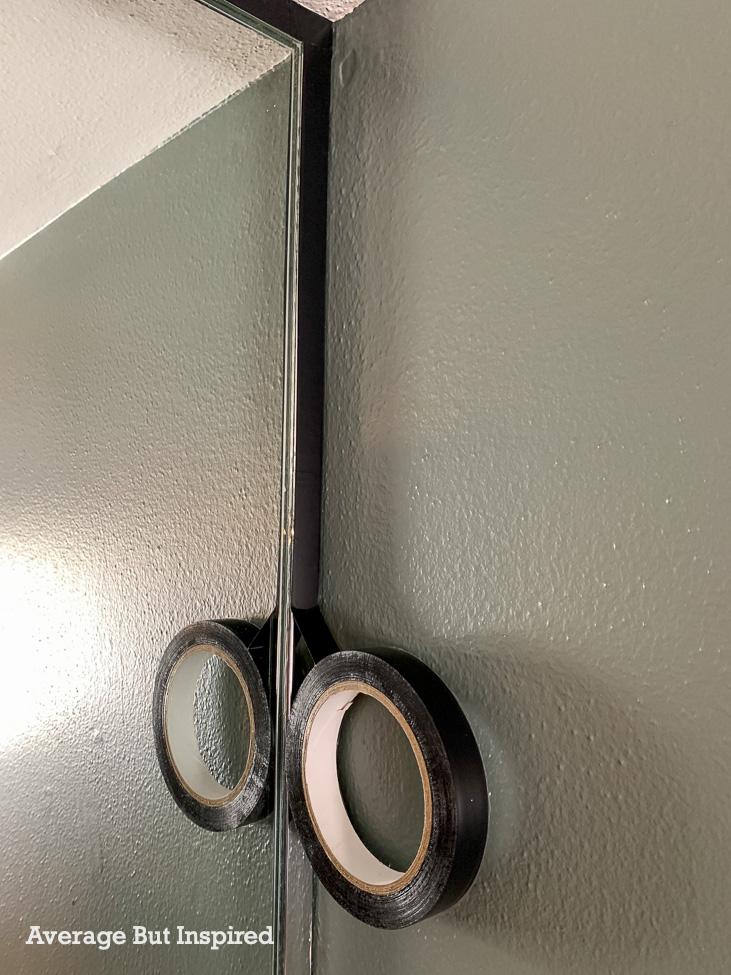 Once I reached the end, I cut the tape, and then started a new piece to go down the right side of the mirror. I repeated this process until the entire mirror frame was covered in black tape.
Step Two: Cover the Vertical Mirror Gaps with Tape
Then, I covered each of the vertical spaces between the mirror wall panels with the same black tape.

The mirror was looking better already!
Step Three: Create the Secondary Tape Lines
Now here's where things get a little more interesting: creating the secondary tape line on the mirror. First I tried measuring several inches down from the top tape line, drawing a straight line across, and then covering that line with tape. It did not work AT ALL! It was really difficult to get anything straight.
So, working one mirror panel at a time, I took the level and placed it directly underneath the piece of tape on the top of the mirror frame. I made sure that the top of the level was lined up with the bottom of the tape, and then I drew a line with the crayon along the bottom edge of the level. I then covered that line with the 1/4″ vinyl tape.

I then moved on to draw a vertical line with the crayon in the same way that I drew the horizontal line. Once that line was drawn, I also covered it with the 1/4″ vinyl tape.

I repeated this process for every panel, until each panel had an inner border of 1/4″ vinyl tape.

All in, this took me around 3 hours to complete and under $15. Absolutely worth it – no doubt in my mind.
The Finished Modernized Mirror Wall
I mean, I don't know about you, but I actually LIKE this mirror wall now! I don't even think I've tricked myself into thinking it looks good. I'm pretty sure it actually looks GOOD! It's amazing what breaking up those panels did for this thing.

Plus, with the dark color of the room, having this mirror wall helps bounce some light around and also makes it feel larger than it is. (It is really tiny!)
Well anyway, let me know what you think of my mirror wall in the comments below. And if you wouldn't mind pinning this post to Pinterest or sharing it, I'd appreciate it. Remember: friends don't let friends live with mirror walls or mirrored closet doors they don't like!