Our 'new' home has one more bedroom than at our last house, and because of that, we had no furniture for it. It's pretty tiny, but with some creative planning I turned it into an office and guest room combo space that easily pulls double-duty, making it a totally functional WIN for my family!
With more of us working from home these days, we're all looking for ways to get more mileage out of our spaces. Using one room as both a guest room and office is a perfect way to do that!
This post contains affiliate links. To read my full disclosure policy, please click here.
Before the Makeover: The Extra Bedroom
I'm embarrassed to even post these photos, but of course you want to see what this now office and guest room looked like before I made it over. The prior owners used it as a dance studio- hence the wood floors and floor-to-ceiling mirror wall.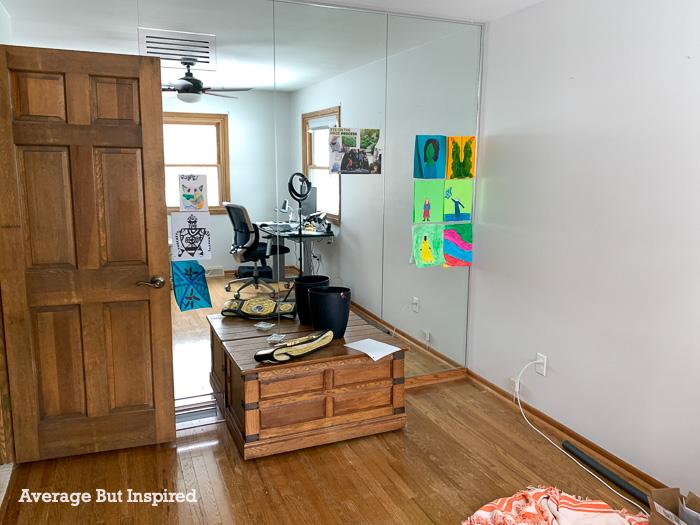 We just threw some random things in there, and when my husband started working from home last spring, we added a desk space (and he added the dart board for his own amusement). It was a really sad work environment! I didn't even like going in there.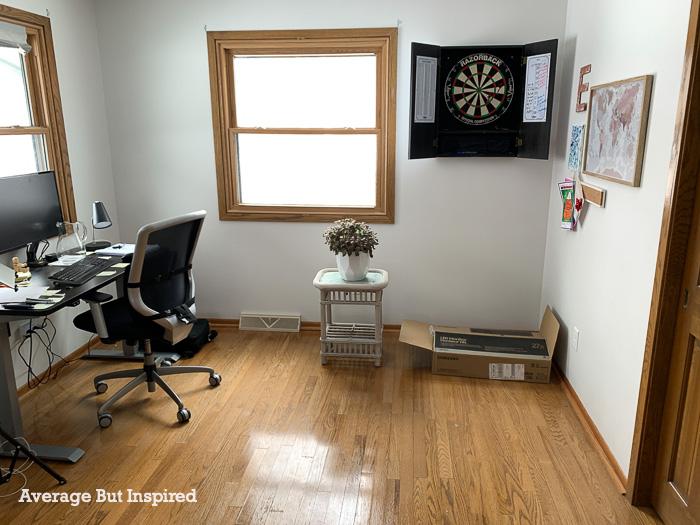 When I decided it was time to overhaul this space, my 10 year-old daughter insisted that we paint the walls a bold color. She's a budding designer and decided we needed something other than white.
We sampled some deep green shades that complemented the oak trim and woodwork.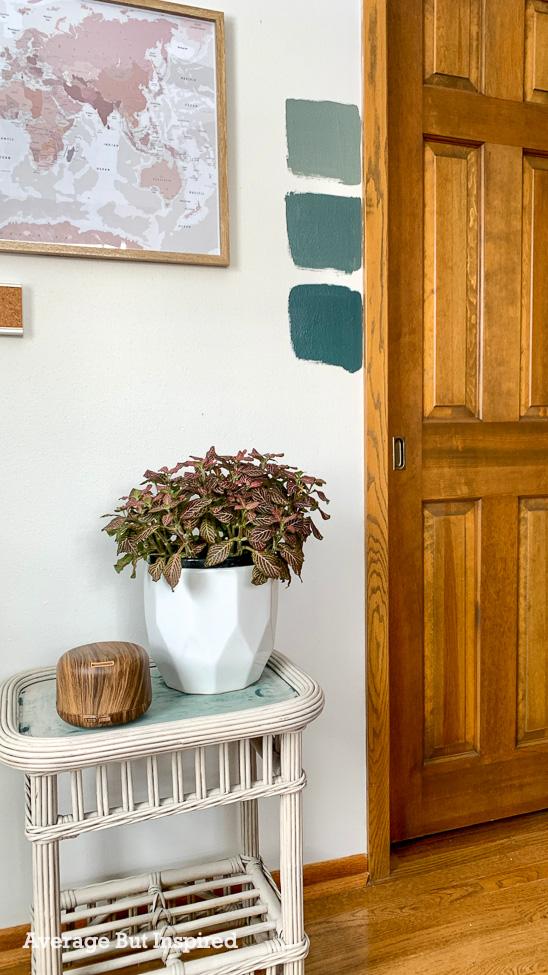 We ended up choosing the one in the middle – Benjamin Moore's Night Train (aka Smoky Mountain).
After: The Office and Guest Room Combo
After I painted the room over the course of a weekend, I got to work updating it (especially the mirror wall – more on that mirrored wall makeover here!), furnishing it, and decorating it. It looks and functions like a whole new space, and I'm excited to share my tips for creating an office and guest room combo!

1. Use a daybed, murphy bed, or convertible couch for overnight guests
Since this guest room and office combination room is very small, and since we don't have overnight guests regularly, I chose convertible chairs that easily morph from chair to bed for sleeping.
I pushed two together to create the look of a couch, and this is a lounge space that we use regularly.

These chairs unfold so easily to become twin beds, or a full bed when pushed together as I have them. You can see just how quickly they convert in the video I uploaded as part of this post. I will pop a foam mattress topper on there for extra comfort for guests, and I think this will work great!

If space and budget allow for it, a murphy bed is a great option for an office and guest room combo.
Daybeds also work nicely in combination rooms, however those can be taste specific and tend to look more like beds than seating, so they may not be the look you're going for.
2. Add window coverings for privacy
I wish I had a picture of the hilarious temporary shades my husband tacked up on the windows. They were way too small and only fit part of the window.
Since guests will be staying in here at some point, I knew we had to get real window coverings up in the room to give guests the privacy they need. Privacy is a must in any office and guest room combination!
I chose these cordless woven wood shades in Sarasota Camel, which are the same color as the oak trim, and then these inexpensive light-filtering curtains to add some softness and brightness. The shades pull down easily for privacy, and the curtains can also be closed to block some of the harsh sunlight that floods in late in the day.

I hung these window treatments high (higher than the window) and wide (wider than the window), which I learned to do from reading Young House Love. I'm so glad I did because this makes the windows look so much larger!
3. Use a small desk for the office space
To keep guests from feeling like they're an afterthought and sleeping in an office, use a small-scale desk instead of an overpowering one.
Flexispot gifted me this amazing electric sit-to-stand desk, which my husband loves and which fits this office and guest room perfectly!
4. Layer the lighting for all of the room's purposes
To ensure maximum productivity and relaxation, make sure to layer the room's lighting. Include task lights in the office area (like the beautiful brass task lamp I used), so that you can see what you're doing, but choose soft white lightbulbs as opposed to harsh, bright white light.
Also have lighting available in the guest room area of the space so that visitors can relax and read in comfort. I found this lamp at a thrift store and made it over with a can of spray paint and a new lampshade. I love that it has a table attached to it so that guests have a spot to set their phones, water, etc. Remember: it's all about their comfort!

5. Include storage for office items as well as guests' items
Finally, make sure to have a spot (or two) to stash all the "stuff" that goes along with an office and guest room combination!
In this room I placed open shelving with lots of baskets to help contain and hide the typical office things, like printer paper, notebooks, etc. (And PS if you like the basket wall decor, check out what they used to look like in my old home!)

When guests come, I can empty or swap those baskets to give them space to put their things. There is also a closet in this room, but if you don't have a closet, make sure to find somewhere for guests to hang their clothes or at least set their suitcases.
With those things in mind, I really believe that you can create a guest room and office in just about any space! (Oh, and if you do have guests coming, make sure to read my post on 5 Tips for Getting Your Bathroom Guest-Ready!)

Have you created a double-duty office space in your home? Let me know if you have any tips to add! And let me know what you think of my room makeover!