As part of my sister's 1950s kitchen makeover, we updated her linoleum with a peel and stick kitchen floor applied right on top of it.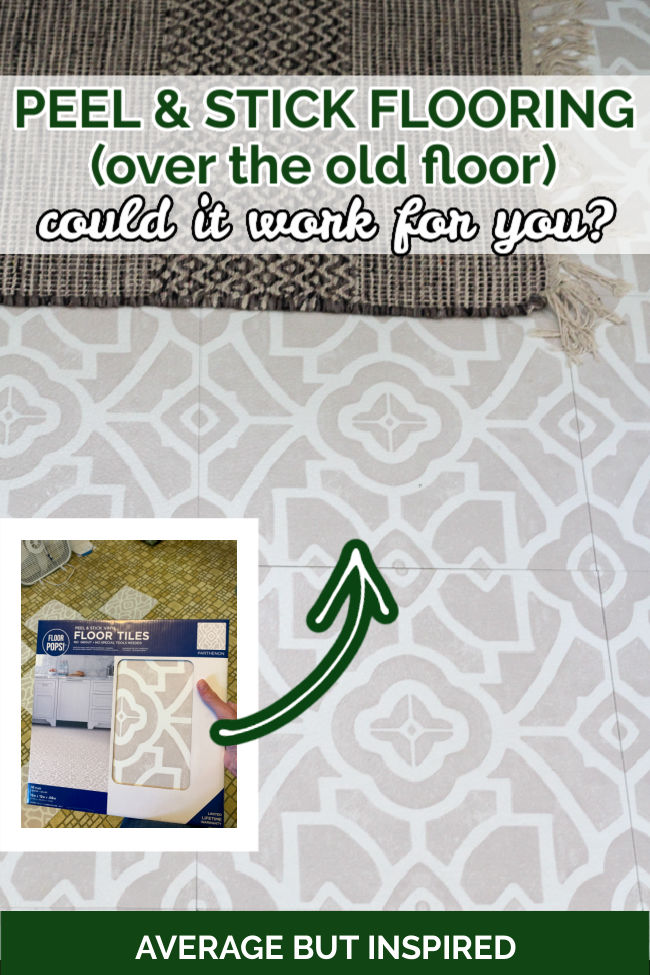 This post is not sponsored and I have no affiliation or relationship with the company that makes FloorPops tiles – the peel and stick we used here. This is a totally unbiased review of their peel and stick floor tiles meant to, help you!
Also, I'm not going to give you a step-by-step of installation for these floor tiles because the instructions that come with them are great. I will share tips that we learned, which helped us along the way.
This post contains affiliate links. Read my full disclosure policy for more information.
Before Installation: How to Prepare a Floor for Peel and Stick Tile
Before we even stuck one tile in place, my sister had to do some dirty work.
She scrubbed the old linoleum clean and used a heavy duty floor stripper product to get up all of the built-up wax on the surface. The floors still looked yucky even after all that cleaning!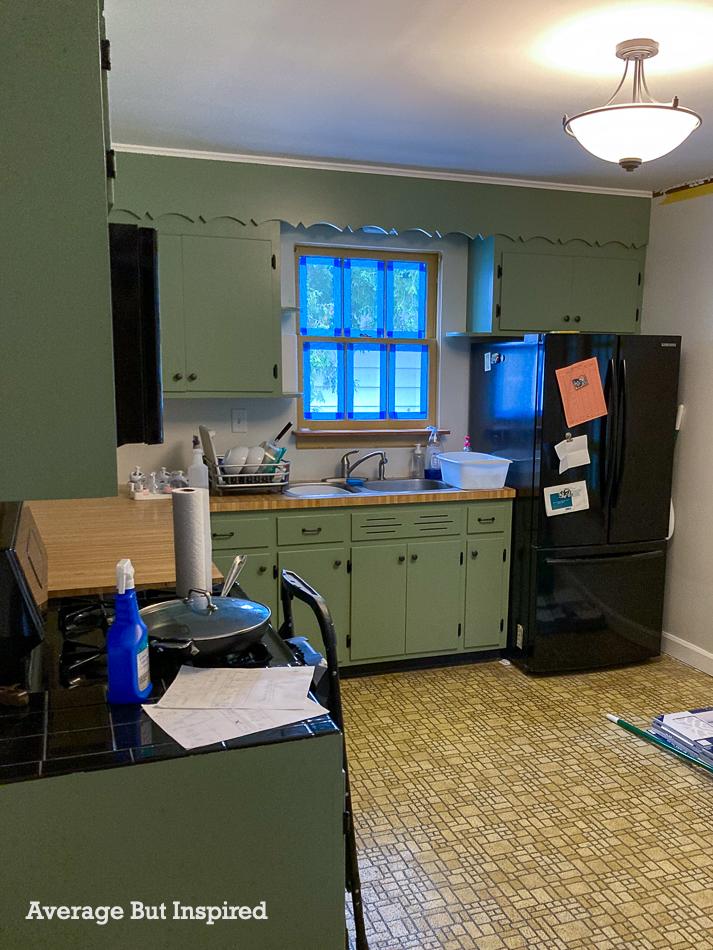 Once the floor dried, she primed it with a multi-purpose primer. Simply2Moms recommended it in their blog post about peel and stick vinyl tiles in the laundry room. She let that dry overnight.
(P.S. sorry for my man hands in the below photo: I didn't polish them since I was doing manual labor! :-))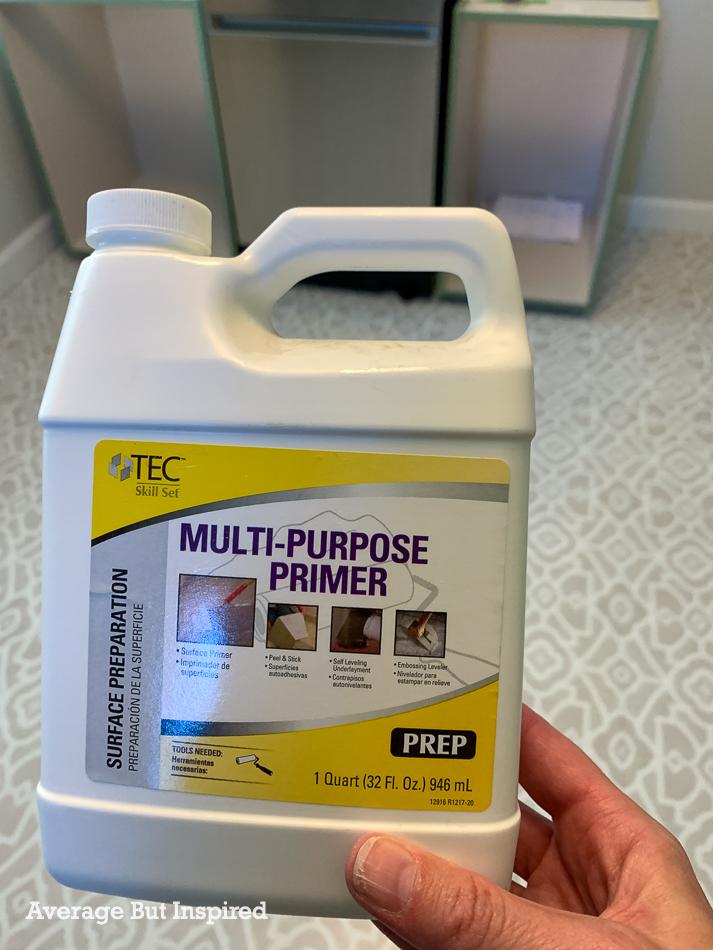 The FloorPops instructions didn't say anything about priming the underlying floor, but because the linoleum was so old and probably still had some wax or polish build up in the divots, we figured better safe than sorry!
FloorPops Vinyl Tiles
For my sister's kitchen, we used FloorPops peel and stick vinyl tiles in the Parthenon pattern, which seems to only be available at Floor and Decor.
To help give some perspective, she spent around $275 on tile for her kitchen, which included a box of extra tile to keep for future replacements, if needed.
FloorPops are available at many other stores and in many other patterns.
You can buy them at Amazon, Home Depot, and even on WallPops' website (they make FloorPops).
Peel and Stick Tile Installation: a One Day Project
The day after my sister cleaned and primed the linoleum, we got to work!
We started by finding the rough center of the kitchen and drawing a straight horizontal line intersected with a vertical line on the floor in Sharpie. Then we pressed the first tile into place, and rolled over it with our tile roller tool.
The tile roller tool really helped press that adhesive to the linoleum floor. I definitely recommend using one if you plan to install peel and stick tile over linoleum.

If you're wondering why we started laying the tile in the middle of the room, you should watch my video on starting in the center!
We worked outward from the center in a staircase pattern, for the most part, and made sure to look at each tile closely to line up the patterns as much as possible.

We left a border around the edges to complete last.

Amy at The Crazy Craft Lady gave us a helpful tip for sizing the edge pieces in her YouTube video. Definitely watch her video if you plan to install FloorPops in your home!
We cut the edge pieces using a combination of a self-healing mat and utility knife, and regular scissors! The self-healing mat / utility knife combo worked great for straight cuts. The scissors were perfect for cutting pieces that had notches, etc.
The edge pieces went in easily, and once we finished installing all of the peel and stick tiles, my sister added new shoe trim around the baseboards to help hold the tiles in place even better. This also gave the floor a more finished look.

And in case you're wondering: yes, we tiled underneath the refrigerator and oven! #nottoofun

Are FloorPops Durable?
When I posted a video of our peel and stick tile installation on TikTok, many people asked about the durability of FloorPops, especially in a kitchen.
At the time of writing this post, my sister has only had these in her kitchen for four months, but they're holding up great.
There has not been any peeling of the tiles, nor have there been any adhesion issues. The tiles are staying put and looking great!

How Do You Clean FloorPops Peel and Stick Tile?
People were also very interested in how you clean these peel and stick tiles, especially in a kitchen!
My sister mops them as she did her linoleum floor, but she makes sure not to use too much water. Since there is no grout in between the tiles, she doesn't want to get water in between those gaps and cause problems with them sticking.

Of course they vacuum nicely, too.
One thing we were worried about was if adhesive would puddle or ooze between the tiles and cause crumbs and dirt to get stuck there. This has not been a problem at all – thank goodness!
My FloorPops Review
All in all, I definitely recommend FloorPops peel and stick tiles for certain situations.
I would not look at these peel and stick tiles as a long-term flooring solution. I think they're perfectly suited for a facelift that you want to get a few to several years out of before upgrading to a more traditional floor type.
In this case, my sister and her husband plan to renovate the kitchen in the future, so the FloorPops were the perfect flooring update while they wait to renovate.
They're easy to install, come in a multitude of on-trend colors and patterns, and clean nicely. They are a fantastic option for anyone looking to make a budget-friendly update, while recognizing they will not last as long as regular flooring.

Leave me a comment here or message me on Instagram if you have any questions!
-Bre