My sister and her husband recently purchased their first home and welcomed their first baby. While they loved much about their new house, they did not love the dated and barely functional 1950s kitchen.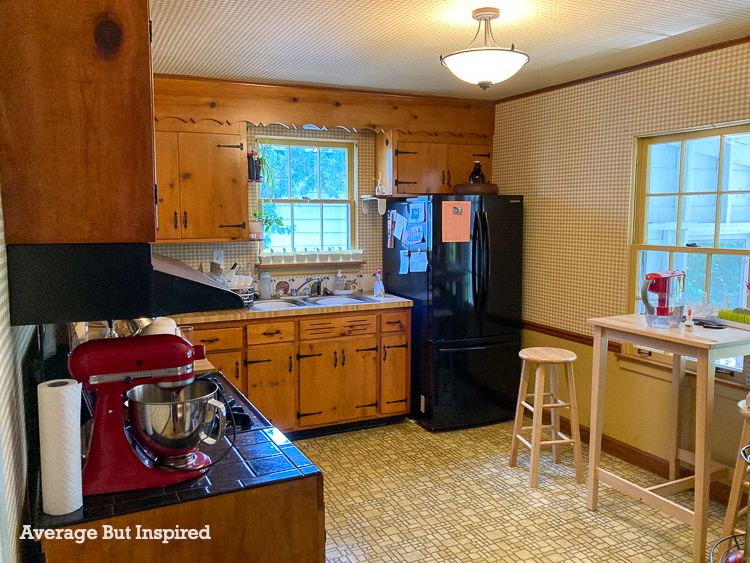 The 1950s Kitchen Before: Aesthetic and Functional Problems
There was no dishwasher, and with lots of baby bottles to be washed, that was a problem. The range vent hood also hung so low over the stove that it made it almost impossible to use the back burners.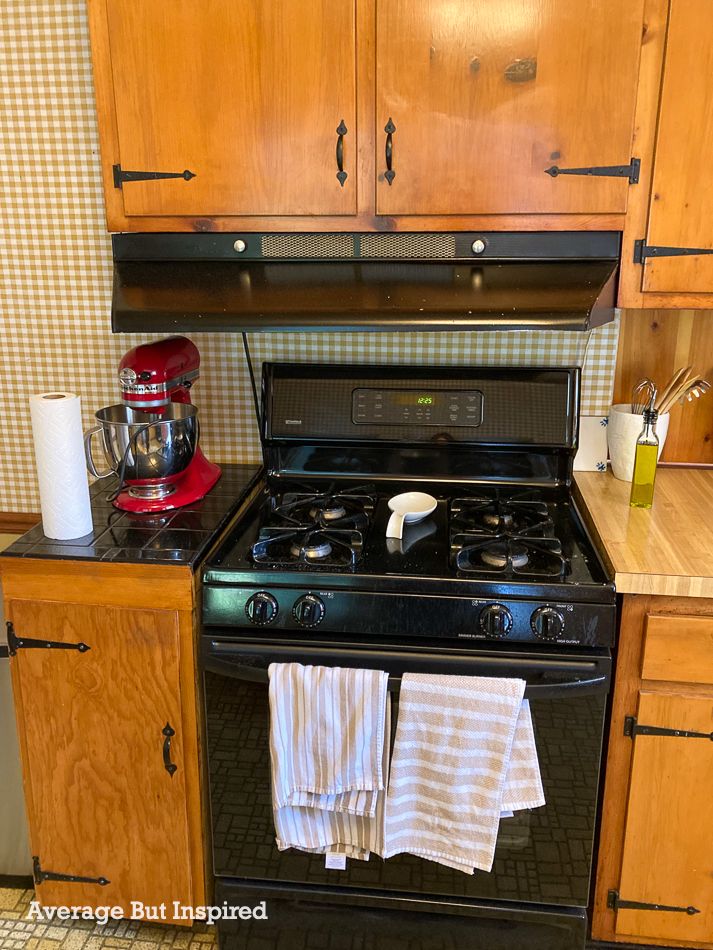 Limited cabinet space forced them to use a mash up of bookcases to store food and appliances. At least they had that great wall-mount telephone to call their friends! Ha.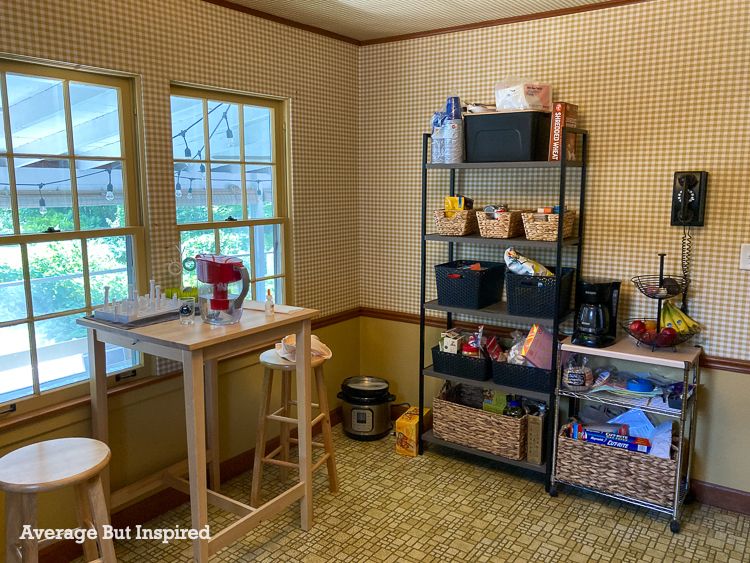 And style-wise, well, I think the photos speak for themselves. What is hard to tell in these photos is that the yellow gingham wallpaper also covered the ceiling. It made a statement. The large exposed hinges on the cabinets also drove my sister crazy.

In addition, there were two types of countertops (wood-look laminate and black tiles), and multiple styles of tile backsplash – all of which were falling off the wall.

In short, this kitchen was a HOT MESS.
Kitchen Remodel: The Plan
My sister and brother-in-law planned to do a gut renovation of the space (like, with real contractors and designers). But when they realized their remodeling priorities would need to shift with the addition of a new family member, I devised a plan to remodel their kitchen for both looks and function . . . DIY style.
Having just completed my own DIY Kitchen Makeover, I decided to torture myself again.
Here is the official proposal and plan, which I scribbled on notebook paper Memorial Day weekend 2021. It's very sophisticated, as you can tell.

Since my sister and brother-in-law are both teachers and had the summer off of work, we decided to tackle this 1950s kitchen remodel project as a team, and with the help of many others, so that their kitchen would be ready to go before school started again.
We got to work almost immediately! It was a lot to take on, but so much fun (not always – I'm not going to lie to you!)! We worked hard to make the kitchen look so much better, and work better for the family, and I am so proud to show you how it all turned out!
DIY 1950s Kitchen Makeover: The Process
A lot of the work was completed by my sister and brother-in-law while I wasn't there. We live in different states, so it was impossible for me to be there all of the time! During the times I wasn't there, I was obsessively calling my sister to make sure they were staying on track with the insane job list I'd given them.
They started by removing the wallpaper, repairing the walls, and painting the walls and ceiling Sherwin Williams Moderne White. My brother-in-law also removed that low-hanging vent hood and shortened the upper cabinet to accommodate an over-range microwave / vent combo.

Once these jobs were complete, my mom, kids, and I crashed in to do an intense three day cabinet painting marathon. We took turns sanding, priming, painting, and entertaining children. We could not have done this so quickly without my mom taking care of the kids and pitching in to paint while the baby was napping!
Having painted my own kitchen cabinets months earlier, I knew exactly what to do, so we were able to pound this out. (And hey, if you're interested in learning how to paint cabinets, check out my digital cabinet painting ebook, which gives you EVERYTHING you need to do this job right!)

For these cabinets, we used Behr Cabinet and Trim Enamel in Hillside Green. I really liked working with this cabinet paint because the recoat time was much faster than Benjamin Moore Advance. I also think it covered and self-leveled nicely.
Once we finished painting the cabinets green, we felt like the kitchen was already looking so much better!

The next project in this kitchen was covering up the old linoleum, which was discolored and dingy no matter how many times it was cleaned. My sister scrubbed the floors and removed all of the wax buildup, and then primed them with a self-adhesive tile primer.
The next day she and I worked like crazy while my mom watched our kids (she was the MVP for sure), and we put down an entire new peel and stick floor right over the old linoleum! (Check out this post on her Peel and Stick Kitchen Floor!)

I loved this part of the project; it was exhilarating to see this kitchen change right before our eyes! This peel and stick tile is beautiful and very nice quality. I don't think it will last forever, but it will do the trick until my sister and her husband are ready for a full renovation.
On the wall where the bookcases previously served as a pantry, we added floating shelves, new cabinets painted to match the original 1950s cabinets, and a portable dishwasher. Yes, that's right, a portable dishwasher! My sister and brother-in-law just roll it over to the sink when it's time to do the dishes. It's been a game changer for them.

During this process, my sister was sharing her progress on Instagram, and one of her co-workers saw that we needed help with some electrical. She enlisted her husband, a contractor, to help, and he spent 1.5 days with my brother-in-law teaching him how to fix the electrical issues. Can you believe that generosity?
Once that was taken care of, the new countertops could be installed. My sister opted for a beautiful marble-look laminate as a durable and budget-friendly countertop. She went through Home Depot for installation, and they did a great job!

The Kitchen Remodel Reveal
Although there are still a few minor details to be wrapped up in this kitchen, after about four months of work it is 95% finished! I am so happy for my sister and brother-in-law because they have a kitchen that makes them feel good when they step inside, and it actually works for them now!

The original 1950s cabinets look so much better painted in Behr Hillside Green, and updated with gorgeous hardware that was gifted to us by D Lawless Hardware.
My sister chose flat black hinges, black knobs, and black pulls to coordinate with the black appliances in the kitchen. I've purchased hardware from D Lawless before (including for my Oak China Cabinet Makeover), and the price and quality cannot be beat. The updated hardware was a huge improvement from the original 1950s cabinet hardware!


In case you're missing the gingham wallpaper that previously covered the walls and ceiling, don't worry. We saved a piece of it and used it as artwork in the kitchen. Aaah, memories.


Unfortunately, one relic of the 1950s kitchen that didn't survive was the wall-mounted telephone. Taking its place is an entirely new bank of cabinets, the portable dishwasher, and gorgeous DIY open shelving that houses items my sister and her family actually use, as well as decorative items to give the space personality. (I think we'll take the shelves over the phone.)

The toe kick panels still need to go on the base of the cabinets, but you get the idea of what this will look like when it's totally finished.

This added counter space and storage (including pull-out trash), has been incredible for the livability of this kitchen!
This 1950s kitchen remodel was a lot of work, but it was an incredible joy for me to get to spend time with my sister and our families, and to make such a difference in her happiness and home.

With the constant flow of home renovation content on television, Instagram, and blogs, it can feel like a total renovation is the only option for updating a kitchen and making it work for you. But that is not the case: with some creative planning and hard work from family and friends, you can create a space you love and that works for you, without spending a small fortune!

Thank you for reading all about this project that we poured our hearts and souls into. Please let me know if you have any questions or need a pep talk! You can leave me a comment here, or find me on Instagram!