Two years ago I painted the granite countertops in my powder room. At the time, everyone (including me . . . a tiny bit . . . ha!) thought I was insane.
Here's what the bathroom looked like before I painted everything in it. The granite countertops clashed with the extremely busy tile wall, and the bathroom was very dark.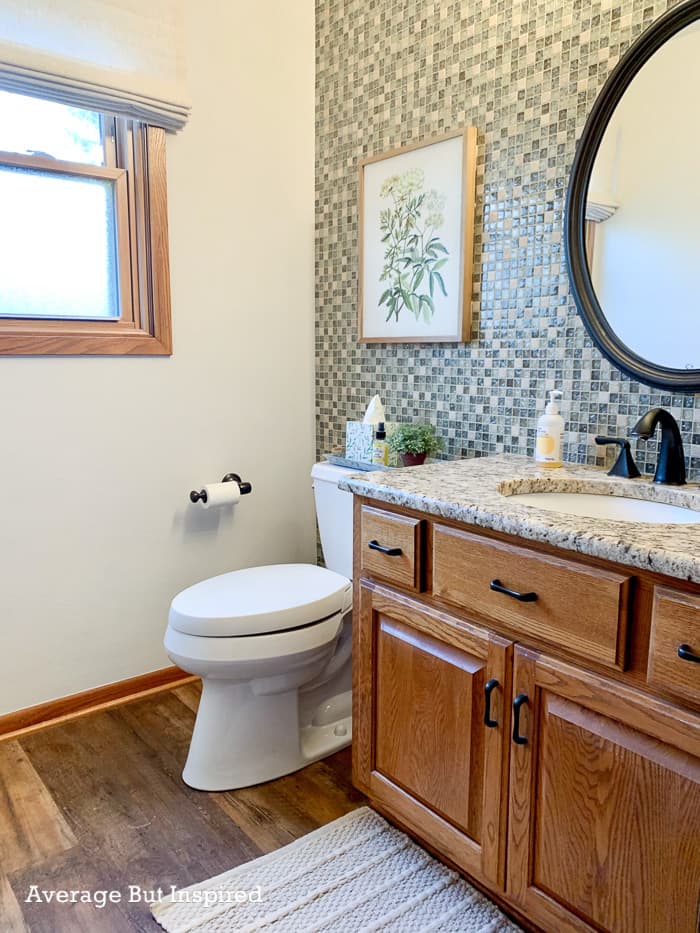 I painted the vanity, and then painted the countertops with marble countertop paint (get more information on my granite countertop painting process in the blog post about it).
Subsequently, I painted the tile wall, and now the bathroom looks like this!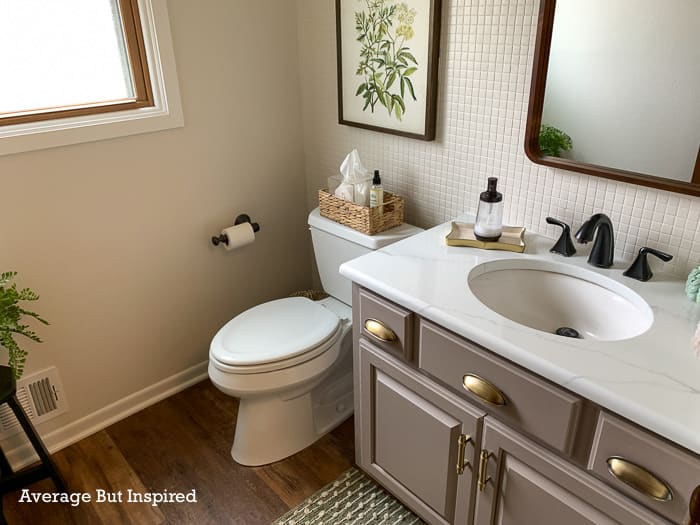 That's a pretty dramatic difference for everything just being painted!
Now that it's been two years, I thought it would be helpful to give a painted counter durability update! Honestly, I don't think anyone expected this paint job to last.
Granite Countertop Paint: What Products To Use
This post contains affiliate links. Please read my disclosure policy for more information.
I used the Giani countertop paint products for this makeover. Because this is a small countertop, I did not use the full kit (which is enough to paint kitchen countertops), but instead purchased the individual components in smaller quantities. I linked all of those in my original countertop painting blog post.
I chose the Giani countertop paints because they got great reviews, and the company has a lot of helpful videos and tutorials.
Conversely, I didn't think the reviews on other countertop paint products were as good.
Giani Countertop Paint Durability
It's been two years since I painted these countertops, and I am please to say that I have zero regrets! The Giani countertop paint is very durable: we use this bathroom every day, multiple times per day.
There is one spot behind the faucet handle that has bubbled slightly, but this is a result of my failure to clean sediment off the countertop thoroughly before painting. We have incredibly hard water, and I missed that spot of minerals back there.

You can see the buildup of minerals on the handle – we need to replace these but haven't gotten around to it yet.
Thankfully, that spot is not incredibly prominent.

The paint has not chipped, flaked, faded, or anything else! It looks just as shiny and pretty as the day I finished painting these countertops.

Because of that, I still recommend Giani countertop paint to anyone thinking of painting their countertops. It's a budget-friendly way to update old countertops, and it's not a difficult process.
To maintain them, I clean with granite cleaner and a soft cloth or paper towel. So easy!

I hope this update on my painted granite countertops is helpful. Please ask any questions in the comments below, or send me a message on Instagram!