I don't want to jinx it, but I think that spring is making its way to Chicago! We have had sun and temps in the high-40's this week, and it is GLORIOUS! I definitely have spring fever, you guys! Because of that (and because I've been trapped inside with a sick daughter for the past several days), I have been on a spring crafting binge. That's why I made these adorable (if I do say so myself), Mr. & Mrs. Moss Bunny Topiaries, which I just LOVE!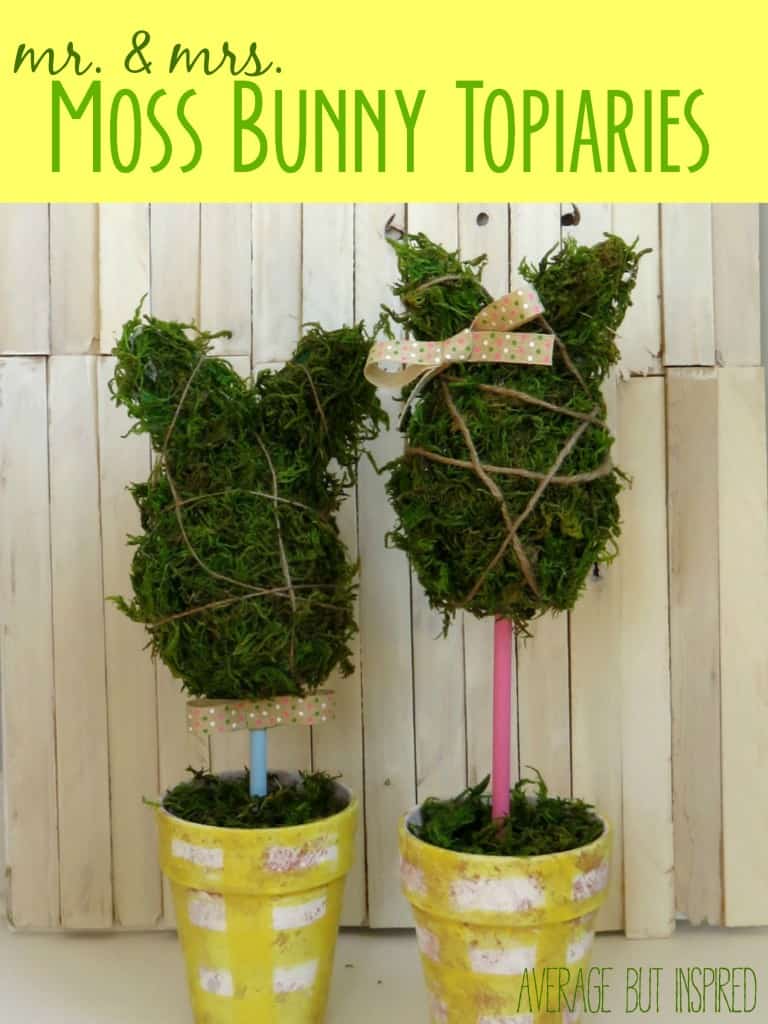 Now, I'm not going to lie. These were kind of a pain in the bootie to make. But that's only because I purchased the WRONG kind of moss. If you buy the right kind, these will be a breeze to put together!
SUPPLIES (Some of these are affiliate links. To read my full disclosure policy, please click here.)
Foam core board
Acrylic paint (colors: green, blue, pink, and whatever color you want for your pots)
Flower pots
Wooden dowel
Toothpicks
Moss (make sure to buy moss sheets – NOT loose moss like I bought)
Hot glue & glue gun
Twine
Ribbon
STEPS
First, cut out some bunny ears from your foam core board. They don't have to be perfectly shaped because any imperfections will be hidden by the moss.
Next, paint your bunny ears and foam egg green. This will help mask any bare spots you have once you've glued on your moss.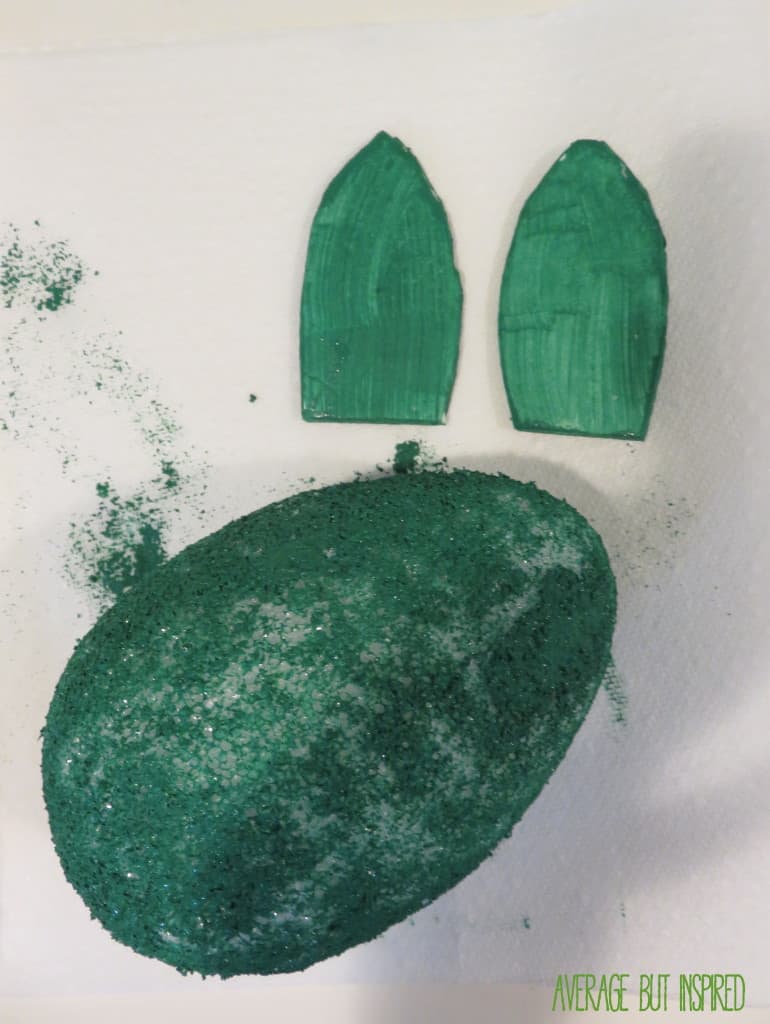 Once dry, gently push a toothpick into the bottom of each foam core ear.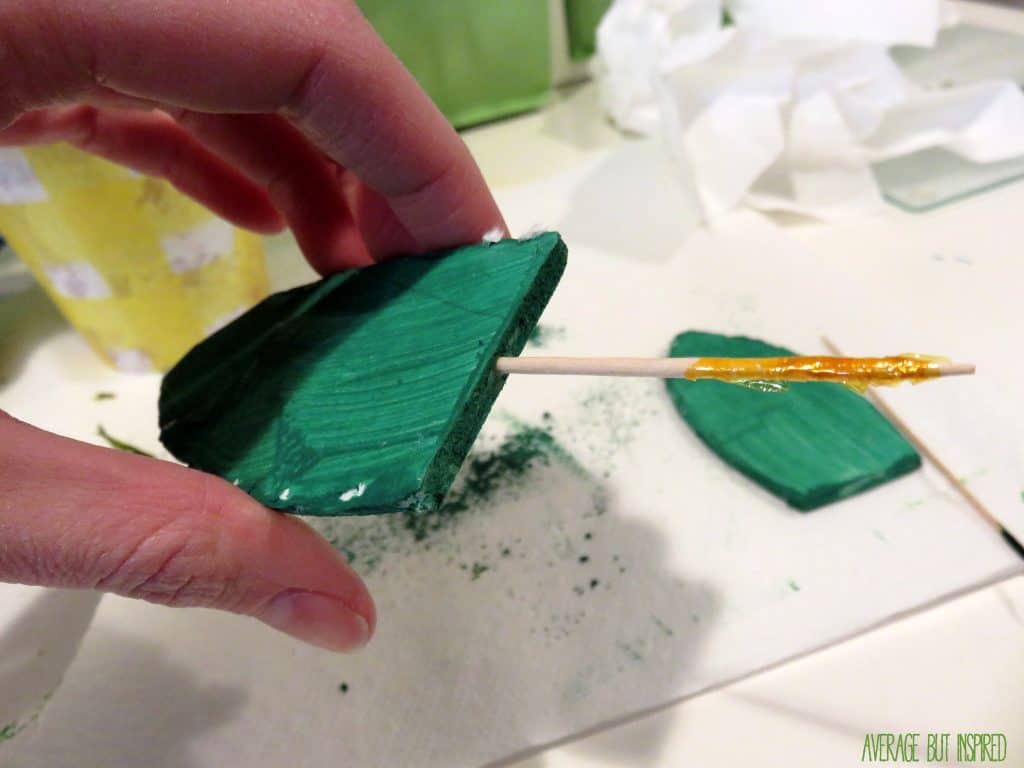 Next, push each ear into the foam egg.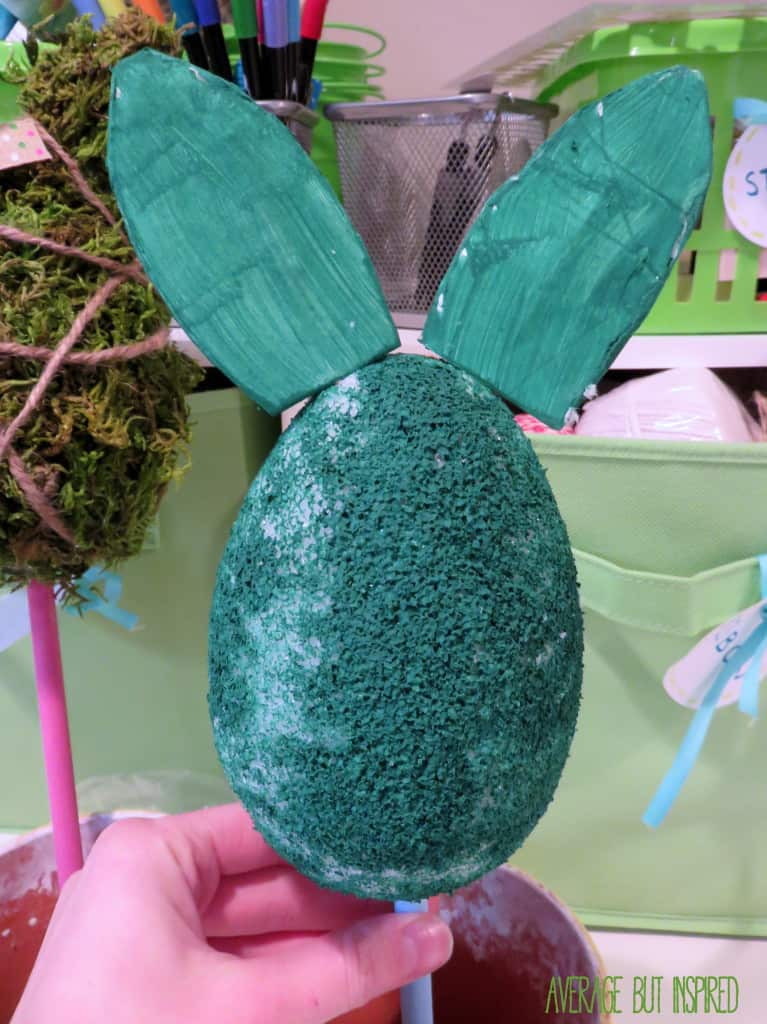 Now you're ready to apply your moss! I hope you're using sheet moss, but even if you're not, all you do is hot glue the heck out of the egg and stick moss EVERYWHERE! Since I used loose moss, I made a GIGANTIC mess. My OCD side was going nuts.
I also added twine around my bunnies for a rustic look and to help keep some of the moss in place.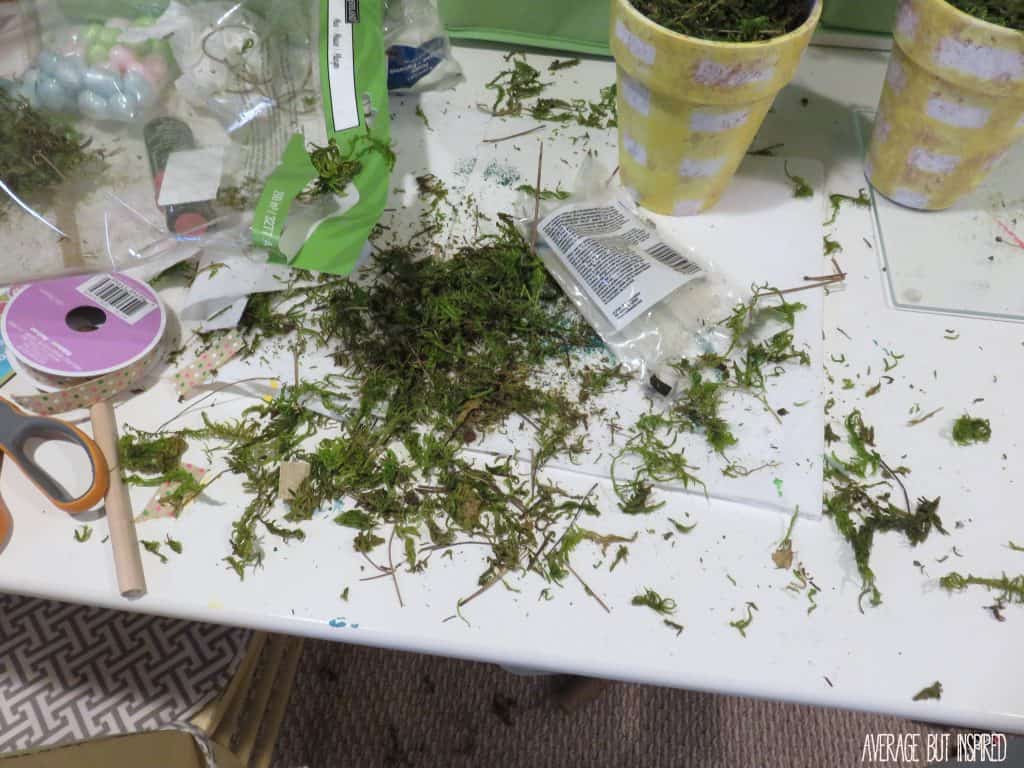 After everything was mossed, I pushed dowels that I'd painted blue and pink into the bottom of each foam egg. Then I pushed the other end of each dowel into floral foam that I placed in the bottom of terra cotta pots I painted.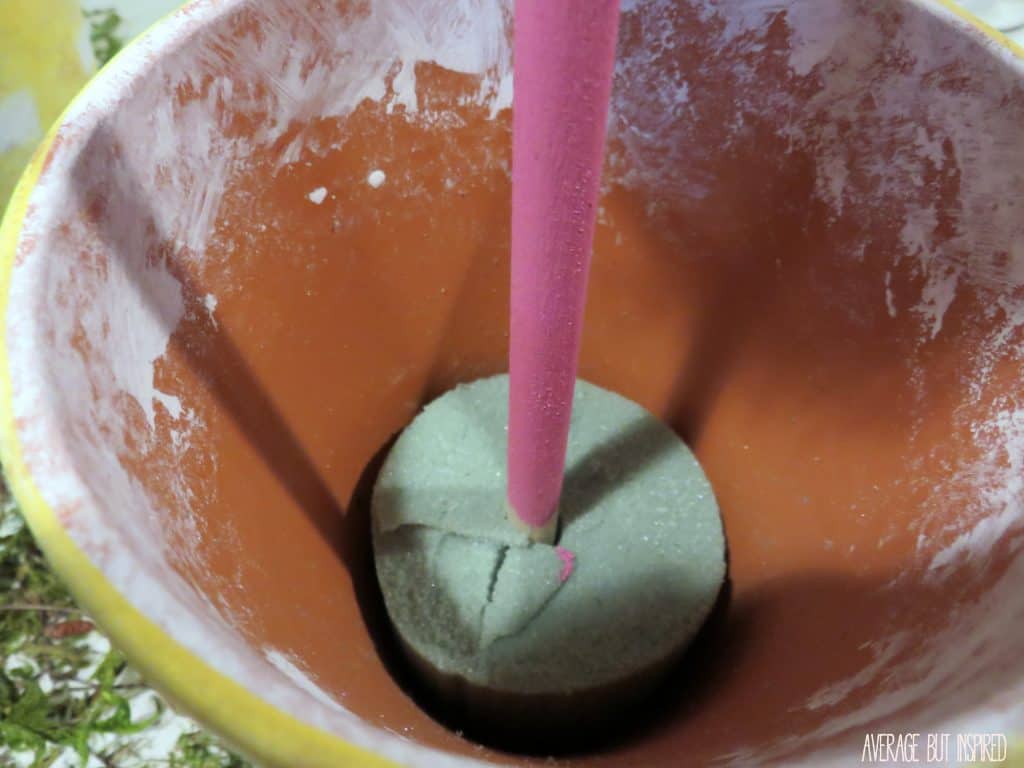 I filled the pots with leftover moss, and made a two bows for my bunnies; a hair bow for the Mrs. and a bow tie for the Mr. (Notice how the boy bunny is shorter than the girl bunny? I did that on purpose. Girl Power!)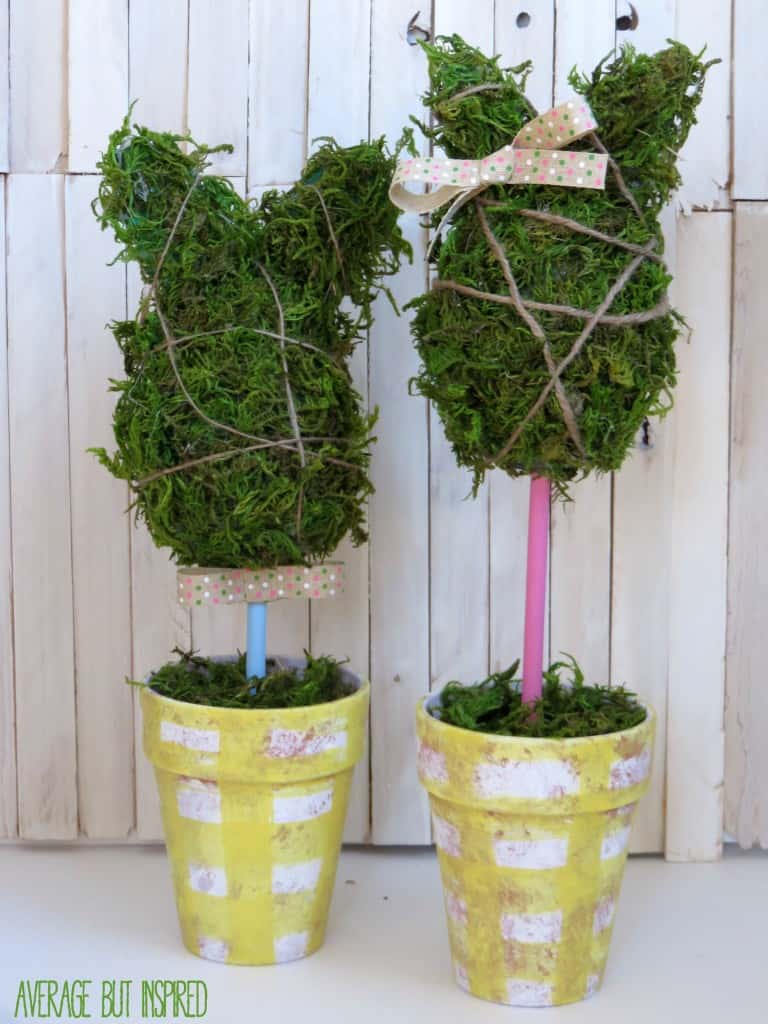 I couldn't be happier with these little moss bunny topiaries hanging out on my mantel. They are so cute up there, especially paired with my Easter Grass Egg Hunt Sign!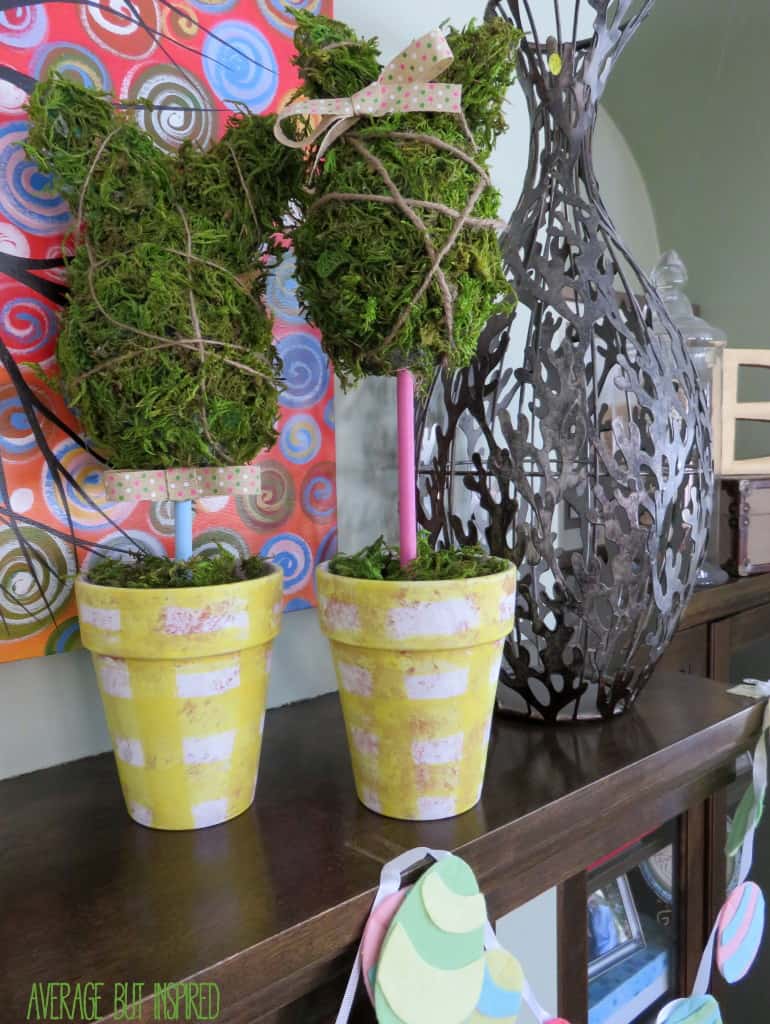 – Bre
You May Also Like This DIY Glittered Luggage Tags Project!