I've made a lot of Easter crafts over the years, and they've all tended to focus on bunnies and eggs. Now I'm in an Easter carrot decor phase. (It's a real thing.) Last year's Easter craft post was this Carrot Door Hanger, and this year it's all about the carrots, too.
You'd think that I love to eat carrots. They're okay, but not my fave.
This post contains affiliate links. Click to read my full disclosure policy.
Anyway . . . what I I do love is Dollar Tree jute carrots. Dollar Tree has had these 6-packs of cute twine-wrapped carrots the past couple of years, and I don't see them going away anytime soon.
I used them, along with other items I picked up at Dollar Tree, to make some Easter carrot decor – a cute U-Pick Carrot Patch Pot!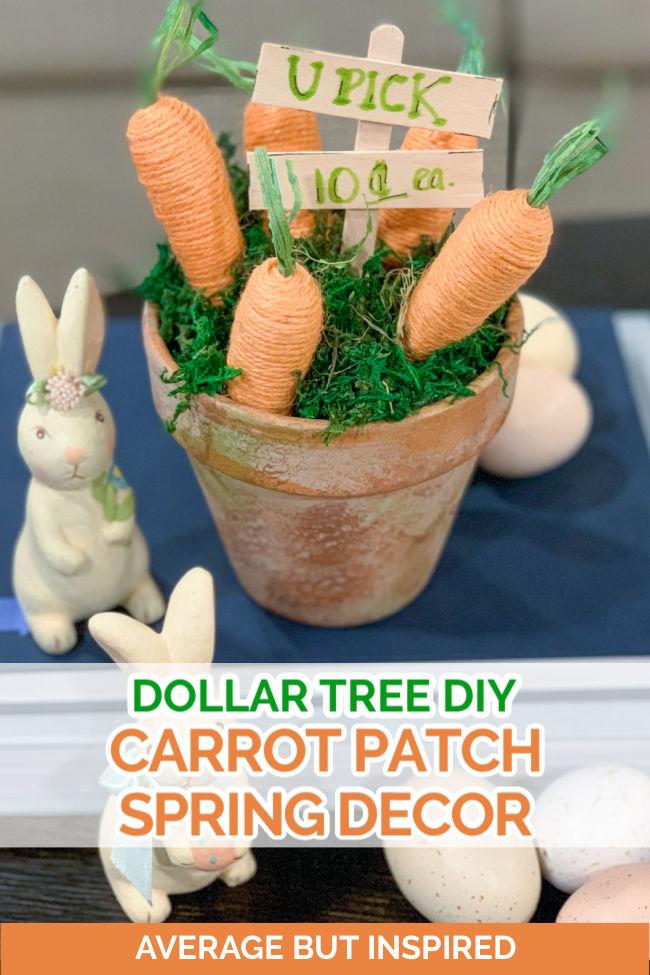 This little carrot Easter craft is perfect to display on a mantel, on styled shelves, or on a tiered tray. There are so many ways to use it!
Before I jump in to the tutorial on how to make this Dollar Tree Easter carrot craft, you should know that I sponge painted the terracotta pot to give it an aged finish with paint. I think that adds to the charm of this project, but you don't have to age your flower pot. If you do want to make it look old, just click that link to get my tutorial on how to age flower pots with paint.
DIY Easter Carrot Decor Supplies
These are the supplies I used to make this Easter carrot craft. Feel free to modify these items to personalize this project!
Please note that while I purchased all of these items at Dollar Tree, I have linked to some items from other retailers, as Dollar Tree's minimum order quantities do not make sense for linking! (For example, you do not need 36 packages of 500 count toothpicks to make this project!)
How to Make This Carrot Easter Craft
I'm putting all of the step-by-step instructions for this craft into a handy printable instruction sheet. Let me know what you think of this format for blog posts! I hope you like it.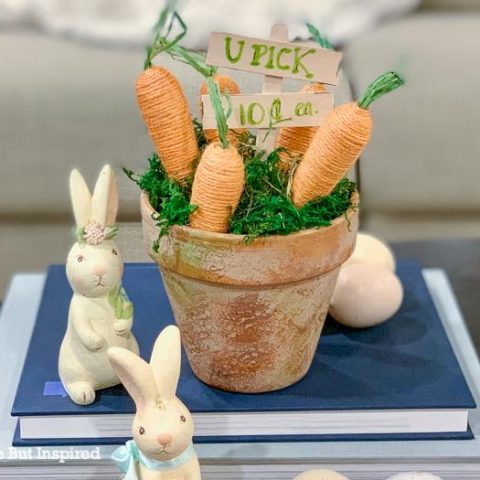 DIY Easter Carrot Decor
Additional Time:
10 minutes
Make this darling DIY Easter Carrot Decor craft project, and add a sweet touch to your spring home decor look! This project uses Dollar Tree craft supplies to make the cutest carrot patch around.
Materials
Terracotta pot
Dollar Tree Jute Carrots
Floral foam
Toothpicks
Moss
Hot glue and glue gun
Popsicle sticks
Marker
Optional: paint
Instructions
If you'd like the terracotta pot to look old as mine does, begin by sponge painting the terracotta pot as I show in the linked tutorial. If you do not wish to age the terracotta pot, proceed to the next step.
Fill the flower pot with floral foam.
Next, insert toothpicks into the bottoms of each of the jute carrots.
Then insert the carrots into the floral foam, which is already in the terracotta pot.
Now, cut the ends off of one or two popsicle sticks.
Using a marker, write a word on the non-rounded pieces of popsicle stick. I wrote "U-Pick" on one, and "10 cents ea." on the other. Use a black marker to add highlighting, if desired.
Next, hot glue those popsicle stick pieces to another, full popsicle stick. I glued mine together slightly askew on purpose; I wanted it to look like a farmstand sign you'd see at a cute country store.
Press the popsicle stick sign into the floral foam, with the carrots.
For the finishing touch, hot glue craft moss all over the floral foam.
With that, your Dollar Tree Easter Carrot Decor craft is complete!
Notes
Links to the products used in this project are included within the body of the blog post.