This shop has been compensated by Collective Bias, Inc. and its advertiser.  All opinions are mine alone.  #BIGSeason  #BigLots  #Collective Bias
It's the most wonderful time of the year, and I could not be more excited to celebrate Thanksgiving and Christmas with my family and friends!  Normally I'm a "wait until after Thanksgiving to deck the halls" kind of girl, but I realized that planning ahead and decorating (even a little bit), before Thanksgiving will mean less stress for me in December.
It was a snap to turn my dining room into an elegant winter wonderland with products from Big Lots, and to make it just as easy for you, I'm sharing five tips for decorating the dining room for Christmas.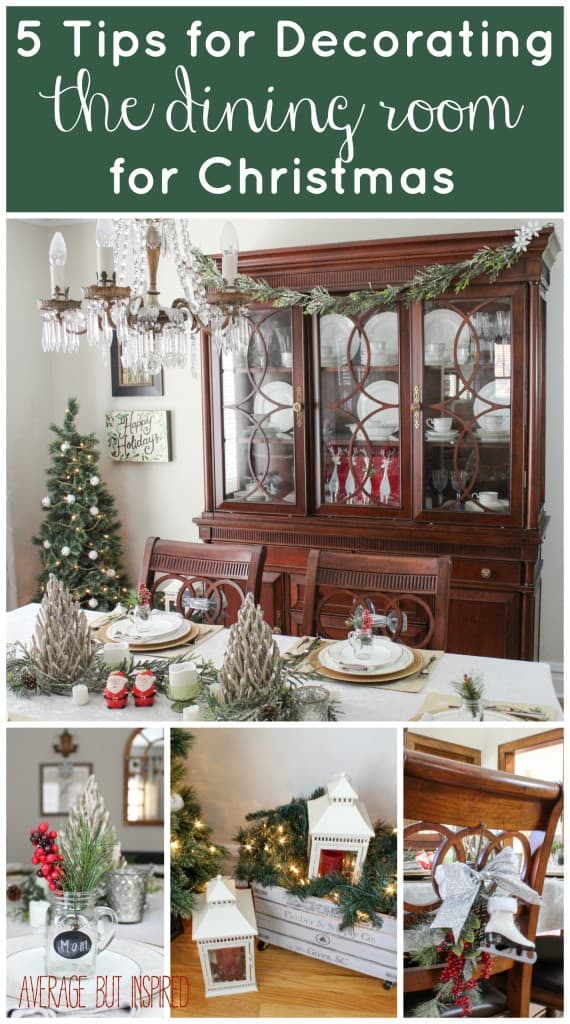 My dining room transformation began one particularly cold and blustery morning here in the Windy City.  I was not exactly in a good mood because of the nasty weather (hello, bad hair day), but as soon as my son and I walked into Big Lots, everything changed.  It was like we stepped into a Christmas fantasyland!  The entire back third of the store was filled with amazing holiday decor products that had me instantly feeling the spirit of the season.  From table linens, to ornaments, to greenery, to home accents, to high-quality artificial Christmas trees and more – Big Lots had everything I needed to deck out my dining room in style and at a great price (and to kick my nasty mood to the curb!).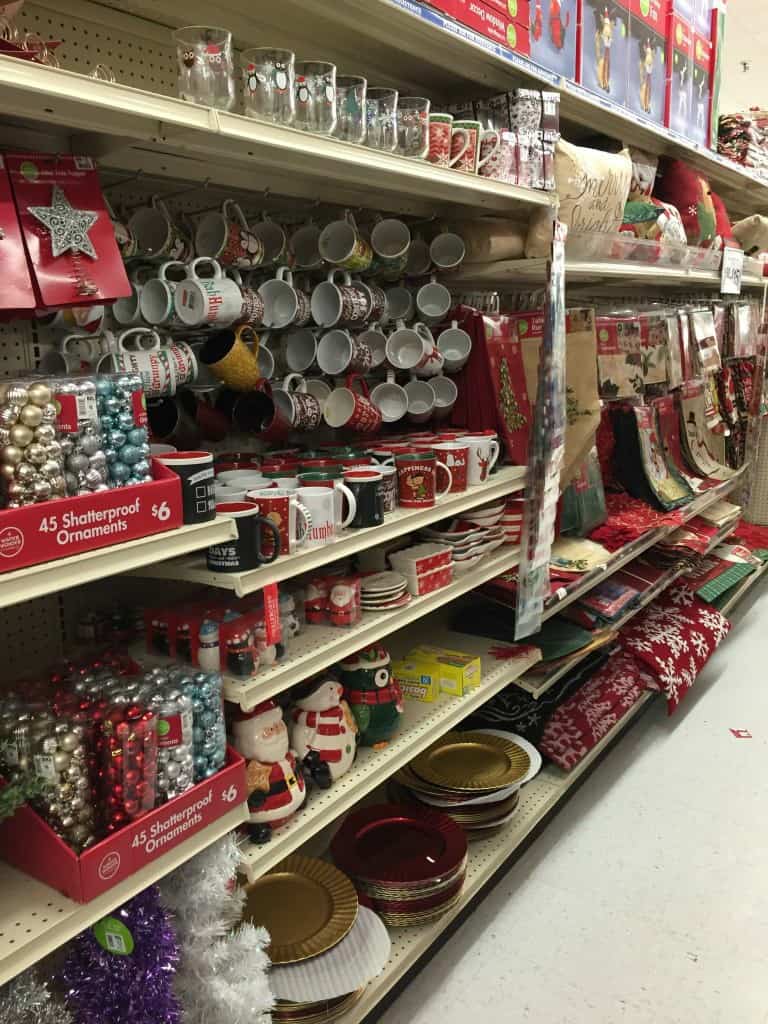 I was like a kid in a candy store!  There was so much to choose from.  Of course my son wanted me to add a giant pre-lit snowman and present stack to the cart.  Sorry, bud – no life-size lawn decor in this dining room!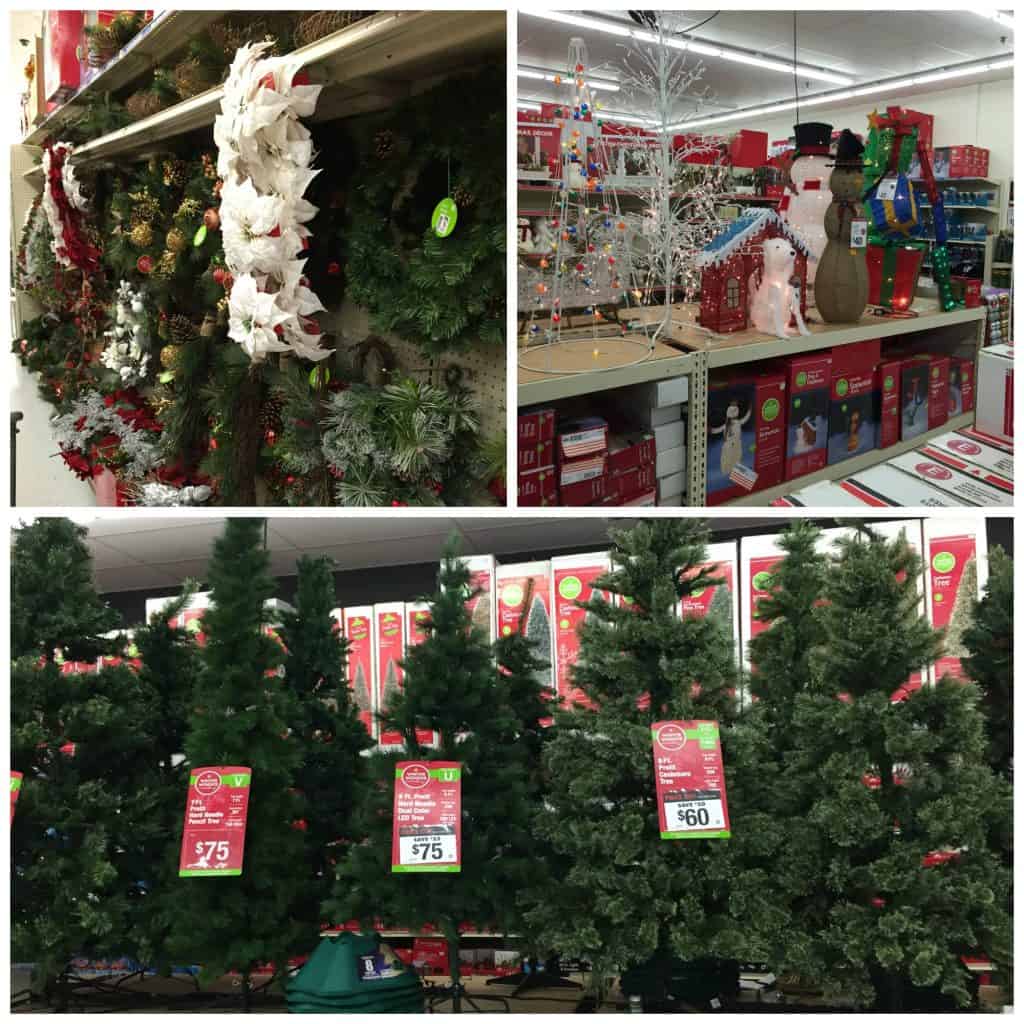 After finding the perfect items to transform my dining room, I could not wait to get all of my new Christmas decor displayed!  So, yeah, I started decorating immediately.  And honestly, I'm so glad I did!  Having this one room decorated makes me feel like I'm so far ahead in the game and makes me instantly happy every time I walk in there!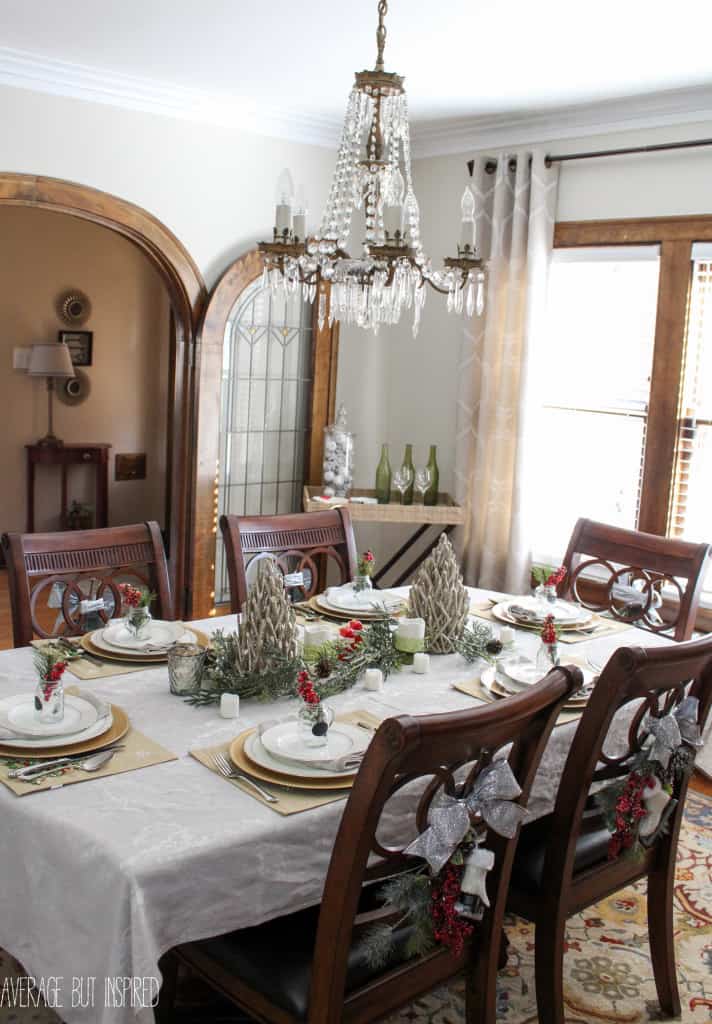 I'm glad I decorated this room first because my mom's dining room is where so many of my fondest Christmas memories have taken place.  Sharing beautiful meals with those I love while soft lights twinkle and Christmas decor sparkles in the background is a part of every Christmas memory for me.  To give future memories a proper setting, my own dining room had to be transformed into an elegant but festive space.  I think I more than accomplished that with help from Big Lots, and I'm excited to share my tips on how you, too, can deck out the dining room this season.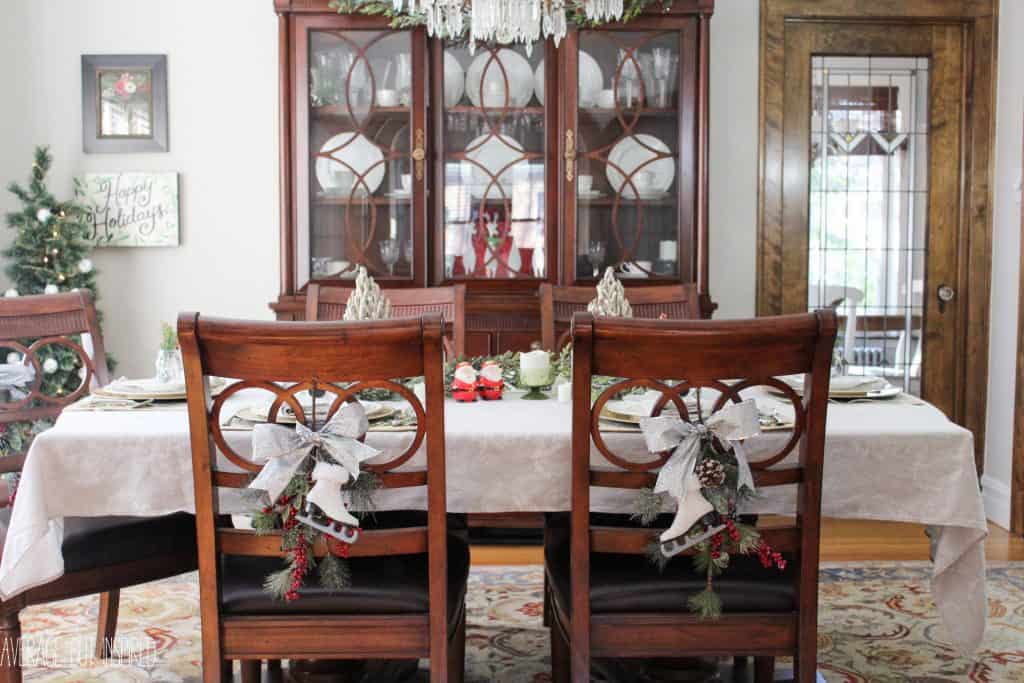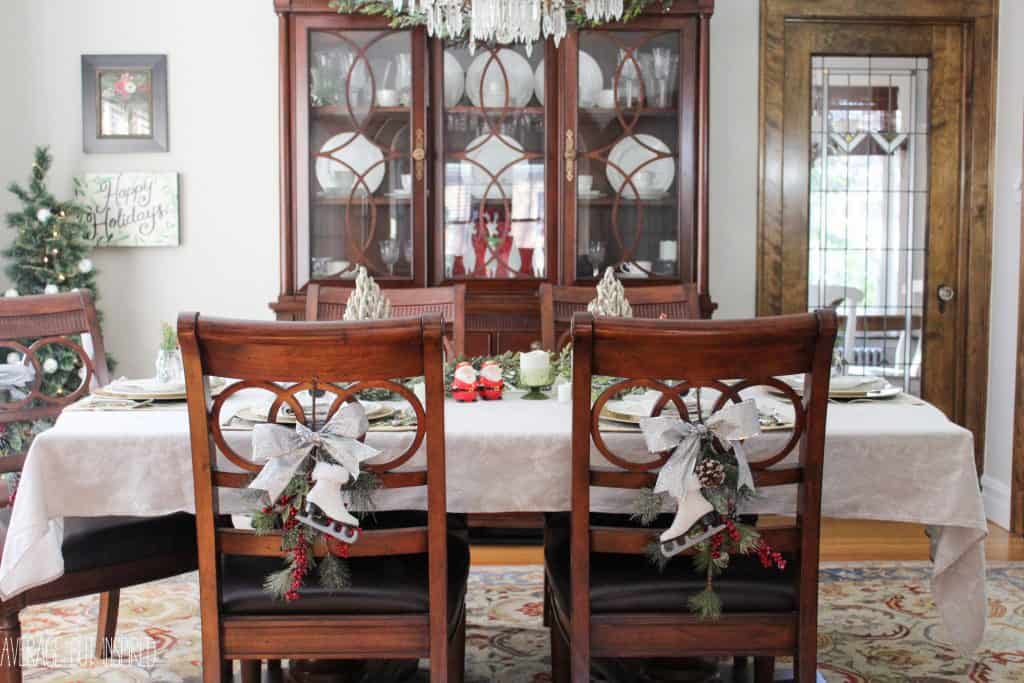 1.  Light it Up
A big part of the magic of Christmas is twinkling lights everywhere you look.  Why not bring that into the dining room with an abundance of sparkle and candlelight?
If you're clumsy like me and worried about setting the table or yourself on fire (um, yes, I have done that), then flameless LED candles are the perfect solution!  I set my table with lots of subtly-sparkled LED candles and votives from Big Lots.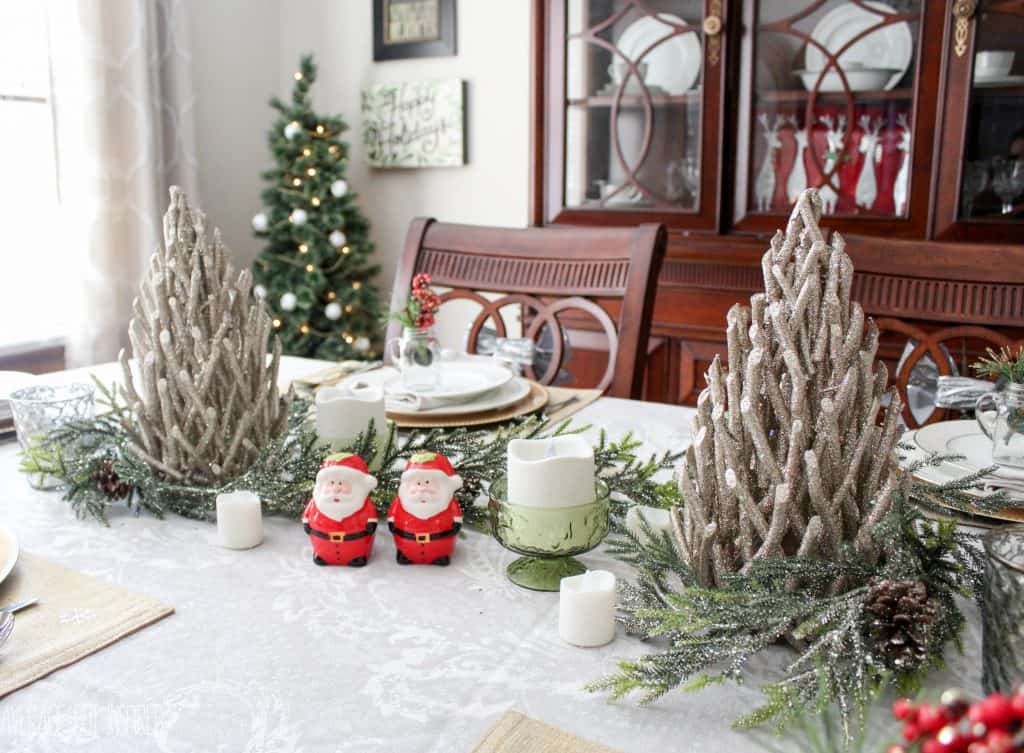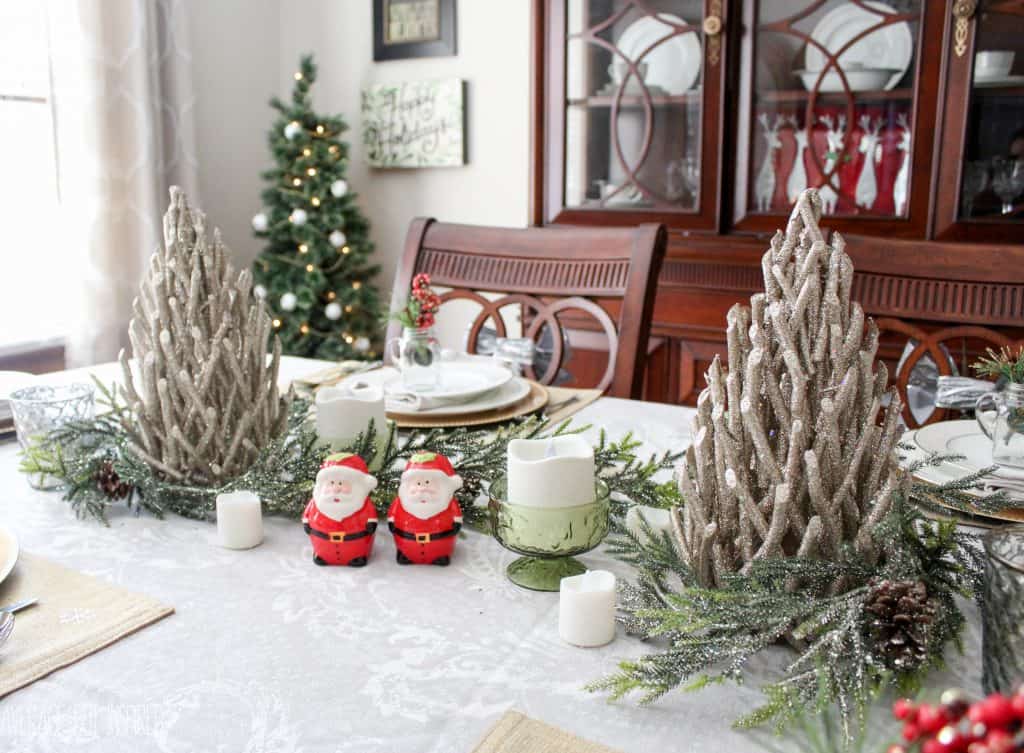 The glittery branch trees and evergreen garland I bought add even more glamour and shimmer to the table, even when it's not dark outside.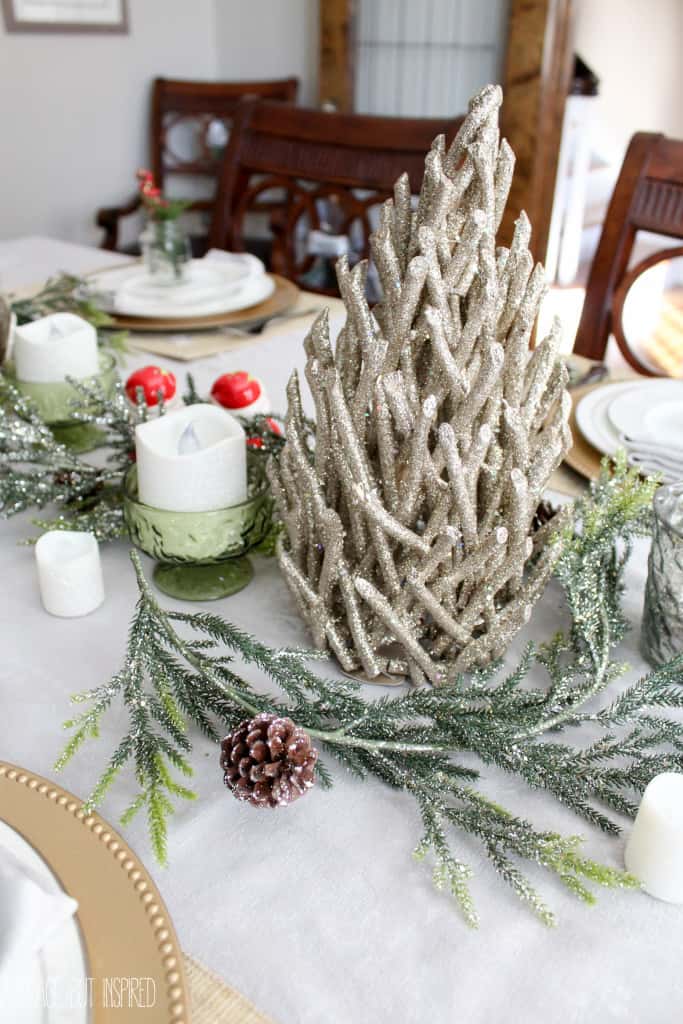 Don't limit the sparkle to the table, though!  I carried the look throughout the room by adding these gorgeous lanterns and wine-colored LED candles near the tree.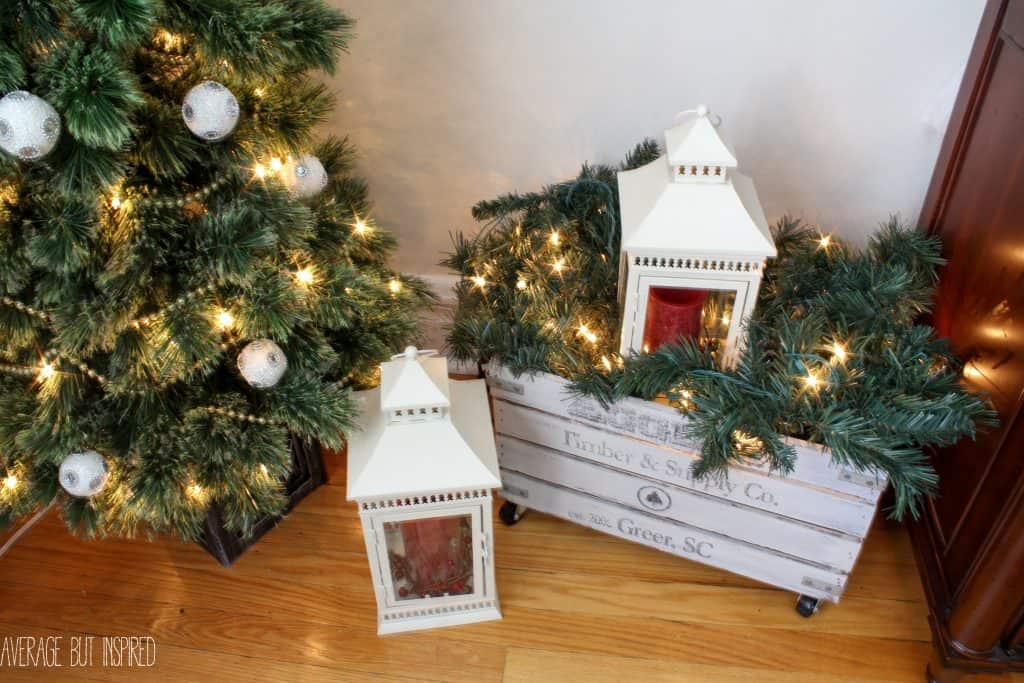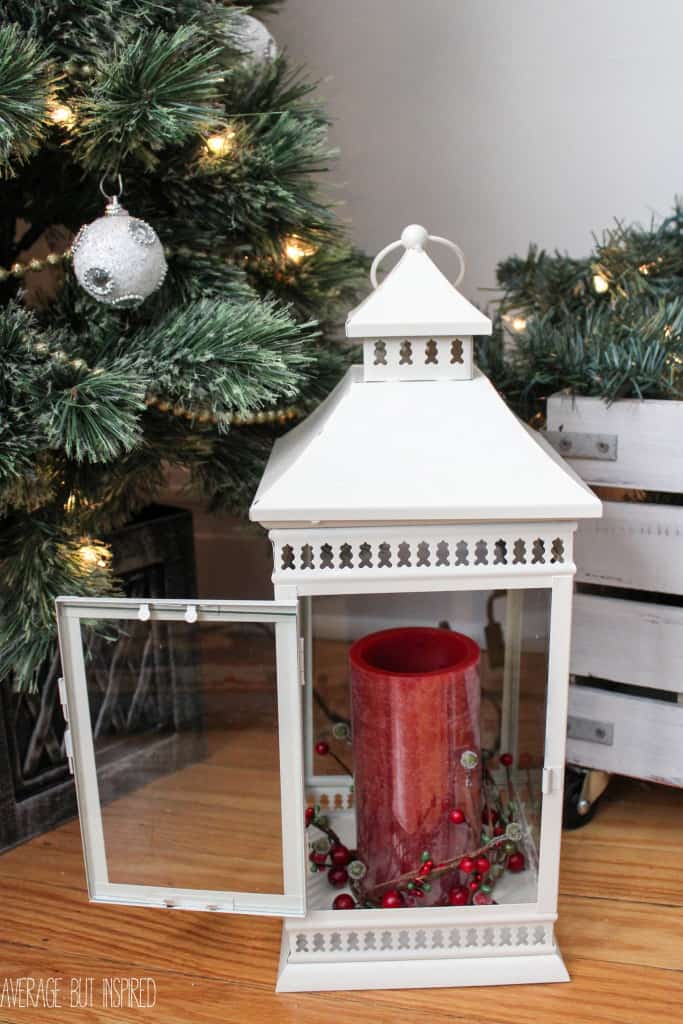 The soft glow and ambiance the candlelight creates while reflecting off the glittery accent pieces will inspire family and friends to linger, and will make the dining room a memorable setting for the Christmas memories being made.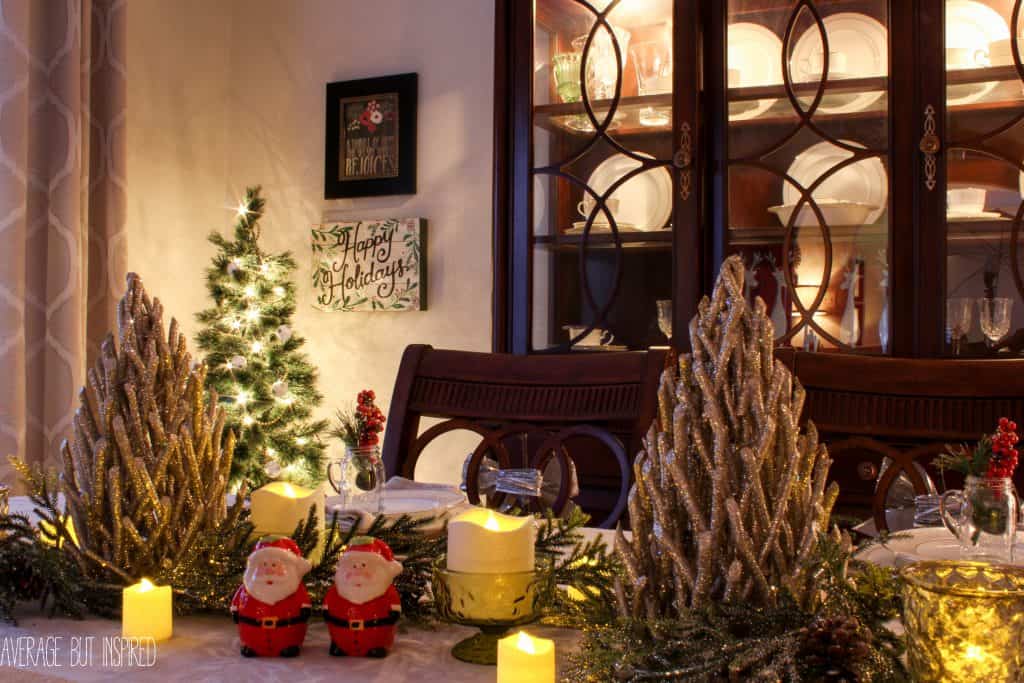 2.  Set a Special Table
Since the table is the centerpiece of any holiday dinner, make it shine with special details like festive linens, unique place cards, and beautiful accessories.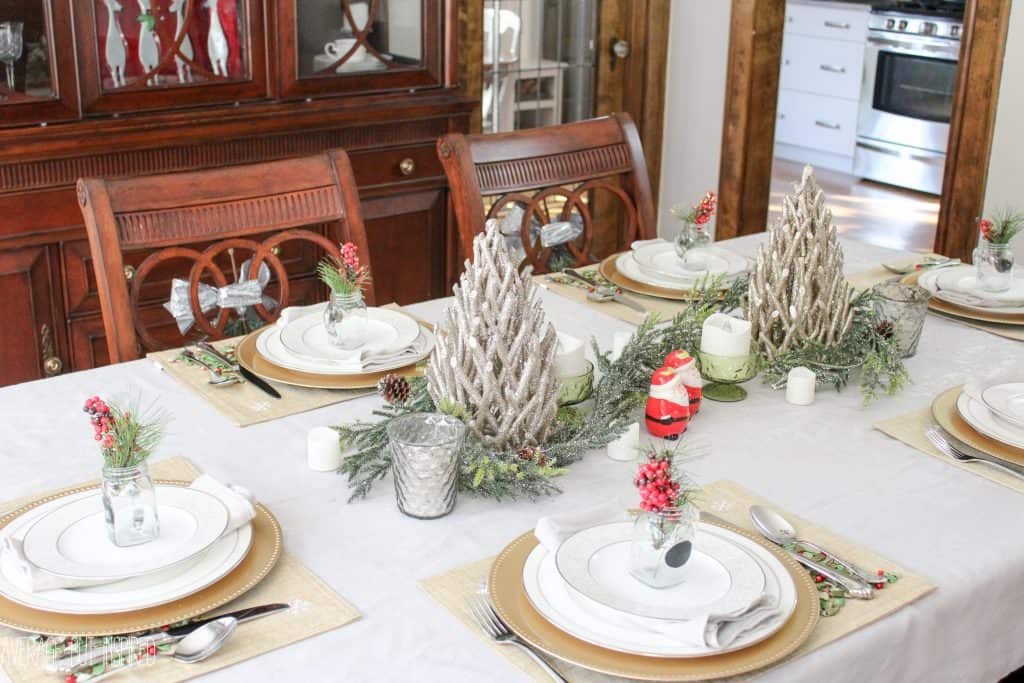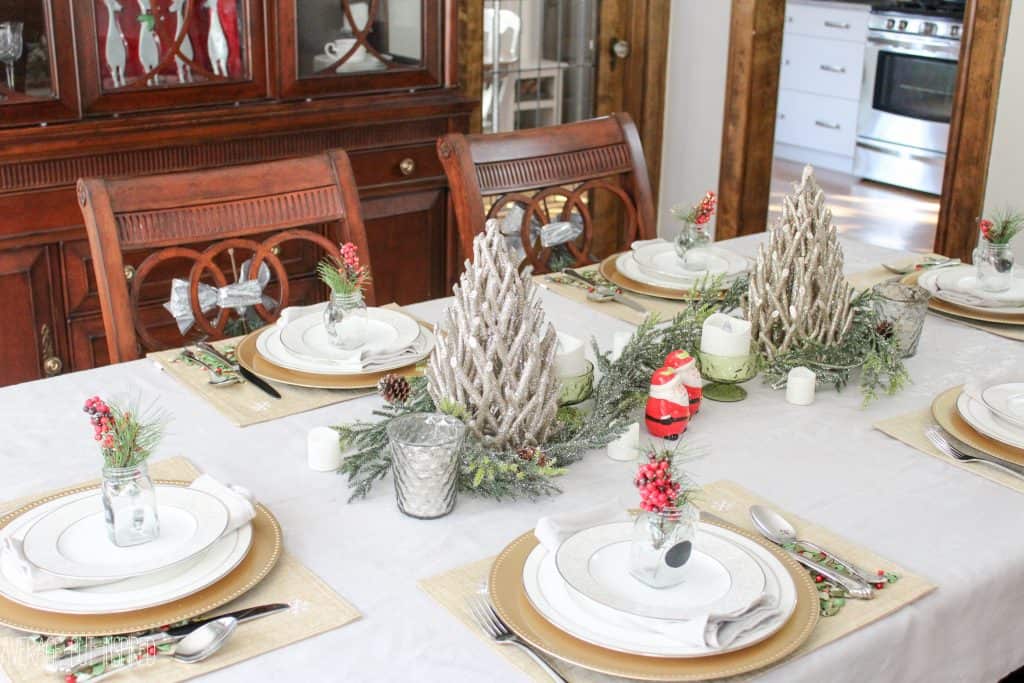 These Christmas tree placemats I got at Big Lots are a wonderful way to bring Christmas to the meal in the absence of holiday china or tableware.  With their ribbon and bell detailing, they're a special addition to the table.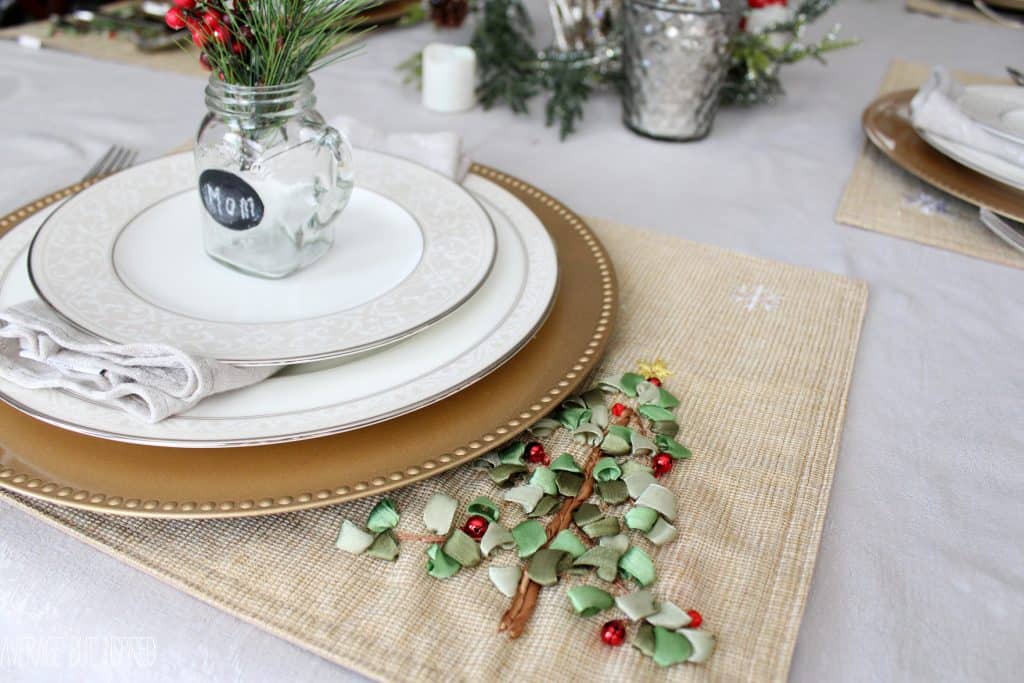 Unique touches like mini mason jar place cards filled with greenery cuts from Big Lots will also have guests smiling and feeling special.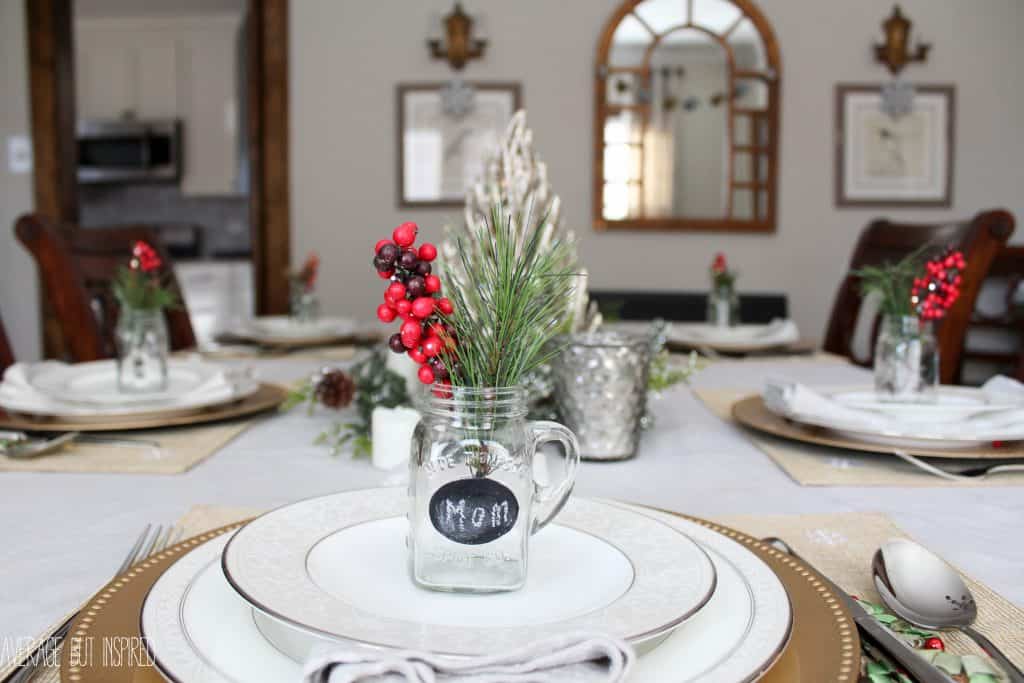 And how about these cute new Santa salt and pepper shakers?  I mean, come on.  They're adorable.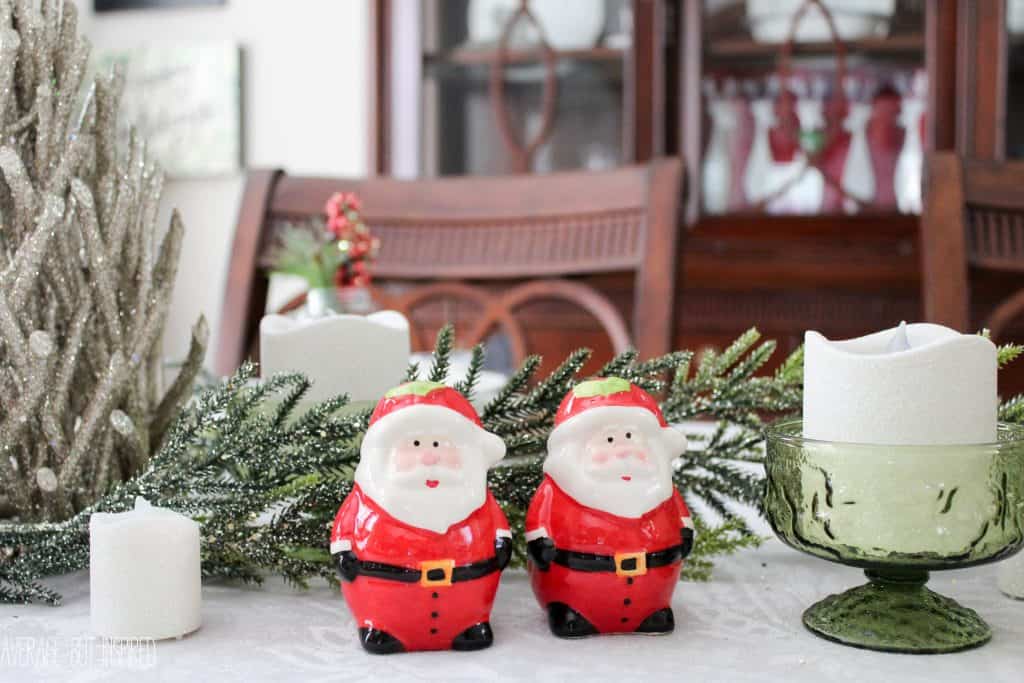 With a beautiful table set, guests will truly enjoy themselves at the holiday meal – even if the food is not very good (which is what happens when I host).
3.  Say Yes to Swag
Adding swags to the backs of chairs elevates the look of any holiday dining room.  I made these by tying together faux evergreen swags, ornaments and ribbon — all from Big Lots — and looping them through my chairs.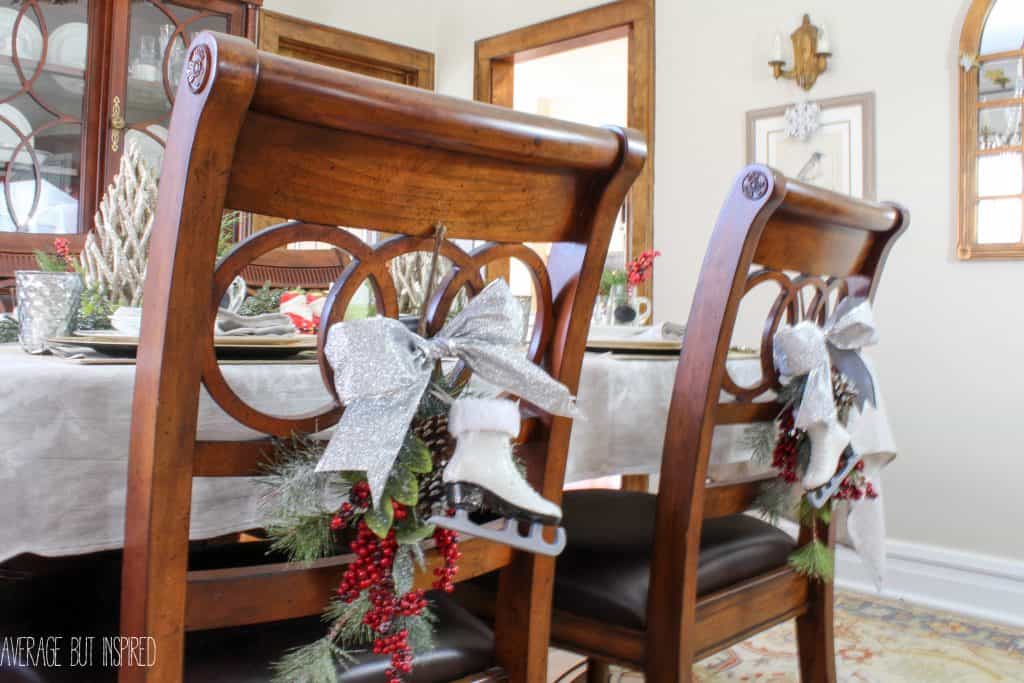 Make them personal to you and your family's traditions by including ornaments that have meaning to you.  The ice skates on my swags are a nod to my daughter's obsession with ice skating.  They'll definitely be a conversation starter, which can certainly be helpful at some holiday meals!  (Gah!  I have to sit next to weird Uncle Bob again this year?!?)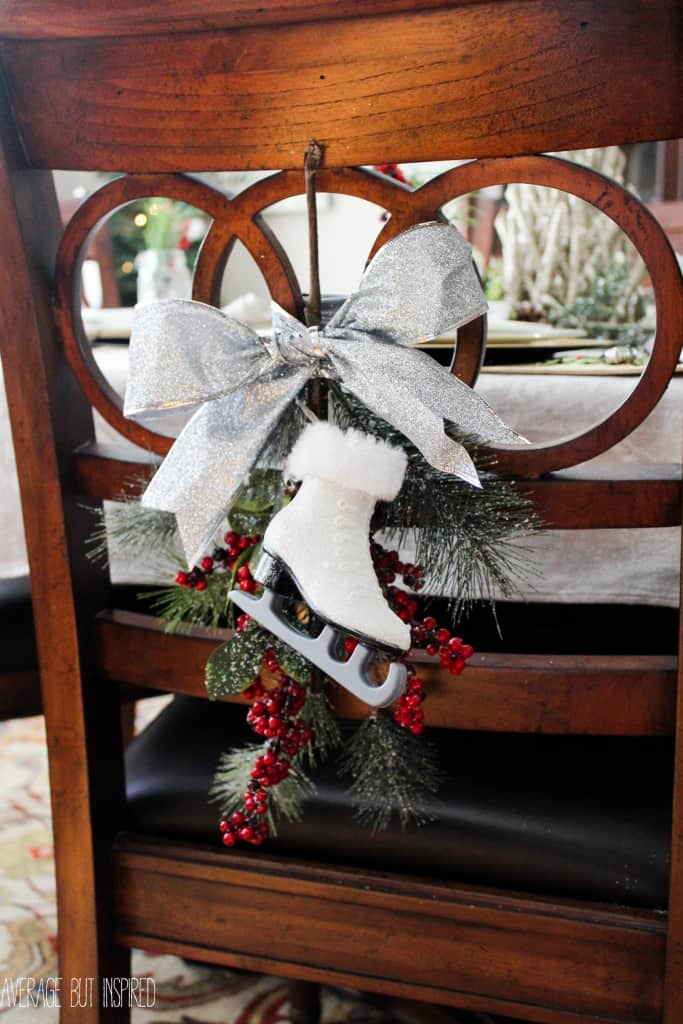 4.  Add a Tree
Beautiful evergreens are synonymous with Christmas, so why not bring one into the dining room?  I'm not saying you have to lug the Griswold family tree in there (especially if your dining room is small like mine), but even a small tree will bring ambiance and joy into the room.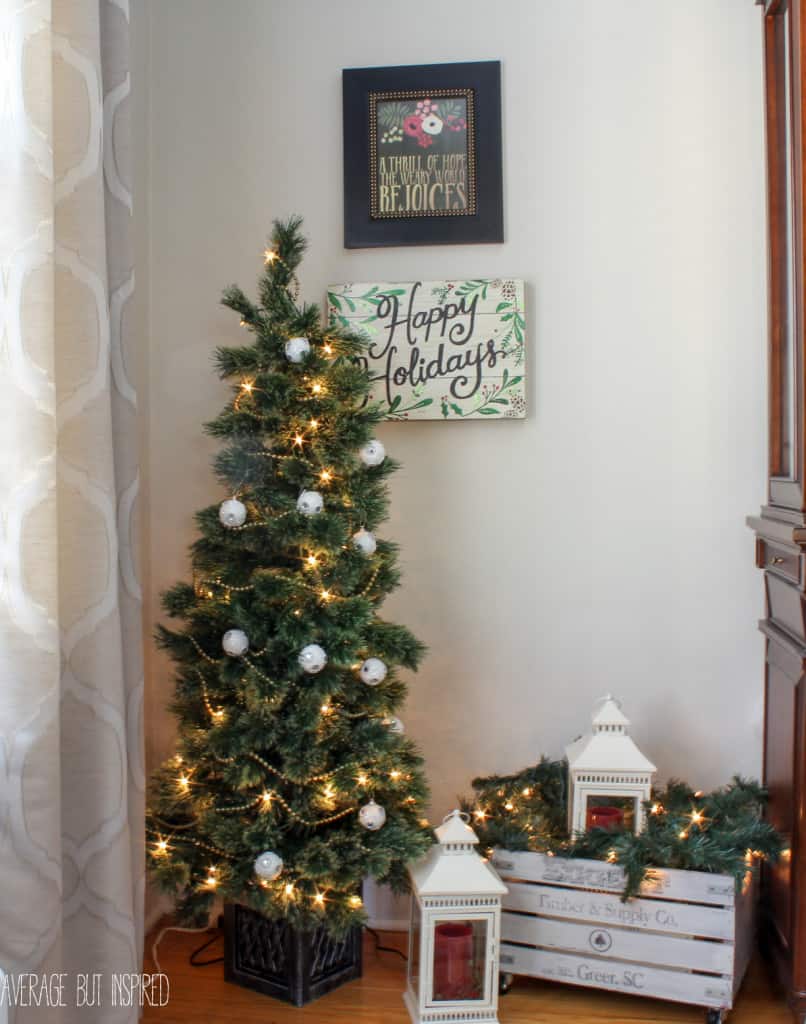 I was SO excited to find this 5 foot faux cashmere tree at Big Lots because it is the perfect size for my space.  I also love that it is pre-lit and came with an adorable base so I didn't have to buy my own or skirt the tree.  

My kids are so excited to have a tree in the dining room, and I have to admit that I am, too.  It is really beautiful to look at, and I know it will be especially beautiful during a lovely meal.
5.  Pay Attention to the Little Details
To really complete a dining room's transformation for the Christmas season, pay attention to the little details.  One way to do that is to swap out regular artwork or wall hangings for Christmas art.  I was so excited to find this wood-pallet lookalike art at Big Lots and knew it would be perfect in the dining room.  It has subtle glitter accents that sparkle in the reflection of the tree light.  Gorgeous!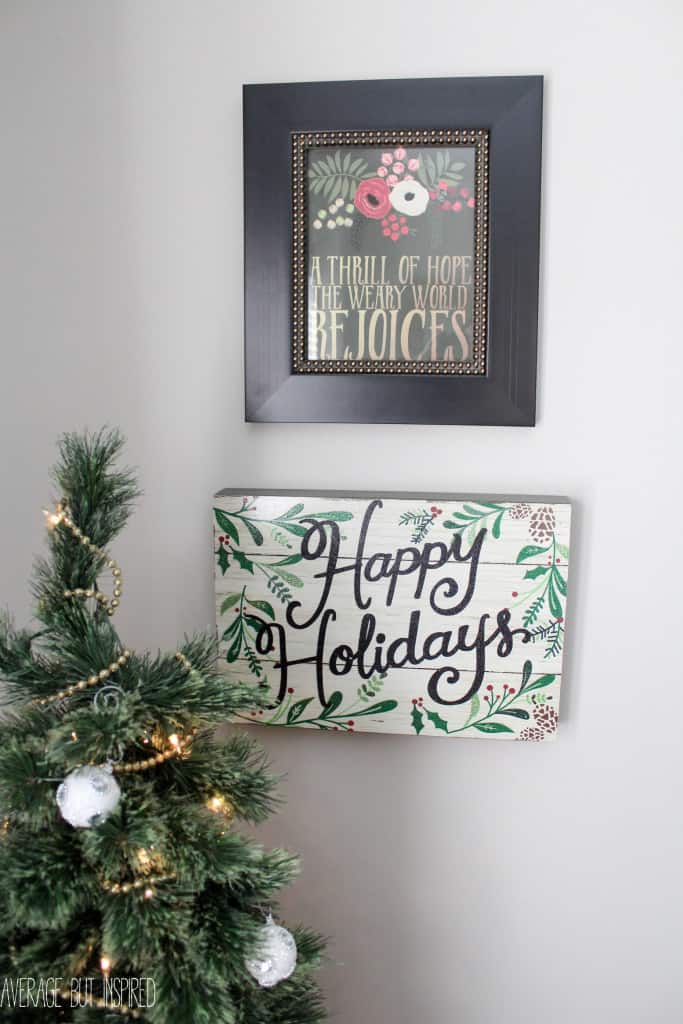 Adding garlands and ornaments to other bare spaces also adds a festive touch.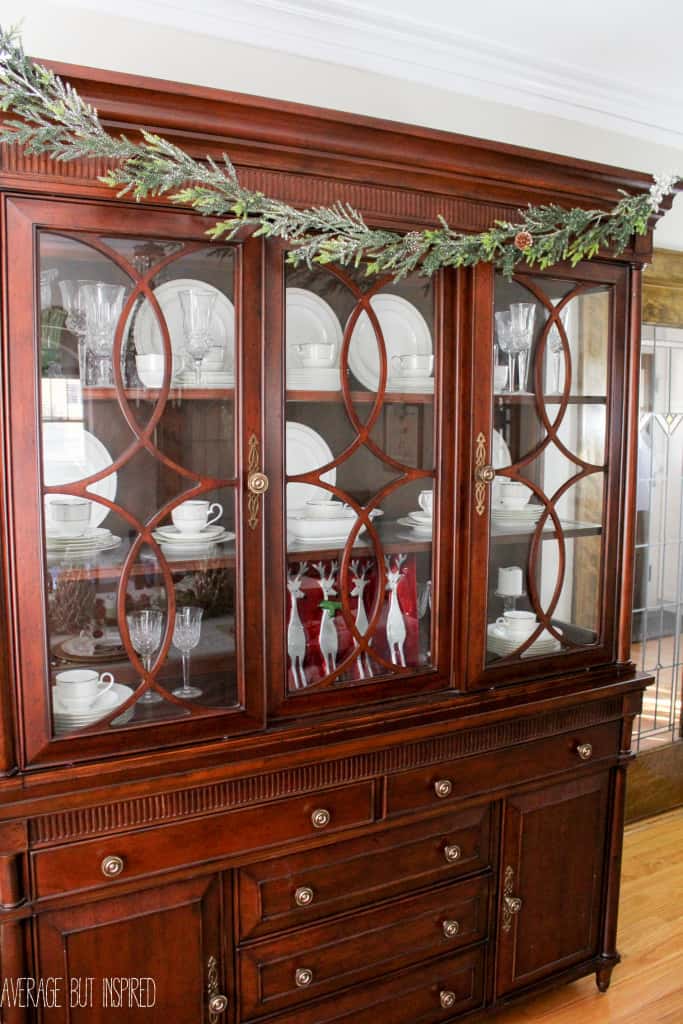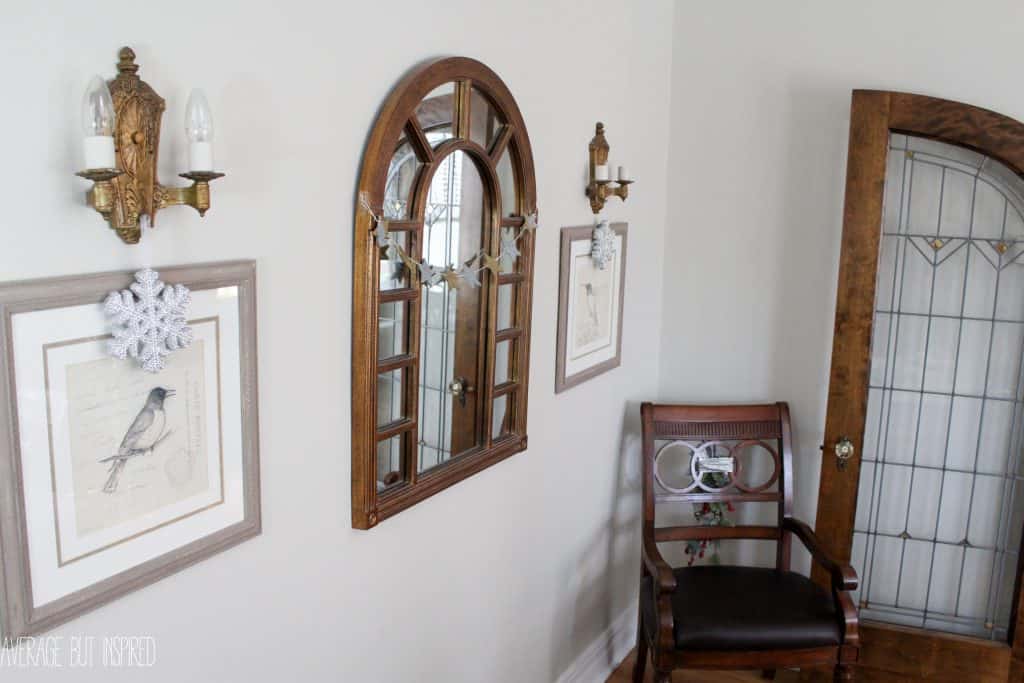 You can also try emptying dishes and containers of their regular contents and substituting with sparkly ornaments of varying shapes and sizes.  Put out seasonal candy dishes, too!  They look cute on their own, and guests will love nibbling on sweet treats once you fill them with candy.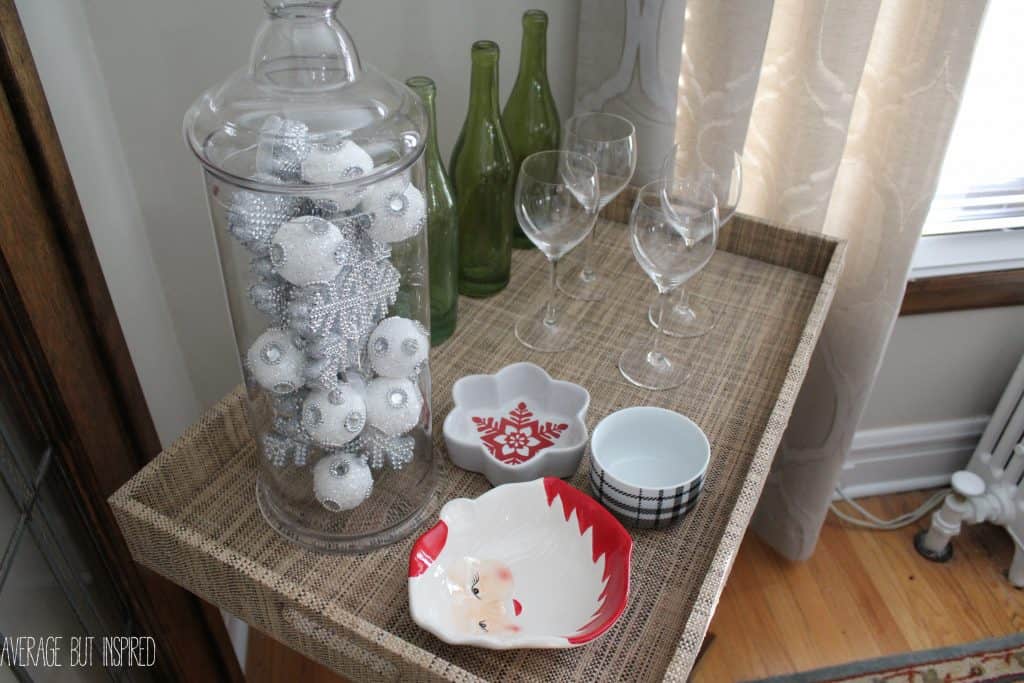 The little details can be the easiest to take care of, but they really show you care.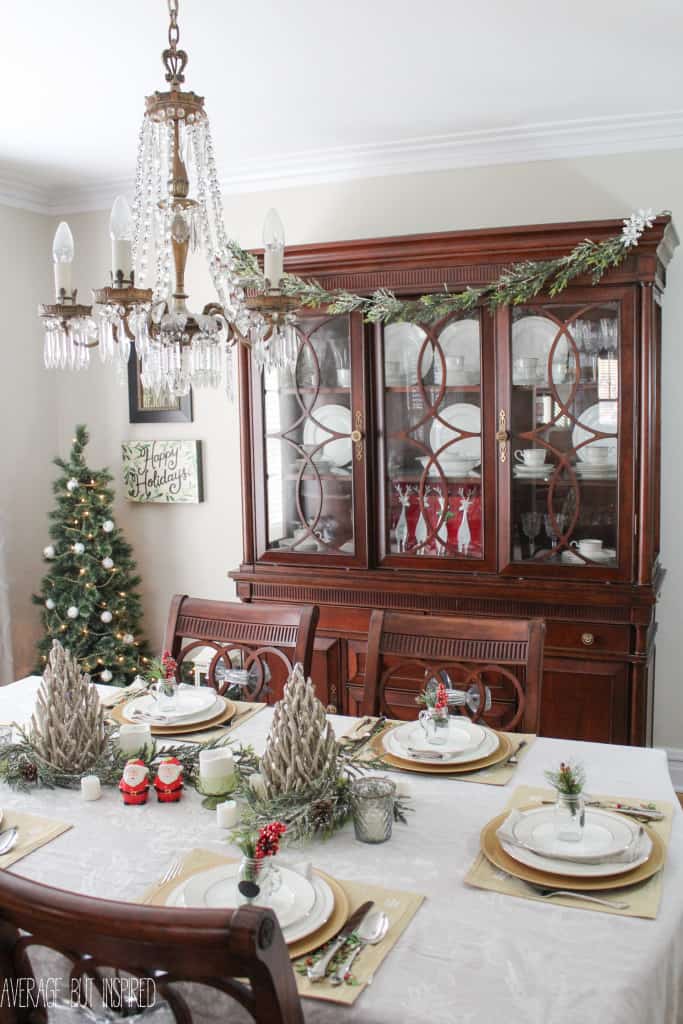 I hope these tips help excite you for the holidays to come and give you some inspiration for your own Christmas home!
Once you start your decorating this year, you should definitely check out Big Lots for high-quality holiday and seasonal decor for both inside and outside of your home.  And to get you even more prepared to create your own winter wonderland before you head to the store, check out Big Lots' website and Christmas catalog for ideas, tips, and inspiration.  Styles and assortment vary by store.
Now that you've seen my decked out dining room and read my tips for creating your own beautiful holiday dining space, which room are you planning to transform this Christmas?
-Bre