Baskets are an organization and decor staple; you can never have enough! They're a perfect spot to plop your pillows and blankets, stick a potted plant, or hide some junk when you need to do a quick house pick up before guests arrive.
Because there is no such thing as too many baskets, I decided to add another to my collection for this edition of the Monthly DIY Challenge. This month some of my best blogger buds and I teamed up to create projects that all use burlap ribbon – a craft room staple – and I upgraded a dollar store laundry hamper to a burlap basket for my office space!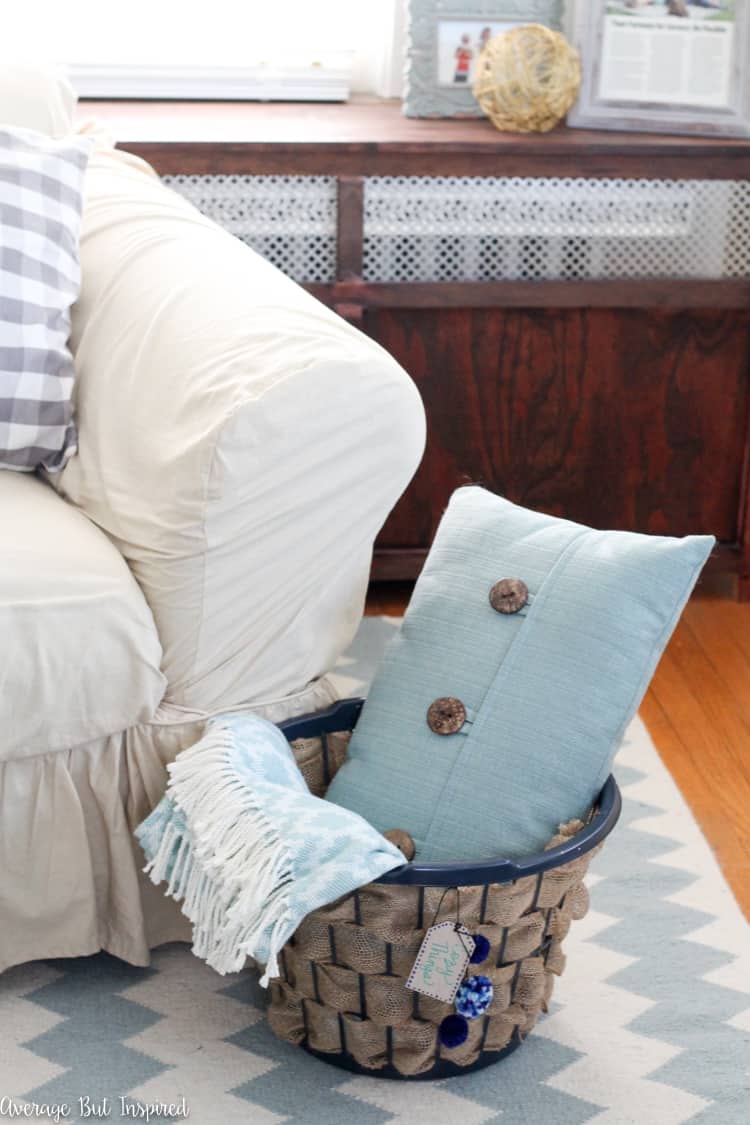 You'll find links to all of my friends' burlap ribbon projects at the bottom of this post, but first, here's a little teaser of all of the great projects we came up with!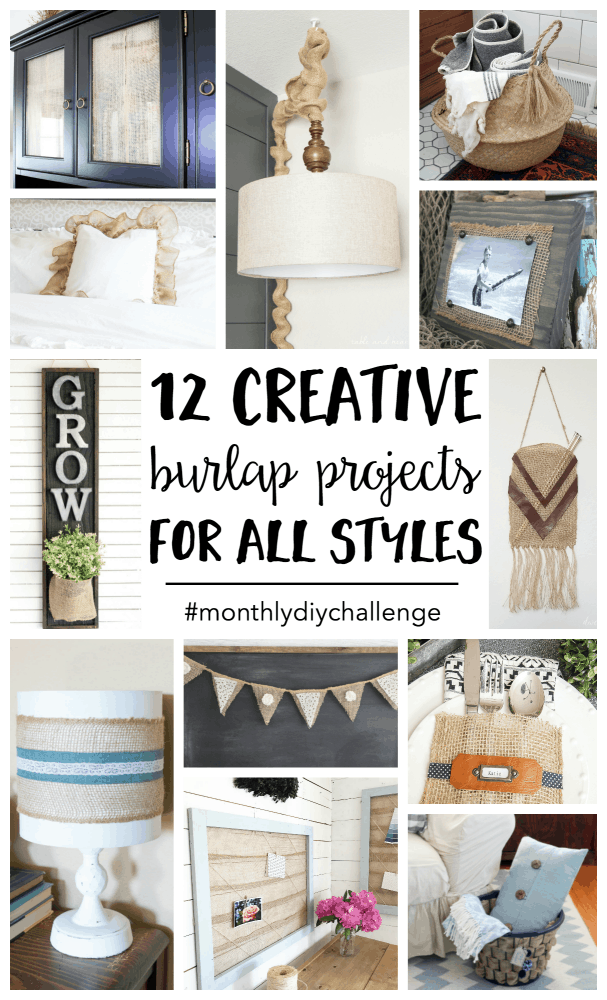 Now, let me show you how to upgrade a plain laundry basket into a stylish burlap basket for your home!
Supplies Needed to Make a Burlap Basket
Thank you to Kenarry: Ideas for the Home for sponsoring this post. The project and opinions are my own. Also, this post contains affiliate links. To read my full disclosure policy, please click here.
Instructions for Making a Burlap Basket
Before I give you instructions, I have to show you the plain old laundry basket that I bought at Dollar Tree. So simple, right?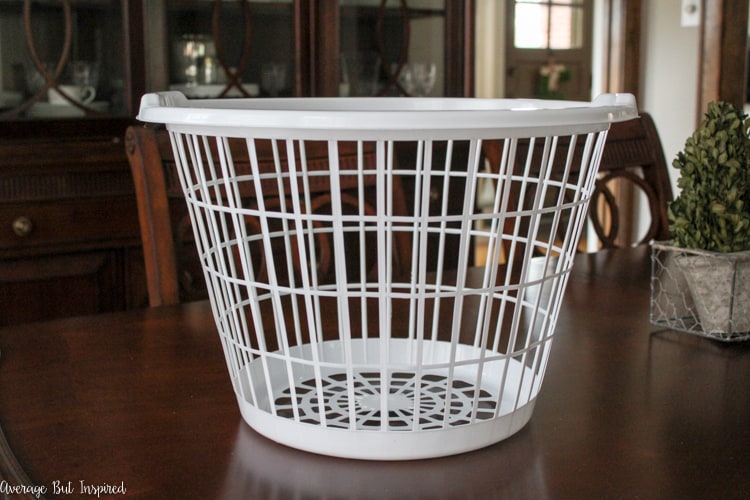 I started by spray painting the basket with spray paint that adheres to plastic. My favorite type of plastic spray paint is this brand, but I had to use this type from Target for my project because Target is the only nearby place I can buy spray paint (all of my home improvement stores are in Chicago, and you can't buy spray paint in Chicago due to a law that was passed in an effort to curb graffiti. SO ANNOYING!). OK rant over. 🙂 The Target spray paint worked just fine in case you were wondering.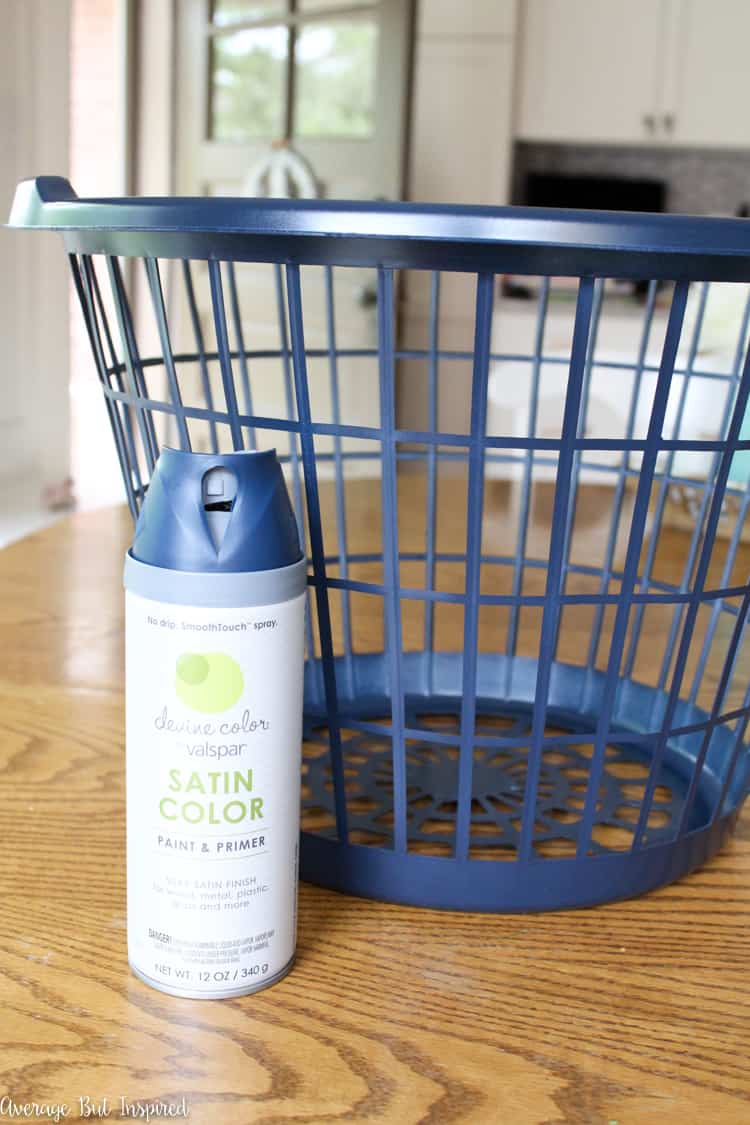 After I spray painted, I let the basket dry for a looooong time to make sure it really stuck to the plastic hamper, and I plotted the best way to transform it from a laundry basket to a pretty basket.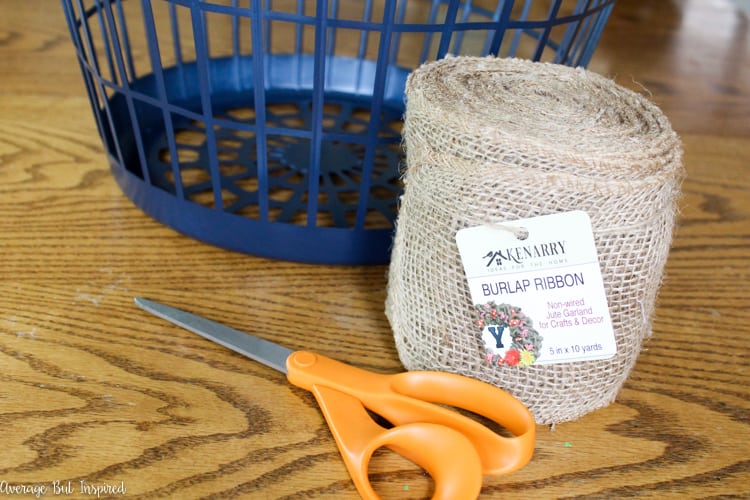 Once it dried, I grabbed some soft burlap ribbon that is extra wide at 5″ across, and that has sewn edges to reduce fraying. This burlap ribbon comes in a 10 yard roll, which is the perfect size for this project! To begin, I cut a piece that measured 1.5 times longer than the circumference of the laundry hamper base.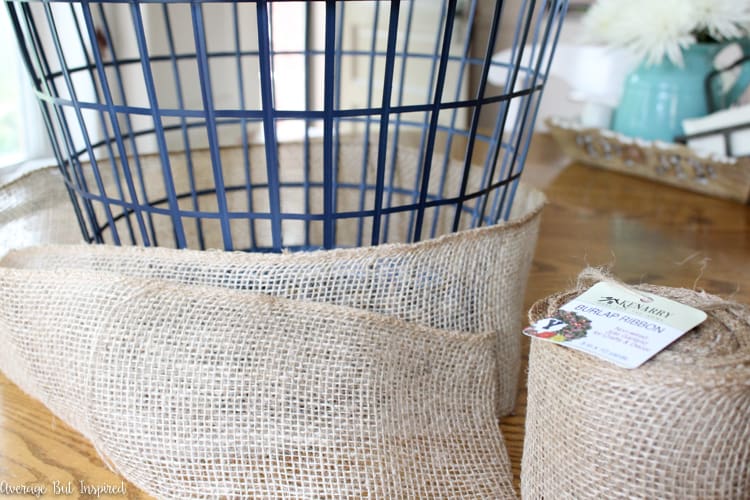 Then I began weaving the burlap ribbon in and out of the slots in the bottom row of the laundry hamper.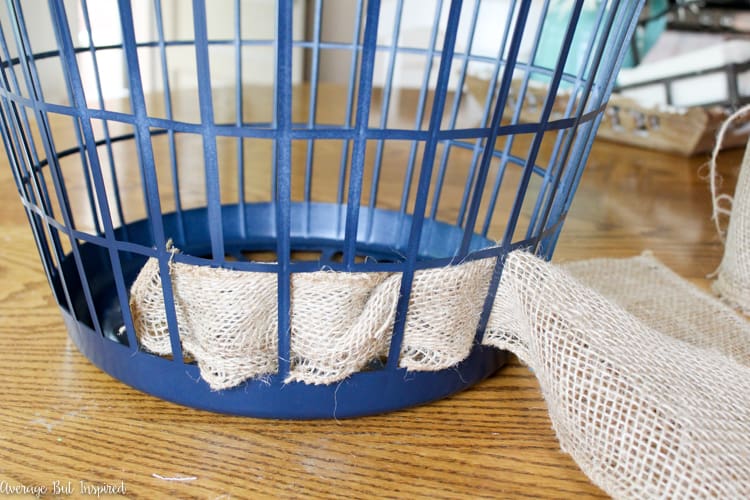 When I got all the way around the base of the basket, I tied off the ends on the inside of the basket and cut off the excess burlap ribbon.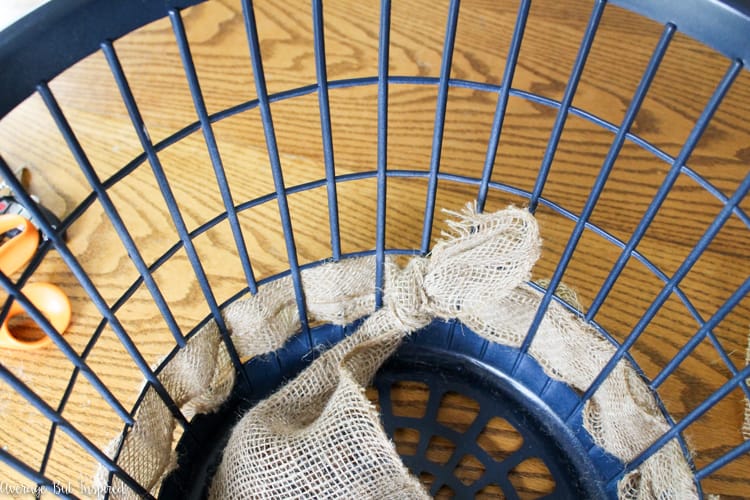 Next, I cut another piece of burlap ribbon and moved up to the next row of slats on the basket; repeating the steps above and making sure to start my weaving one column of slats to the right in order to offset the weaving pattern.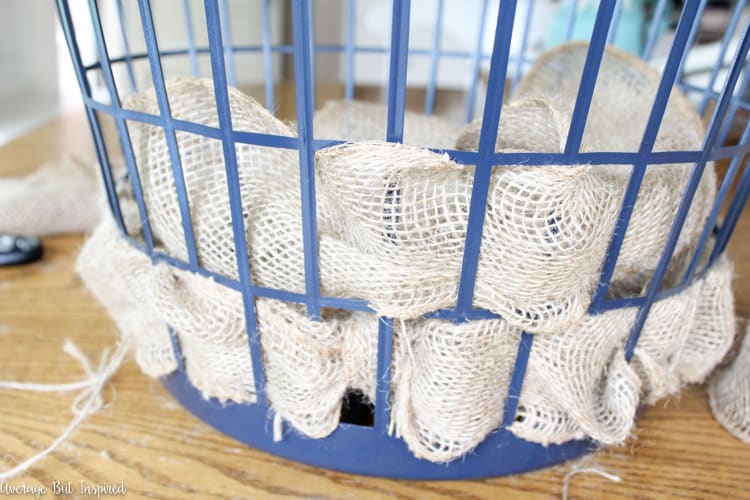 I did this until all of the basket was woven with burlap ribbon! I would guess that I used about 8 yards of the burlap ribbon, so I'm glad this spool came in such a long length! To finish things off, I added a little hang tag that reads "Cozy Things" and some pom poms. Pom poms are my fave.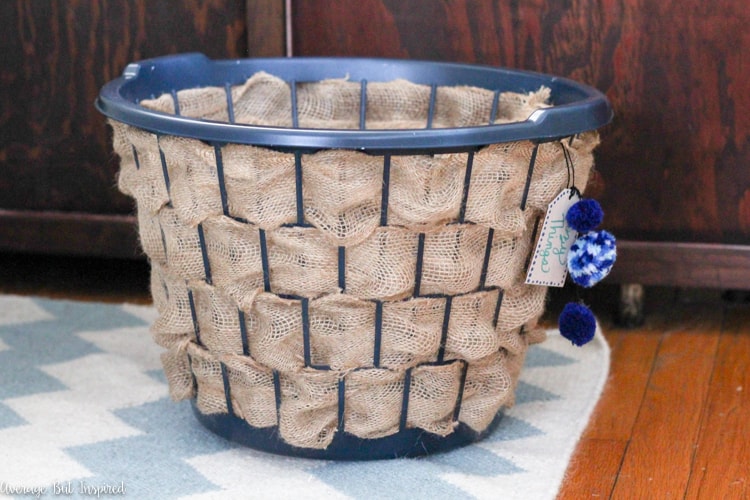 Can you believe how easy it was to transform a plain laundry hamper into a pretty burlap basket?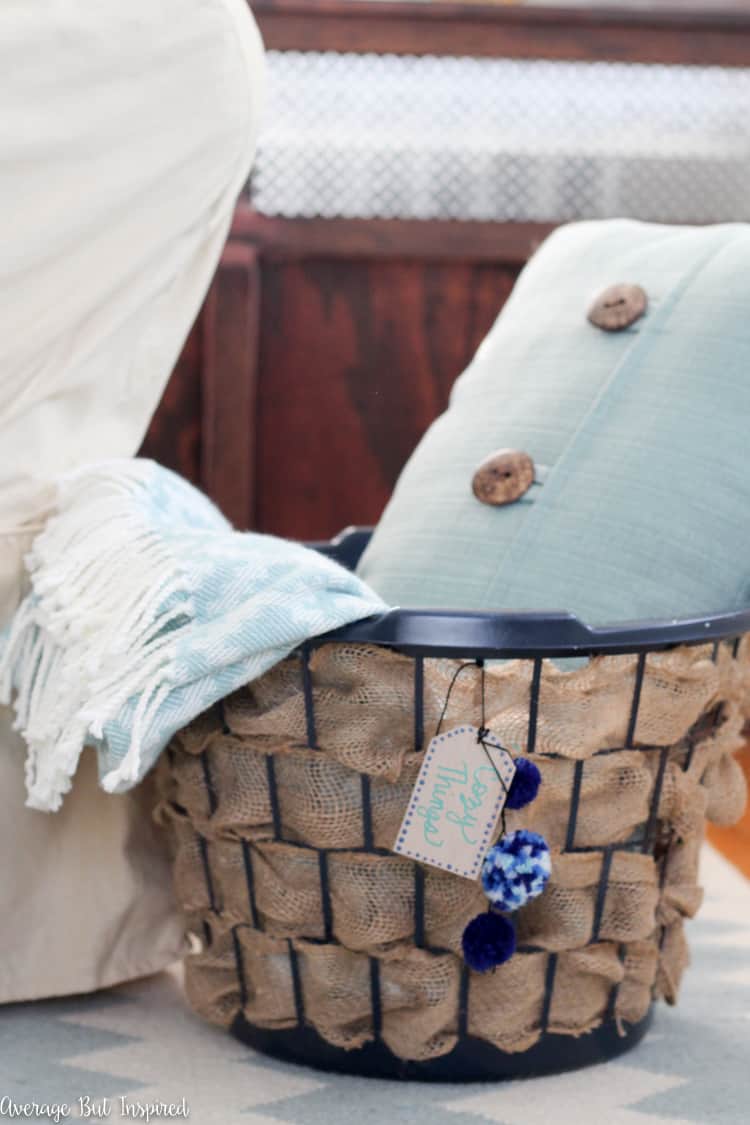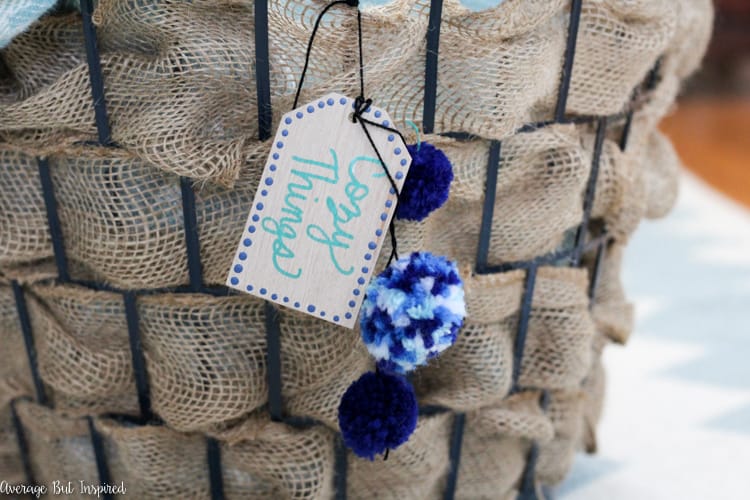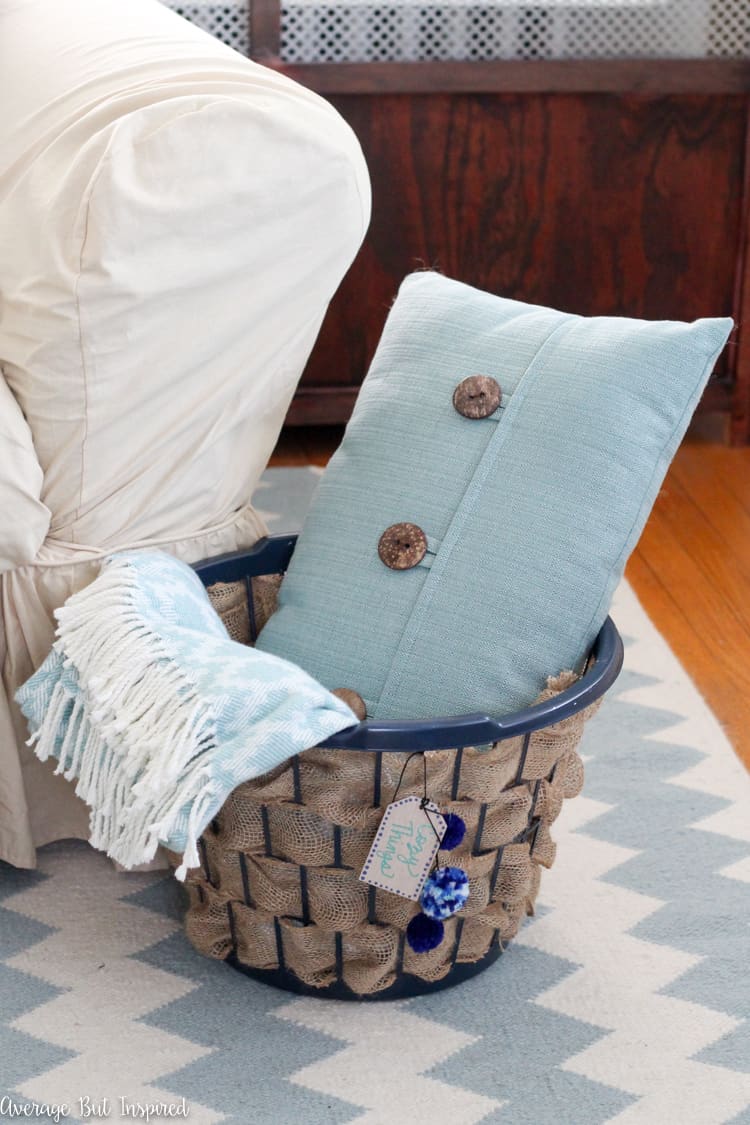 Jasper couldn't resist posing for this photo shoot. 🙂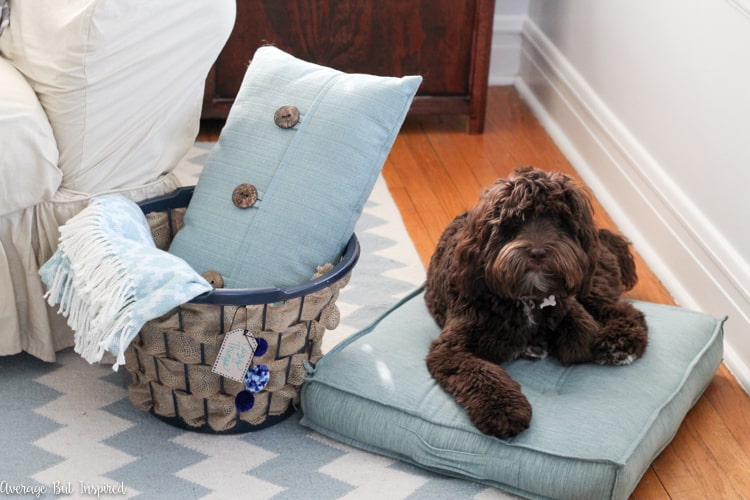 Next time you see one of those small laundry baskets at the store, make sure to pick one up and transform it into a cute piece of functional decor for your home! And please make sure to pin this post to share the love!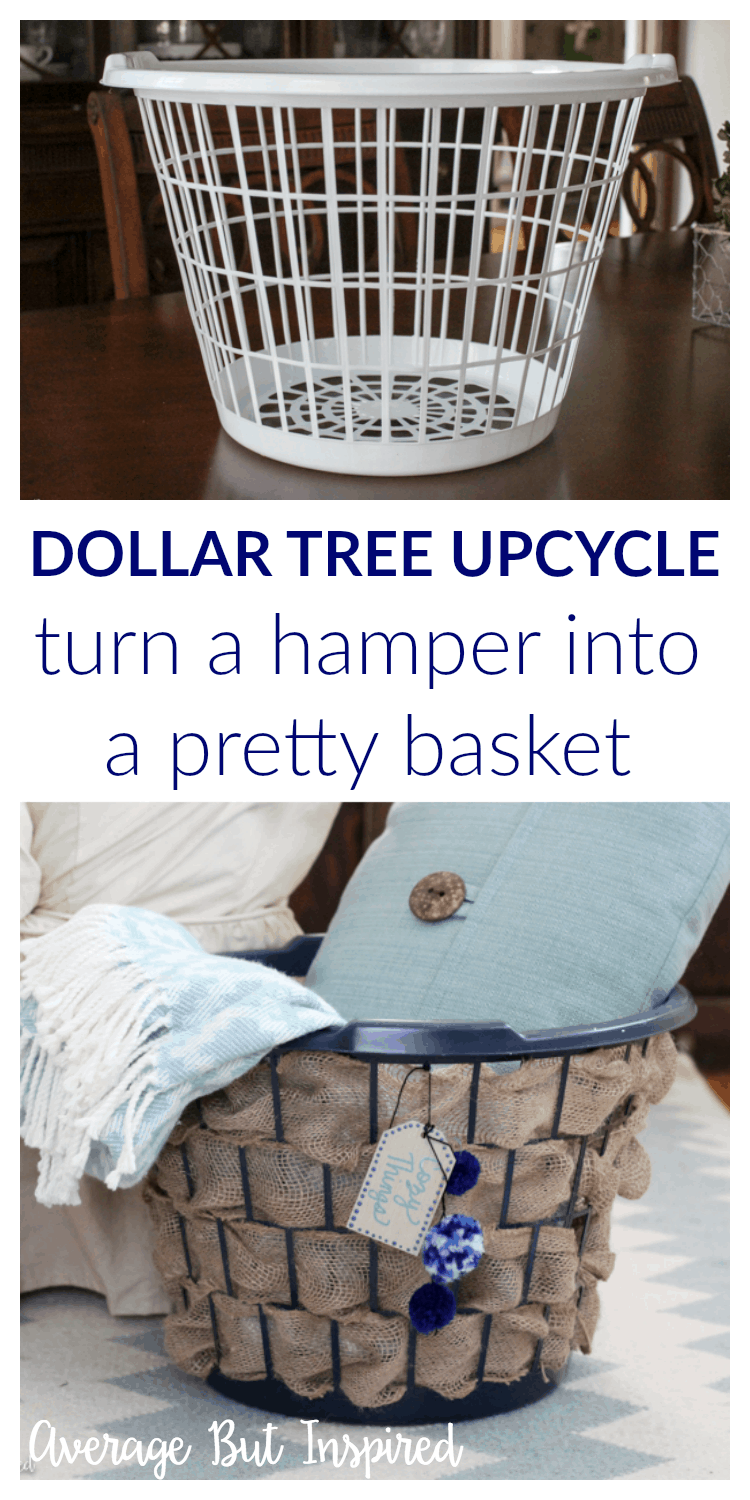 Now, check out the other fantastic ideas for using burlap ribbon! I bet you haven't seen many of these ideas before! (My friends are so creative.)

-Bre