The Most Wonderful Time of the Year is here, and I couldn't be more excited to deck the halls and make my home festive! Over the years I've shown you some of my Christmas decor, but it's always been focused on the communal areas of the home. Today I am switching things up a bit for the Come Home for Christmas Blog Hop, hosted by my friends Vicki & Jenn at 2 Bees in a Pod, and I'm sharing my daughter's Colorful Christmas Kids Bedroom. It's a departure from my typically traditional holiday home decorating style, but it makes me so happy because it's filled with sparkles, glitter, metallics and more!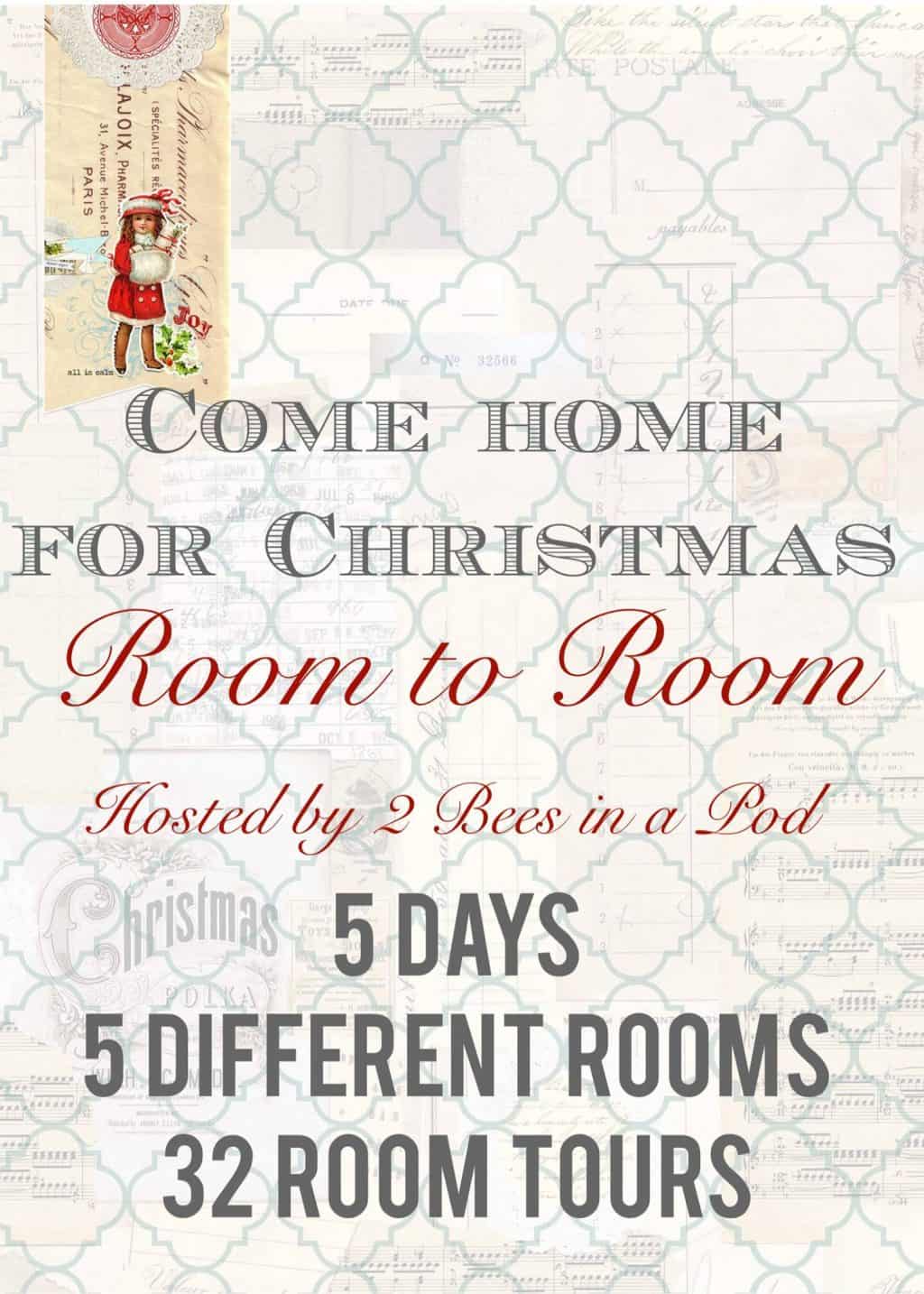 This post contains affiliate links. To read my full disclosure policy, please click here.
Before I jump into sharing my daughter's colorful Christmas bedroom, I wanted to let you know that you'll find links to 32 different Christmas room tours at the bottom of this post! Every day focuses on a different space in the home. I hope you'll visit my friends' posts and see how they are decorating different areas of their homes for the holidays!
Now, come on in and visit a Christmas bedroom that is truly merry & bright!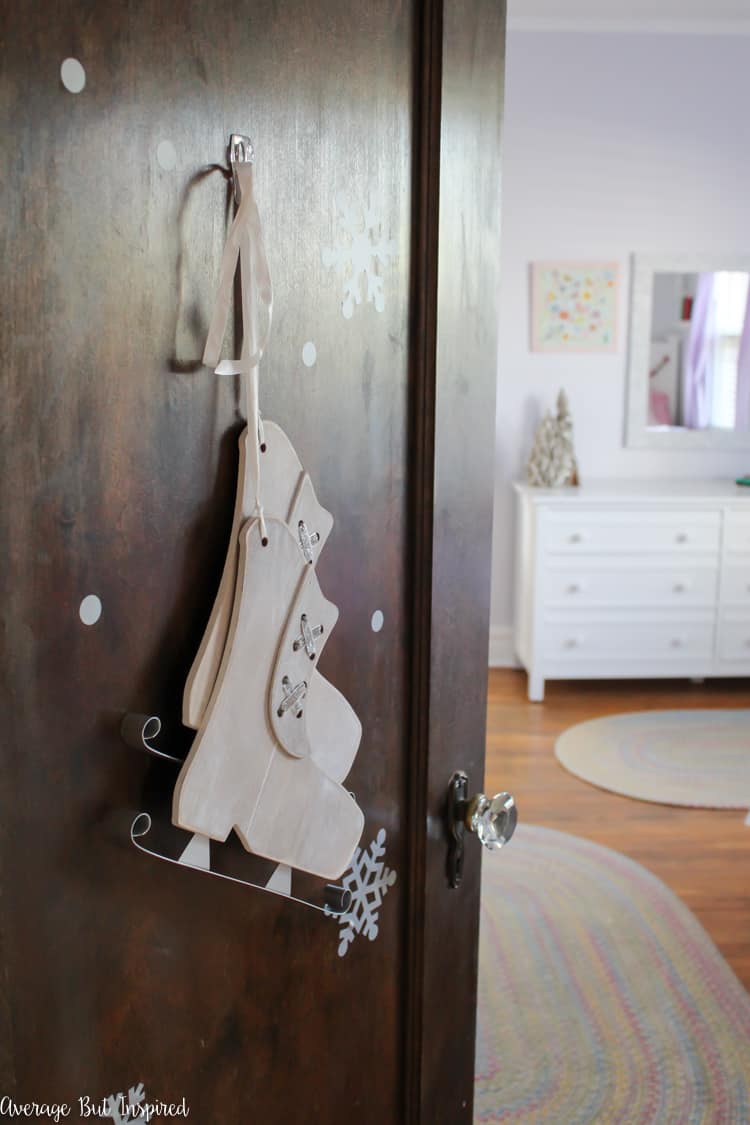 I have to be honest, my seven-year-old's room is usually a mess. She's somewhat of a packrat (just like her mama!), so we did a lot of cleaning and purging to get this space up to snuff for the holidays. Seeing my daughter's reaction when she saw all of this colorful Christmas decor was priceless. The magic of the season means so much to children, so it's extra fun to give them some of the seasonal sparkle in their bedrooms!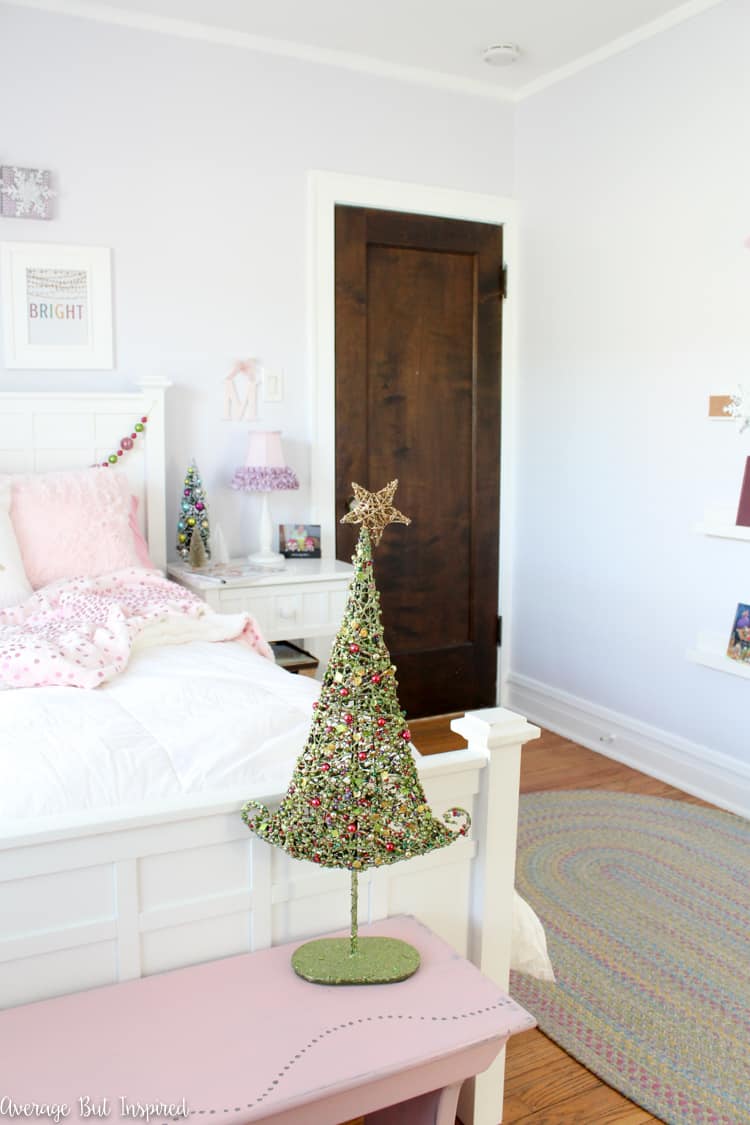 This little tree sitting on top of the Painted Butterfly Bench is something I've had for years and almost donated last year. I'm glad I didn't because it's perfect for this young child's Christmas bedroom. (See, being a packrat can pay off!) Its greens and pinks got me started on the color scheme that winds itself through the room.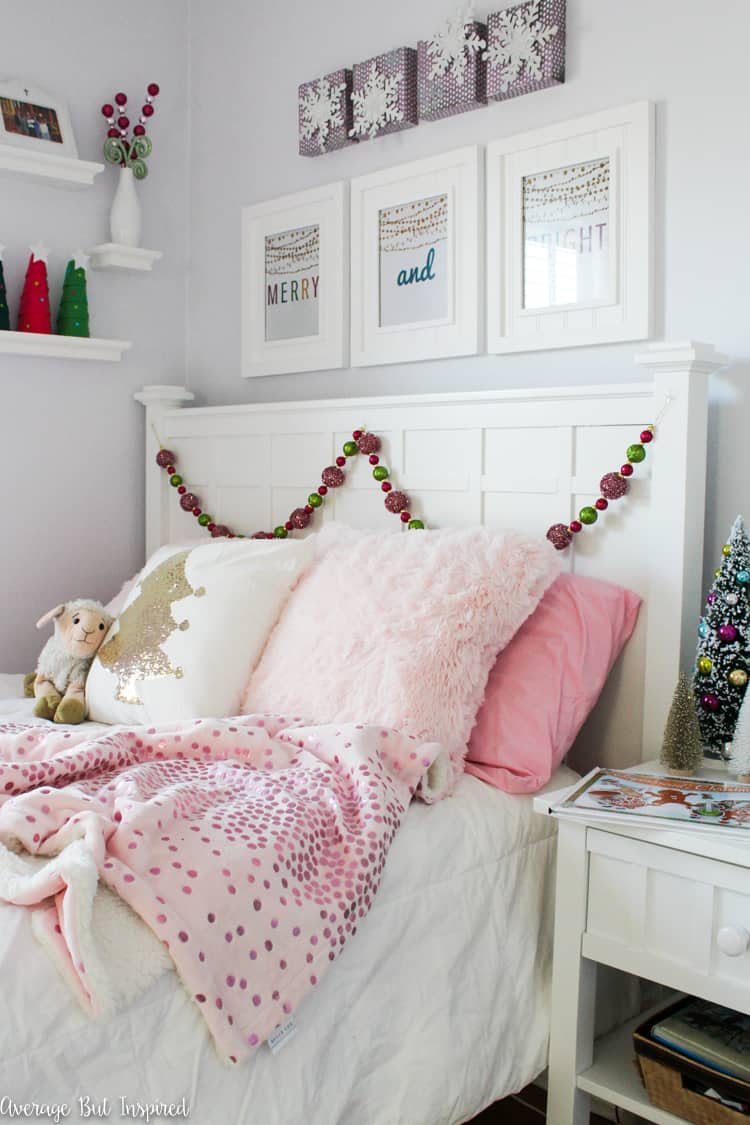 We gave my daughter's room a festive look for Christmas that feels young at heart by switching out the bedding for a plain white duvet, accented with an incredibly soft pink throw with metallic pink polka dots (link to similar throw). Let me tell you that I am obsessed with this throw and might steal it from her.
Adding to the coziness factor is the faux fur pillows. These are also incredibly soft, and were such a bargain! Pillow covers are my new favorite way to instantly change your decor's look (wrapping paper previously held this coveted spot.).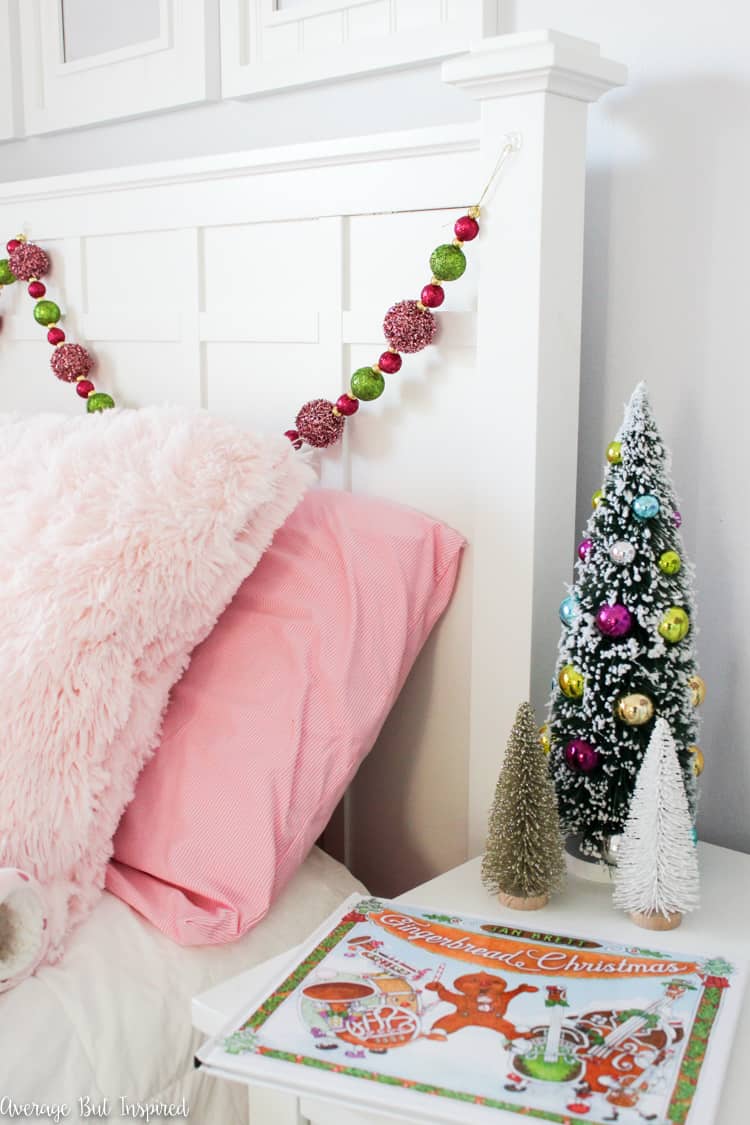 And for my sequin-obsessed daughter, I had to get this flippy sequin Christmas tree pillow. The tree can be gold or white, depending on which way you flip the sequins. So much fun built right into a pillow, friends!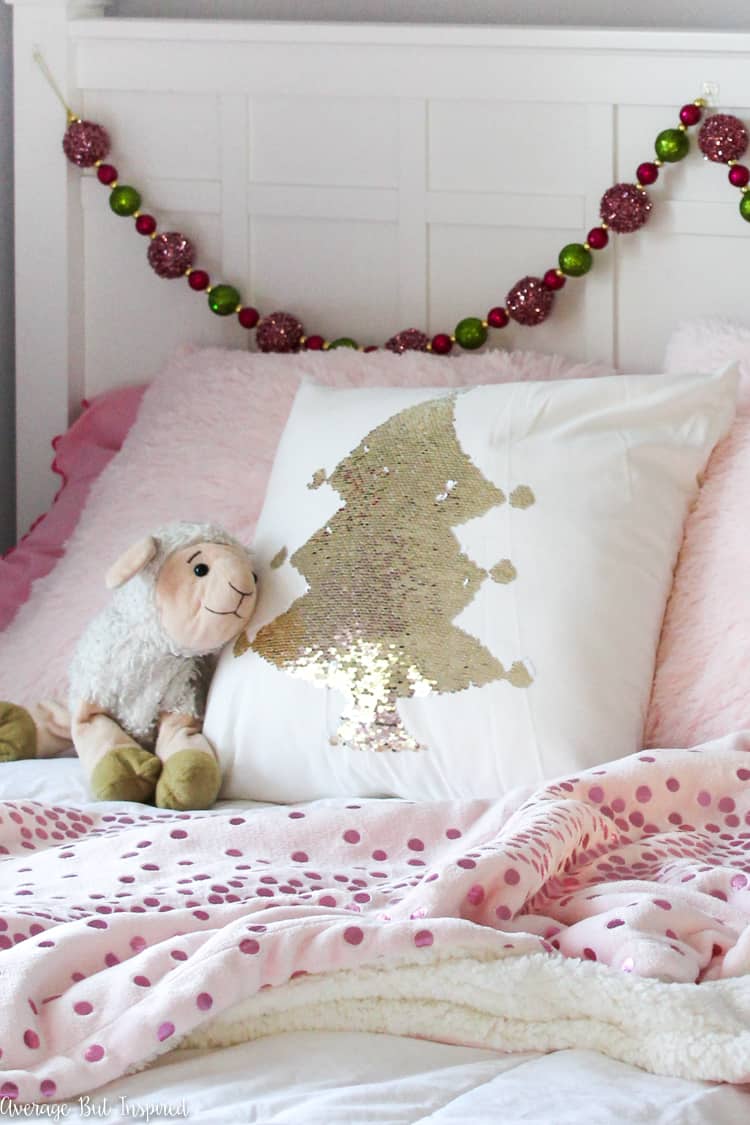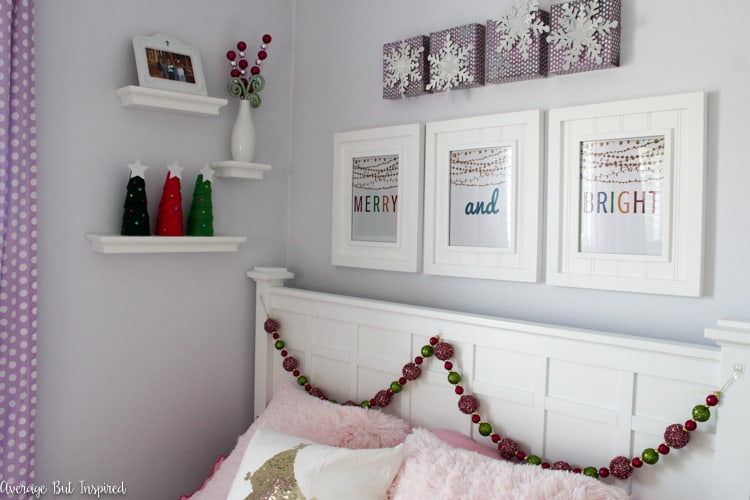 The Merry & Bright prints over the bed are covering the regular artwork, and similar versions are available HERE as FREE PRINTABLES (2 color combos and in a single 8×10)! And, the 3D Glitter Snowflake removable decals that Paper Riot Co. gave me are a perfect accent above those! (P.S. you can enter to win a set right now on my Instagram feed! Click here to find the entry.)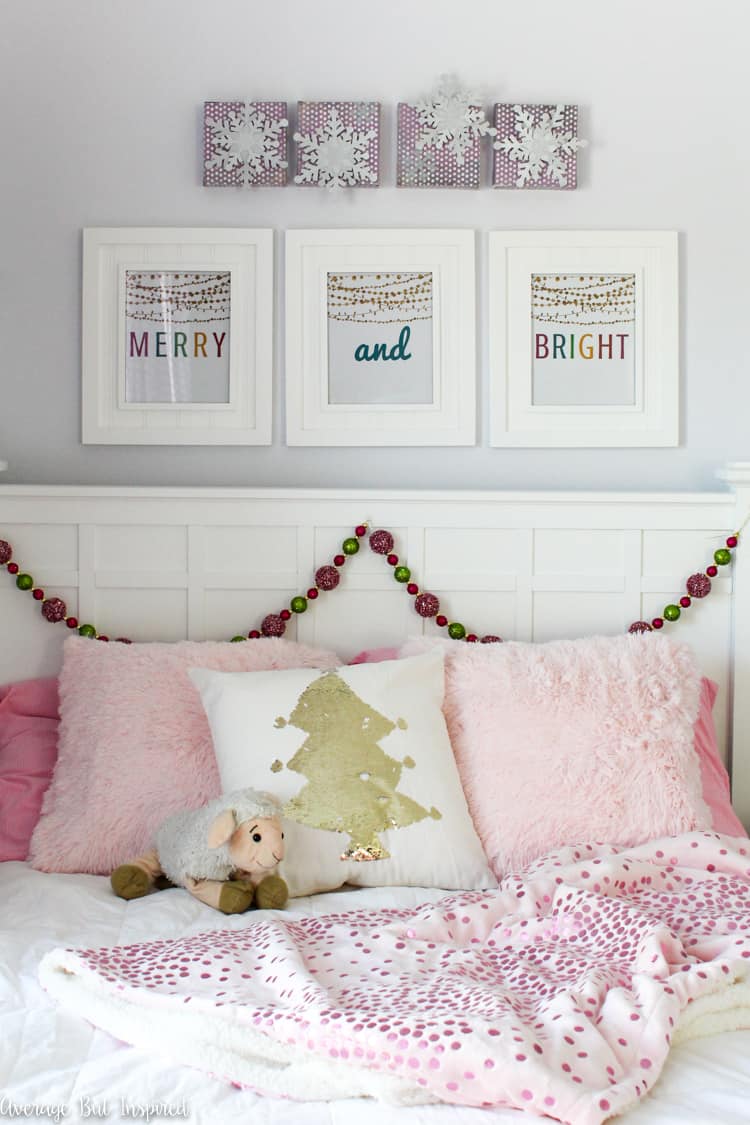 The festive new look has us all wanting to spend more time in my daughter's room. We even let Jasper the dog get in on the action (he's not usually allowed on the furniture). He gives that cozy throw blanket his stamp of approval.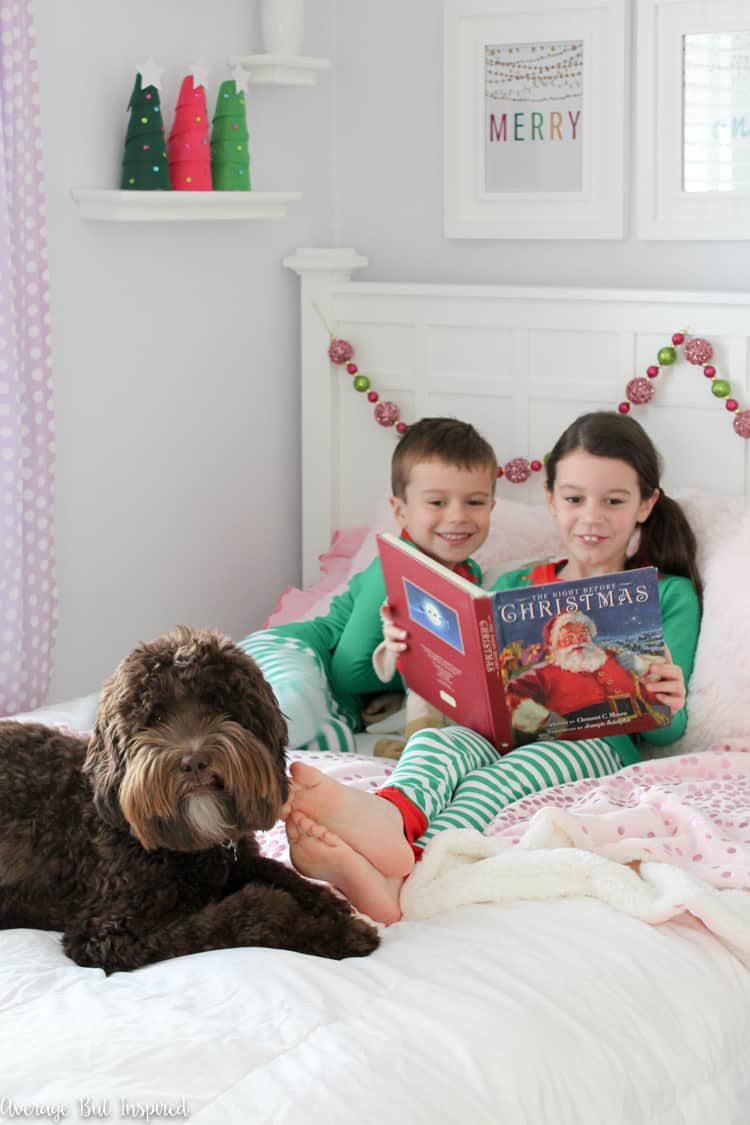 Now, if I can figure out a way to get my daughter to keep her room this clean going forward, I will have received the best Christmas present ever! (But wait – please don't tell my husband this. I would still like a real present under the tree. :-))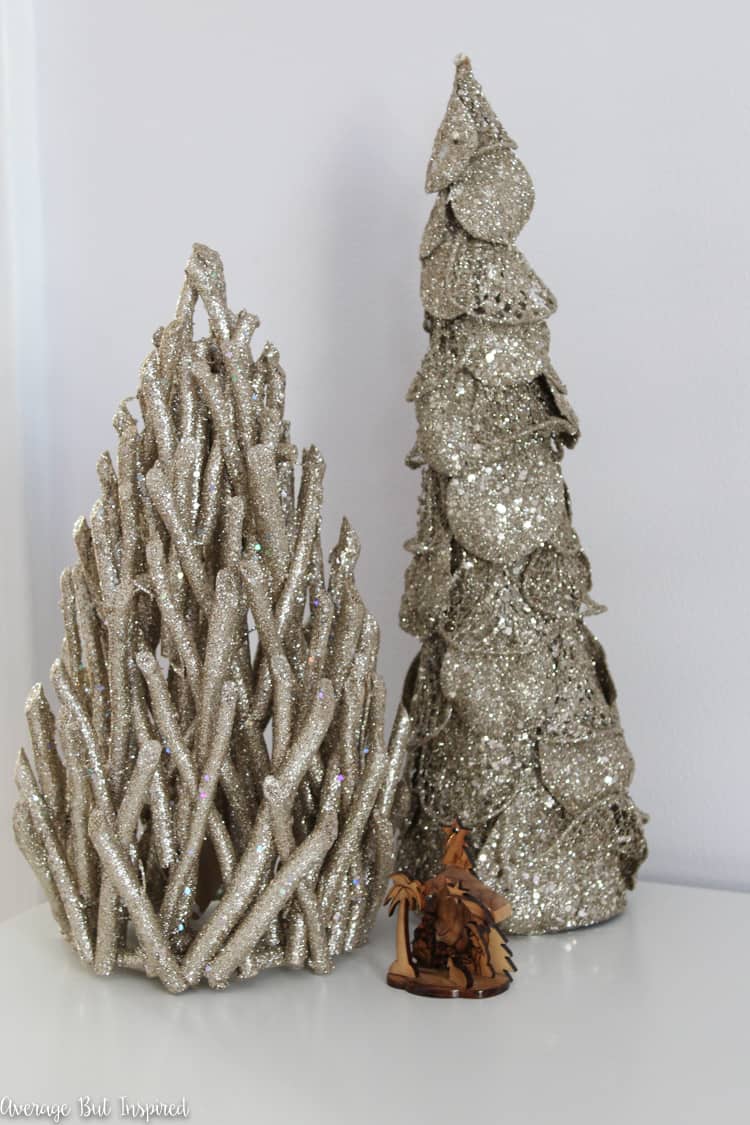 Now that you've seen how I decked out my daughter's bedroom for Christmas, please visit my friends to see each of their spaces! Remember – the Thursday and Friday posts won't be live until later this week, so make sure to check back!
MONDAY (11/27) – Entryway / Foyer
TUESDAY (11/28) – Living Room
WEDNESDAY (11/29) – Bedroom
THURSDAY (11/30) – Dining Room
FRIDAY (12/1) – Kitchen
Home with Cupcakes and Crinoline


Thanks for visiting and happy holidays!
-Bre