Trinket dishes are one of my favorite additions to my home decor because they're SO useful (hello, great place to keep rings and jewelry, and catch-all for random tiny things!), and because they can be so darn cute!
I have them near every sink that I use regularly and in other spots like on my dresser. I decided to try my hand at a DIY Trinket Dish recently and had so much fun making this quick and easy but oh-so-darling craft, that I couldn't wait to share it with you!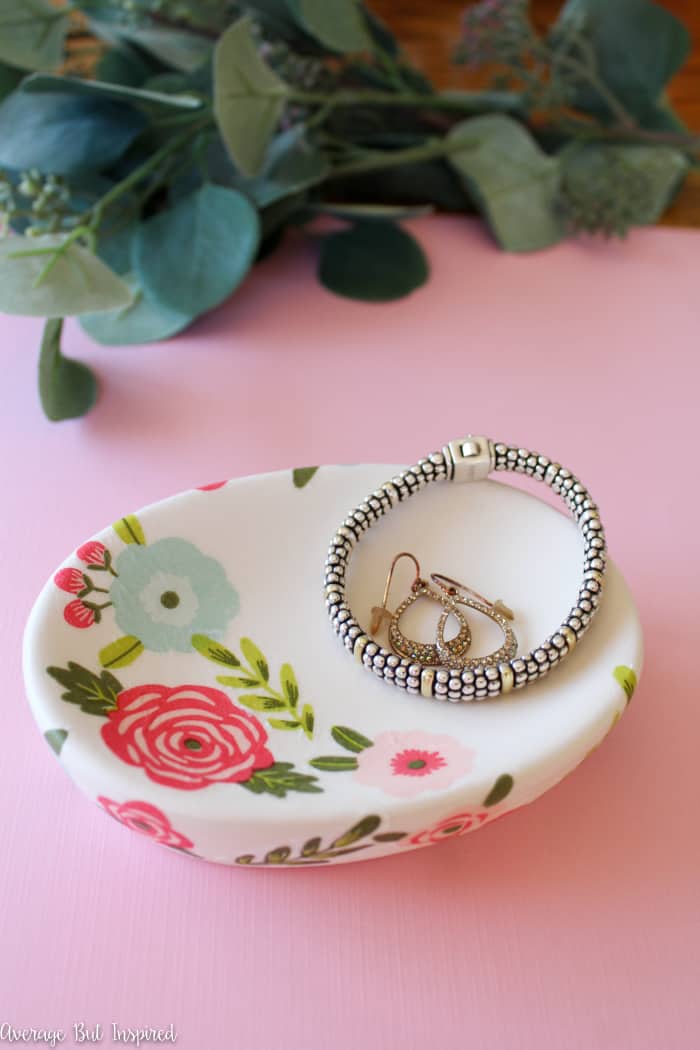 Not only is this DIY Trinket Dish cute, but it is so useful! The best part is that it was very quick to make and required only a few inexpensive supplies.
Supplies Needed for a DIY Trinket Dish
Some of these links are affiliate links. To read my full disclosure policy, please click here.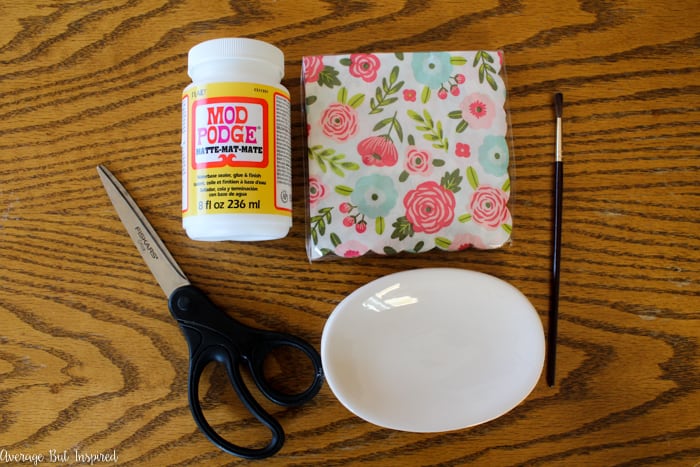 How to Make a DIY Trinket Dish
You'll love making this project!
DIY Trinket Dish Step One: Cut Up the Napkin
Begin by cutting apart a paper napkin with whatever elements of the design you want to use on the trinket dish. You can see I tried to cut as close to the printed design as I could – leaving off as much white space around the design as possible.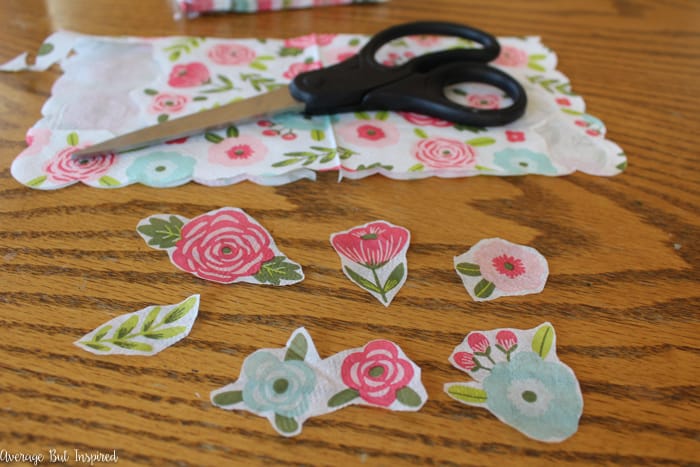 Next, make sure to remove the second layer of the paper napkin. All you want for this project is the top, printed layer of the design!
Step Two: Mod Podge the Dish
Once you've done that, spread a thin layer of Mod Podge onto the part of the soap dish or bowl where you'll be placing your napkin pieces. You should probably only do a little part of the dish at a time to prevent the Mod Podge from drying before you've placed anything there.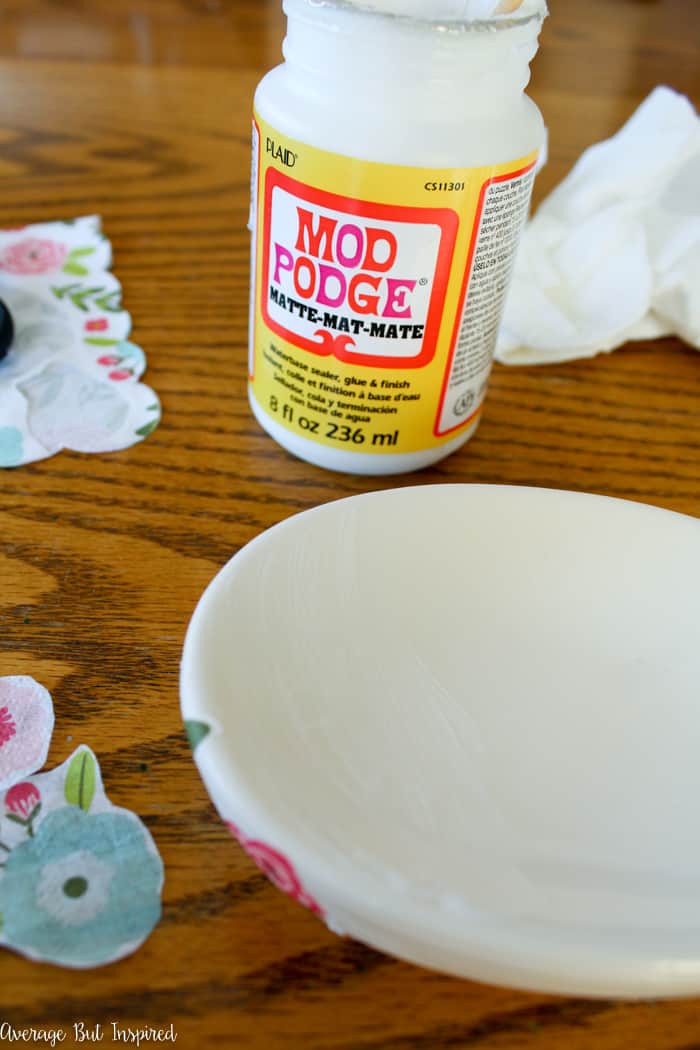 Step Three: Lay Down the Napkins
Gently place the napkin pieces where you want them and make sure to gently smooth the pieces down to remove any ripples. Be careful not to rip the napkin!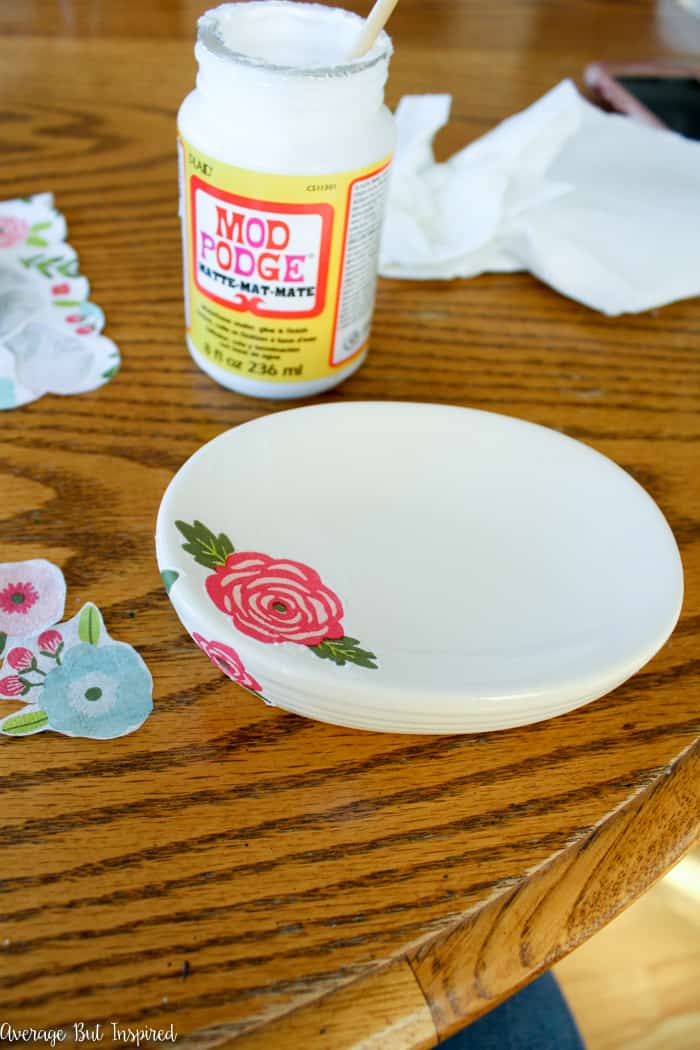 Once you have the soap dish or bowl decorated just how you like it, let the pieces dry.
Step Four: Topcoat with Mod Podge
After about twenty minutes/when everything is dry, cover the entire dish with another coat of Mod Podge. It will look funky for a little bit, but it will dry clear!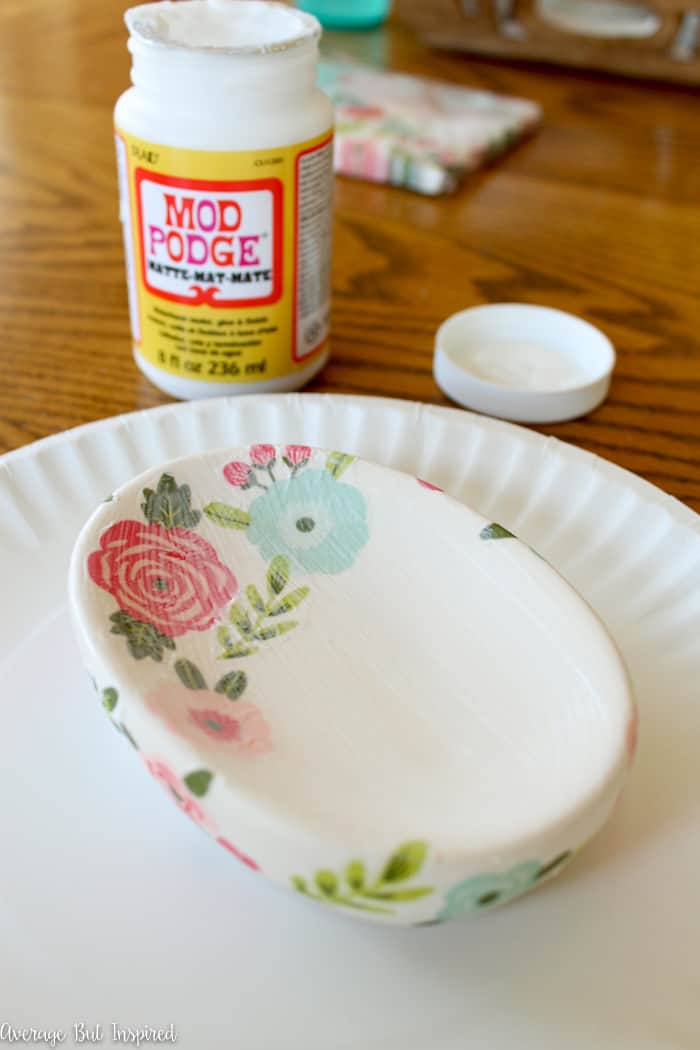 Once the Mod Podge is completely dry, the white parts of the napkin blend in with the dish, and the printed design looks like it's printed or painted right on there!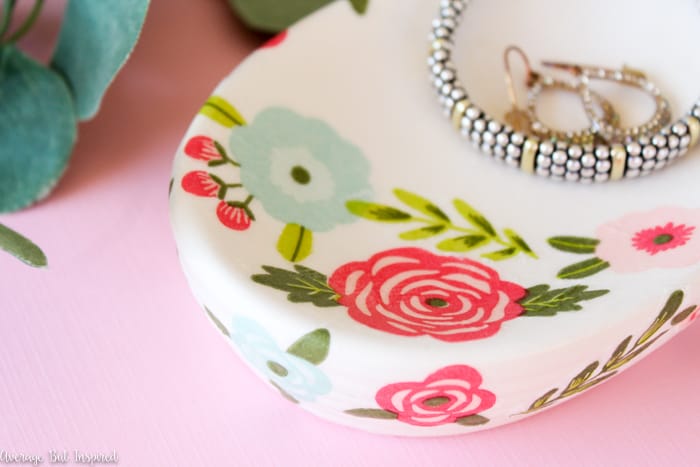 If you're not careful to remove the second layer of the napkin though, it won't look as good! I accidentally left the second layer on that green leaf on the side of the trinket dish (pictured below), and you can absolutely see the white around the leaf. Bummer! Oh well, the name of this blog is Average But Inspired – not Perfect But Inspired. 😉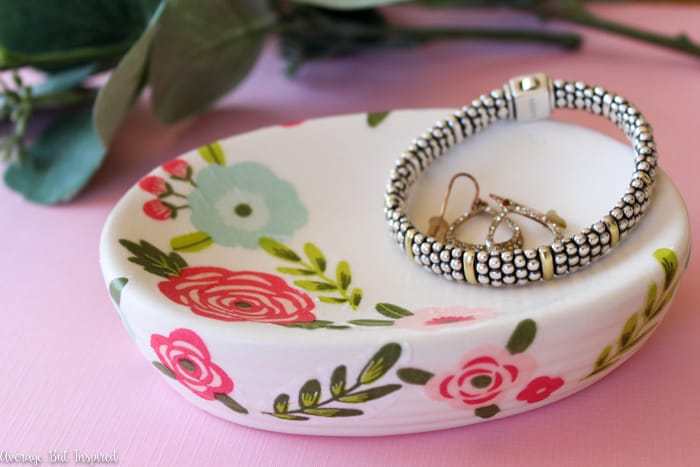 Wouldn't this make a fun ladies' craft night project with your friends? Anybody can do this and it's so inexpensive! Get that on the calendar! You'll be glad to spend time with your friends and walk away with a cute place to put your jewelry and trinkets.

-Bre