Last week was my daughter's end of school year party, and I had to get some last minute supplies at Dollar Tree. Of course some non-party related items just happened to pop into my cart, like a wooden board game and these new peel and stick tin tiles I found in the kitchen section. After the party I got to work creating some vintage tin tile wall art with these supplies, and it turned out so cute!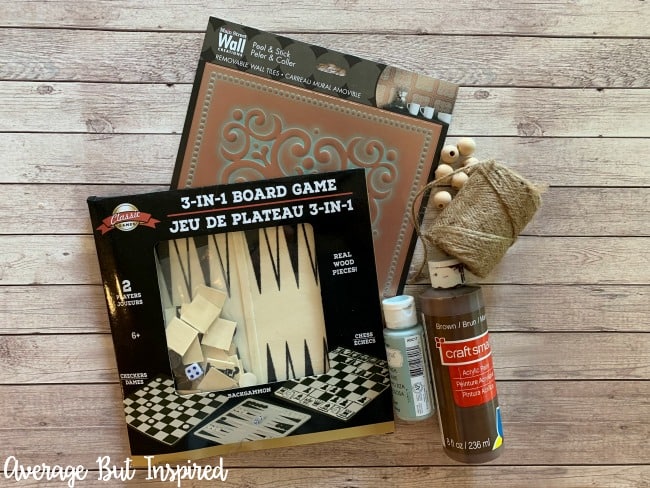 Vintage Tin Tile Wall Art Supplies
I used a mix of items from Dollar Tree and craft supplies I had on hand:
Dollar Tree 3-in-1 Board Game
Dollar Tree peel and stick wall tiles
Dollar Tree twine
Dollar Tree foam brush
Dollar Tree flat push pins (optional)
Craft paint in brown and aqua
Stencil brush
Wooden beads
Hot glue
Scissors
How to Make Dollar Tree Vintage Tin Tile Wall Art
Don't you just love when a project is too easy? I know I do! That's definitely the case for this one. Begin by painting the chess/checkers side of the game board how you like. I used brown paint as a base coat so that it would hide the game board pattern and have a rustic look in the end.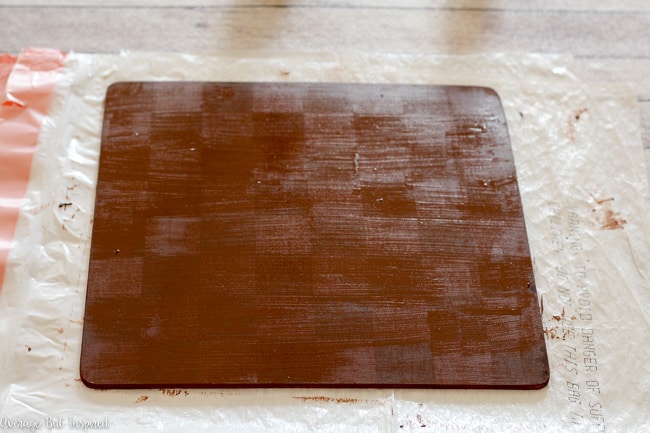 Once that coat of paint dried, I dry brushed a topcoat of aqua paint on top, leaving some of the brown base coat to show through.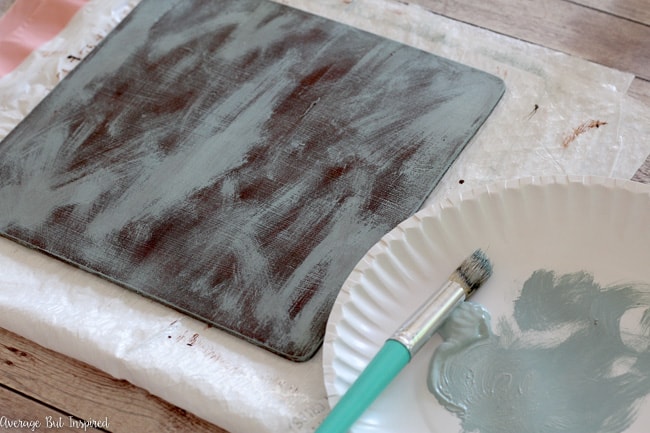 After that dried, I removed the tin tile decal and pressed it onto the game board.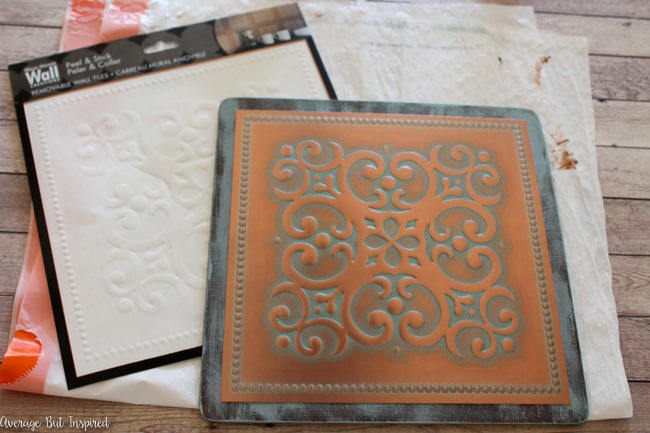 Next, I strung wooden beads onto a piece of twine, knotted the ends, and hot glued the twine to the back of the game board. Notice that I didn't paint the back of the game board because I'm a lazy crafter.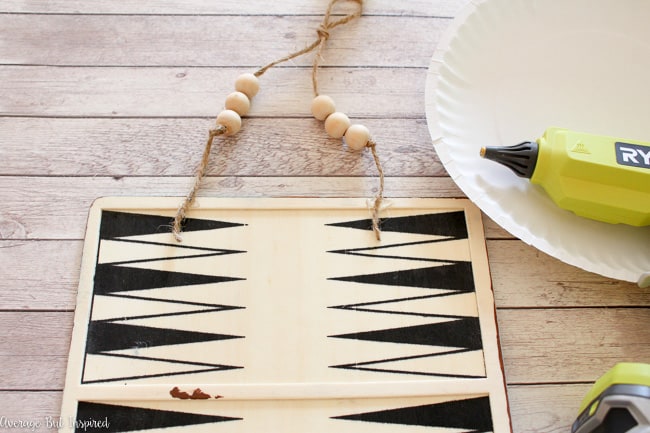 I flipped it back over and pressed flat push pins into the board. Because the board is thin, the sharp edges poked through the back. I covered those with electrical tape that I had in the drawer, but something like the poster mounting ticky tack stuff at Dollar Tree would work great, too.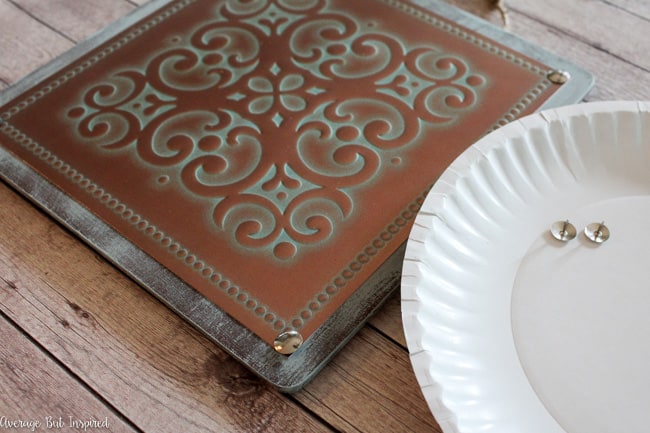 I dry brushed some of the aqua paint onto the push pin heads to give them the look of nails. After that, this vintage tin tile wall art was finished!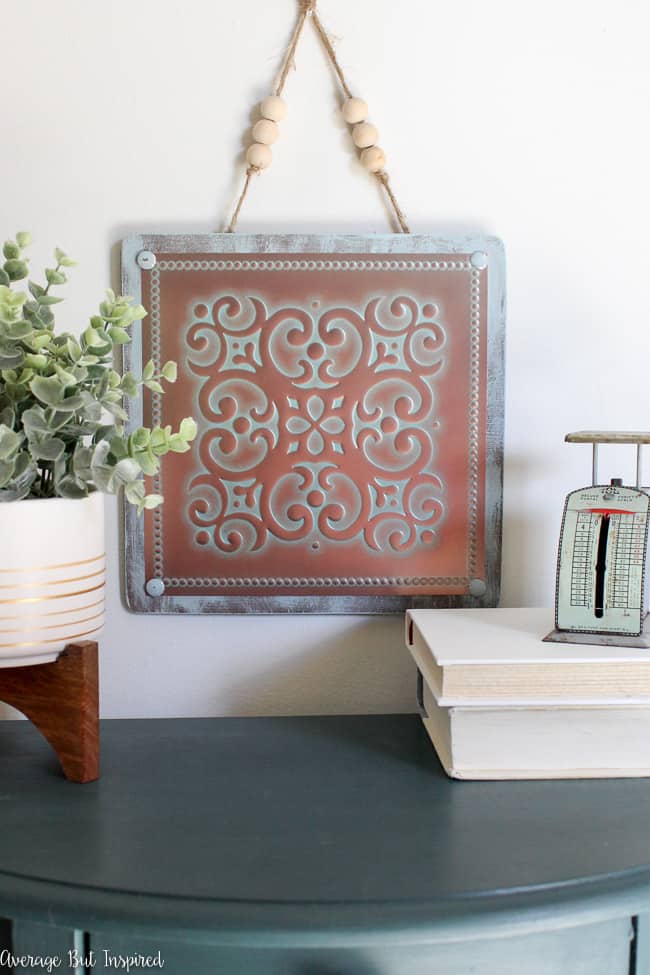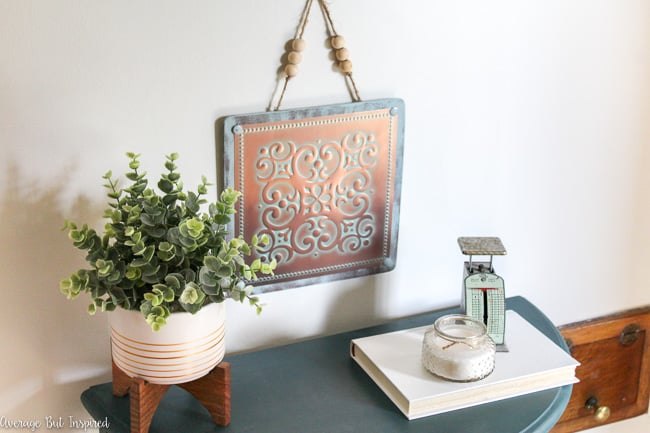 I love the look of this copper patina version, but I saw silver tiles, too. Those would look really cute with a distressed white finish all over. These would also be awesome in a group of three or four – whether on individual boards or one large board. The possibilities are endless!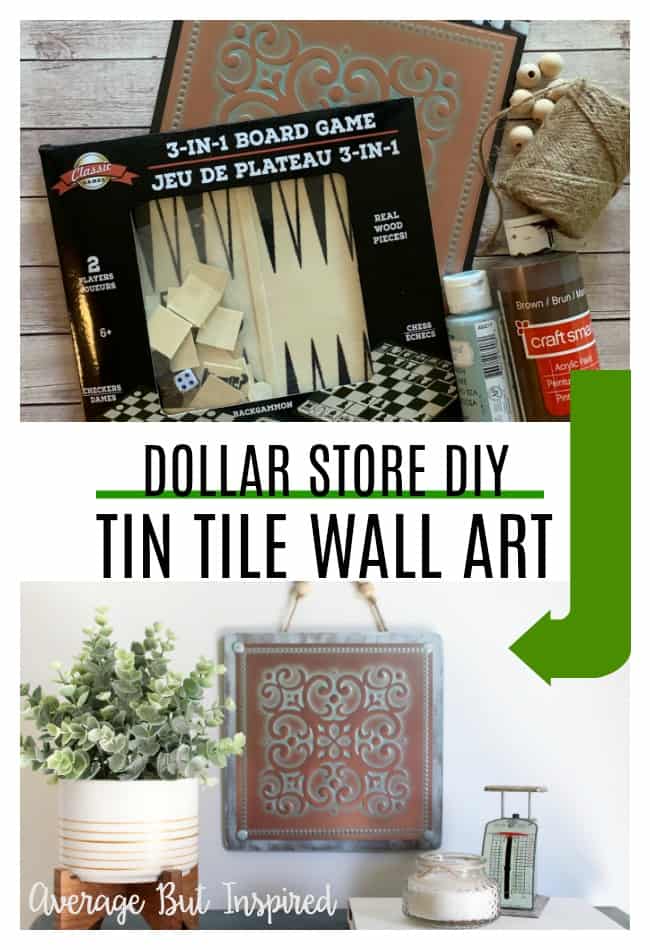 Can you believe what you can make with dollar store items? I just love the challenge of creating something beautiful with bargain supplies!
-Bre
You May Also Like These Dollar Store DIY Decorative Plates