With two months left of the kids' summer vacation and every activity canceled, I'm wracking my brain trying to find things to keep them busy! Last week we got crafty with some leaves and flowers we found in our yard, and we made a pretty pressed flower craft – lovely air dry clay flower plaques! I'm excited to show you how to make them, too!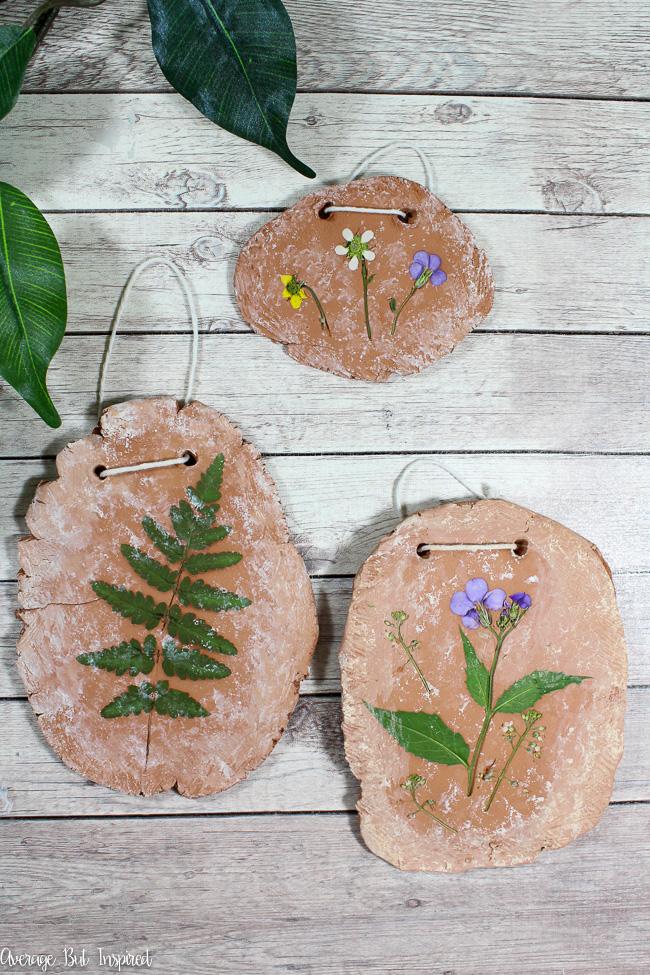 Surprisingly, my son enjoyed this activity the most! He loved foraging around the forest (not really a forest – just some junk trees in a shady spot in the yard – but forest sounds more magical), to find pretty flowers and leaves to use on his plaques.
What types of flowers are best to press into air dry clay?
This part of the activity was nice because it got us talking about what was growing outside and what types of blooms and greenery might work best for flower pressing and leaf pressing.
Once we collected enough specimens to make our pressed flower plaques, we headed inside and got down to business. We quickly realized that the flatter the flowers or leaves were to begin with, the better they were to press into the clay. Bulky flowers had too much dimension to be pressed flat into clay, and very veiny leaves had the same problem.
What type of air dry clay is best for pressing flowers into?
I had air dry clay leftover from previous projects (like my air dry clay keychains and air dry clay garden markers), and so we didn't need to buy anything new for this project!
The air dry clay we used was totally natural clay (not polymer clay), which I think is best when working with flowers as there are no chemicals to discolor the flowers or leaves.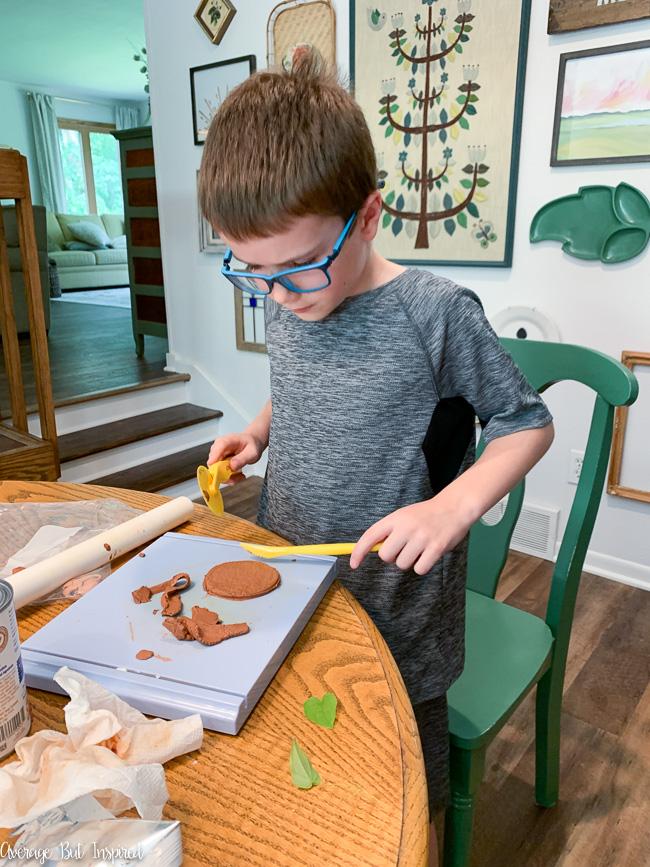 This project was really simple but quite fun; rolling the clay, pressing the flowers into it, poking holes so that the plaques could be hung once dry. We had a nice time together and made so many of these pressed flower plaques, which we plan to hang in our sun room.
If you make it with kids, not only will you end up with a nice piece of decor, but you'll also have sweet memories of your time together.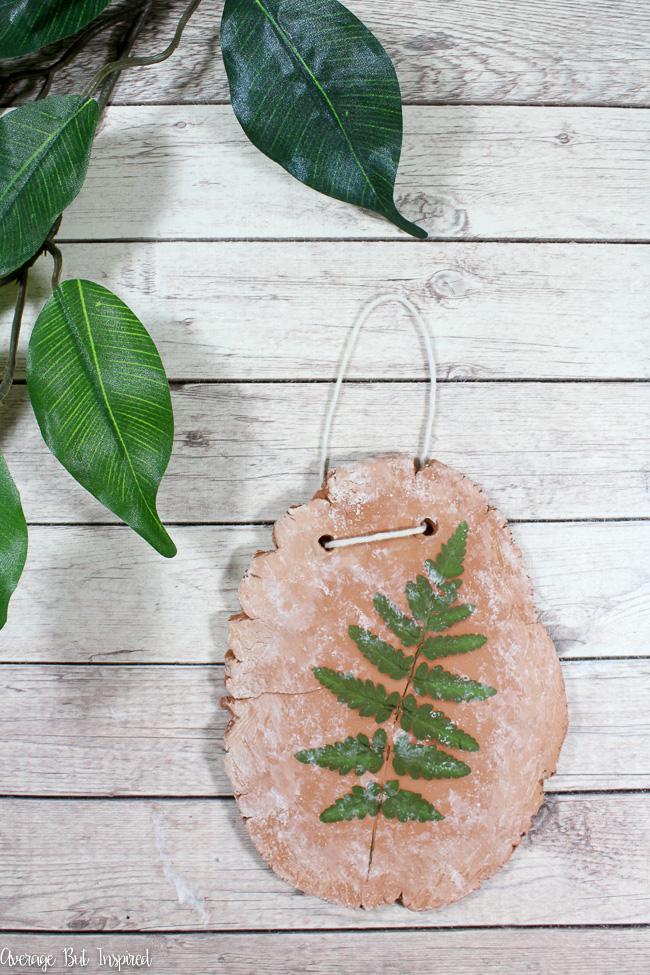 Pressed Flower Craft: Air Dry Clay Flower Plaque
Yield: 12

Prep Time: 5 minutes

Active Time: 20 minutes

Additional Time: 1 day

Total Time: 1 day 25 minutes

Difficulty: Easy

Create a pretty pressed flower craft with blooms and leaves from your yard! Use air dry clay to create this pretty floral craft.
Materials
Instructions
Roll a piece of terracotta clay into a ball.
Partially flatten it with the clay roller or a rolling pin.
Lay a leaf or flowers onto the partially flattened piece of clay.
Using the clay roller or rolling pin, gently press the leaf or flowers into the clay. Take care to press all portions of the leaf or flower into the clay so that nothing is sticking up out of the air dry clay.
Using a pointed object (such as the poker in the Clay Tools Set), poke two holes near the top of the air dry clay plaque.
Gently set the pressed flower plaque on a cookie cooling rack and let it dry. It will probably take around 24 hours for the air dry clay to dry on both sides. It may take a little longer for the pressed flowers or leaves to fully dry.
Once the air dry clay and the pressed flowers or pressed leaves are dry, you may want to add a bit of "age" to the flower plaque with some white craft paint. To do this, dab a little bit of white paint on a painting sponge, and gently press it along the clay plaque. Wipe off or dab off any excess with a paper towel.
Notes
The beauty of this project is the imperfections. These enhance the rustic or natural feel of this craft. Don't worry about your plaque being the perfect shape or if your clay starts to crack or wrinkle. Embrace the imperfections!

I'd appreciate it if you'd share this post with someone who might enjoy it! Send them the link or share it on Pinterest – thank you!