At one point or another, most of us will have spaces in our homes that are in perfectly great condition but not exactly our style. My kitchen is one of those spaces! The cabinets, countertops, and backsplash are all in good shape, but the look isn't what I'm after. I'm going to overhaul it without a renovation, and I accomplished the first part of the makeover by painting my kitchen tile backsplash.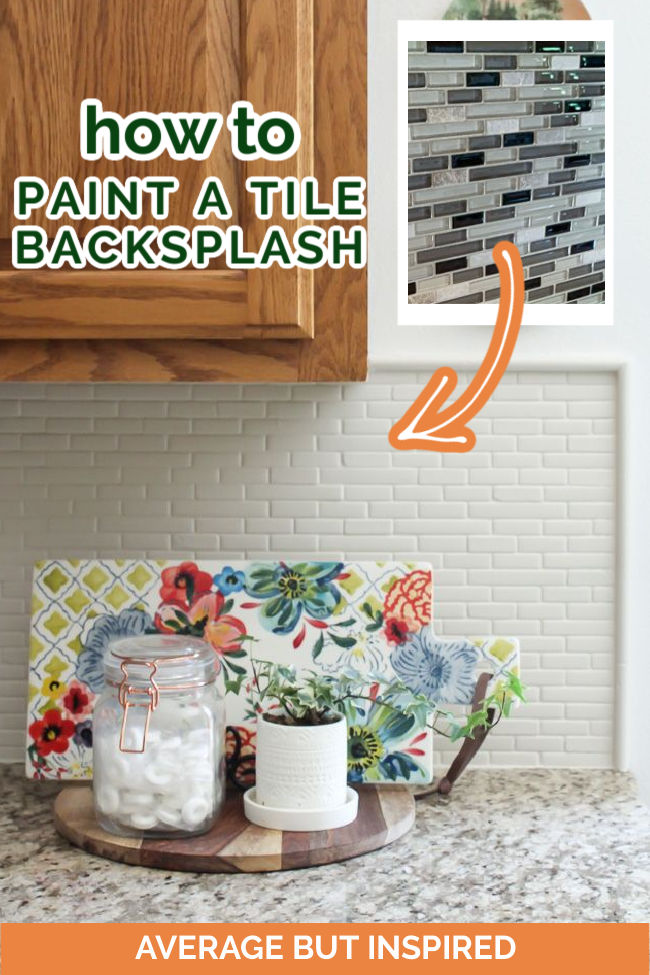 To some, it might sound crazy to paint a kitchen backsplash! Tile can be tricky to paint (hello, adhesion issues!), and the kitchen is an especially messy area, which makes cleanable surfaces a must.
However, painting a tile backsplash is such an inexpensive and relatively mess-free way to update a kitchen that it makes a lot of sense. (And I am NOT one to shy away from painting tricky surfaces. Check out my painted countertop here and my painted marble fireplace hearth here!)
I will show you exactly how to paint a backsplash for a finish that lasts. My kitchen backsplash is a mosaic of glass and stone tiles, but this method will work on any type of tile.
Supplies Needed to Paint a Kitchen Tile Backsplash
This post contains affiliate links. To read my full disclosure policy, please click here.
Paper towels
Mixing bucket and rag
Rubber gloves
Sandpaper (I used 220 grit)
Multi-surface adhesion primer (I used less than a quart)
Latex enamel paint (I used less than a quart)
3″ roller with 1/4″ nap roller cover (I used mohair)
Screwdriver (to remove outlet covers)
How to Paint a Tile Backsplash
You guys know that kitchens are prime spots for messes. Because of that, I fully advocate for a two-step cleaning process when painting your tile backsplash! Your paint job is only as good as your prep work, so prep right!
Start by scrubbing the backsplash with Krud Kutter. Krud Kutter is a non-toxic cleaner that is great at removing grease.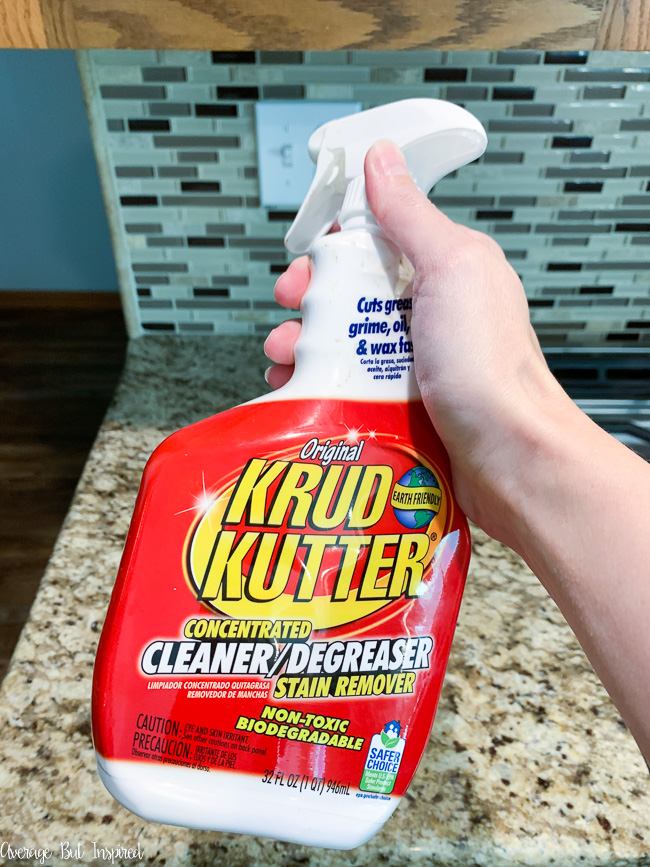 Once the entire backsplash is clean and dry, gently sand the tiles to rough them up a bit. I used 220-grit sandpaper on my little hand sander, but you can use plain sandpaper if you don't have an electric sander. (PS not sure why my hands are soaking wet in this photo. :-)).

I painted glass and stone tiles, and obviously glass is slippery and benefits from the sanding process more than the stone tiles. However, even if you're painting rough tiles, make sure to sand. It really helps the primer stick better!
Then it's time for MORE cleaning! For this very important part of the preparation, mix up a batch of TSP according to the package directions, and wash the tile backsplash again.

It's a good idea to protect your countertop during this cleaning so that you don't accidentally damage it.
Once the backsplash is dry, tape off any areas you don't want paint to get on. I highly recommend Frog Tape over blue painters tape as I think it is much better at preventing paint seepage.

Remove your outlet faceplates and then you're ready to begin painting your backsplash!
Start with a multi-surface adhesion primer like the one I used. I know this primer works because I used it as the primer on my painted marble fireplace hearth, too.
I used a brush to apply the primer so that I could be sure to get it in all of the grout lines. You will be so happy if you're not painting a mosaic backsplash like me, as you will have fewer grout lines to contend with!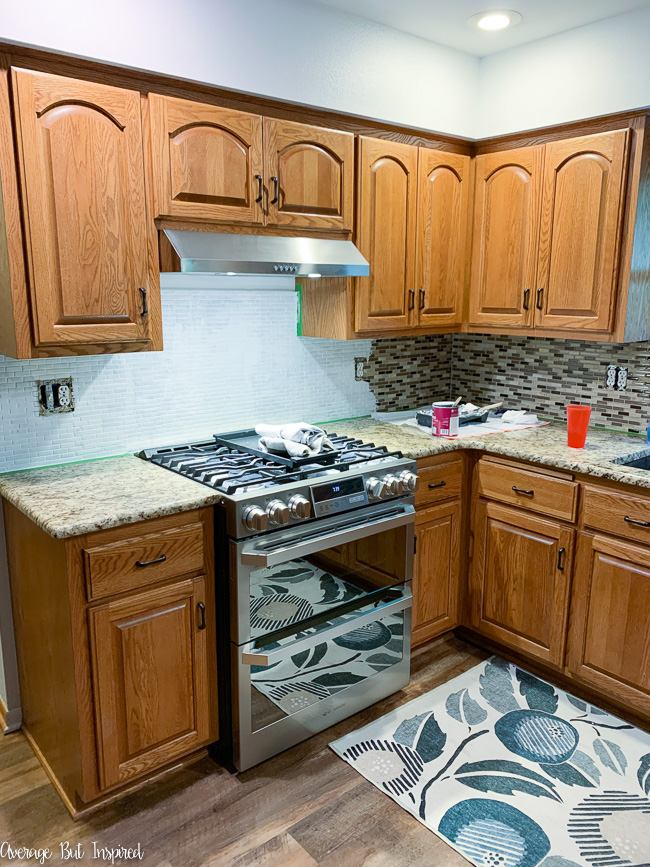 The primer will look thin in some areas and will make you think you've destroyed your kitchen. But do not fear: it will be okay once you start painting!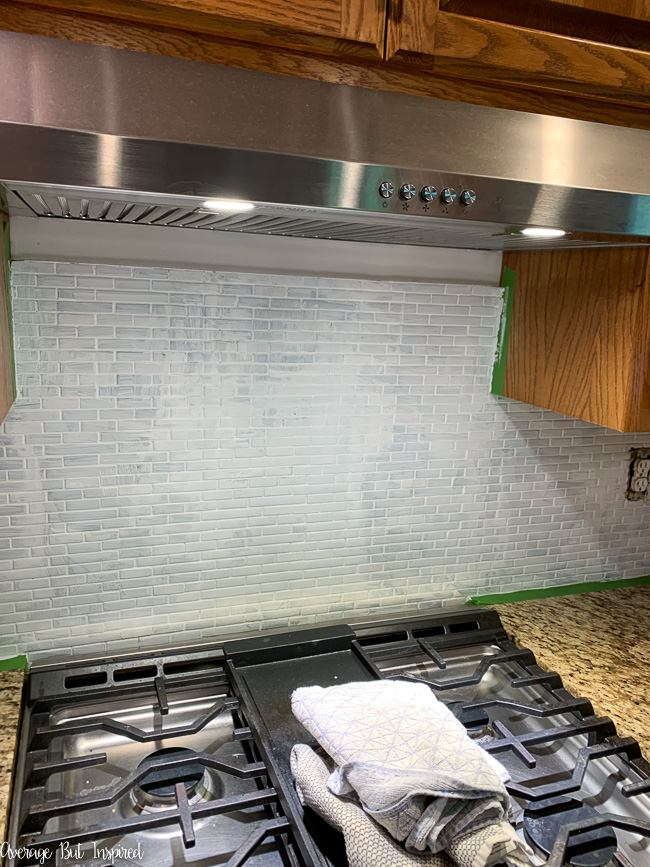 The multi-surface adhesion primer I used is great because it has a fast dry time to topcoat. After just one hour of drying it is ready for paint!
The paint I used for my painted tile backsplash is the leftover paint from my mirrored built-in makeover. Although it is labeled as cabinet and trim paint, I used it here because it's an enamel paint, which means it dries to a hard, durable finish. I used a semi-gloss finish (color is Manchester Gray), and I think you could even do a gloss finish if you want more shine.

I rolled it on and then went back in with my brush to grout areas that the roller missed.
I applied two coats of paint to the backsplash, let it dry overnight, and then put the outlet covers back on.

What a difference!

It feels calmer to me now. The tile isn't competing with the granite (which also has a lot of "movement" as the designer folks say).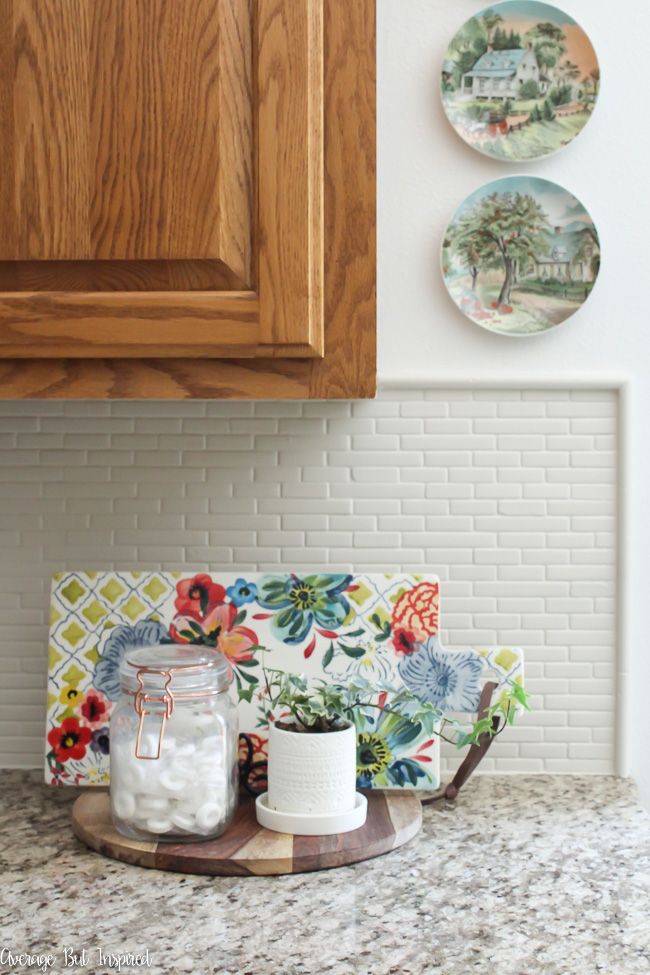 And when I paint the cabinets, it's going to all come together and give me all the heart eyes and happiness!  (UPDATE:  I have completed the second part of my kitchen makeover, and am sharing my Kitchen Soffit Makeover / How to Disguise a Kitchen Soffit in this post!  Also, I have finished painting the cabinets, and you can see the totally painted kitchen in this post!)
Check Out All of the Posts in This DIY Kitchen Makeover Series

How to Clean a Painted Tile Kitchen Backsplash
Because I know somebody is going to ask me, I'm going to tell you how to clean a painted tile kitchen backsplash, too! And I know because I've already done it! (Now that my tile is painted a light color, it shows the food crud much more than it used to.)

For messes that I notice immediately, I wipe them with a soft cloth.
For food that has hardened on somewhat, or grease, I clean with dish soap and a soft rag.
It's that easy!

Well, I hope that gives you enough information to paint your own tile backsplash, if you've been thinking of it! Let me know what you think of my makeover or if you have any questions in the comments section below. I'm happy to help!