Our new house came with some nice architectural features, but they were all pretty dated.  I already tackled a makeover of our 1970s stone fireplace, and most recently finished the built-in dated oak china cabinet makeover, which has made a HUGE difference in my dining room already!
Here's the built-in oak china cabinet a little over a month ago.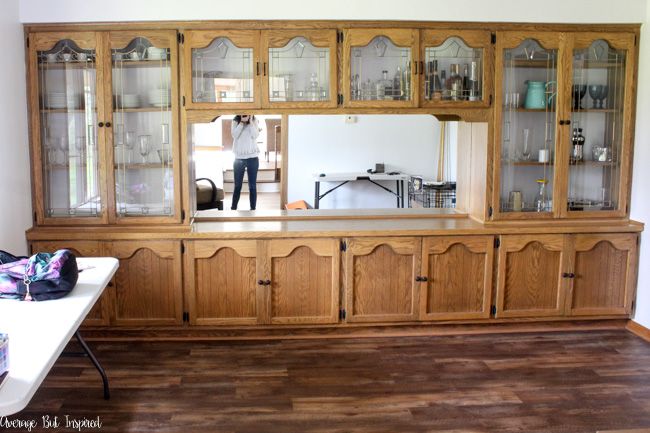 Notice that the dining room was being used as a temporary e-learning classroom for my kids (hence the folding tables), and that we have no "real" furniture.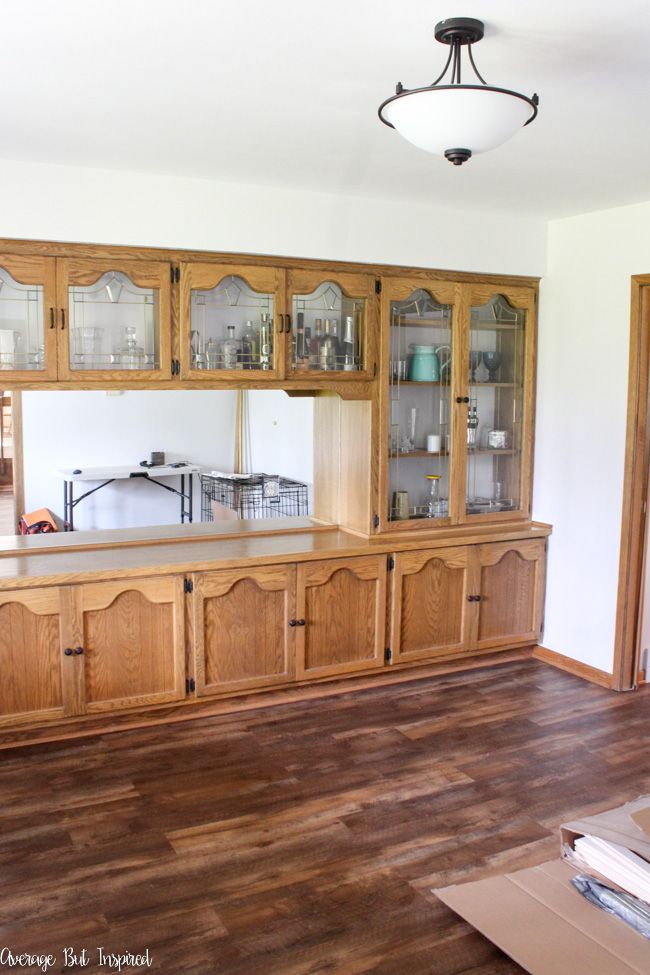 We left our dining room furniture in Illinois for the new homeowners because we knew it wouldn't fit in our new space.  (It makes me happy in a way to know the furniture is still there in the house.  It's like a little piece of us is there.  :-))
My kids did not like doing their school work in the dining room, so they kept abandoning their work tables and infiltrating my living room and kitchen.  I decided that if they weren't going to stay in their space, then I would take over "theirs" and start the makeover process!
The first thing I did was refinish the oak countertop with gel stain.  I've previously used gel stain to refinish my front door and lots of other wood finishes in our new home (here are my best gel stain tips), so I knew it would work perfectly for this countertop.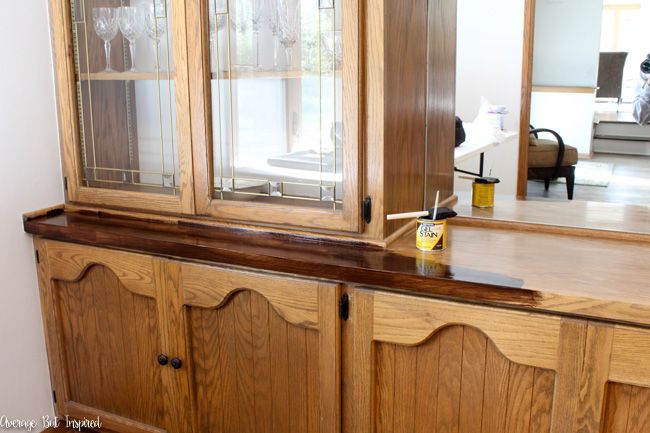 Next, I ordered new lower cabinet doors from The Cabinet Door Store and new hardware from D. Lawless Hardware.  I really wanted to modernize this cabinet, so I figured new lower doors (removing the arched top and paneled inlay), and new hardware (in a brass finish to mirror the brass on the leaded glass upper doors), would help do the trick.
The new cabinet doors were great quality, and the cabinet hardware was beautiful and priced right.  I recommend both of those vendors if you're in the market for cabinet doors or hardware.
Next, I chose Benjamin Moore's Waller Green for the paint color.  Waller Green is a gorgeous shade of dark green that is almost black.  I knew I wanted green for this china cabinet, but I also wanted a color that would be timeless because Heaven knows I do not want to repaint this beast again anytime soon. 

Because I had a lot of interruptions, and because I was being a perfectionist, it took me about a month to paint this oak china cabinet using Benjamin Moore Advance paint (a perfect paint for cabinets).  I followed the kitchen cabinet painting process detailed in my DIY Cabinet Painting Pro guide, which is an incredibly helpful resource for anyone wanting to paint their wood or laminate kitchen cabinets!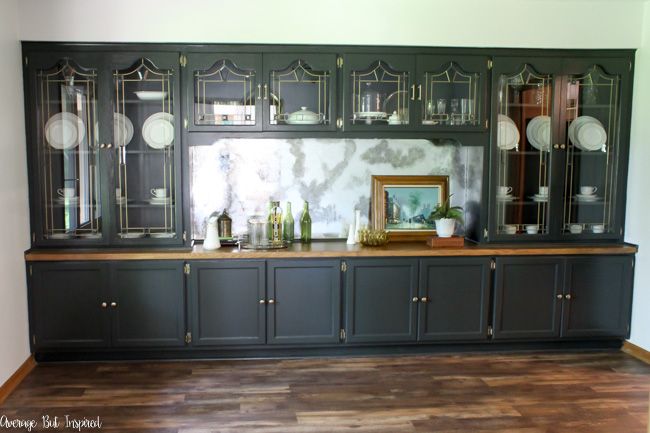 The finishing touch was applying a faux antique mirror finish to the plate glass mirror already on the china cabinet.  Because the mirror was already attached to the cabinet, I had to come up with a creative way to achieve this antique mirror finish, as antiquing is typically done by removing the back layer of the mirror.  I wrote blog post on how to antique a mirror from the front, so check that out if you're interested in trying that technique!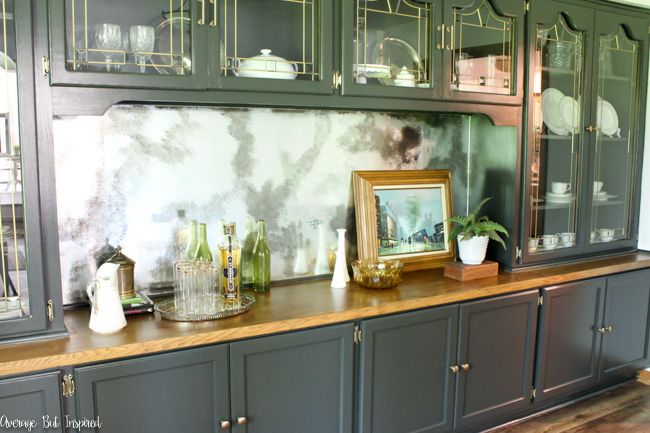 The hard work was definitely worth it.
I am in l-o-v-e with my built-in china cabinet now.  I feel like it's an asset instead of an eyesore.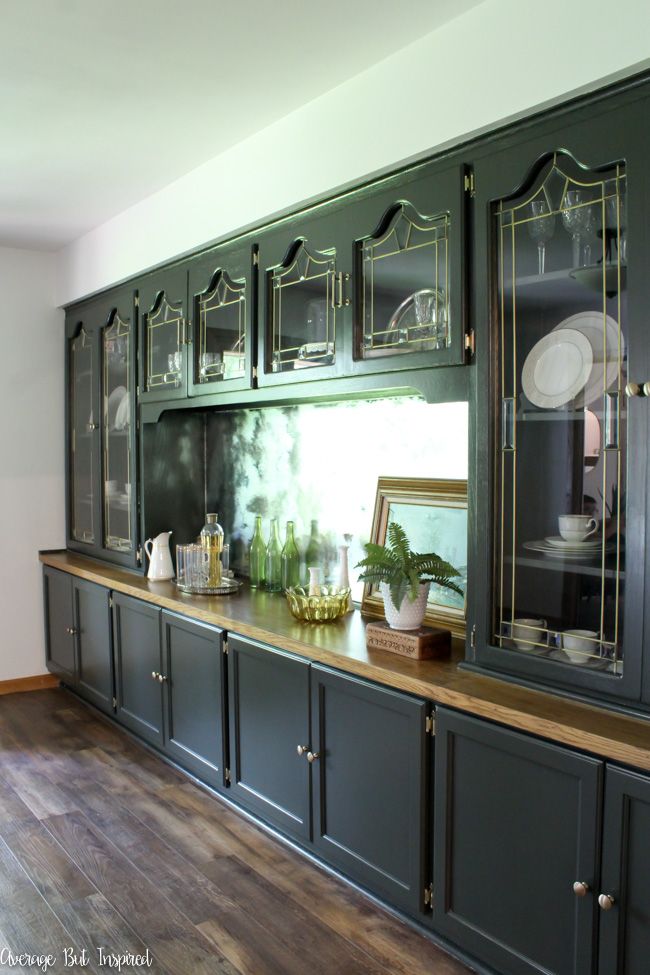 Next up, I will be painting the room, replacing the light fixture, getting furniture, and decorating! (P.S.you can see my son and dog crate in the door reflection – ha!)  (Wanna see the finished dining room makeover?  Check out my Modern Vintage Dining Room post!)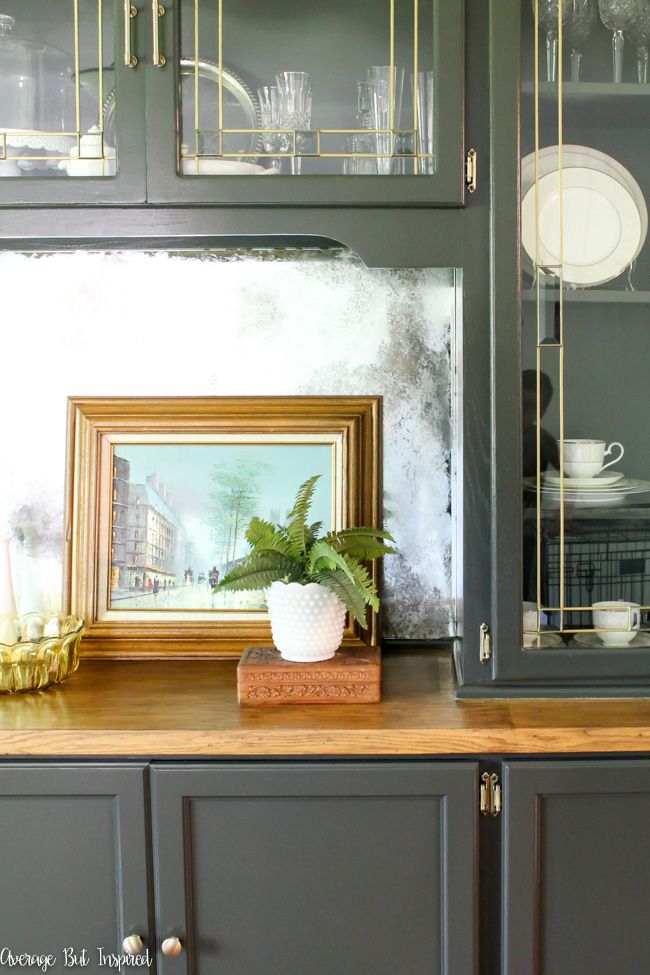 I can't wait to be able to entertain in here . . . someday!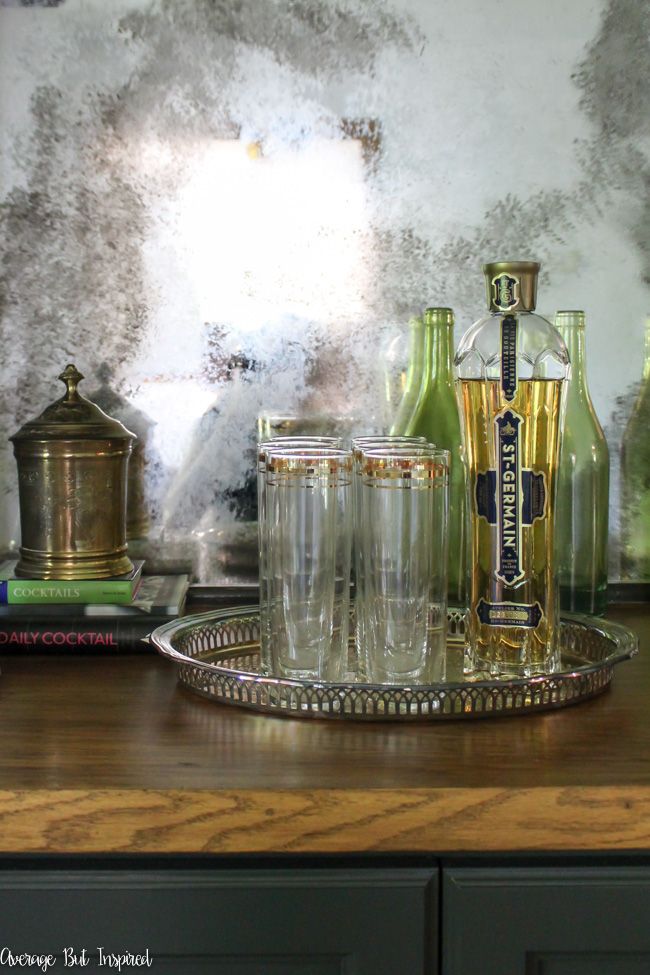 I'd love to know what you think of my dated oak china cabinet makeover.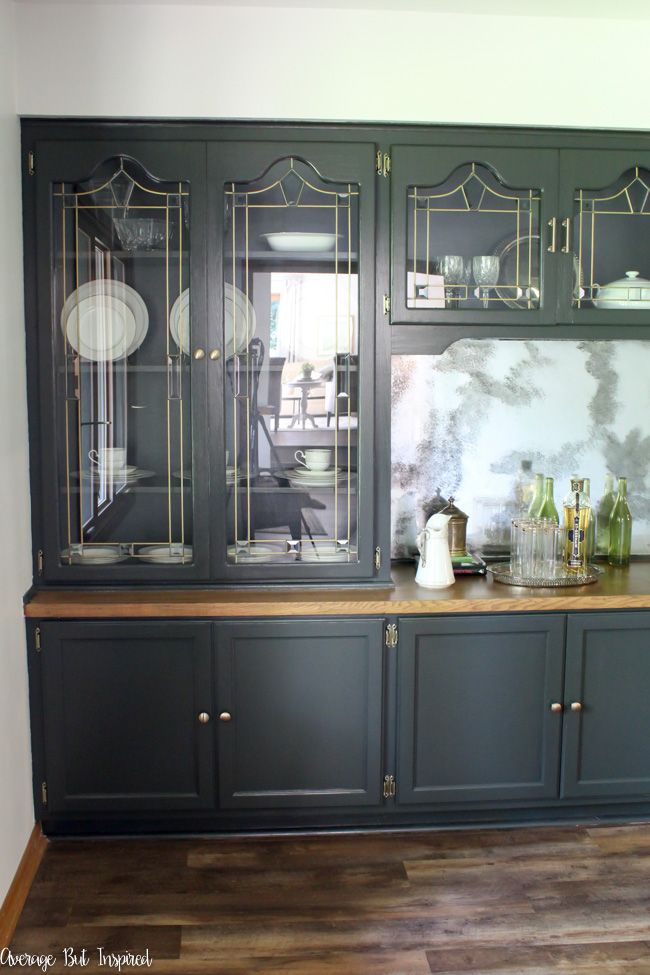 Much better, don't you think?  Please be sure to PIN this image to share the love!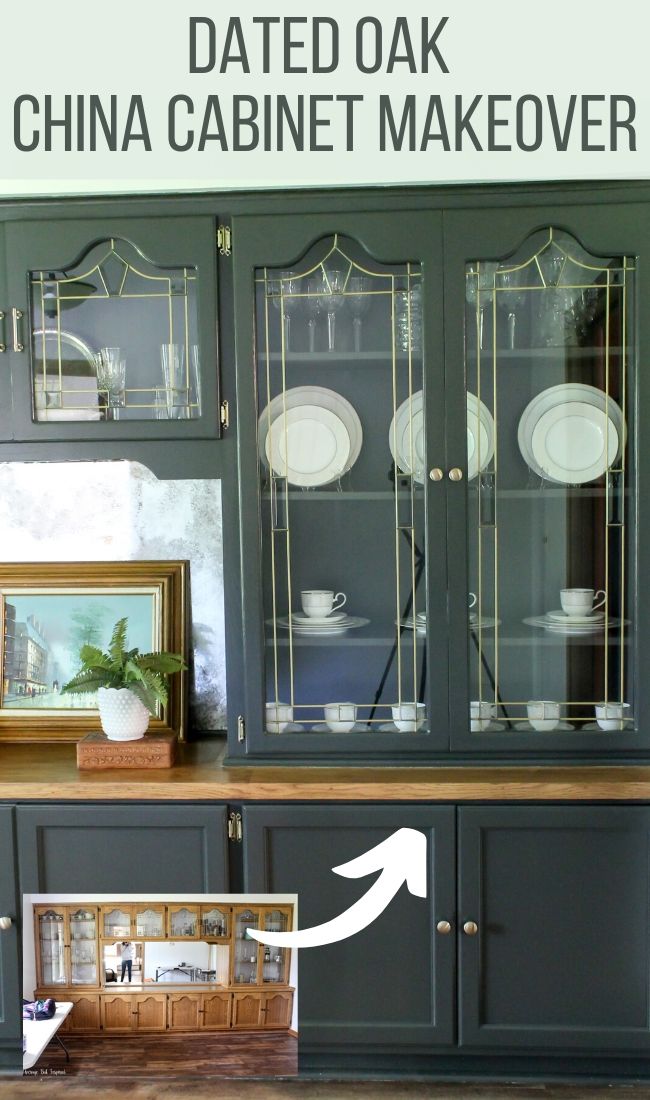 -Bre