If you're a regular reader of this blog, you know that I'm a huge fan of chalky finish paint. (And if you're not, now you know. Check out my chalk painted furniture gallery here!) So of course I was totally intrigued when I saw spray chalk paint appear in my craft store several months ago. I was a little hesitant to purchase it because I kind of despise spray paint. Every time I use spray paint I mess something up. Whether it's the project, the surrounding surfaces, or my nose hairs (yes, I almost always end up with spray painted nose hairs), something is bound to go wrong.
But one day I decided to use my craft store 40% off coupon and buy a can of spray chalk paint in an effort to spruce up some intricate picture frames and ceramic candle holders that I thought might be hard to brush paint. I gave it a go and lived to tell my story. (Dramatic, no?) Because I KNOW I'm not the only one whose wondered if this stuff really works, I decided to share my chalky finish spray paint review!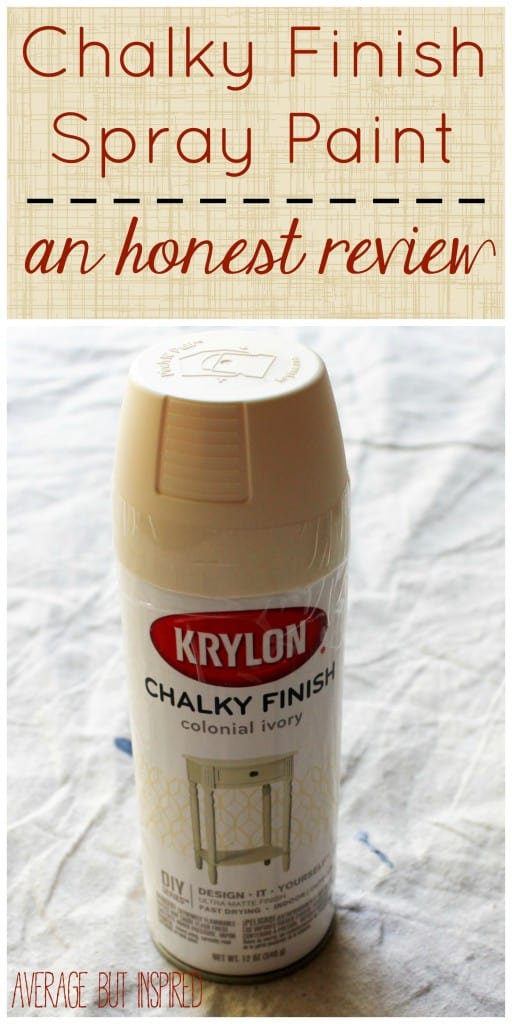 This post contains affiliate links. To read my full disclosure policy, please click here.
Long story short, I really love chalk spray paint for certain projects! (Keep reading to see the nitty gritty of my review.)
It worked perfectly for my projects, which would have been really difficult to refinish with regular chalky finish paint (especially the frames, which have a lot of crevices). The chalky finish spray paint gave me exactly the look I was going for without the hassle (and uneven finish) that regular chalky finish paint would have provided on these particular pieces.
Here are the candle holders before I sprayed them with Krylon's Chalky Finish Spray Paint.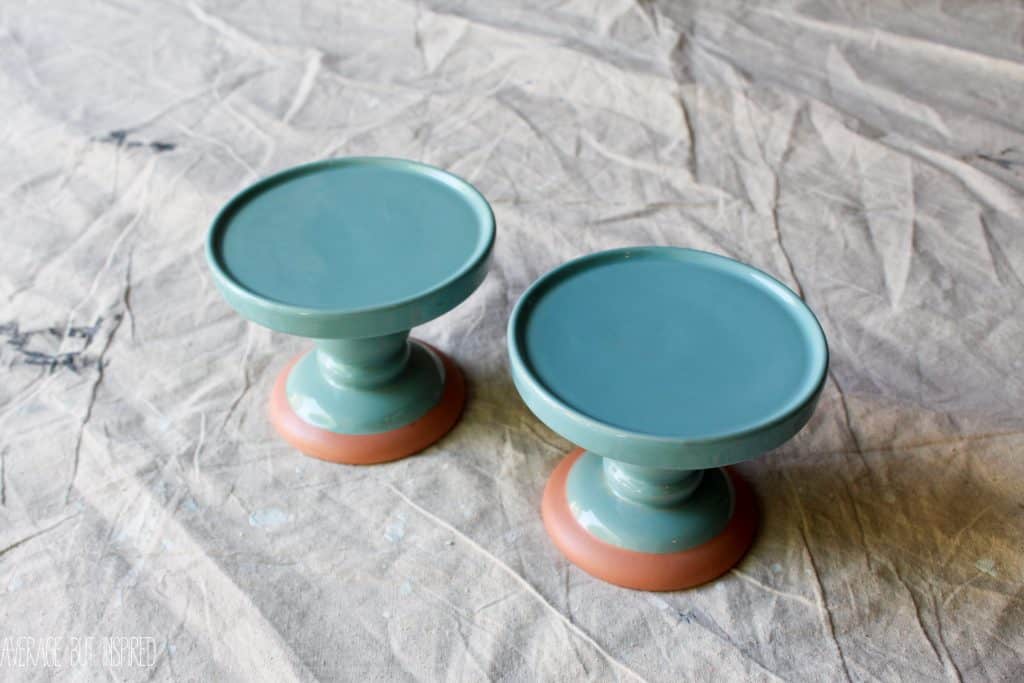 And after.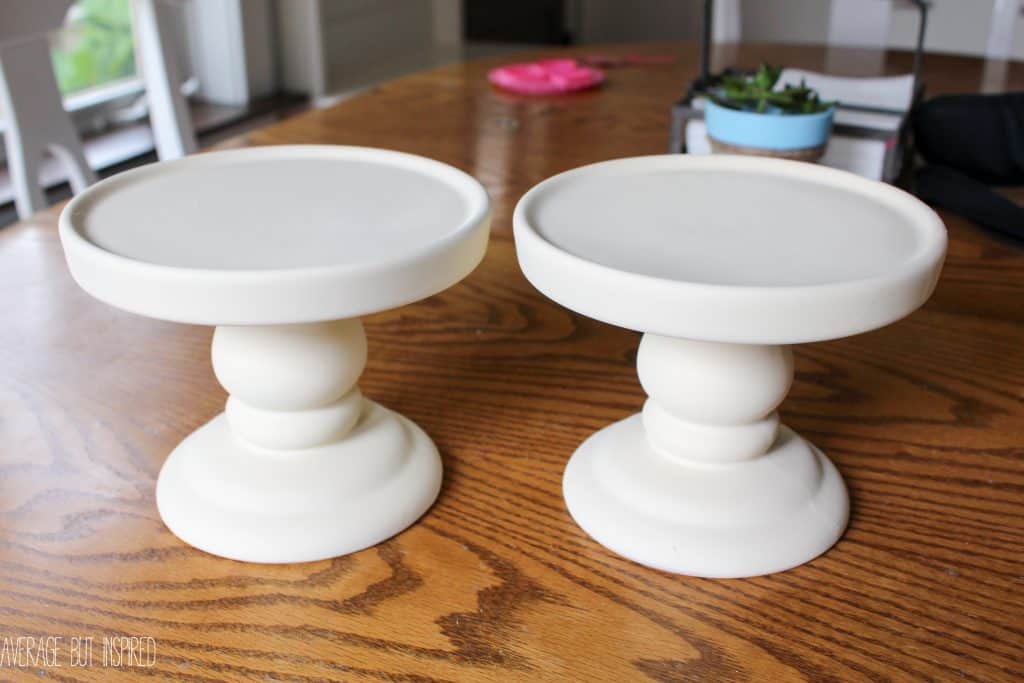 See how flawless the finish is? I added a little gold metallic accent to the finished product.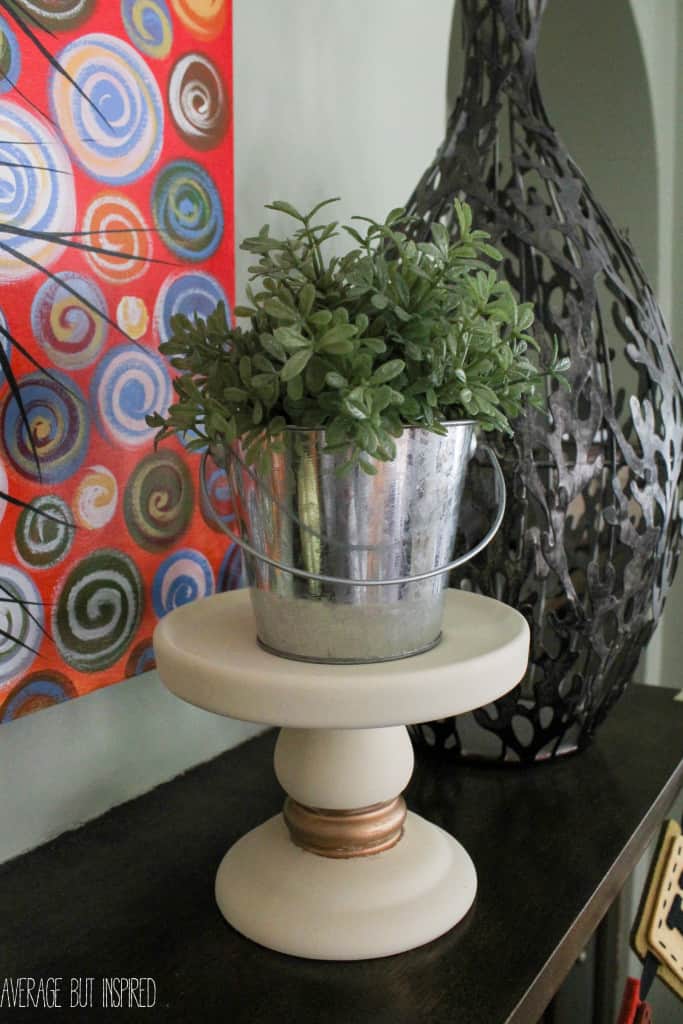 And even more recently, I used Rustoleum's spray chalk paint, Chalked, on some thrift store baskets that I used as above-the-bed art in my master bedroom.
So now that you've seen what I used chalky finish spray paint on, let me give you my totally unbiased review of the products. (Why is it unbiased, you ask? Well, I simply mean that this post has not been sponsored in any way, shape or form by Krylon, Rustoleum, or any other entity. It's just me sharing my totally honest thoughts.)
Chalk Spray Paint Coverage
Like regular chalky finish paint, chalky finish spray paint has excellent coverage. I used two coats of the product on each of the items I was refinishing, which is what I would have done for a solid finish with regular chalky finish paint.
Odor of Chalky Finish Spray Paint
There is definitely an odor to chalky finish spray paint, unlike most regular chalky finish paints. You definitely would want to use the product outside or in a well-ventilated area.
Project Types Suitable for Spray Chalk Paint
To me, chalky finish spray paint seems like the PERFECT paint for smaller pieces that you want a super smooth and solid finish on, or those with intricate details. I would not try to refinish a large dresser with chalky finish spray paint, just because you would have to buy so many cans of it, which would get really expensive! But smaller furniture projects like chairs or stools are definitely doable!
If you have a larger project in mind, you would love the HomeRight Super Finish Max Sprayer, which lets you spray any chalk paint you want. I have this product and used it to spray paint my radiators, among other things!
Chalky Finish Spray Paint Color Choices
Unfortunately, there aren't many colors of chalky finish spray paint available. Hopefully the color range will increase as popularity of the product increases. You can check out the colors here; Amazon seems to sell most, if not all, of them.
Adhesion of Spray Chalk Paint
From what I can tell, it's awesome, just like regular chalky finish paint. I removed the dust from the surfaces I was spraying, but I didn't have to sand them down before spraying. And the paint is sticking wonderfully! Granted, I didn't spray pieces that get a lot of use (like a table), but it does seem like it provides a durable finish.
Spray Chalk Paint Application
I actually thought applying chalky finish spray paint was easier than regular spray paint. As I mentioned above, I am not the best spray painter. But something about chalky finish spray paint seemed easier to use. It did not run as easily as regular spray paint, and I got a much more even finish with it than I do with regular spray paint. Thank goodness! (Unfortunately I did still end up with spray painted nose hairs. Note to self: buy a face mask. Stat.)
Availability of Chalky Finish Spray Paint
I have purchased Rustoleum Chalked spray paint at Target, and Krylon Chalky Finish Spray Paint at Michaels. Both brands are also available online at Amazon.
Finishing of Chalky Finish Spray Paint Projects
Both Krylon and Rustoleum also have spray wax products for finishing your chalky paint projects! If you're wondering how those spray waxes work, you can read that review RIGHT HERE!
All in all, I think chalky finish spray paint is a great product. I'm really glad I bit the bullet and gave it a try, because I will definitely be using it on other projects in the future.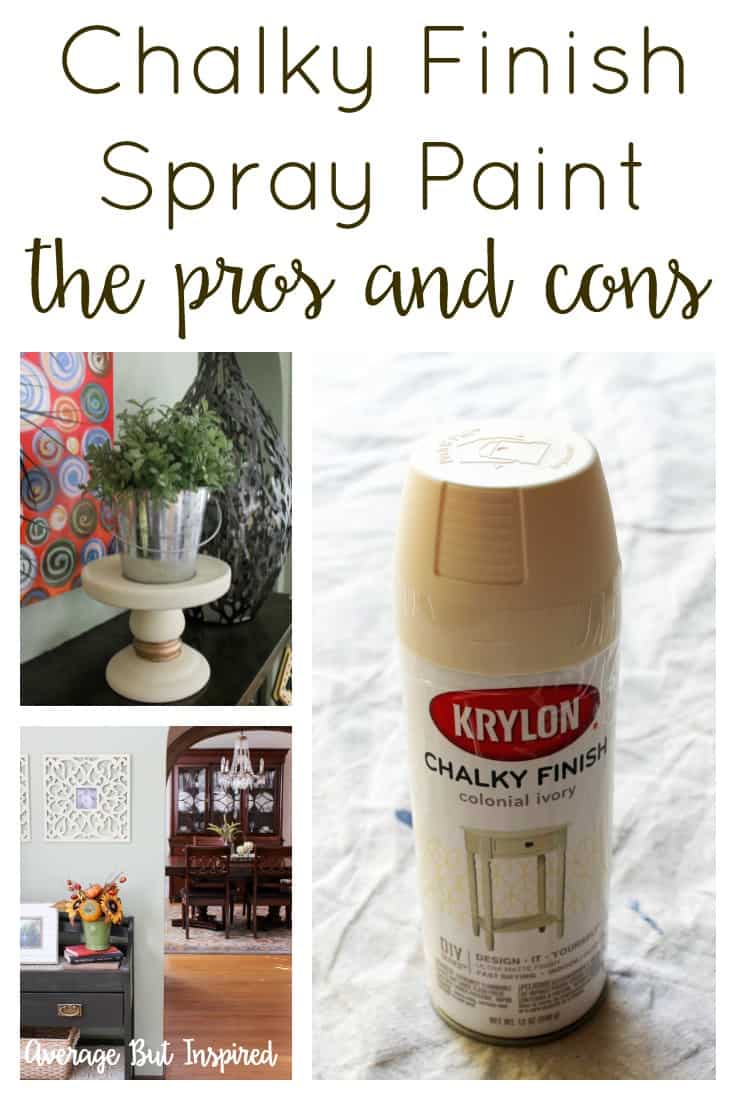 Have you tried chalky finish spray paint? If so, leave me a note and tell me about your experience with it!
-Bre