Whew – it's the second Wednesday of the month AGAIN! That's means it's time for the Monthly DIY Challenge, when some of my favorite blogger friends and I team up to create projects that are based around common items or themes. In the past we've done things like Sharpies and ModPodge, and this month we're all creating items out of reclaimed wood (and I cannot wait to show you my faux pallet wood advent calendar!). You'll find links to all of the projects at the bottom of this post, but first, here's a little teaser.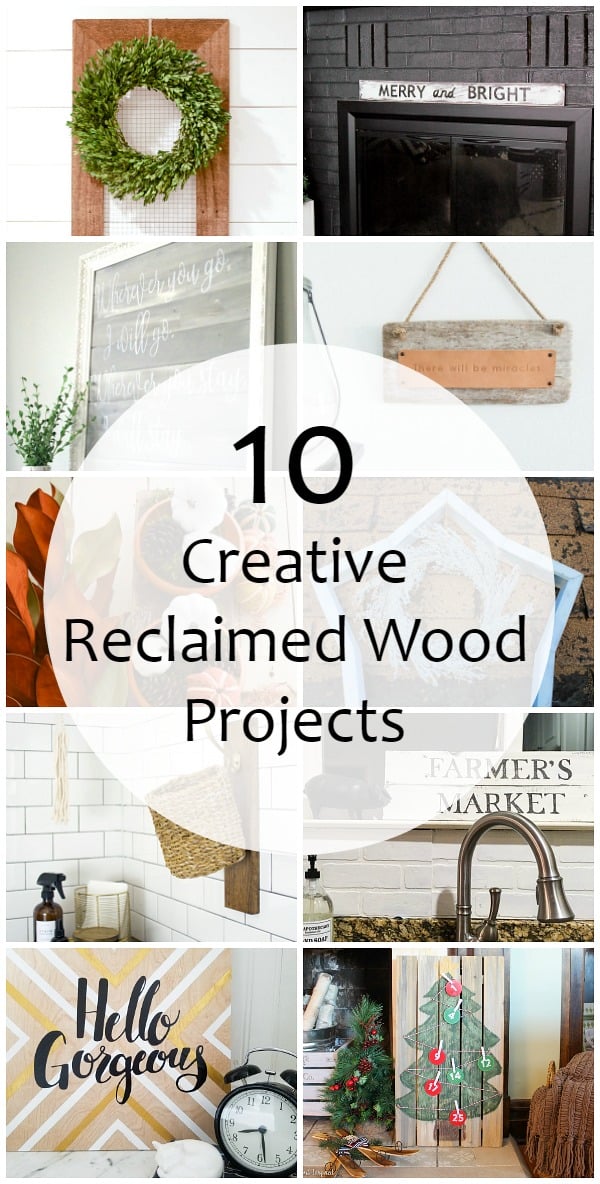 So guys, I'm not gonna lie to you. I had a little problem with this challenge. You see, we had to use reclaimed wood and I just do not have any reclaimed wood lying around, nor do I have easy access to any. I live two blocks from Chicago, people! We have a significant shortage of barns and rustic things in general. Anyway, I had planned to hit up a salvage shop to buy some for this project, but the proverbial sh** hit the fan in my life, and that did not happen.
Not being one to give up on a challenge, however, I decided to try and make NEW wood look like reclaimed wood, so that's what I'm using – fake reclaimed wood that I've turned into a Faux Pallet Wood Advent Calendar!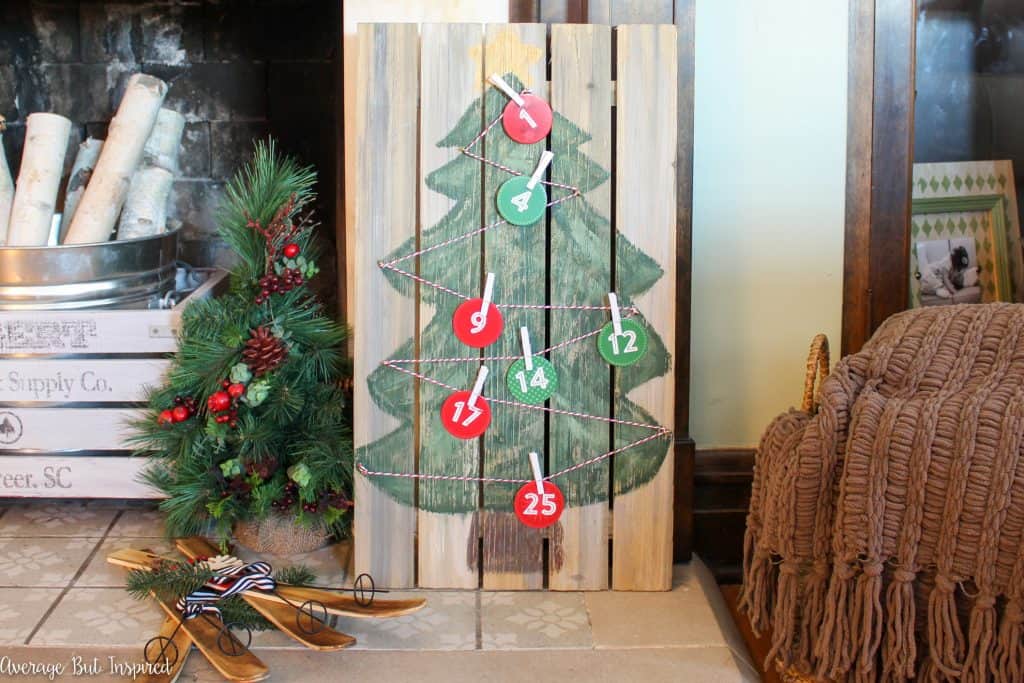 If you have reclaimed wood lying around, you can definitely use that for this project! Or, you can use my method of turning new wood into wood that looks old, and make this rustic advent calendar.
Supplies Needed to Make a Faux Pallet Wood Advent Calendar
Some of these links are affiliate links, which means that I earn a small commission at no added cost to you, if you purchase through them. To read my full disclosure policy, please click here.
Amy Howard Vintage Wood "Better With Age" Salvaged Timber
Sandpaper
Acrylic paints in gray, white, dark green, light green, brown, yellow, and gold
Christmas Countdown set (I got mine at Michaels but couldn't find this set online)
How to Make a Faux Pallet Wood Advent Calendar
To make this project fit with the theme of this month's Monthly DIY Challenge, I had to make my NEW wood look OLD! Thankfully, the generous folks at Amy Howard at Home had given me a container of Vintage Wood "Better With Age" in my swag bag from the Haven Conference, so I decided to get it out and give it a try.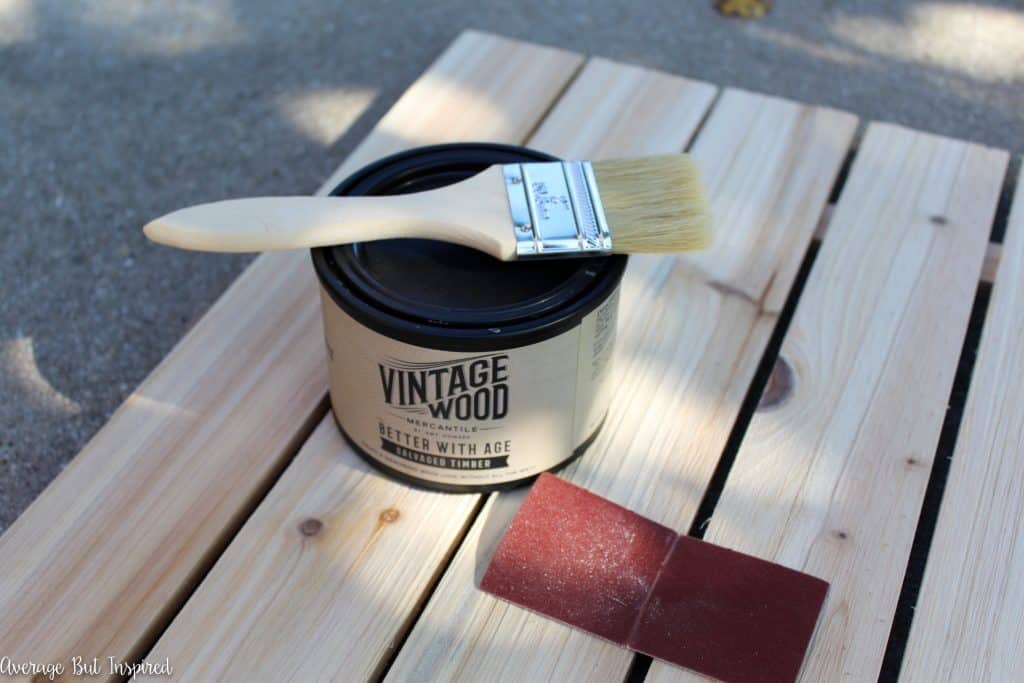 I followed the instructions and brushed it on, leaving enough time to dry.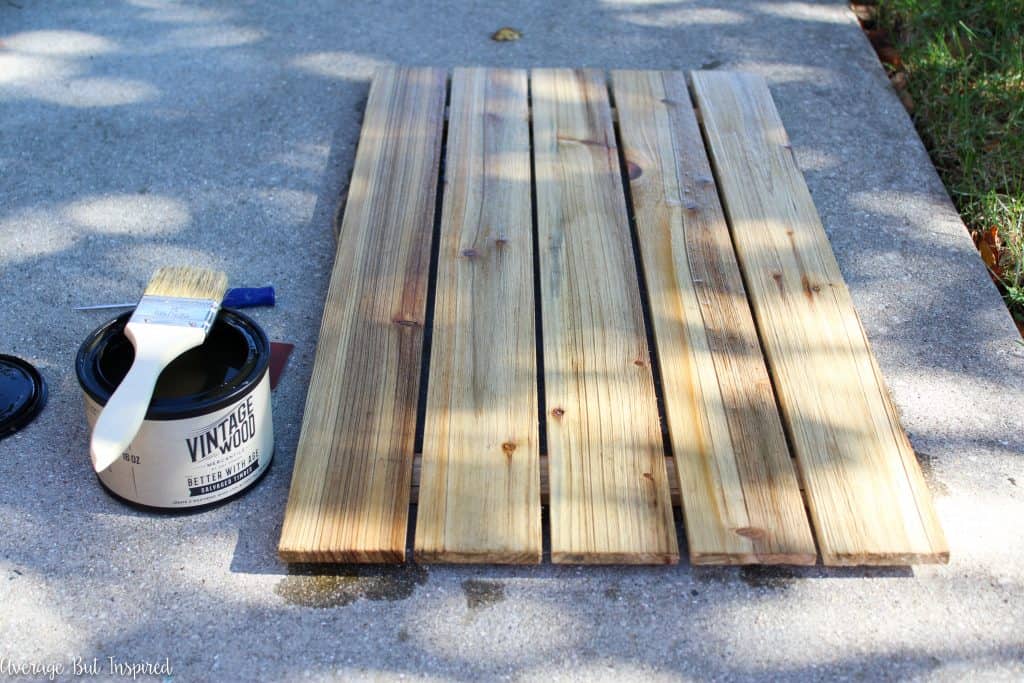 By the time I'd returned from my son's gymnastics class, my new wood pallet definitely looked aged and old! There were gorgeously weathered gray highlights all over!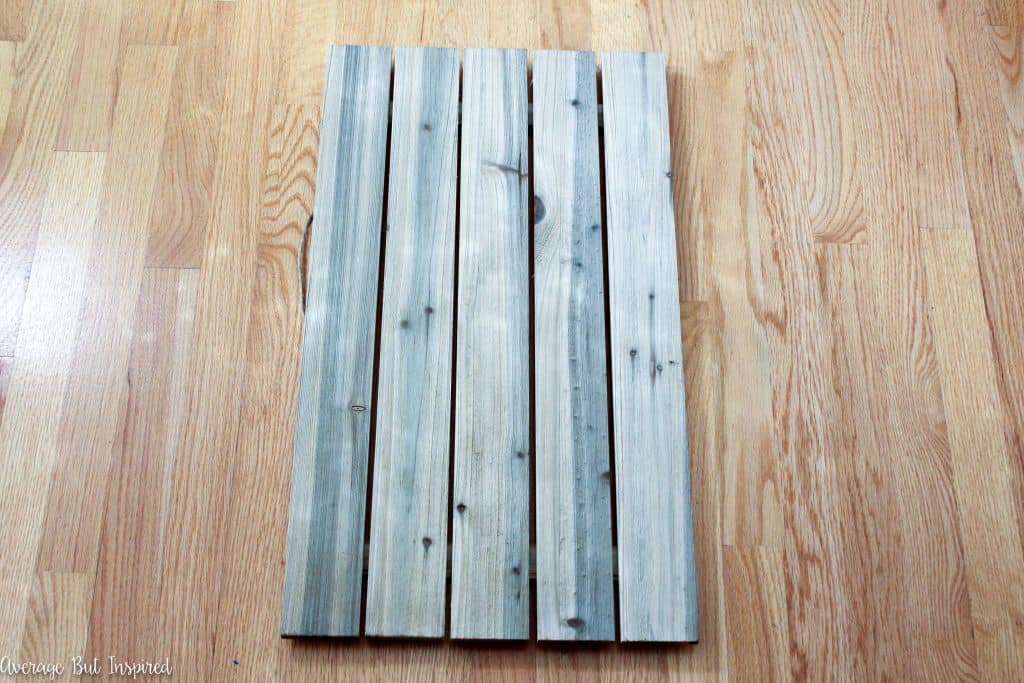 I took my pallet downstairs and beat it up a little bit with a hammer. Then I mixed up some gray and white acrylic paint with some water, and brushed it on to give the wood an even more weathered look.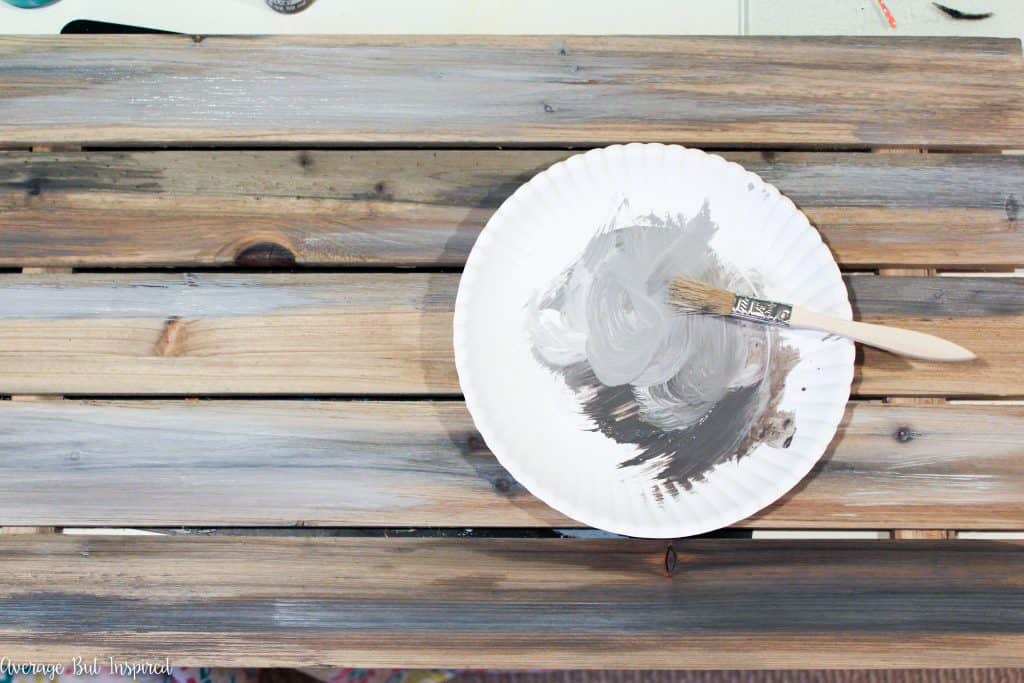 Once all was said and done, my faux pallet wood looked like this.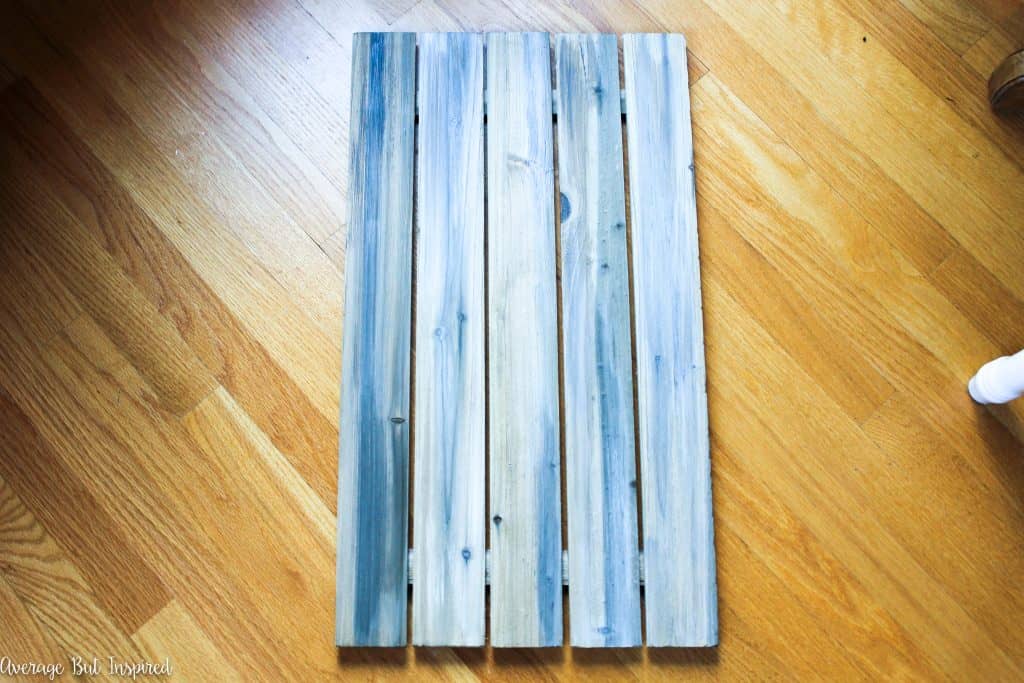 So as you can see, I did my best to get the reclaimed wood look when all I had to work with was new wood! Next up, I painted a Christmas tree onto the wood with a mixture of green acrylic paint. I added a little stump and a star on top for good measure.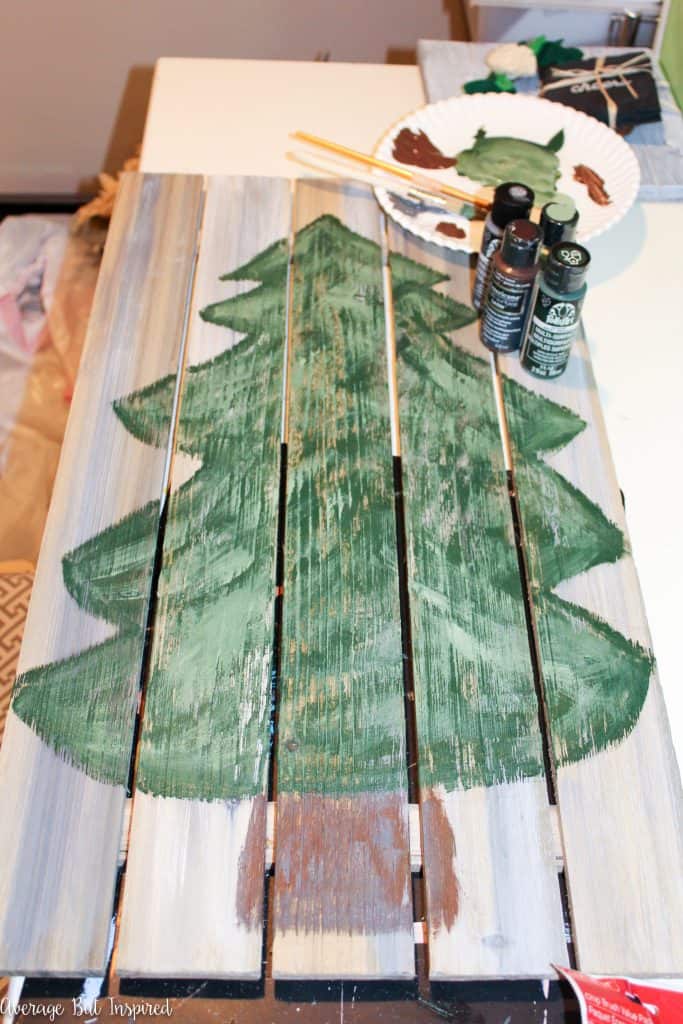 After the paint dried, I sanded it down a bit to give it a more rustic look. Next, I screwed some eye hooks onto the edges of the tree.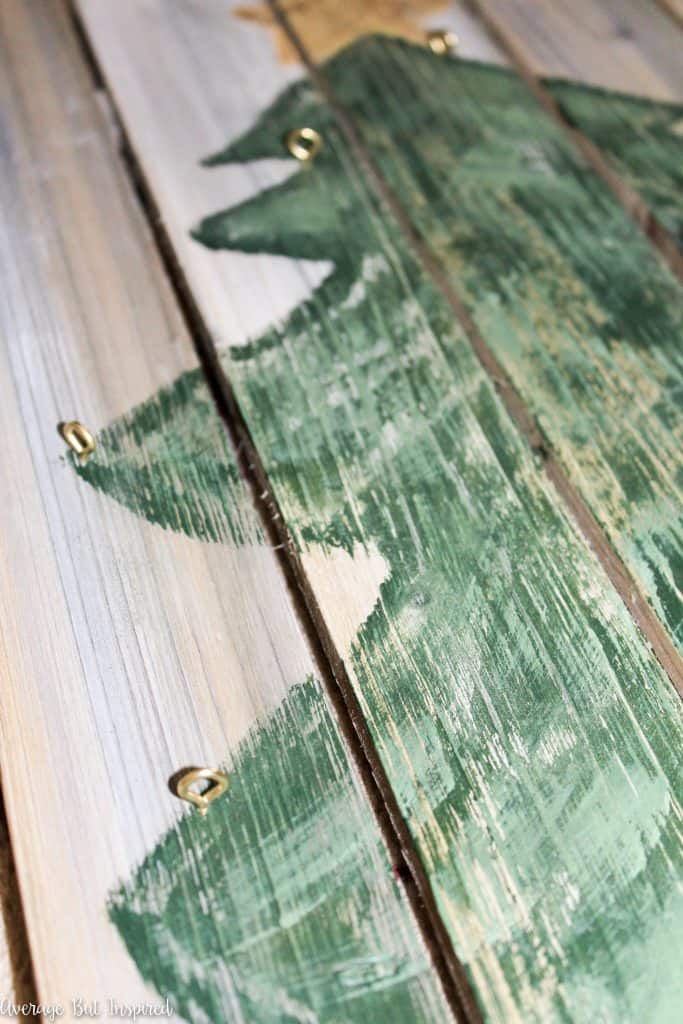 Then I opened up my Christmas Countdown set and tied the red and white twine through the hooks to make it look like the tree had garland.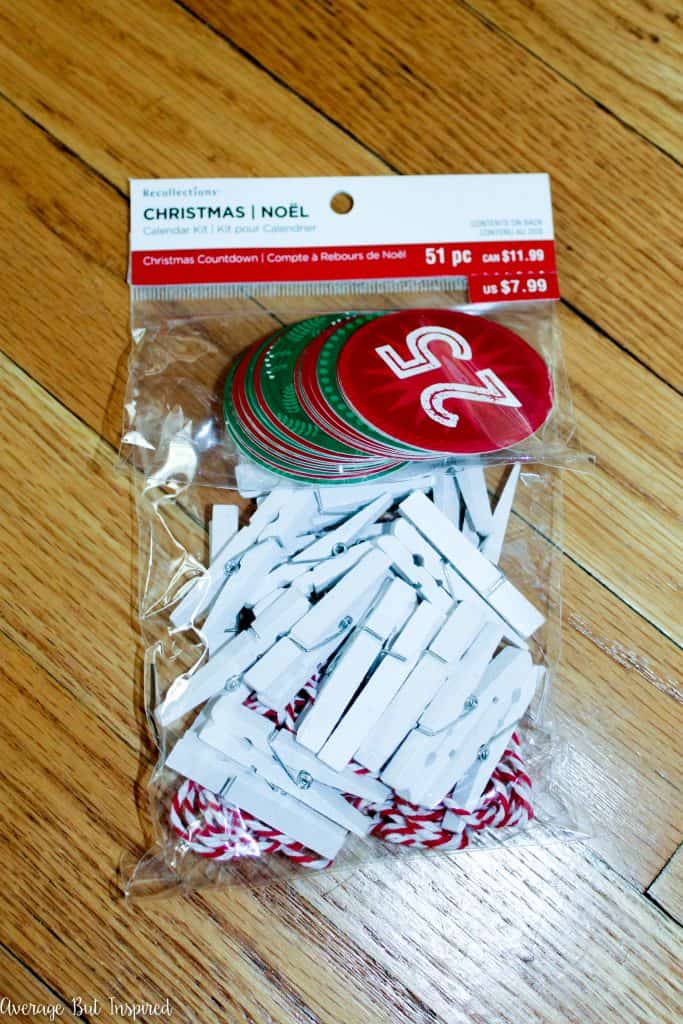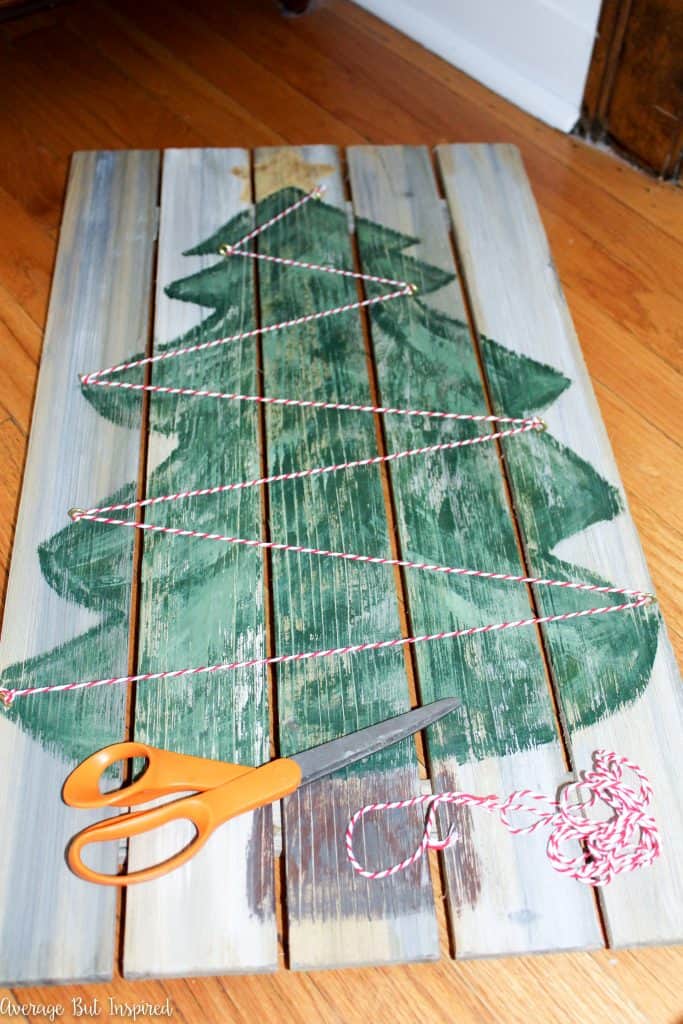 And then my Faux Pallet Wood Advent Calendar was ready to be displayed.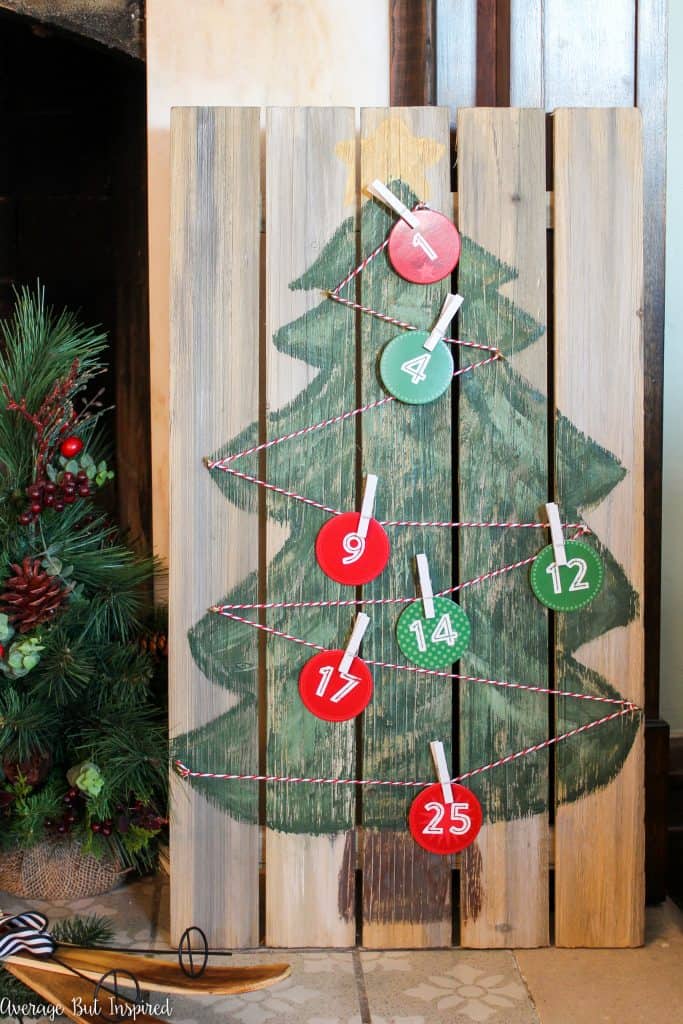 Now don't worry. I know it's early November. I put my advent calendar away after I took these photos.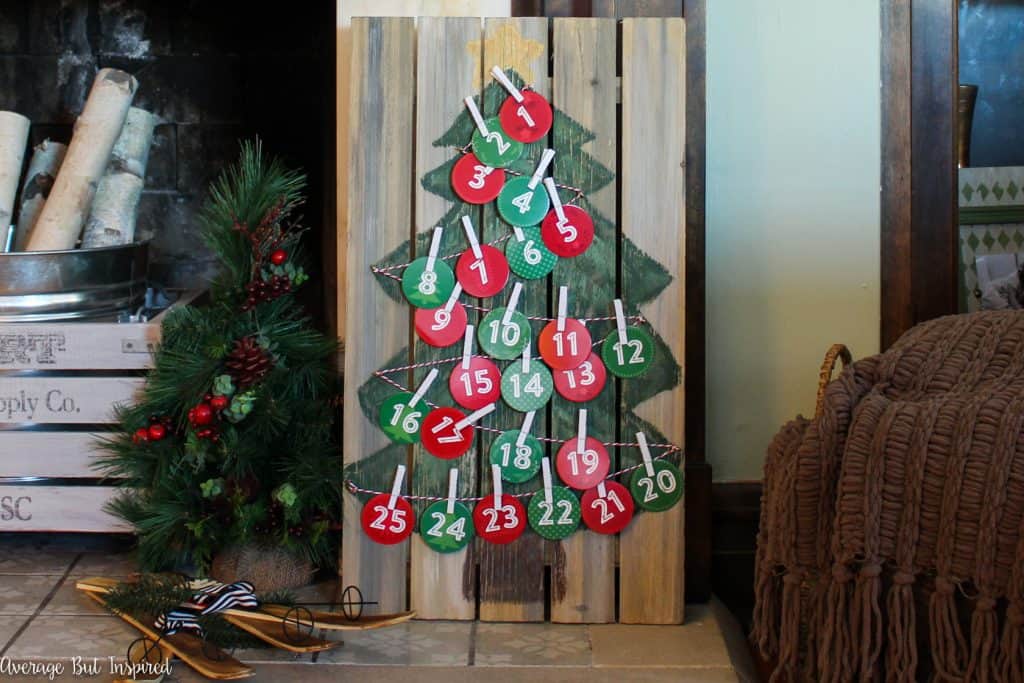 And my mother-in-law already said she wants it, so I won't even be putting it back out again in my own home.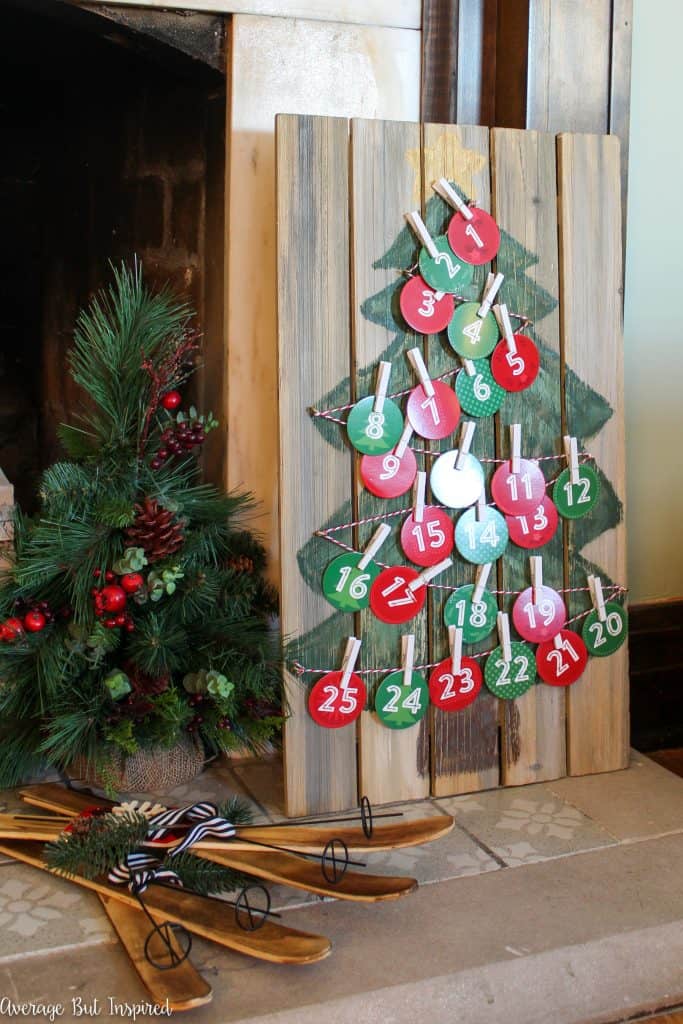 But that's OK. My husband says we have enough "Christmas Clutter" as it is. (And I hate to admit it, but he's probably right.)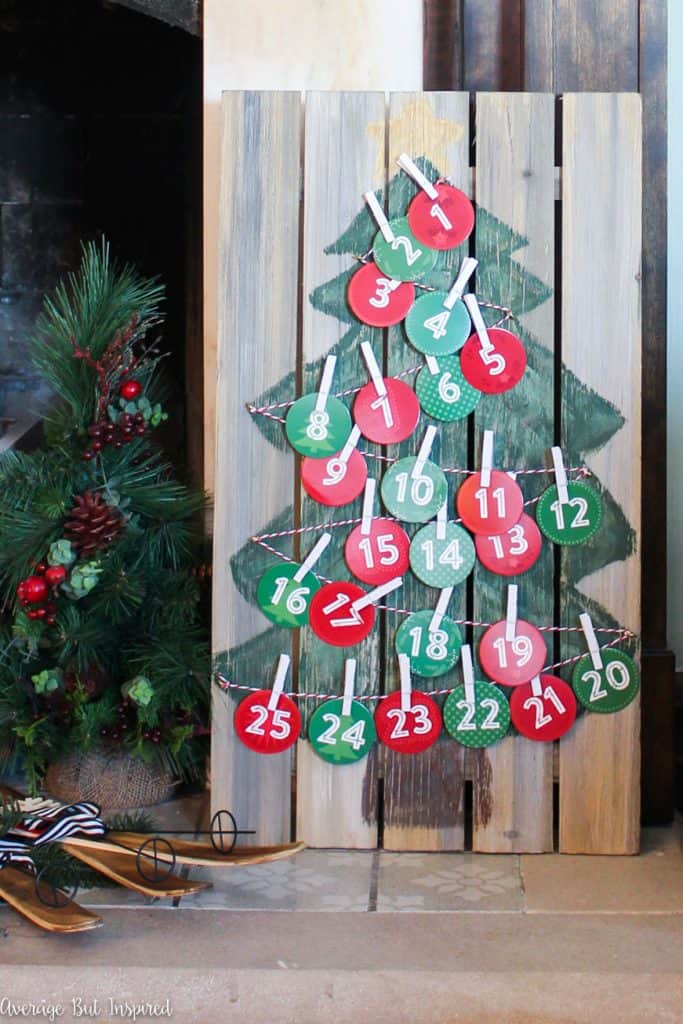 But making this project did make me excited for the upcoming season, so I will be looking forward to decorating soon and counting down the days until Santa arrives!
If you liked this post, I'd love for you to "pin" it so share the love!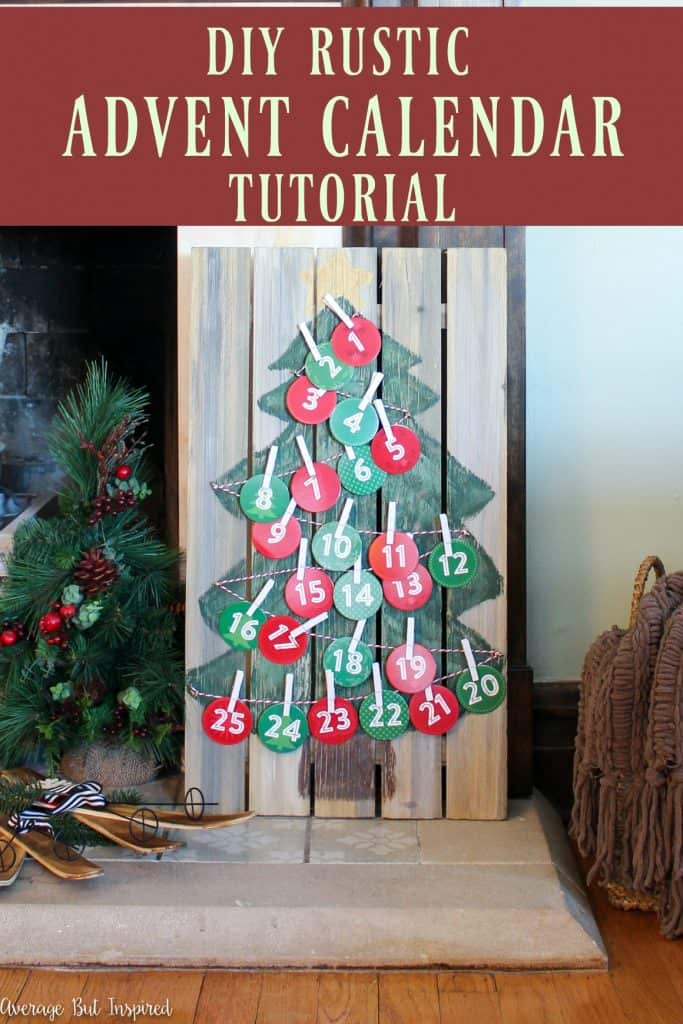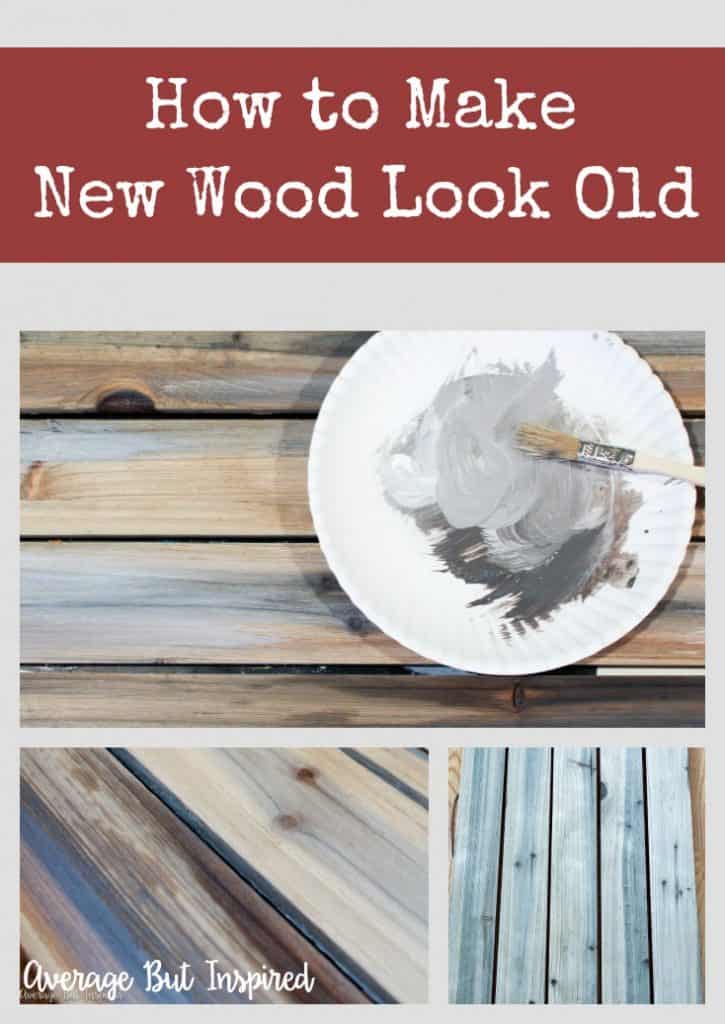 And don't forget to visit my friends to see what amazing things they created with ACTUAL reclaimed wood! I know they'd love to have you check out their projects!