Raise your hand if you're guilty of hanging art on your walls that is too small. Or not hanging any art at all. (Hand raised. Head hung in shame.) Until recently, I had two prints hanging in my master bedroom that I knew were totally the WRONG size for the wall, but I was too lazy to do anything about it. That all changed when I got a dash of inspiration and created this easy DIY canvas art with my secret decorating and DIY weapon – luxe wrapping paper!
I've used wrapping paper on other projects (like these Upgraded IKEA Bookshelves and this Trash to Treasure Table), and its versatility never ceases to amaze me!
This time I turned it into pretty canvas wall art, and I'm convinced that anyone (yes, anyone!) can make DIY wall art for their homes with this trick!
Supplies Needed to Make Easy DIY Canvas Art
This post contains affiliate links. To read my full disclosure policy, please click here.
Canvas panels (I used 12″ x 24″ panels)
Luxe wrapping paper (this is the print I used. Make sure to use a heavyweight wrapping paper for less chance of wrinkling and tearing)
Mod Podge in finish of your choice (I used matte)
Optional: brayer
Scissors
Acrylic paints in colors of your choice (I used this color, this color, and this color)
Artist's paint brushes
Optional – For Wooden Frames (follow this tutorial, which requires 1″x2″ pieces of lumber, hand saw, brad nailer, 3/4″ corner braces, and wood stain)
How to Make Easy DIY Canvas Art
Aaaah I'm so excited to show you how to make your own large-scale canvas art! You'll feel like an artist when all is said and done – I just know it!
Step One: Cover the Canvas with Wrapping Paper
I began by cutting my wrapping paper slightly larger than the portion of the canvas that I was covering.
Then I applied a thin layer of Mod Podge to the canvas, and pressed the wrapping paper onto the canvas – removing air bubbles as I went. I used a brayer to help with this part, but if you don't have one, it's not totally necessary (just helpful!).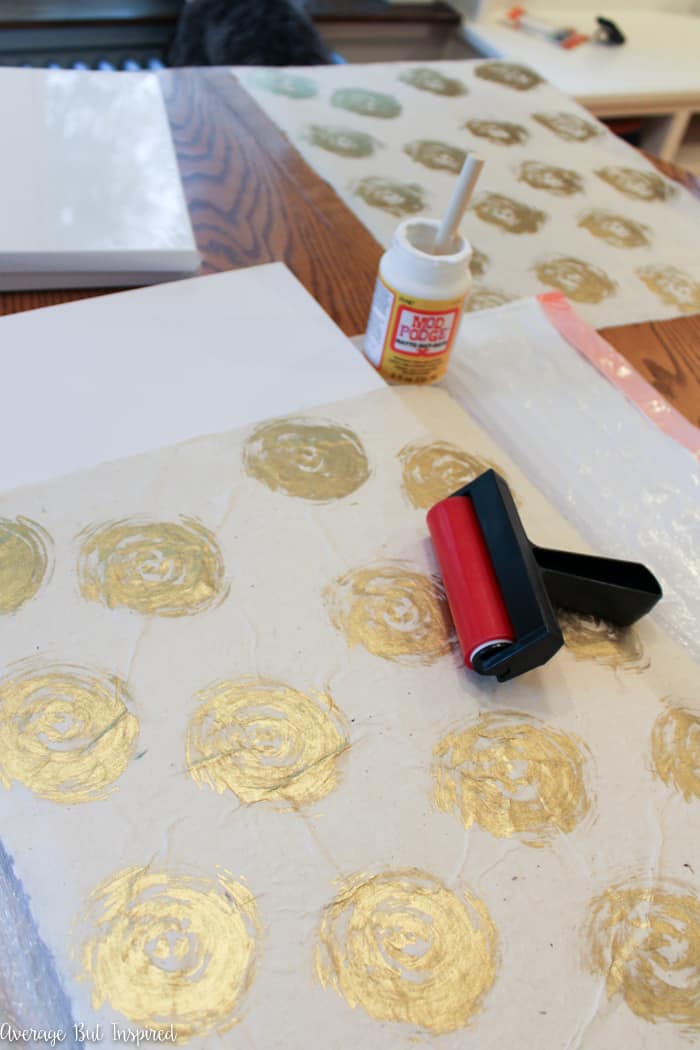 Step Two: Paint the Canvas
While the Mod Podge was drying, I painted the empty part of the canvas in this color, which is a pretty navy blue. I left a little gap between the wrapping paper portion of the canvas and the blue paint because I knew I'd be painting that part of the canvas gold.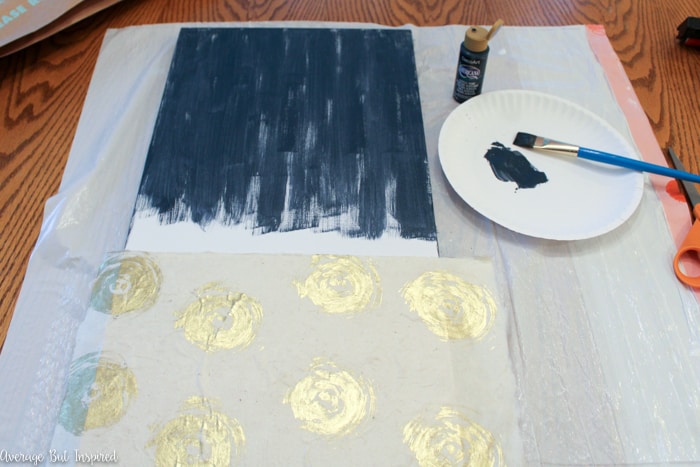 Once the paint dried, I used gold acrylic paint to add a border between the navy paint and the wrapping paper.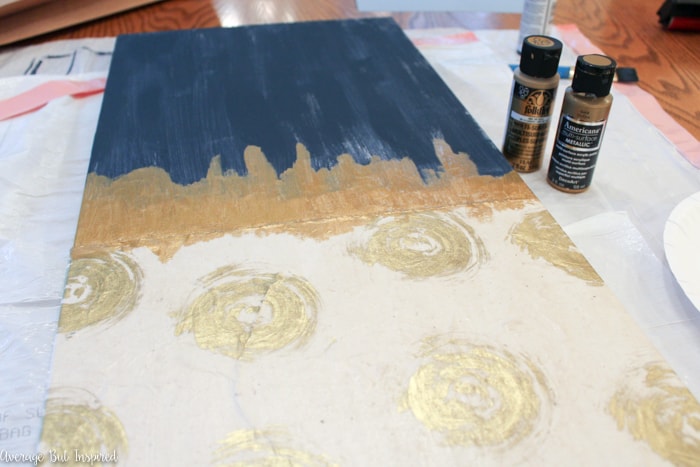 Step Three: Fasten the Wrapping Paper to the Back of the Canvas
Once the paint was dry, I flipped the canvas over and attached the wrapping paper to the sides and back with double-sided permanent tape.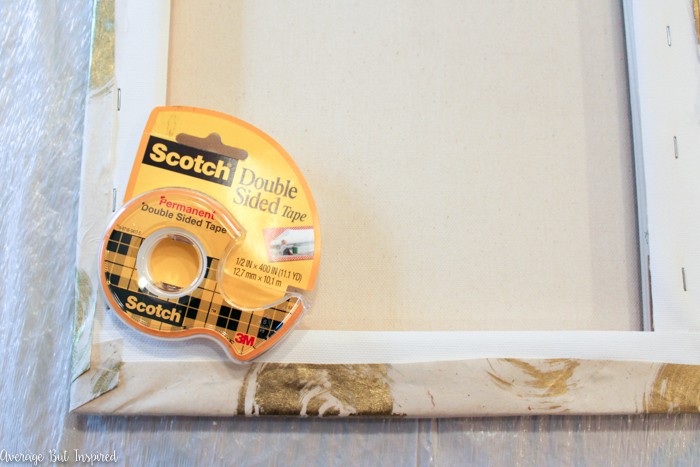 Step Four: Topcoat with Mod Podge
Then I flipped the canvas over and put a thin layer of Mod Podge on top of the wrapping paper for extra adhesion and protection. You probably don't have to do this – especially if you like the texture of the wrapping paper as-is – but I wanted to make sure these pieces of art are durable!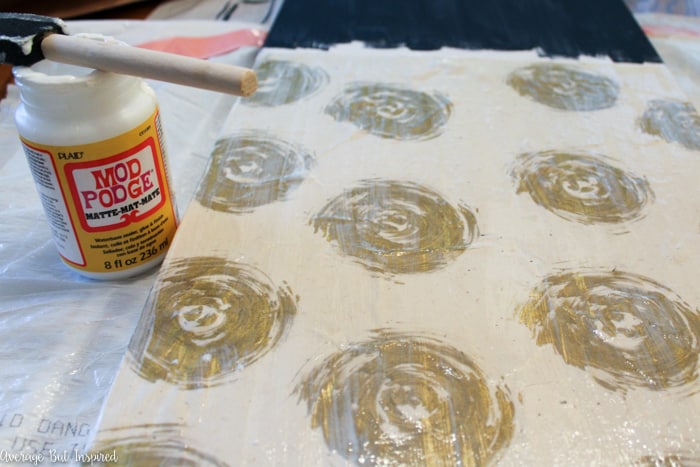 Step Five: Get Artsy with the Paint and Gold Leaf
After about 20 minutes when the Mod Podge was dry, I added random brushstrokes of a different shade of navy blue paint to the top of the canvas.
Then I added gold leaf streaks to the gold painted portion of the canvas. These little touches added some dimension and made things look less flat!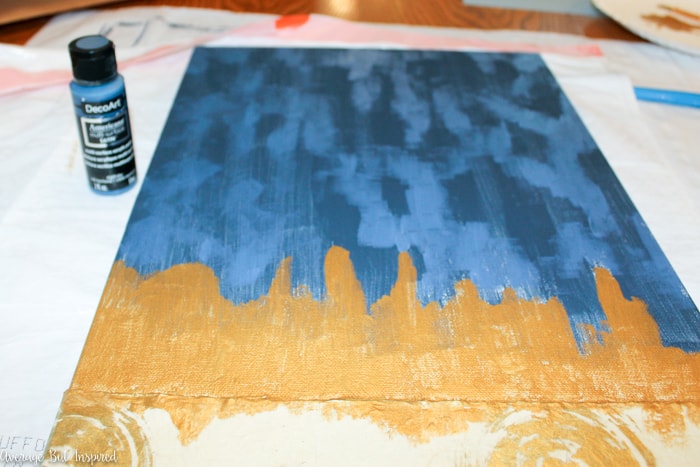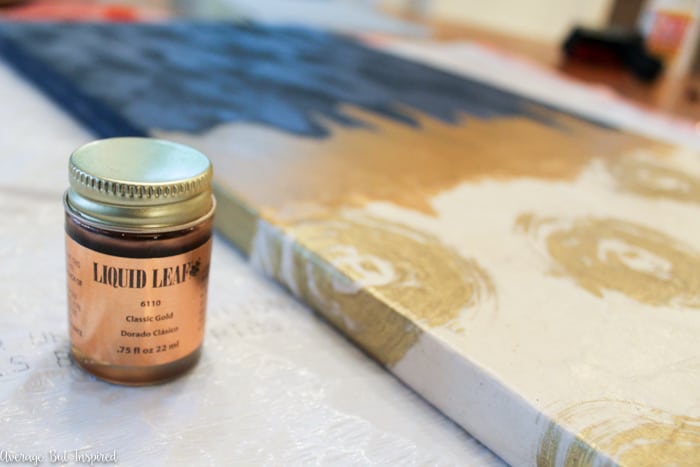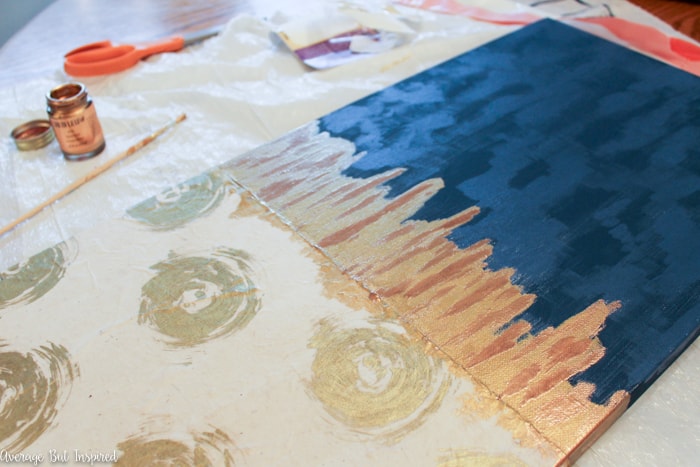 Step Six: Build a Canvas Frame
Once everything dried, I built canvas frames by following this tutorial. These frames went together really easily and gave my easy DIY canvas art a finished look!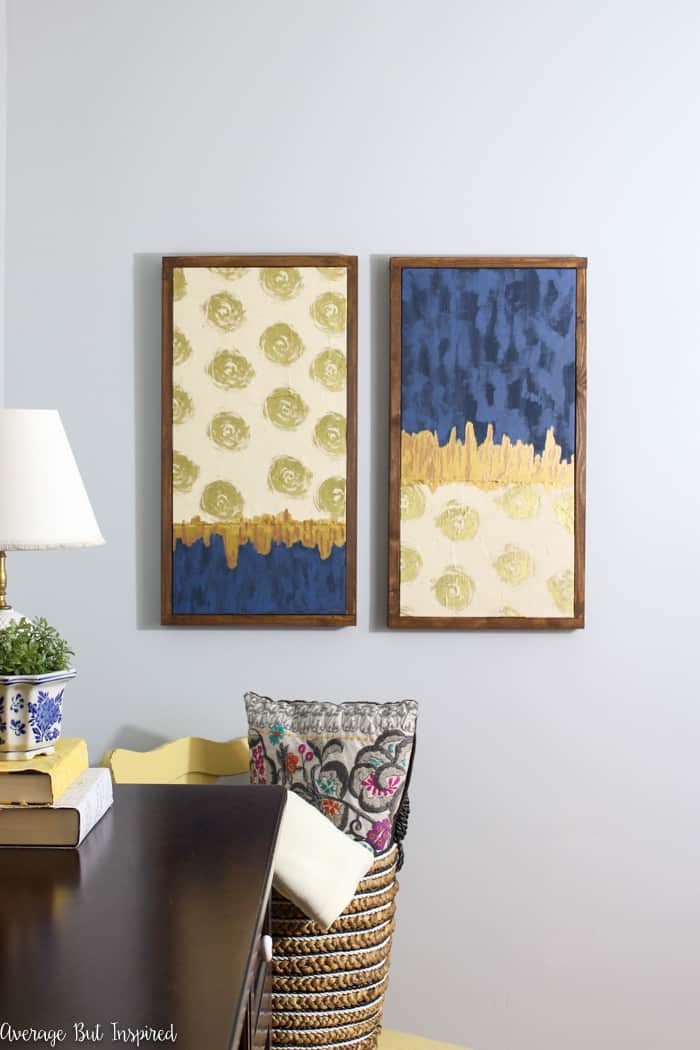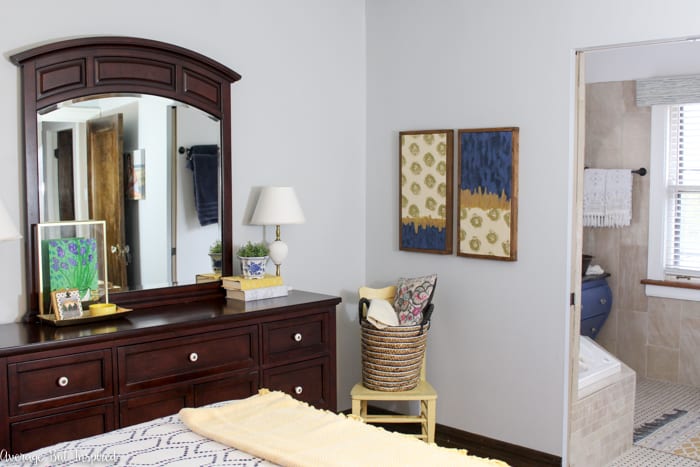 Can you believe how easy it is to make your own art with wrapping paper?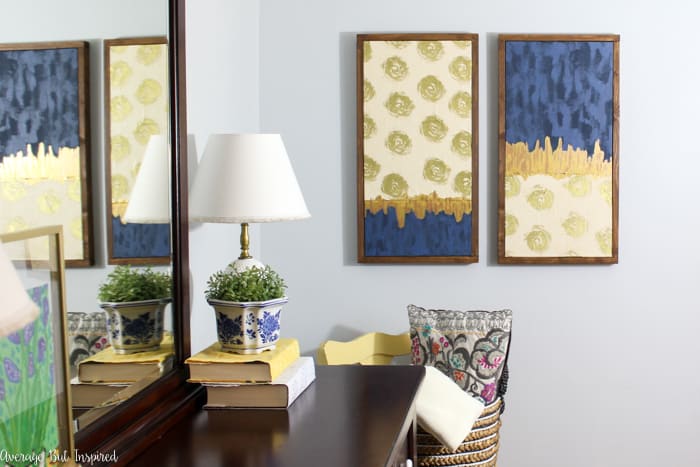 There's really no reason NOT to have pretty walls with art this easy and inexpensive! (I'm typing that so I remember it – trust me, I have some walls that need help!)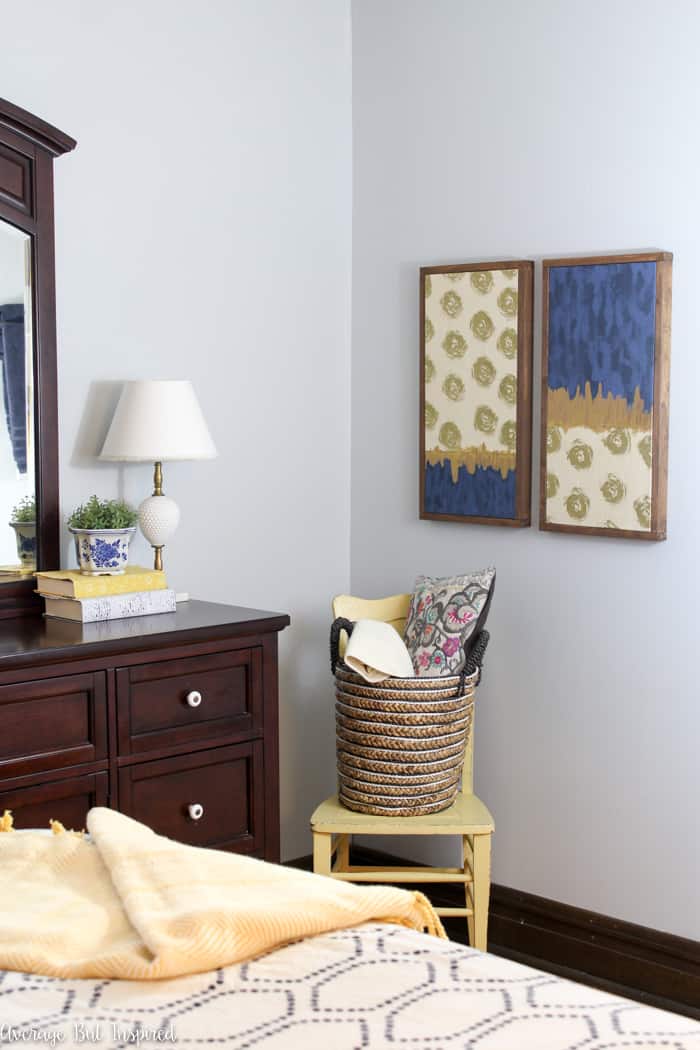 If you agree and like this idea, I'd appreciate it if you'd pin this post to help others find it!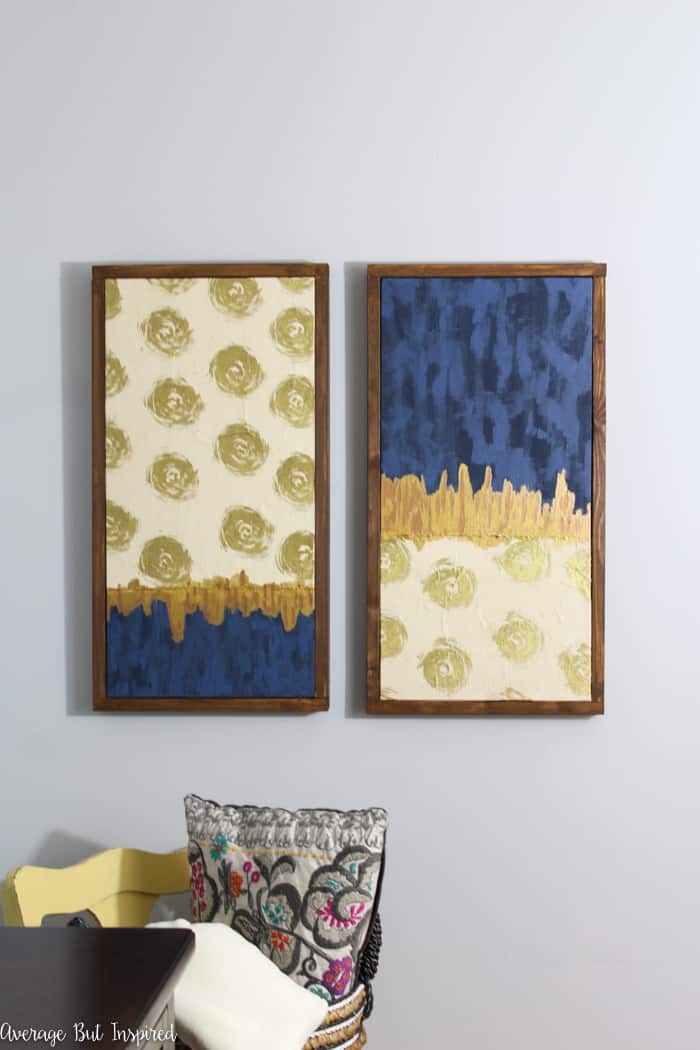 So what do you think? Will you try making art for your home with wrapping paper?
-Bre