Several months ago I shared my plans for a modern vintage bathroom makeover in my kids' / hall bathroom. I totally dragged my heels on sharing the finished space. Why? Because my kids are messy little creatures who cannot keep this bathroom tidy. I had to clean it and photograph it in the same chunk of time, which wasn't easy to do!
But now it's done and I'm happy to show you how I overhauled this once boring and bland bathroom, primarily with paint and new fixtures.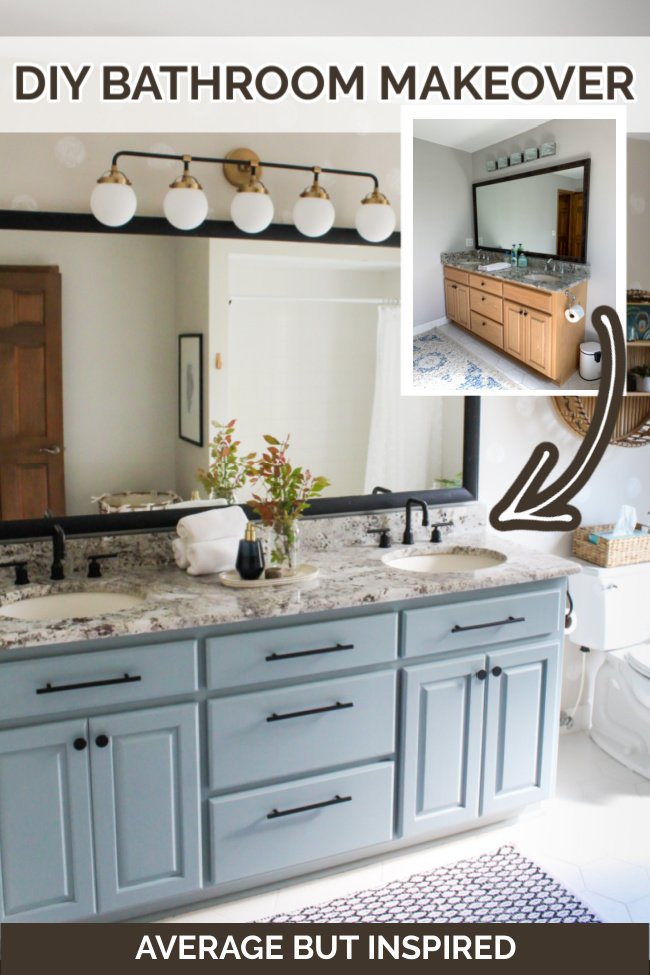 Before the Bathroom Makeover
To see all of the bathroom photos before the makeover, check out the Modern Vintage Bathroom Makeover post linked above. In that post I also share the plans for the space, and you can see what I stuck with and what I strayed from.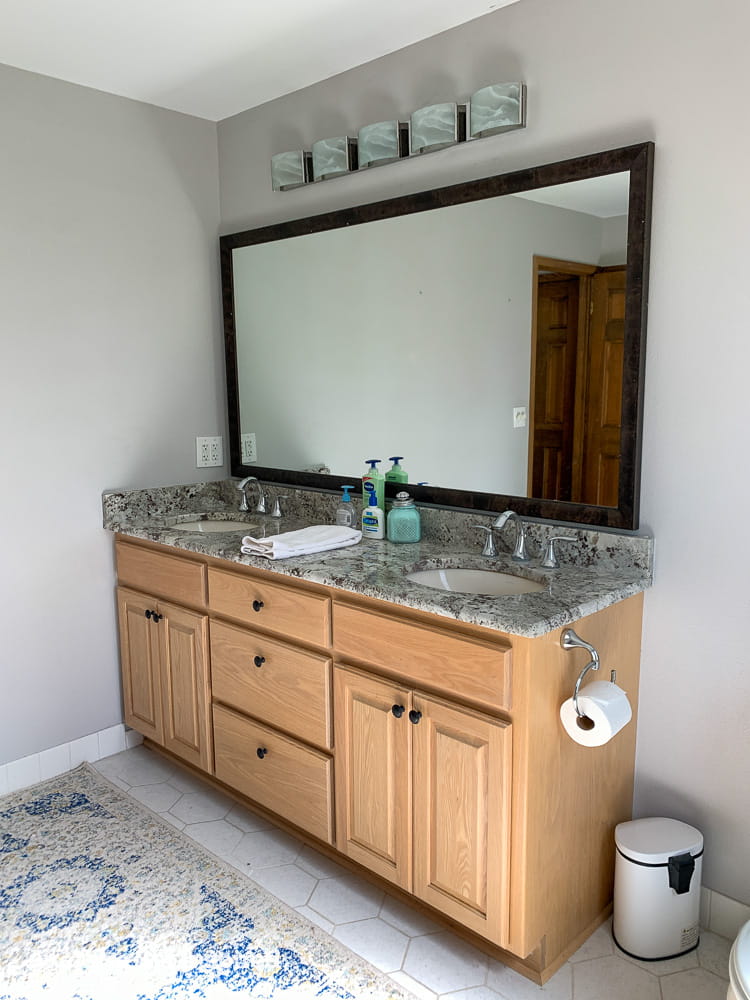 It's always been hard for me to make a design plan ahead of time and stick with it. That was definitely the case here, too. I like to make decisions as I go along rather than stick to a plan.
The Finished Vintage Modern Bathroom
When all was said and done, this bathroom leaned a little more boho/eclectic than vintage modern, in my opinion. The biggest reason for that is the rug I wanted for the space actually was much too small. It gave all of the vintage vibes I hoped for, but it just wasn't right. So the project took on a different direction.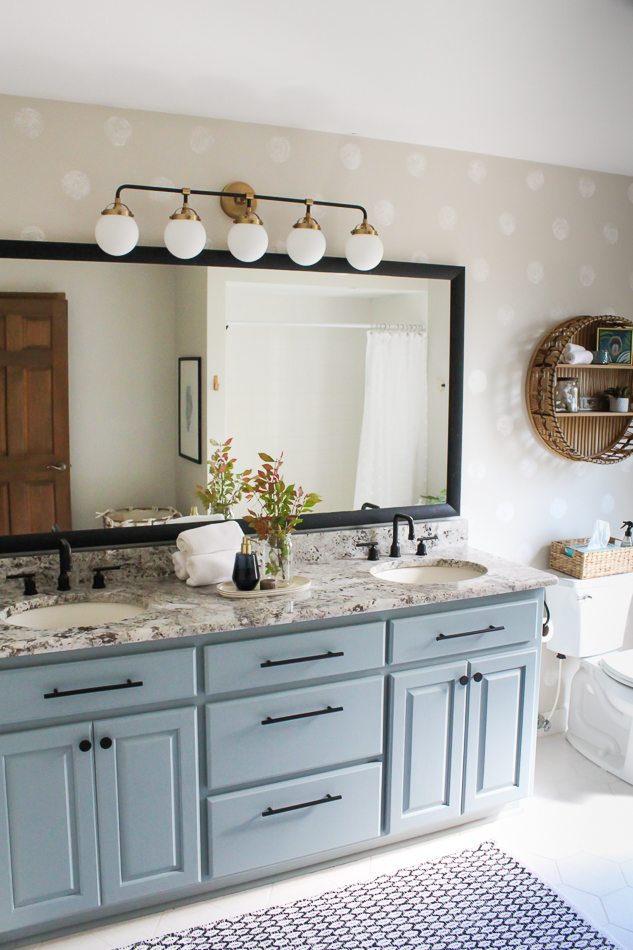 Click to view any of the posts in this series!
Here's the rundown of what I did to update this bathroom. All of the products are linked at the end of this post, in case you want to learn more about them.
Painted the vanity Irish Garden by Heirloom Traditions Paint: this blue green bathroom vanity paint is my favorite part of this bathroom. It took a boring vanity and brought it to life.
Swapped and added additional matte black vanity hardware
Changed the sink faucets for modern matte black faucets
Painted the walls Edgecomb Gray by Benjamin Moore
Painted a Polka Dot Accent Wall (with leftover White Dove by Benjamin Moore)
Painted the mirror frame with black chalk paint, which I sealed with matte polycrylic
Cleaned the tile grout (this tile grout cleaner worked awesome!)
Added a new 5-light black and brass vanity light fixture and a new brass and black ceiling fixture
Had a new toilet installed (the old toilet was miniature and did not work well. I'll spare you the details. You're welcome.)
Spray painted the bath tub faucet and fixtures matte black to match the new sink faucets
Added decor and accessories to liven up the space

One mishap that occurred during this part of the project is that I sprayed the mirror frame with KrudKutter to clean it before painting. Now don't get me wrong, KrudKutter is the BEST pre-paint cleaner around. However, it's not good for mirrors.
You can sort of see in this photo that there's now a film on the mirror left from the KrudKutter that I can't get off! It's only visible in certain lights and angles, but it's definitely there. Moral of the story: don't spray mirrors / mirror frames with KrudKutter.


For over the toilet, I added a rattan round shelf, which I filled with decorative accents from the kids' bathroom at our old home. It was fun to unpack that moving box and see items we hadn't since we remodeled that 1920s bathroom / moved.

On this side, I painted the oak window trim White Dove by Benjamin Moore. I left the window "oak" because it's actually vinyl and I don't want to void the warranty by painting it! (Painting vinyl windows can cause them to warp, so manufacturers typically include that info in the warranty materials.)

This little bench next to the bath tub that I painted has been a great spot for my kids to store extra bath items and their jammies.

And adding towel hooks here was essential. My kids just kept throwing towels on the floor. I also love how the black and brass hooks complement the black and brass light fixtures.

A nice, large rattan hamper at the entrance to the bathroom has also been amazing for keeping dirty towels and washcloths separate until I get them in the washing machine. Bonus that it is super cute, too.
Bathroom Makeover Products Used
As promised above, here are links to the products I used to transform this bathroom with a modern vintage feel. Note that some are affiliate links, and you can read my full disclosure policy at that link.
So what do you think? Did I succeed in updating this bathroom with a modern vintage feel despite renovating it? Let me know in the comments, or find me on social media!