I just finished my DIY kitchen makeover, so it only makes sense that I would jump right in to another large makeover project. Ha! Truthfully, I am feeling the push to make over my kids' bathroom because it's also our guest bathroom . . . and we actually have guests coming to visit this summer! So naturally, I want them to have a nice bathroom to use (forget my kids – lol!).
My kids' bathroom is in pretty darn good shape, so we have no renovation plans. It's a little bland and worn in spots, so a makeover will do wonders for it! I have big plans for a vintage bathroom look that flows with the rest of the house vibe, and I'm super pumped to share my modern vintage bathroom plans with you!
Current State of the Bathroom
Alright, let me take you on a little tour of the bathroom in its current form. Please know that I did not decorate in here at all after we moved in: I just used a rug from my master bathroom at my old house, a shower curtain from my basement bath, and wall baskets left from this home's stagers before we moved in. So it's kind of a random mix of stuff currently.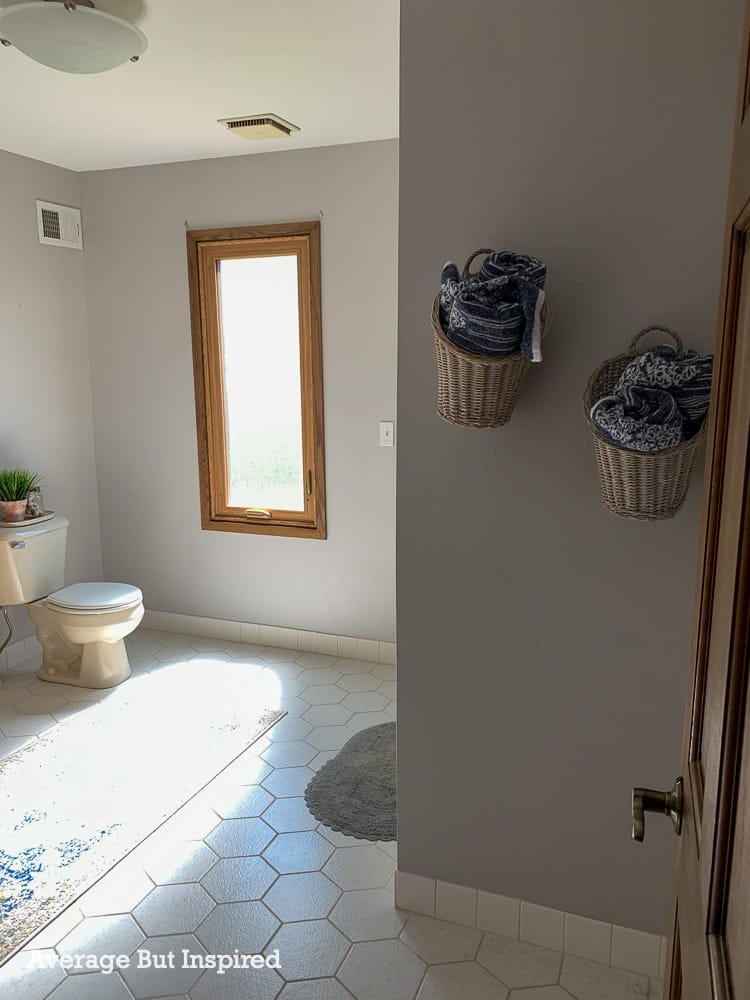 Not sure if you can tell, but it's a very large bathroom. We joke that it's "stupid big." Lots of wasted space. This is a big change from the kids' tiny bathroom at our house in Illinois, which we renovated right before we moved. You can see that 1920s bathroom remodel at that link.
The flooring, vanity and countertop in here are in great shape. Lucky for us, I love the hexagon tile! I know some think it's a yucky relic of the 1970s, but I have always loved hexagon tile. I even used hexagon tile as the backsplash in my old kitchen.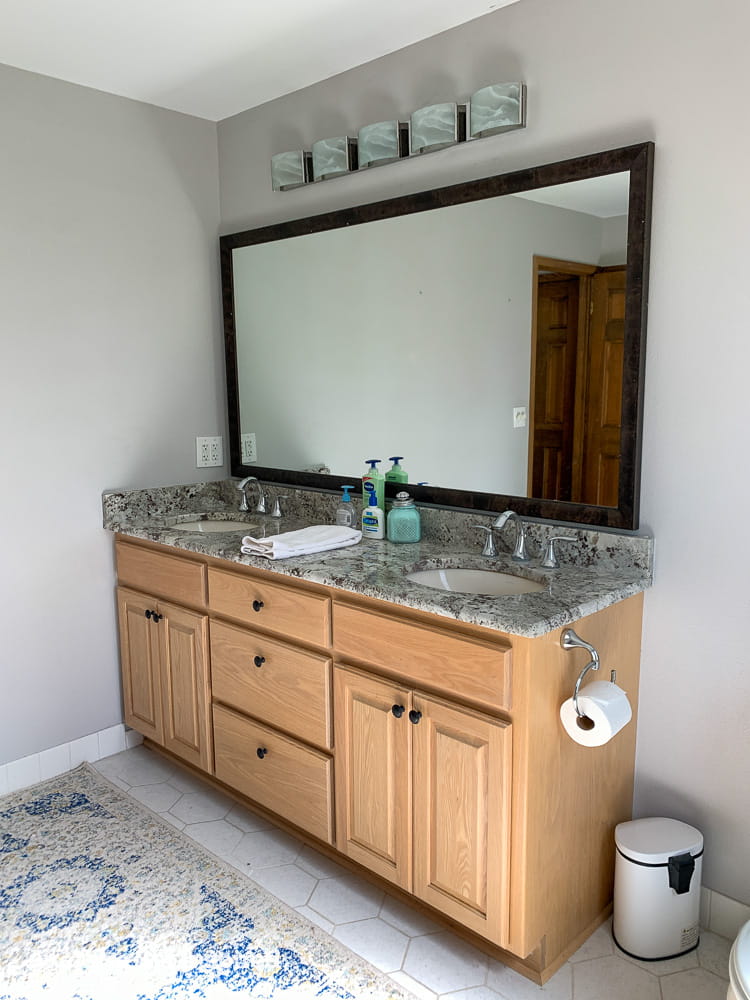 The bath tub was reglazed at some point and has signs of its avocado green past peeking through.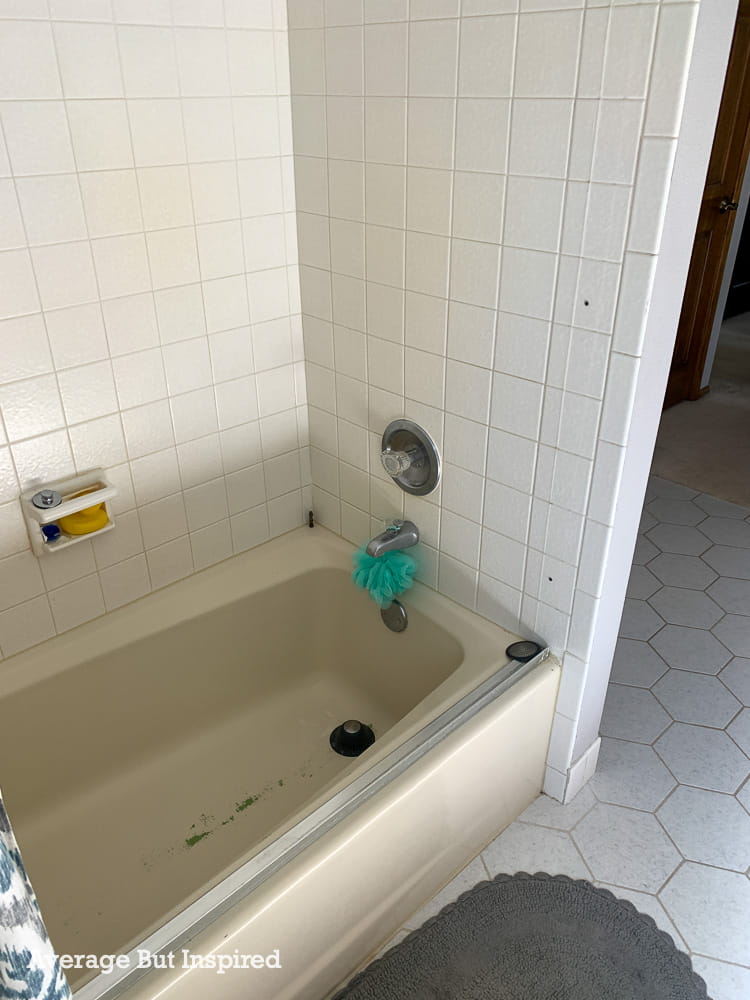 The toilet hardly functions and needs to be replaced.
Bathroom Makeover Plan of Attack
So, my plan is to do all of the makeover myself, EXCEPT for replacing the toilet. I will hire a plumber to do that because . . . toilet . . . eeeew.
Here's what's on the to-do list:
Paint the walls (they lean too purple for my liking) (I did it! Check out the new paint and the DIY Polka Dot Accent Wall here!)
Paint the vanity and replace the hardware
Possibly paint the mirror
Replace the sink faucets
Replace the lighting
Clean floor grout and re-seal
Paint the tub (I did it! Click that link to see the process and how good it looks now!)
Paint the tub faucet/hardware (This is finished! Click that link to learn how I spray painted the faucet and fixtures)
Replace the toilet
Decorate!
How long will this take me? The truth is, I don't know! I can't put myself on any timelines, but I hope to have it finished before August when our guests come. (Check out the Office / Guest Room Combo Makeover I recently completed in anticipation of their arrival!)
Update: you can see the completed bathroom makeover at that link!
Click to view any of the posts in this series!
Modern Vintage Bathroom Design Plan
Now, it's VERY unlike me to put together a design plan before I tackle a space. I usually just see where things take me and design as I go along.
In this case, I was really struggling with a direction, and putting together a plan helped me get myself organized. I didn't have a vision for this room like I usually do with others, but seeing this all come together on a digital mood board gave me the clarity I need to make this bathroom look updated with a modern vintage feel.

So this is the direction this bathroom is heading, and I'm really excited about it! The blue/green paint for the vanity is beautiful, and I love that it's staying true to all of the green accents throughout my home, while bringing in some blues that I love, too.
Here are the sources for these modern vintage bathroom decor pieces, in case you're interested (some of these are affiliate links. To read my full disclosure policy, please click here):
So, there you have it! I hope you'll be excited to follow along as I update this bathroom over the next few months. I'll make sure to share updates here, as well as on Instagram and TikTok!