I LOVE a good home transformation experiment, and today's post showcases an amazing one! I'm going to show you how to paint a countertop to look like marble. I painted my dated granite countertop in my powder room and I achieved a convincing marble finish! And guess what? You can, too!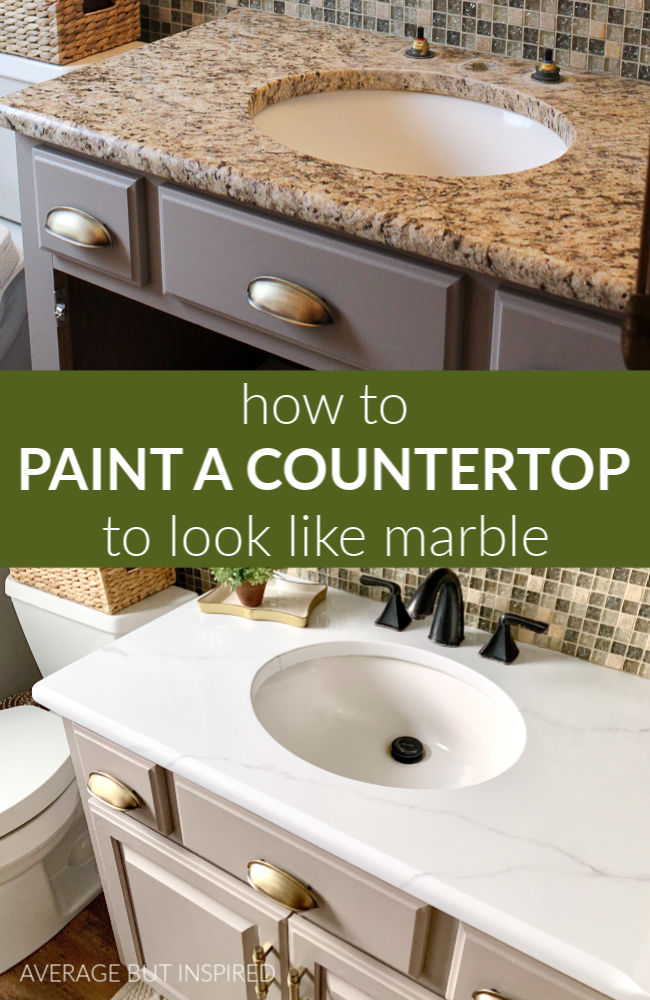 Before we dive in, let me show you what I was working with in my powder room. Dated oak vanity, busy tile wall backsplash, and a dark and dated granite countertop that was REALLY busy with that crazy tile wall.
(UPDATE: I painted the tile wall! Visit that link to see the newest updates to this bathroom! Also, here's my two-year update on how this painted countertop is holding up!)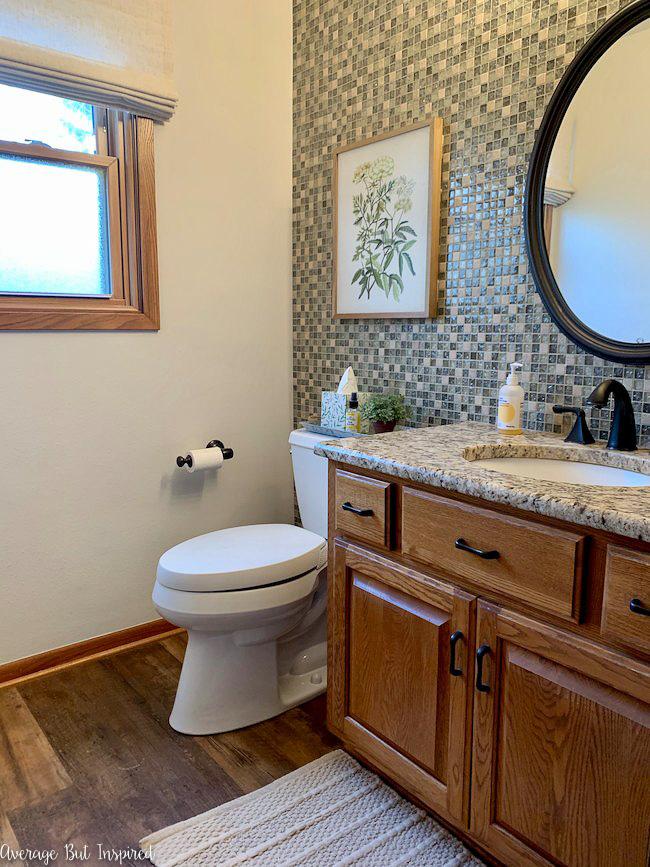 On a whim one day, I decided to paint the vanity with paint I purchased as a possibility for my painted marble fireplace hearth. I didn't end up using that color for the hearth, but I'm glad I saved the paint because it worked great in this bathroom.
New paint and new hardware on the vanity (as well as on the baseboards and mirror), helped spiff up this bathroom, but the countertop still really bugged me.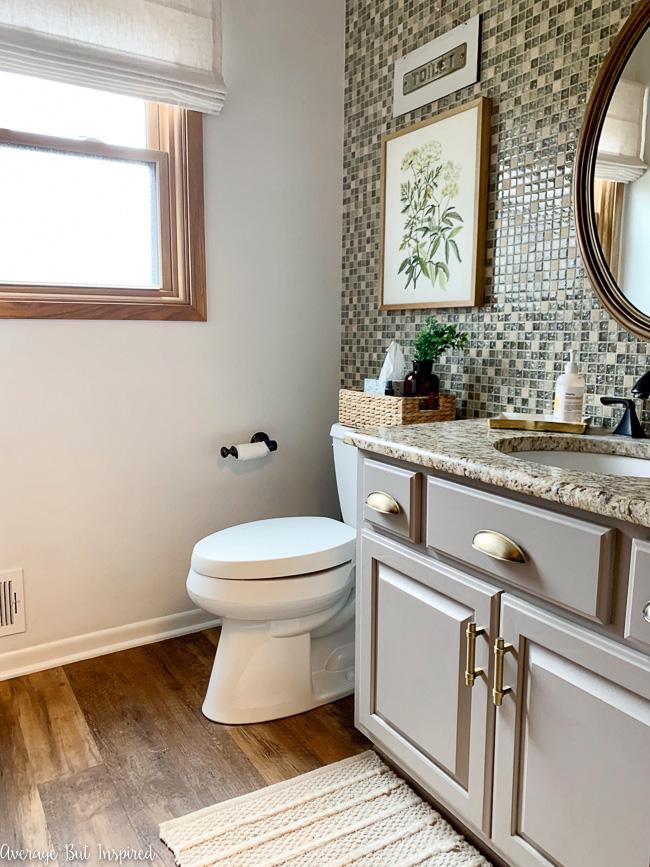 We will be replacing our kitchen countertops in the near future, and I planned to replace this bathroom countertop at that time as well. Since I had that already in mind, I decided to try painting my granite countertop first, just to see if and how it would work. I figured that if it looked good, I'd save myself some money, and if it looked bad, I will have only wasted around $80.
Although the countertop is not perfect, it turned out MUCH BETTER than I expected!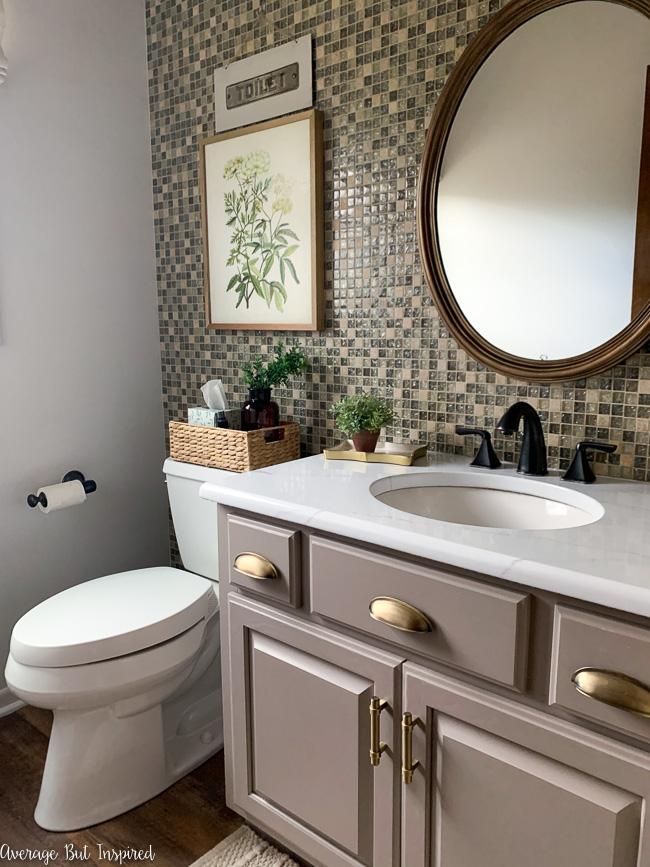 Supplies Used to Paint a Countertop to Look Like Marble
This post contains affiliate links. To read my full disclosure policy, click here.
Because I painted a granite countertop, some of my prep work may have been different than will be required for those painting countertops made of different materials. In my experience, I believe that the key to painting a granite countertop is in the prep work and in the sealer. Because of that, it's important to pay special attention to these steps!
I began by researching the Giani Marble Countertop Finish Kit, which includes everything you need to paint your countertops to look like marble. Giani, the manufacturer of this kit, has an awesome video about the painting process, and this video really got me intrigued.
I quickly realized that the Marble Countertop Painting Kit contained enough product to paint a kitchen's worth of countertops, and that I didn't need nearly that amount of paint or product. So, I figured out what I wanted and purchased the following items separately:
Xylene (this is a MUST HAVE when painting granite)
Rubbing alcohol (also a MUST HAVE when painting granite)
1/4″ nap roller (TIP: See my note below about possibly using a foam roller instead)
Roller tray
Rubber gloves
I got all of my supplies for under $100, which was less than the price of the kit. (Note that the kit does not include Xylene.)
Instructions for Painting a Countertop to Look Like Marble
If you follow the instructions and are patient, I believe you can also paint your countertop for a lasting finish!
Step 1 for painting a granite countertop: PREP and CLEAN
I started by cleaning the countertop and then wiping it down with Xylene, which smells AWFUL. Make sure to open a window while using this solution. After the Xylene dried, I wiped it down with rubbing alcohol, per the instructions online.
Then I placed painter's tape around the edge of the countertop and covered the vanity with a tarp.
Step 2 for painting a countertop to look like marble: PRIME
Next, I primed the entire countertop with the white countertop paint. After one coat it looked pretty streaky, but the video warned that this would be the case so I wasn't worried.
After four hours, I applied the second coat of primer. It definitely looked better, but there were still spots where dark granite was shadowing through, or divots in the granite didn't get filled.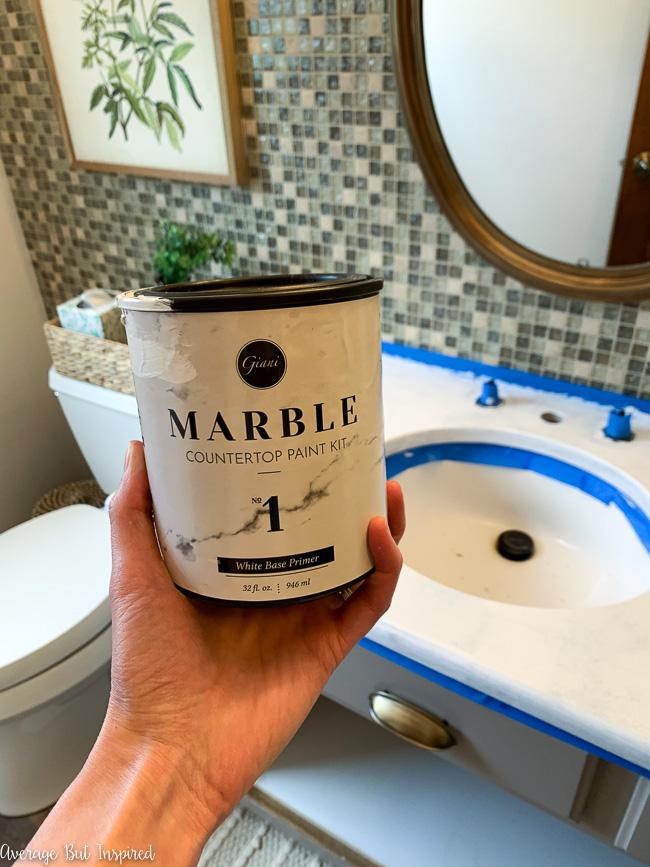 Because of that, I applied a third coat of white primer the next morning. The instructions say you only need two coats, but I definitely needed three coats of primer for my dark granite. After three coats of white primer, all of the dark granite was covered.
Step 3 for painting a granite countertop: VEINING
After third coat of primer dried for four hours, I decided to try some veining to give my painted countertop a true marble look!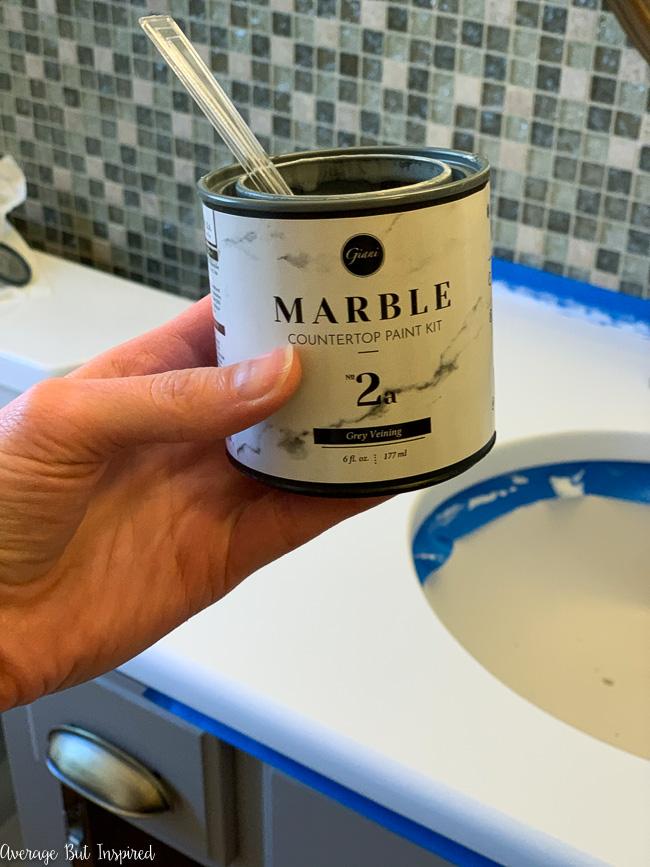 I watched the Giani video again and used the techniques shared there to create what I think are very authentic-looking marble veins with one of their second-step gray countertop paints!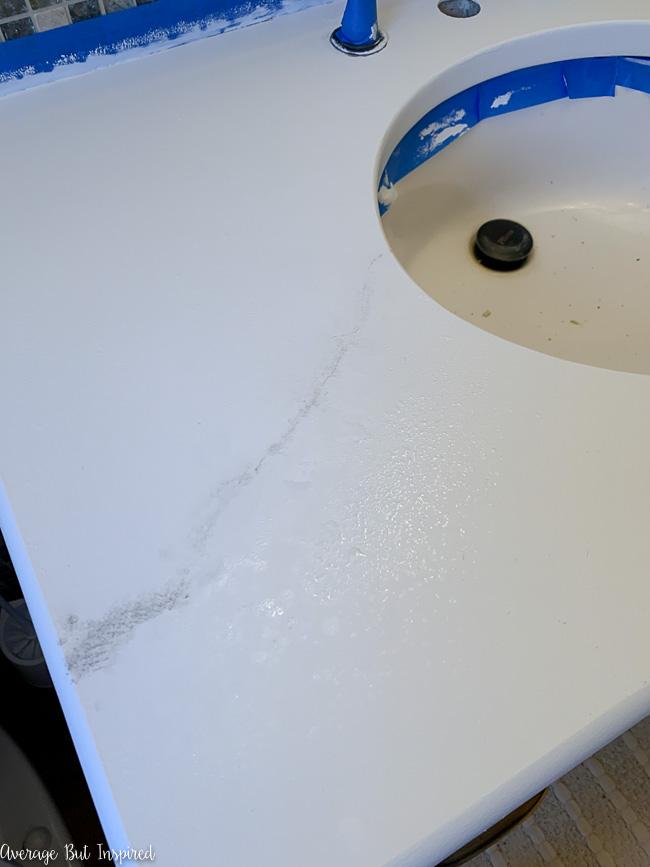 I made sure not to add too many painted marble veins, as I did not want to have the countertop be too busy.
Step 4 for painting a granite countertop: SEAL WITH EPOXY
This final step was the scariest in the entire countertop painting process: sealing the painted countertop with epoxy freaked me out! I had never worked with epoxy, so I wasn't totally sure what to expect. But, I put on my game face and got to work.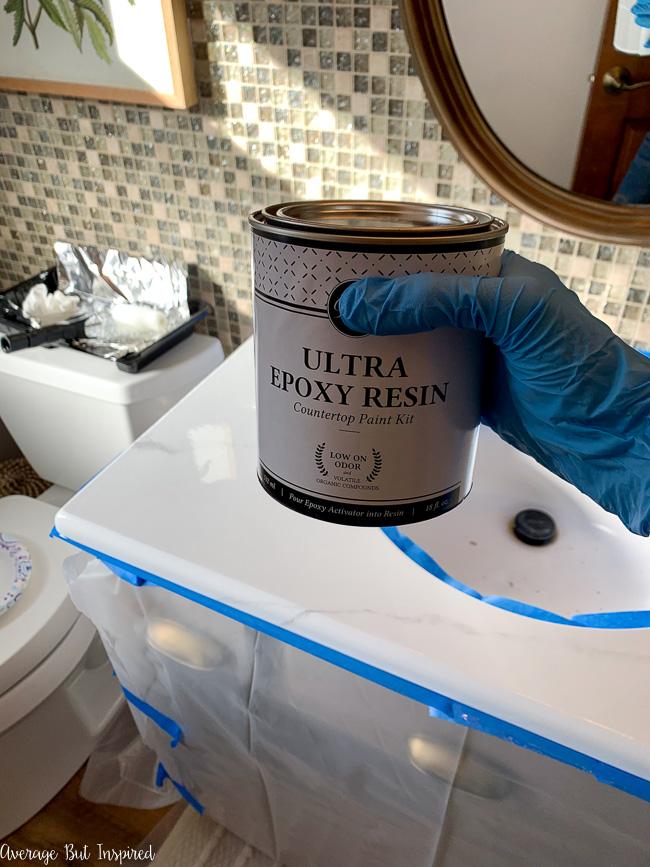 I mixed up the epoxy per the instructions and poured it onto the countertop. I used the roller with 1/4″ nap as recommended, but if I were you, I would use a foam roller instead. The 1/4″ nap roller left lint everywhere!
I had to get as much out of the epoxy as I could with tweezers, but there was too much to remove before the epoxy set up (in about 30 minutes). You would not have a lint problem of this magnitude if you use a foam roller!
As a result of my roller problems, there are visible lint bubbles in my finish. I may be sensitive to them and others may not really notice them, but they are definitely there and mar the finish, in my opinion.
Aside from this, the epoxy is what transforms the painted countertop from looking, well, painted, to looking like a shiny, marble finish. Painted countertops with epoxy sealers are durable and the best looking painted countertops out there. I'm not saying it looks identical to marble, I am just saying that the epoxy elevates the finish in a way that paint alone cannot.
Step Five for Countertop Painting: CAULK
Prior to using the countertops, I added a line of clear acrylic caulk around the countertop and the backsplash to help seal the edges. After two days we were able to use our bathroom again.
Again, I painted a granite countertop to look like marble. It's not perfect, but it's a definite improvement. The Giani Marble Countertop Paint Kit or paint products enclosed in the kit, along with the company's awesome video tutorial, make the marble countertop look accessible to all.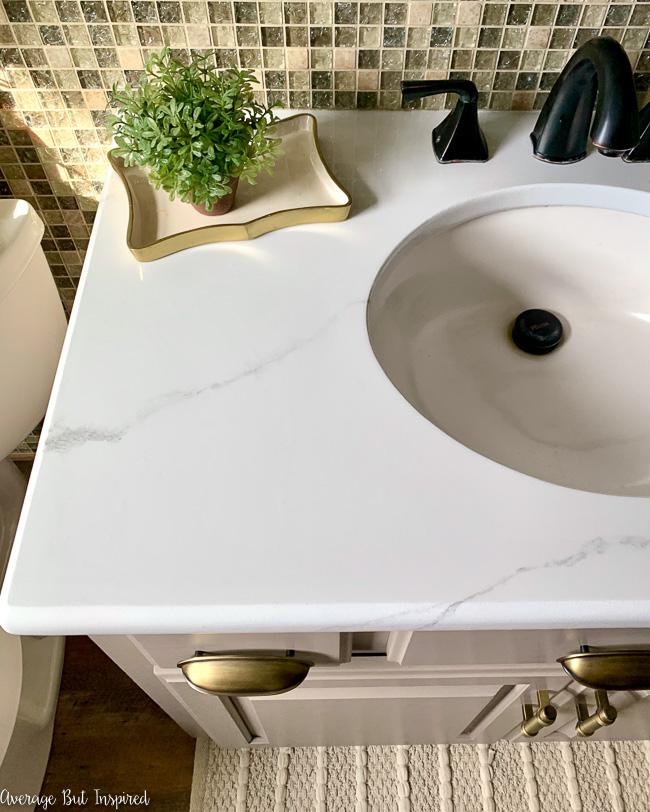 If you're on a budget or don't want to deal with getting countertops replaced, I recommend using the Giani paints and epoxy to paint a countertop to look like marble. Make sure your expectations are realistic, watch their video, and read others' reviews of the products on Amazon, as all of these things will help you get the best finish possible!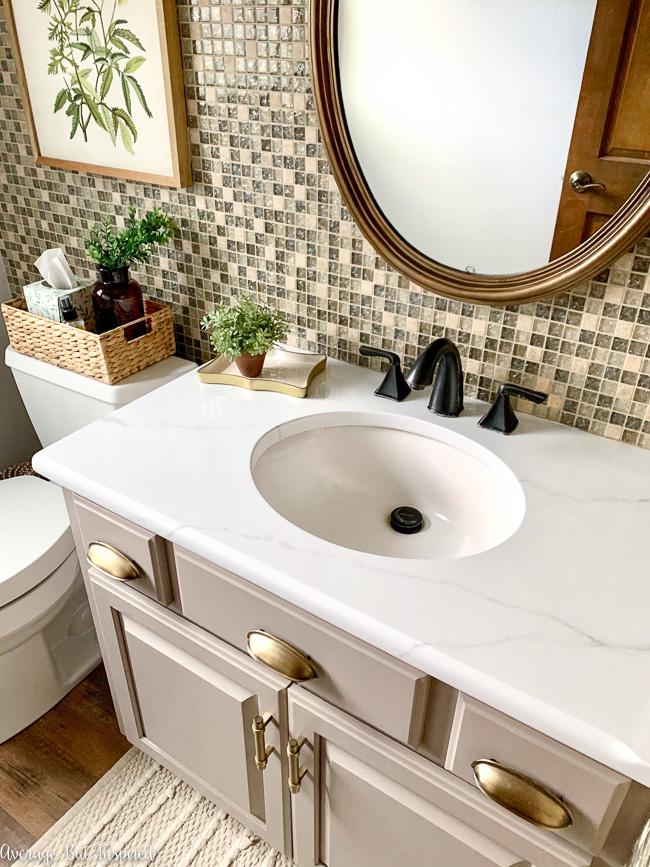 I, for one, am very happy with the look of my painted countertop, and I'm glad I took a chance in painting it instead of replacing it! Make sure to see how these countertops have held up over the past two years!
-Bre