My younger self would never believe that my older self is saying this, but the thrift store is where it's at for home decor essentials. If you're not already a believer, trust me and take a few trips to different thrift stores in your area and see what I mean. There are so many home decor essentials to buy at the thrift store, and your wallet will thank you every time you shop there instead of somewhere else!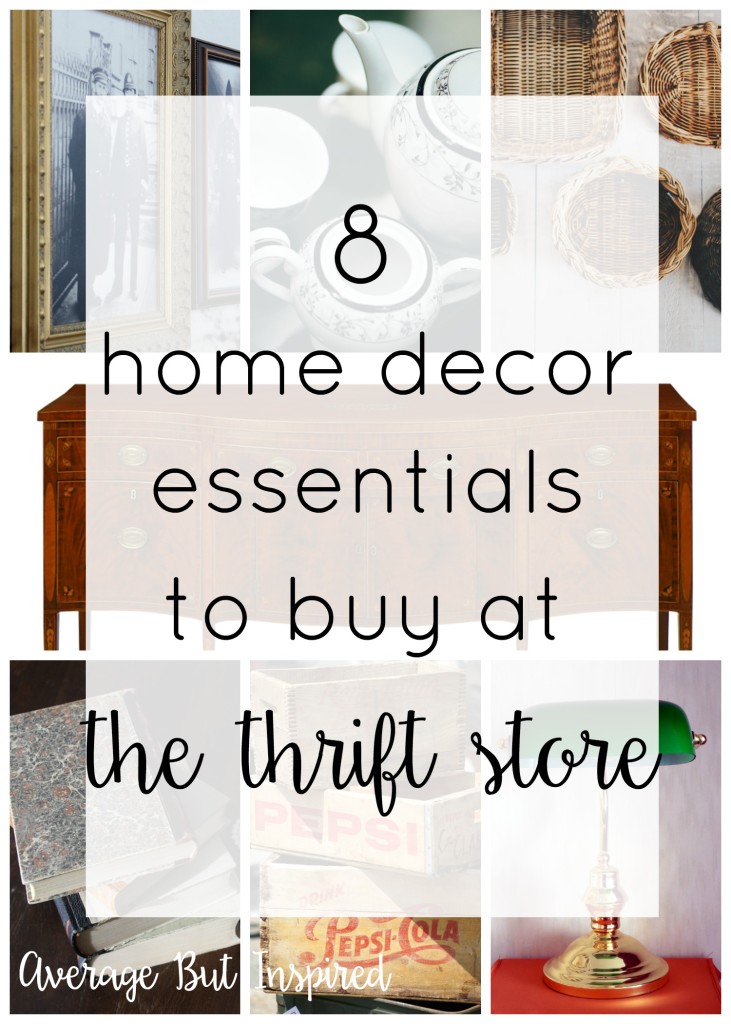 So what are the best things to keep an eye out for while shopping the thrift store? Here's my list of the top 8 home decor essentials to pick up secondhand.
Thrift Store Decor Essential No. 1: Baskets
Every thrift store I've ever gone to is overflowing with baskets! Every shape and size you can imagine. And they are SO cheap!
If you don't like the exact look of the ones you find, remember you can always change the color with a chalky paint wash or spray paint, add a pretty liner, or dress them up with some cool hang tags or labels.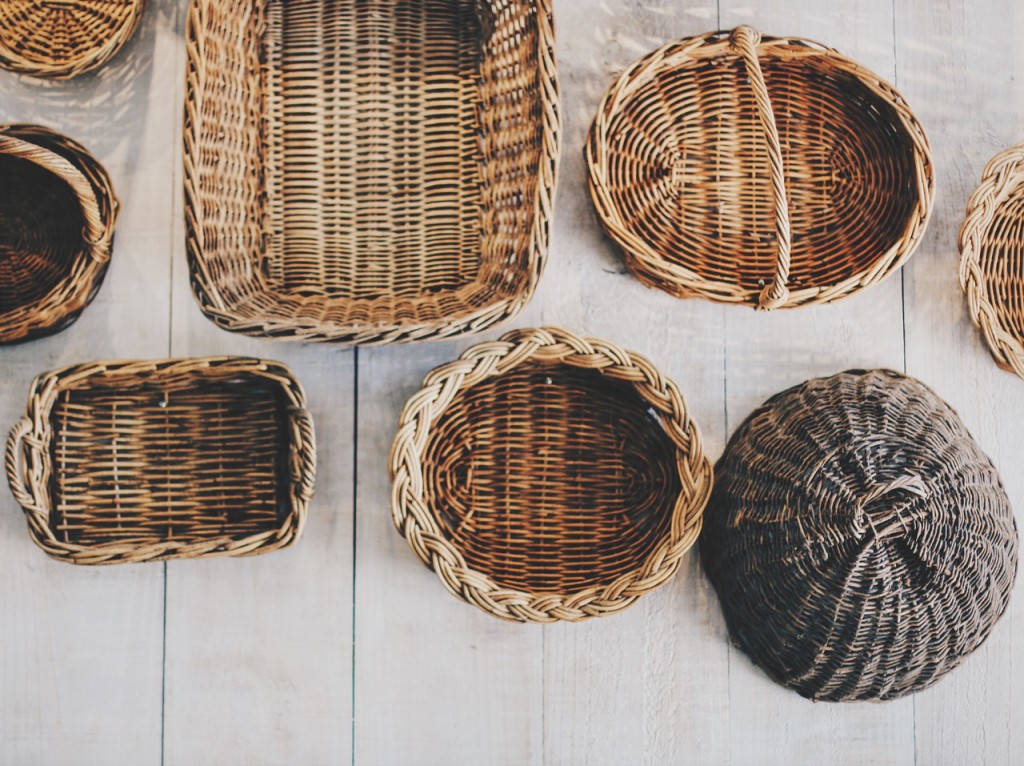 Look how I updated flat rattan baskets with spray paint and turned them into beautiful wall decor for my bedroom!
Thrift Store Decor Essential No. 2: Dishes & Glassware
Get that "collected over time" look instantaneously by picking up a random collection of dishes and/or glassware at the thrift store. Hang mixed and matched plates on the wall, display milk glass in a china hutch, or set out a pretty vintage tea set on a table. The prices on these items are unbelievably low!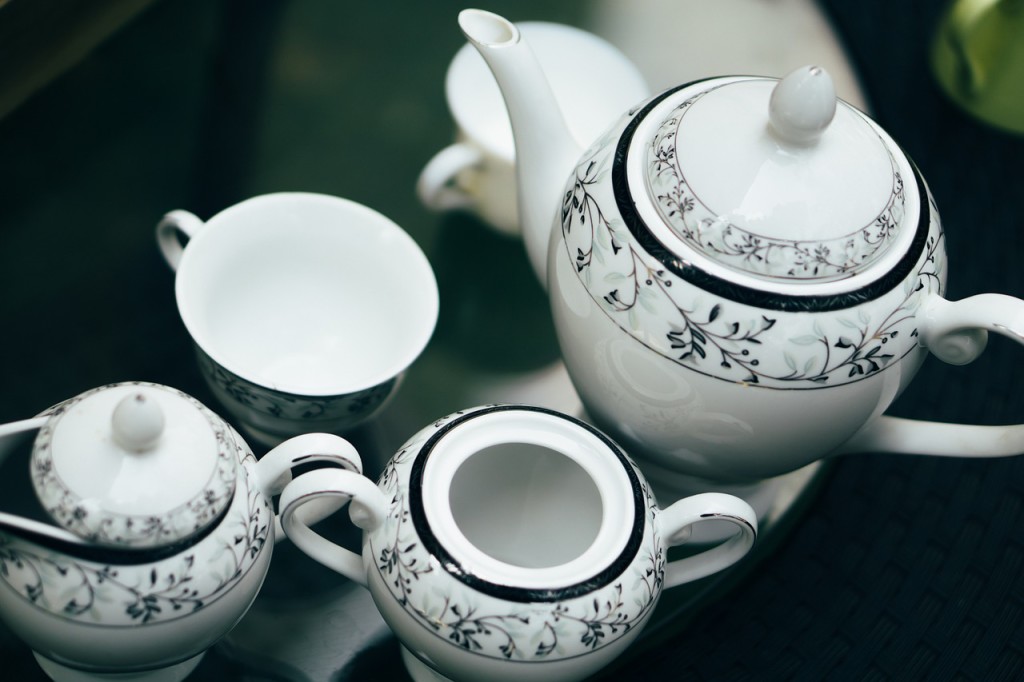 Secondhand Decor Essential No. 3: Furniture
At most thrift stores, furniture is priced so much less than you will find it on Craigslist or other resale websites. Granted, you may not want to buy a nasty old couch with worn upholstery, but quality wood furniture is a thrift store staple. And, it can almost always be quickly and easily refreshed with some wood polish or some coats of paint.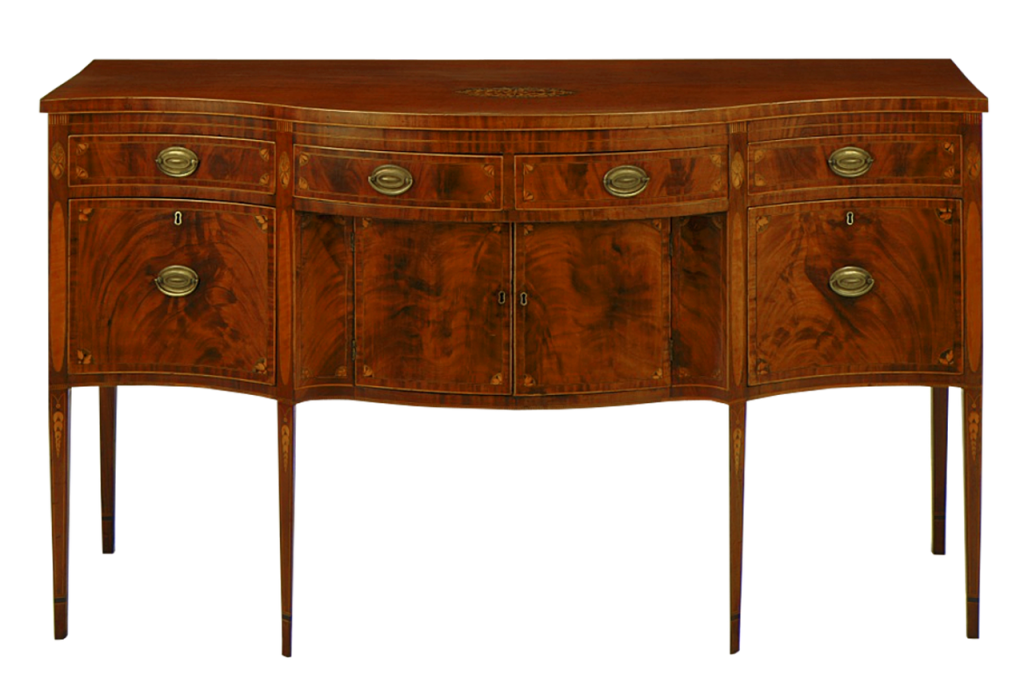 If you need some furniture painting ideas, be sure to check out my Painted Furniture Gallery!
Thrift Store Decor Essential No. 4: Picture Frames
The thrift store is a treasure trove of picture frames, and they usually range in price from .99 to $3. That is SO much less than you pay in a regular store!
If they don't match the decor look you're going for, spray paint them or give them a gilded look with some Rub 'n Buff, one of my favorite tricks! That's just what I did for the Practically Free Gallery Wall I created in my basement!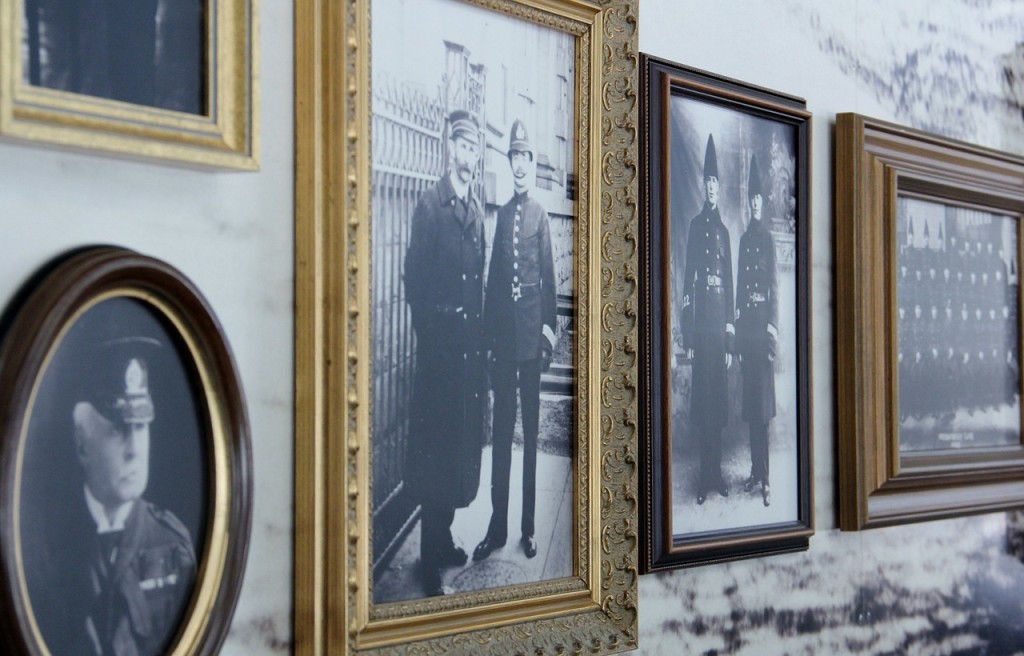 You may even find framed artwork that you love! I even like to do thrift store art makeovers. Keep an eye out for paintings that you can use as-is, or update to your taste!
Thrift Store Decor Essential No. 5: Wooden Accessories
You can find almost any wooden home accessory at the thrift store! From candle holders, to crates, to storage containers – it's all there.
As with other home decor items at the thrift store, a fresh coat of paint can turn any of these wooden accessories into beautiful accents for your house!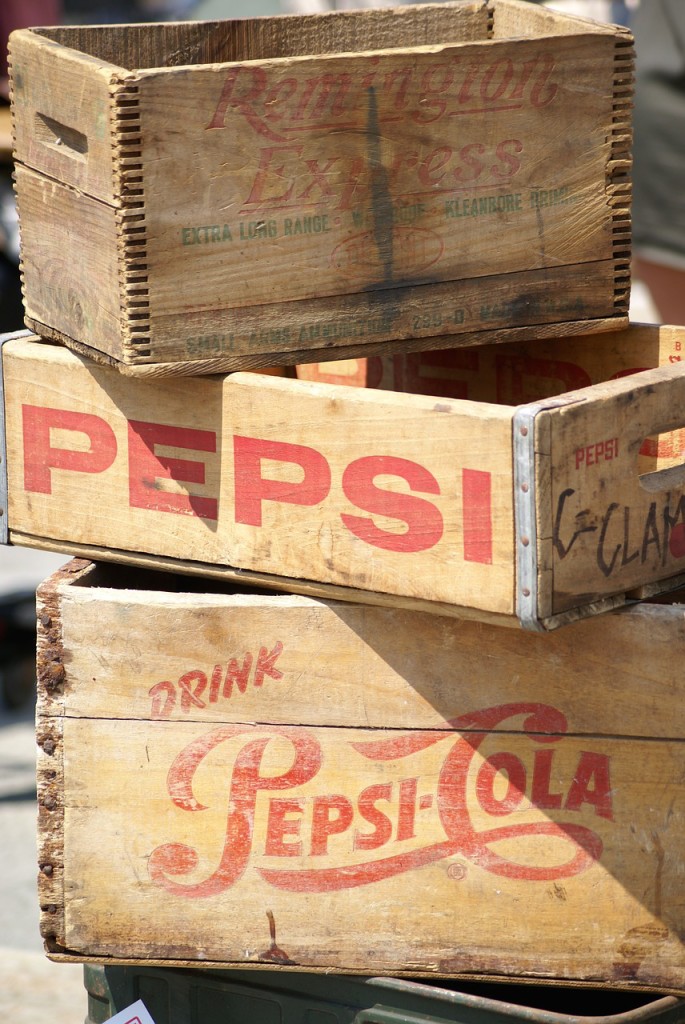 I transformed a thrifted wooden crate into a cute herb planter for my kitchen and it was so easy and adds a ton of charm!
Secondhand Decor Essential No. 6: Lamps and Lighting
So many lighting choices at the thrift store! They're usually pretty ugly, if I'm being perfectly honest, but they can be given a whole different look with a pretty new shade and some spray paint. I scored some beautiful lamps at Goodwill and gave them an updated look with shades from Target!
Make sure to test any lights out before leaving the store. You don't want to purchase one that doesn't work if you can't (or don't know how to) repair it easily.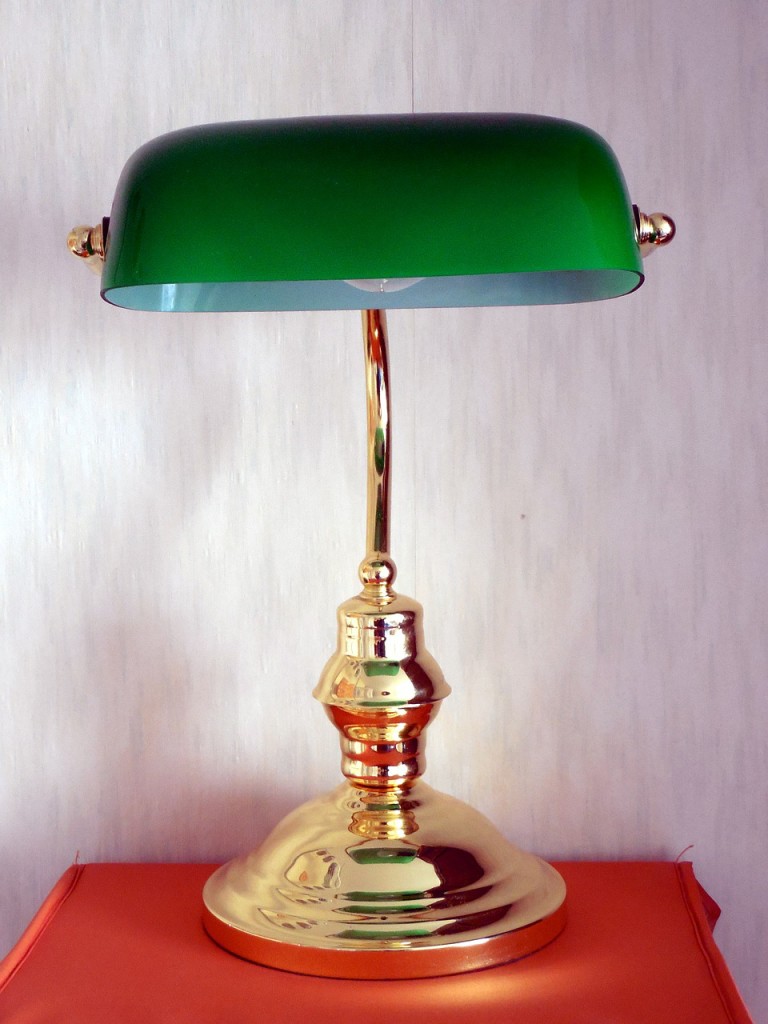 Thrift Store Decor Essential No. 7: Serving Trays
Apparently people who donate things to thrift stores do not like to use serving trays. There are always a ton of them there! Sometimes they're beautiful silver serving trays, and other times they're kind of ugly (like the one pictured below).
But, as you guessed it, you can beautify any ugly ones with paint, or even by decoupaging paper or fabric to them and using waterproof Mod Podge. If you paint or decoupage a serving tray, make sure the supplies are food safe if you plan on serving anything edible on the trays. If they're just for decoration, that's not an issue.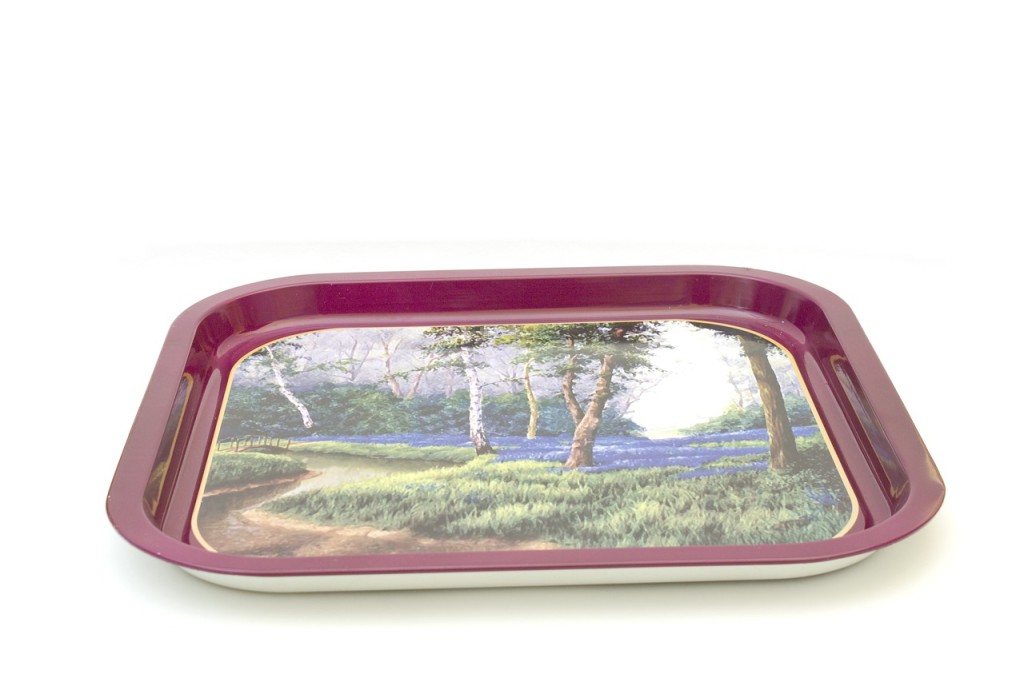 Secondhand Decor Essential No. 8: Books
Books are a fabulous home decor essential! Use them to fill gaps in your bookcases, to add height to a table vignette, or to make yourself appear more educated than you are.
I stocked up on awesome home decor and design books at the thrift store and used them to add color and interest to my television stand.
You can also cover books in pretty paper or fabric for an added pop of color or pattern.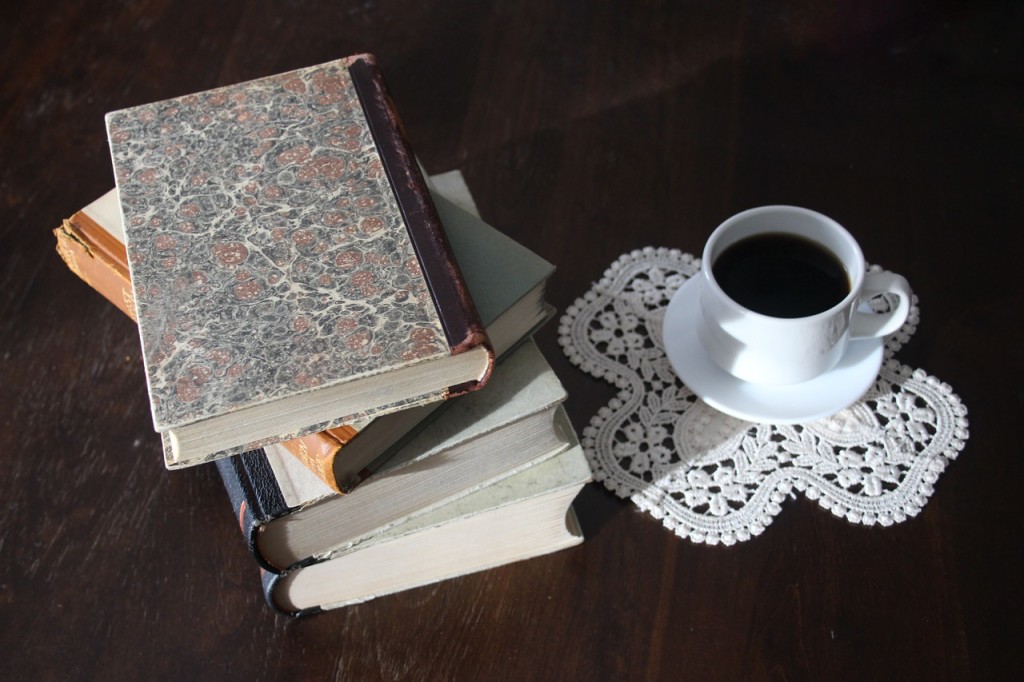 So there you have it – my list of eight home decor essentials to buy at the thrift store. Do you buy any of these things there? What would you add to the list?
-Bre