About one year ago my family packed up our beloved home in Illinois and moved to a suburb of Milwaukee, Wisconsin. We moved here not knowing what insanity 2020 would bring, and we were thrilled to have found a home in time to get our kids into school right after winter break.
The home is a 1970s style that is completely different from the beautiful 1920s architecture we were used to in Illinois. It had a lot of brown, a lot of mirrors (so many mirrors! practically every surface was mirrored!), and a lot of carpeting. But what it lacked in style, it made up for in space and location. Because of that, we knew it was the house for us, and that with time, we'd turn it into a home that reflects our style.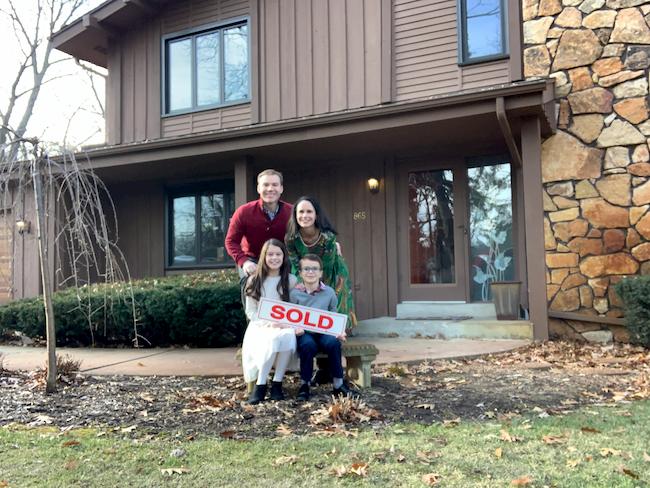 Although 2020 was an extraordinarily difficult year, one of its blessings was extra time at home, which allowed me to accomplish many more house makeover projects than I would have in a "regular" year.
Because I accomplished so much, I thought it would be fun to do a recap of my 1970s home updates in 2020. I worked very hard, learned a lot, and am proud of the transformation so far. Looking back on these changes has me feeling excited for even more projects in 2021!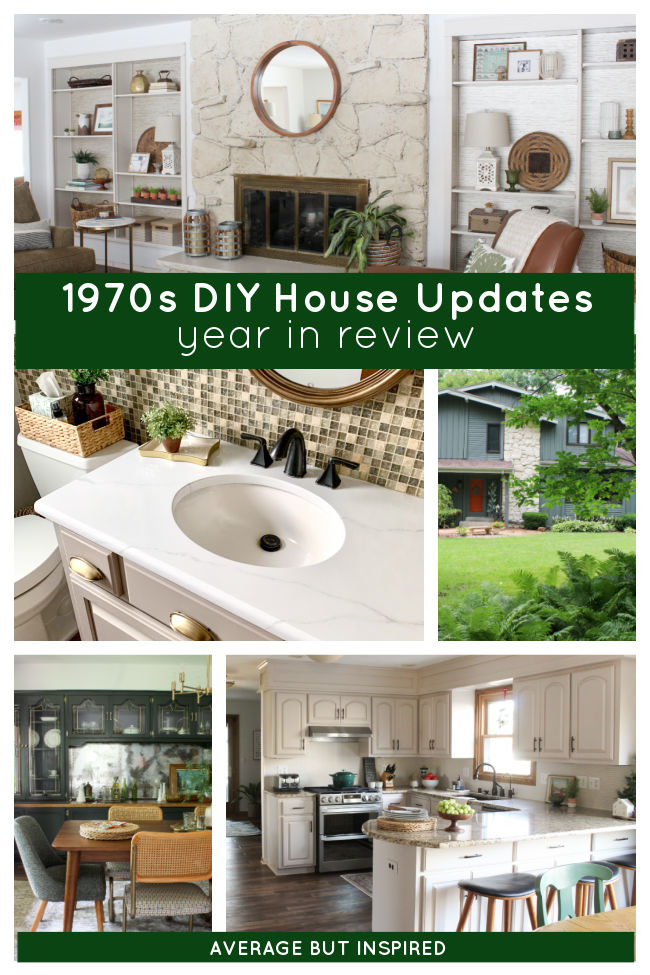 Limewash Stone Fireplace Makeover
Read about my limewash fireplace makeover!
The first project I tackled was making over our 1970s rock fireplace. The orange color scheme did not work with my furniture, and I wanted to refresh it. Using limewash to give the fireplace a facelift was a very inexpensive project, and actually very easy, too!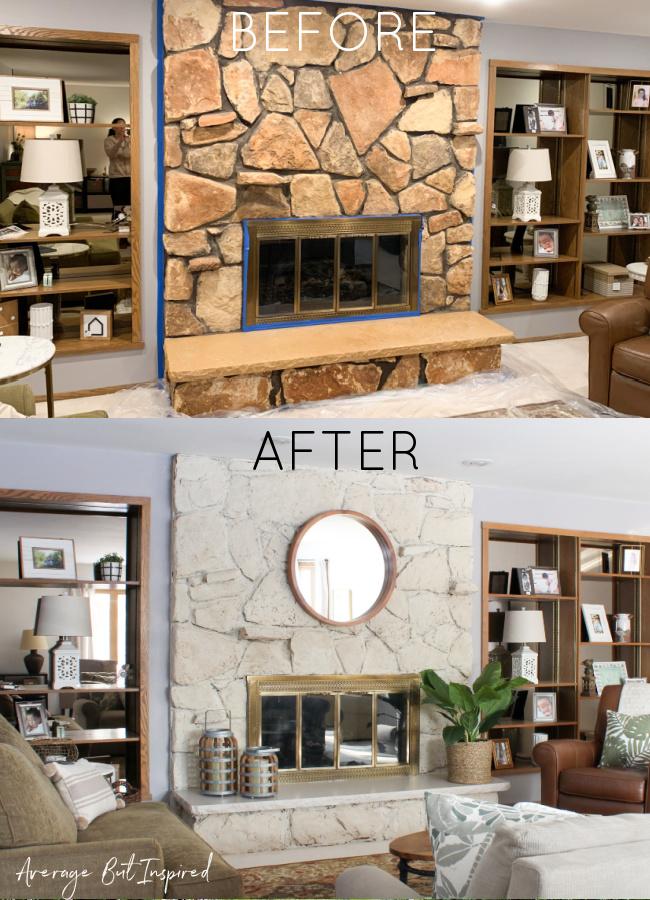 Mirrored Built-In Makeover
Read about using peel and stick wallpaper to make over a built-in!
Once the fireplace was complete, I had to tackle the flanking built-ins. They were oak wood with mirrored backs. I did not enjoy seeing my reflection all the time. Ha! Paint and peel and stick wallpaper gave the built-ins a whole new life!

Luxury Vinyl Plank Flooring Installation
Read my review of luxury vinyl plank flooring!
Next up, we replaced the carpeting in the living room area and basement with luxury vinyl plank flooring, which matched the flooring already installed throughout the first floor of the home. With kids and a dog, this flooring has been amazing, and we're thankful we were able to get this installed before the world shut down in March.

Powder Room Makeover & Painted Countertop
Read about how I painted a countertop to look like marble!
After a couple of weeks of being stuck in the house in the early spring, I decided to make over the powder room on a whim. I painted the vanity and baseboards with paint I already had, and then I ordered a paint kit online and painted my countertop! I was very nervous about this project, but surprisingly it turned out really well! I am a full advocate of painting a countertop if you're on a budget. It's holding up great and looks really nice.

Built-In China Cabinet Makeover & Dining Room Makeover
Read about how I overhauled the built-in china cabinet and gave my dining room a beautiful makeover!
In the spring, my kids took over our empty dining room as their e-learning classroom. But they quickly abandoned it for more comfortable locations. When they moved out, I got to work redoing the built-in oak china cabinet and fixing up the dining room. It turned out beautifully and is now one of my favorite spots in the house!

Limewash Stone Exterior & New Exterior Paint
Read about how to limewash exterior stone and about our exterior paint job and makeover.
As soon as the Wisconsin weather turned nice, I rented scaffolding and got to work limewashing the large exterior stone column – using the same method and products as I used the limewash the interior fireplace. Once I finished that, professional painters took over and gave our house new life with a fresh coat of paint in Sherwin-Williams Pewter Green.

Faux Wood Finish on the Front Door
Read about how to paint a door to look like wood.
In what was one of my biggest DIY fails of all time, I tried to paint my front door to look like wood, and it went horribly wrong! But I persevered and figured out how to get a convincing finish. Now the front door coordinates with the garage door, and it looks very cohesive.

Kitchen Makeover
Finally, the last part of 2020 has been devoted to making over the kitchen! It's taken me months (approximately 3.5 months) because this job had many parts:

Seeing this all laid out in the blog post makes me realize how busy I've been this year . . . and how much I love painting!
I'm excited to share my DIY plans for 2021 with you soon, too! I've got a long list going already, and I think they're going to be so good!
Tell me in the comments what's on your home update list for 2021?
-Bre