Over the years I've made quite a few pieces of door decor or wreaths from Dollar Tree supplies. (Take my Fourth of July Tinsel Wreath or my Egg Tray Wreath for Easter, for example.) I just can't help myself! Every time I go to Dollar Tree I find cute new supplies that call out to me, and I am forced to create. It's a real problem, friends (the creating and the fact that products at Dollar Tree talk to me. HA!)! On a recent trip, I bought supplies to make an atypical fall wreath for my backdoor – and today I'm going to show you how to transform a Dollar Tree silver tray from the party supply section into a beautiful Silver Tray Wreath!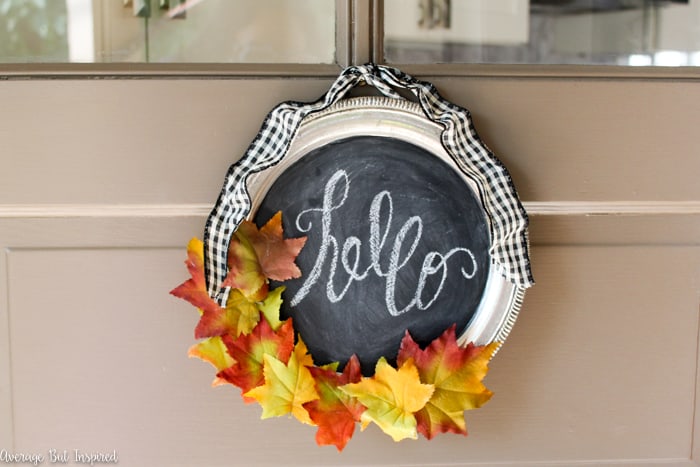 Supplies Needed to Make a Silver Tray Wreath
Some of these links are affiliate links. Please read my full disclosure policy here.
How to Make a Silver Tray Wreath for Fall
I started with this plain silver tray from the party supply section at Dollar Tree. These are actually really sturdy and they come in three shapes/sizes. They're great for crafting and entertaining!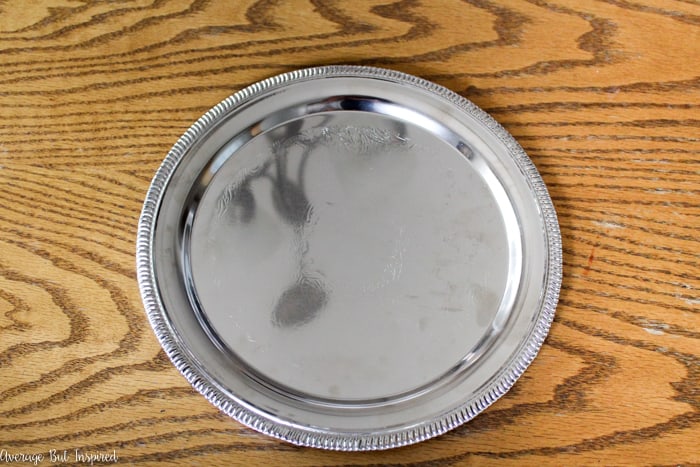 Next, I turned the center of the silver tray into a chalkboard with my favorite chalkboard paint. I used two coats of chalkboard paint to make sure there was good coverage!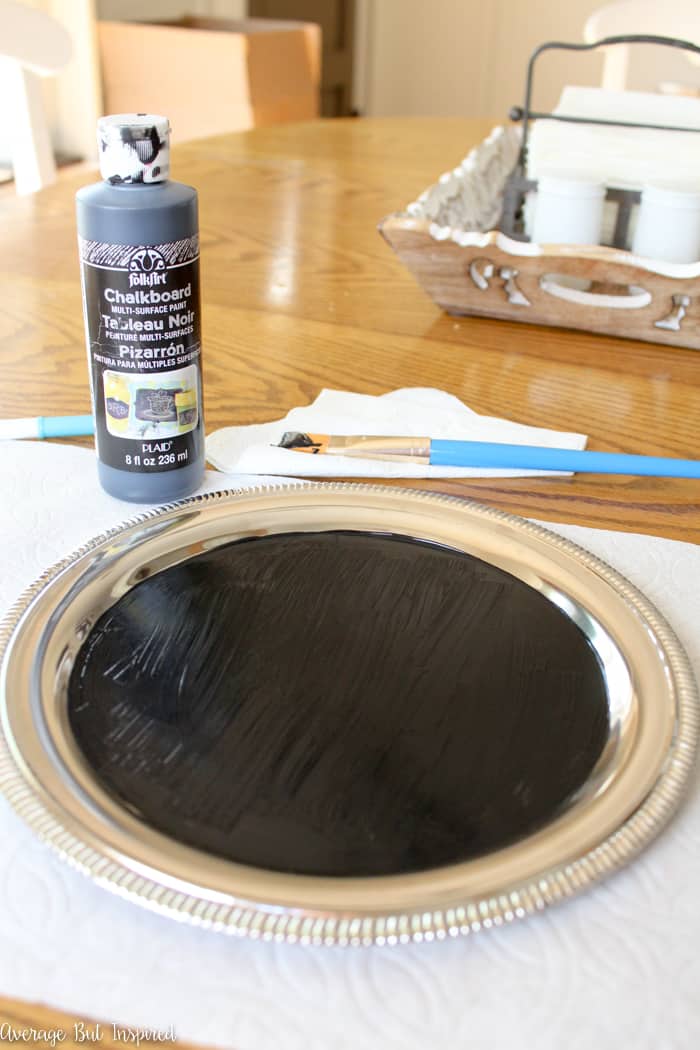 Once the chalkboard paint was dry, I worked to take the shine down on the silver tray, and to make it look like it is aged or antique. I began by lightly sponging on acrylic paint in a light gray color. I gently dabbed the light gray paint all around the edge of the tray.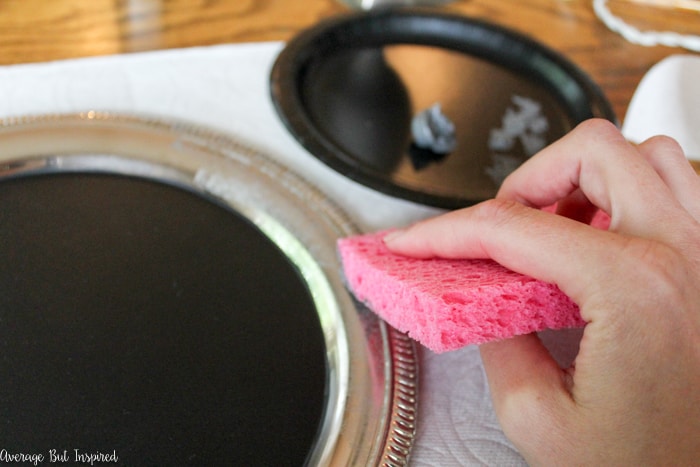 When that light gray paint dried, I then used by sponge to rub dark gray acrylic paint along the raised portions of the silver tray. Unlike with the light gray paint where I dabbed the color on, this time I rubbed the color on in order to accent those raised portions of the tray.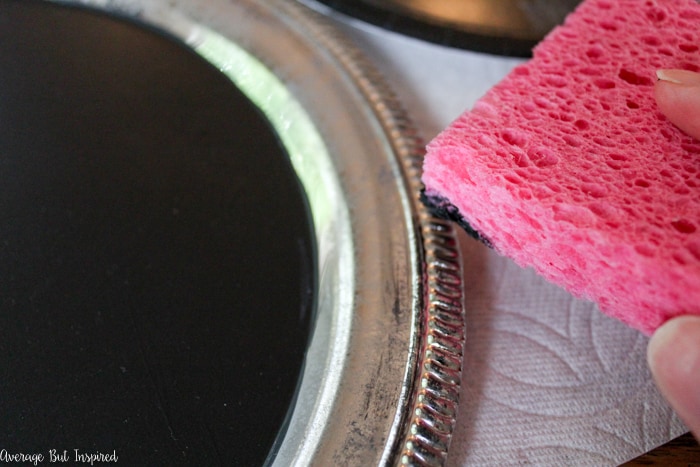 This painting technique went a long way toward giving my Dollar Tree silver tray an aged look!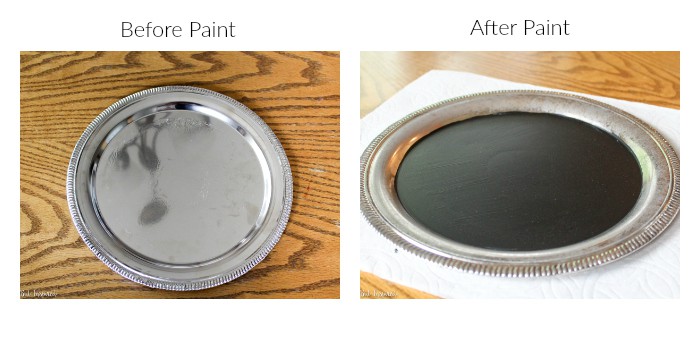 Once that paint dried, I cut leaves off of my Dollar Tree fall leaf garland and began to hot glue them around the bottom 1/3 to 1/2 of the silver tray. I layered them and angled them in different ways, rather than lying them flat and in a row.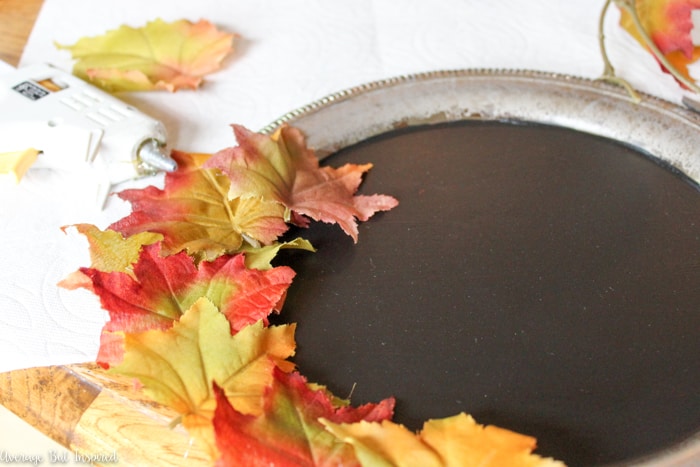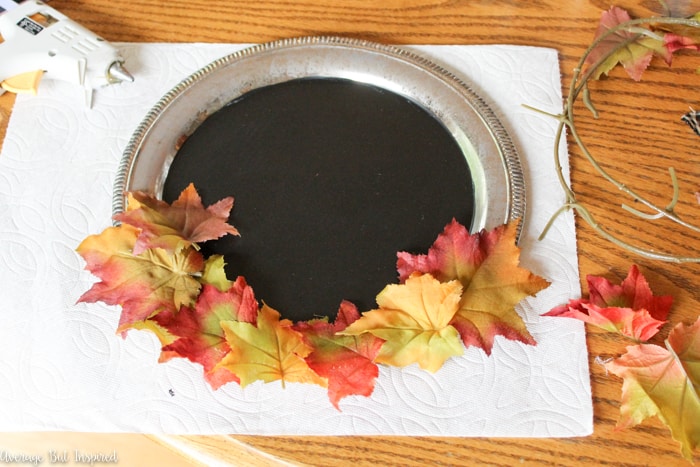 Next, I flipped the tray over and attached two 3M Mini Command Hooks to the back, upside down. These things are my go-to for just about everything that needs a hook. I love them! I then ran a ribbon through the hooks and tied it at the top.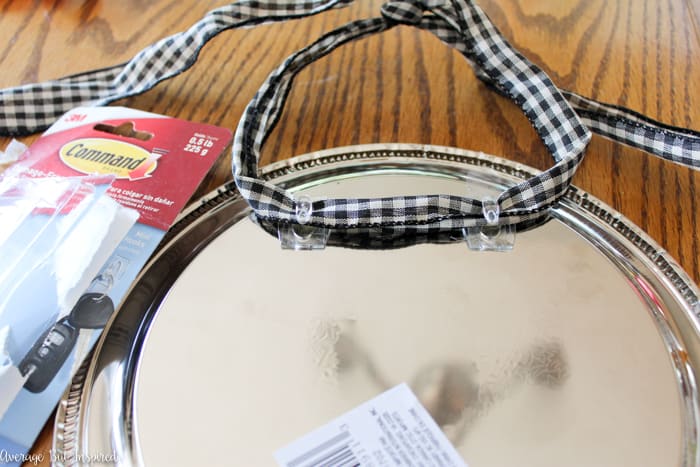 Then I flipped the tray over and gently ran a piece of chalk all over the chalkboard portion of the tray to season it. Next, I tried to write "Hello" in fancy script on the front. (Note: need to practice chalkboard lettering!)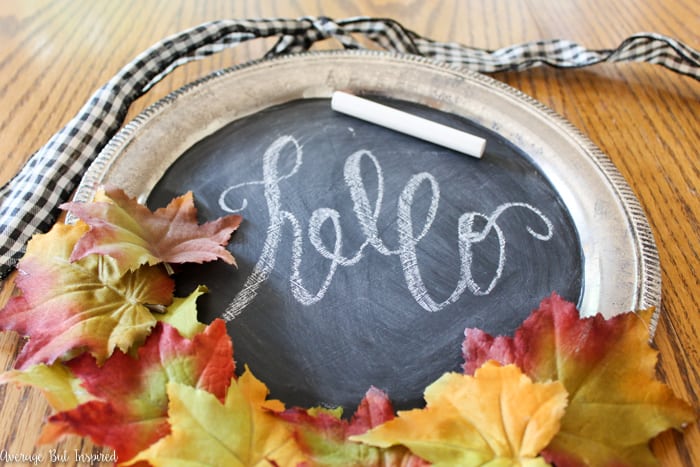 Before I hung up my Silver tray wreath, I bent my ribbon streamers and hot glued them to the edges of the tray. Then my silver tray wreath was ready to be displayed on my backdoor!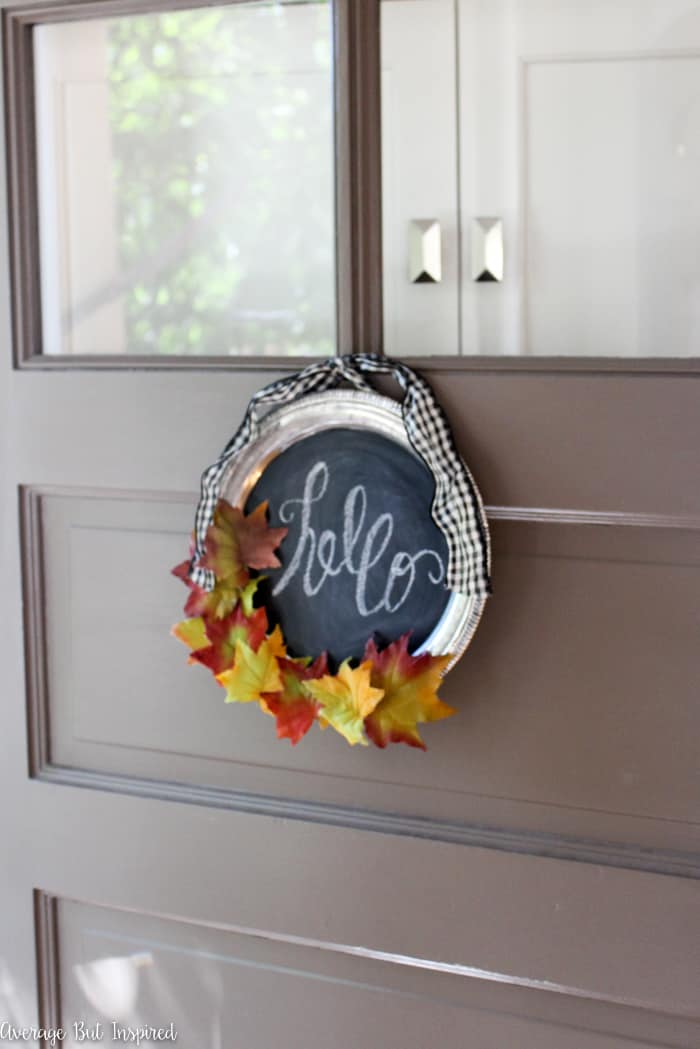 I love the pretty touch it adds to the door, and it was such an affordable way to bring some charm to the back porch!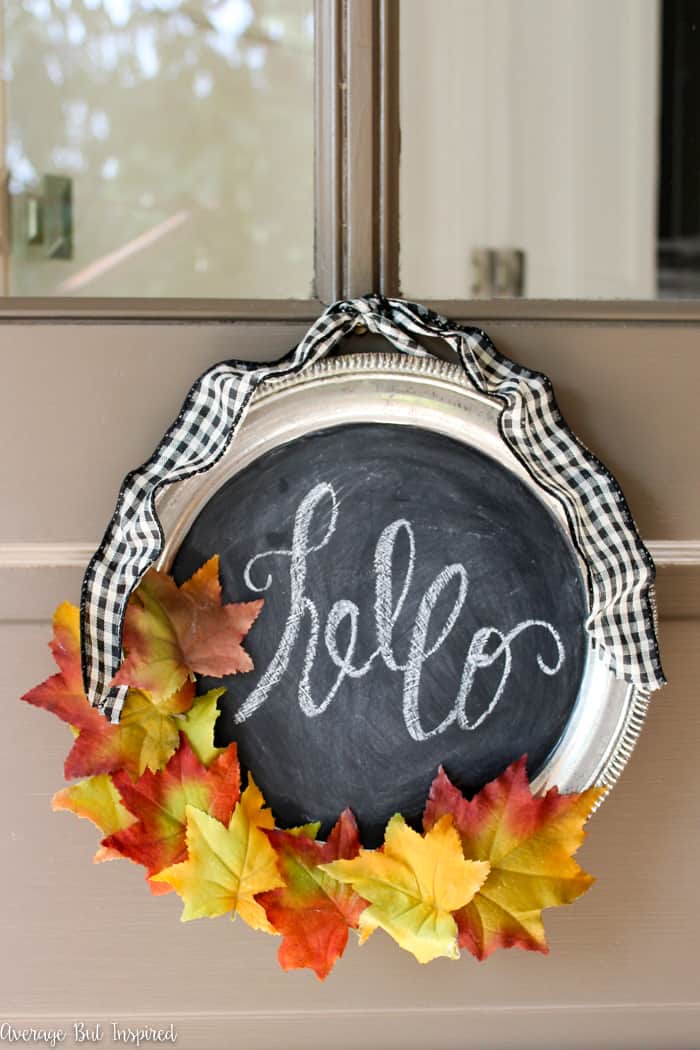 Can you see why I love to go to Dollar Tree so much? What's your favorite thing to buy there? Also, if you enjoyed this project, I would appreciate it if you would PIN it to share the love!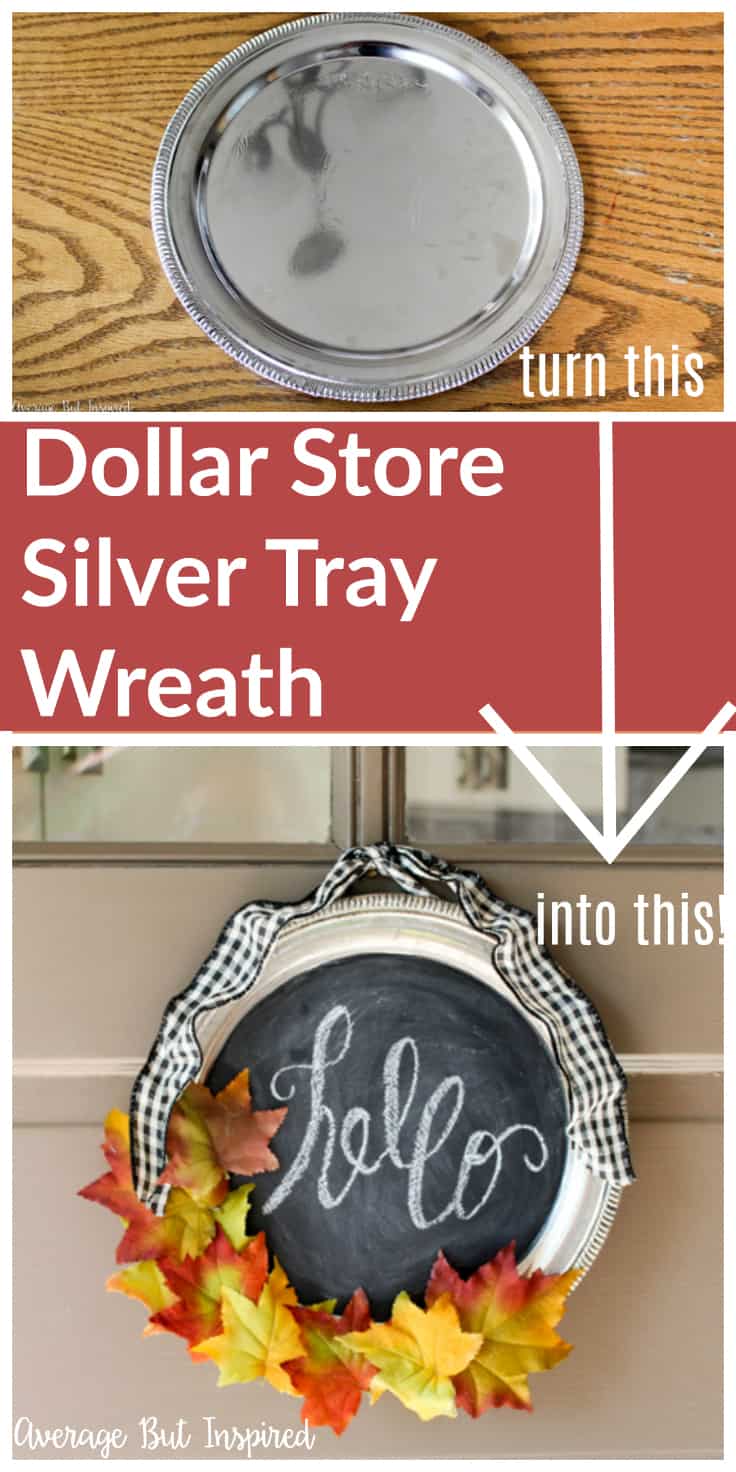 -Bre
You Might Also Like This Dollar Tree Project!
DIY Fork, Spoon, and Knife Kitchen Plates Decor