It took me several paint color selection fails to finally learn that buying paint samples before painting an entire space is definitely worth it! I can attest to the fact that many color disasters have been avoided this way. But with all of those little paint jars comes the after-the-fact question of what to do with leftover paint samples? Here are 5 ideas for leftover paint samples that will have you even happier you bought them in the first place!
1. Donate Sample Paint Pots
If you don't want the clutter associated with keeping sample paint containers, donate them!
Some organizations will accept donations of sample paint pots. Certain Habitat For Humanity ReStore locations collect latex paint and recycle it into new paint colors offered for sale to the public. Before heading out to any donation spot, make sure to check their requirements first.
School art departments may also be grateful for your donations of paint sample pots. Check with the teachers or administrators first.
And finally, neighbors, friends, or people in your Facebook resale group may want the paint samples! I am always amazed how people would scoop up paint sample pots from me when I'd list them in my old town's Facebook group. This was an incredibly easy way to get rid of paint samples and do good for others.
2. Make Chalk Paint with Leftover Paint Samples
Another great idea for sample paint is to turn it into chalk paint! (In case you don't know what chalk paint is, it's thick, fast-drying paint that doesn't require you to sand or prime before use. Check out my post on how to update cherry furniture with information on when you might want to prime a piece before chalk painting it.)
Did you know that you can make your own chalk paint? It's really easy! Here's my favorite recipe for homemade chalk paint:
I cup of paint
2 tablespoons of calcium carbonate powder
1 tablespoon of water
Watch my TikTok video to see how easy the process of making your own chalk paint is!
Mix well and apply! I refinished this two-tone dresser with homemade chalk paint.
3. Paint an Accent Wall with Sample Paint
Patterned accent walls and handpainted "wallpaper" are a huge trend in decor currently. It's not surprising as these accent walls are an easy way to add some personality to a space, they don't take a lot of time to do, and they're inexpensive as compared to the cost of some wallpapers.
Painting an accent wall with leftover paint samples is a brilliant use of these paint pots! I painted a grid accent wall in my foyer with craft paint, but this same project easily could have been done with paint samples.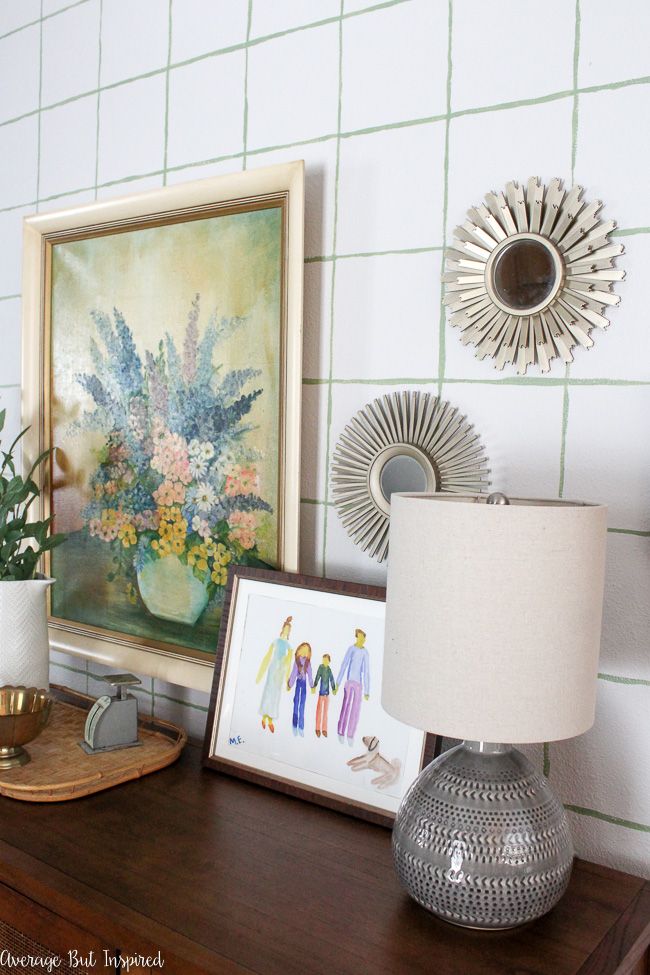 There are so many patterns you can paint on a wall with paint samples: dots, stripes, crosses, sponge painted shapes, arches . . . the list goes on and on!
4. Create DIY Art with Leftover Paint
As I say over and over and over again, art is so expensive! I wish I could have "real" artwork for my home, but I've got too many other things to spend money on. Because of that, I like to make my own artwork, and it's totally doable with leftover paint!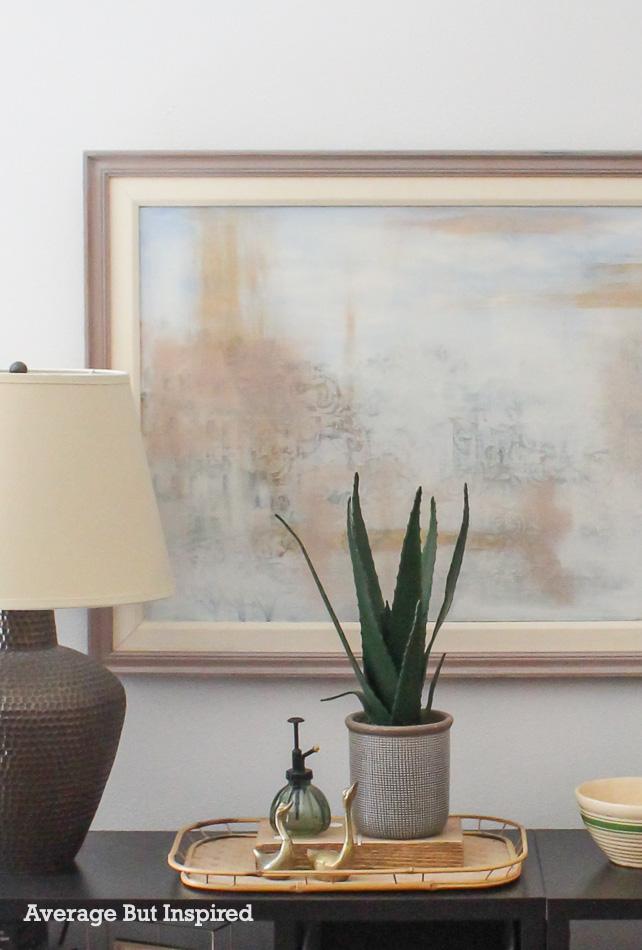 Update a thrift store painting with paint samples, or create new artwork with paint samples and fancy wrapping paper. Those are two easy ways to get custom art without any talent – ha!
5. Update Home Decor with Paint Samples
Finally, a perfect idea for using up paint samples is to update home decor with them. These tiny pots of paint give you just the right amount to try things like painting a mirror frame to give it a new look, giving baskets a fresh new color with paint, or even painting a lampshade like I did in my son's bedroom makeover!
Using up sample paint pots is a great way to save money and it's also better for the environment than pouring it down the drain (don't ever do that!). Let me know if you have any other great ideas of ways to use leftover paint samples in the comments below.
-Bre