In the house of my dreams, I would have three things that I don't have in my current home: (1) a screened-in porch; (2) a transom window or two; and (3) a mudroom. Dreamer Bre would pick numbers 1 or 2; realist Bre would pick number 3.
A mudroom would be so practical and fabulous; a perfect little spot for my family to stash all belongings as soon as they come in the door. And of course it would be hidden from plain sight so that nobody would have to see the mounds of shoes, backpacks, purses, jackets, winter gear, etc. that accumulate all too quickly.
Since a mudroom like this just isn't in the cards for my home, I've figured out a way to create a fake mudroom of sorts in my foyer and also at my back door.
Neither spot is the perfect mudroom of my dreams, but they function well and help keep my family (and our stuff) relatively organized. Because of that, I thought I'd share these "no mudroom ideas" to hopefully help you, too!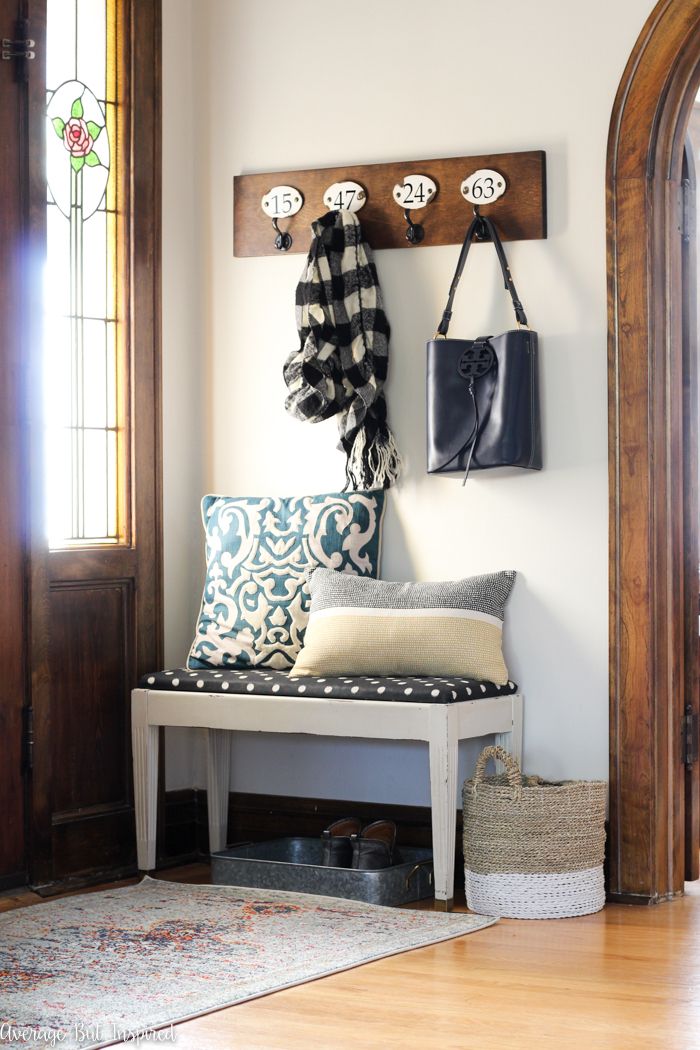 Because of several key components in each of these spaces, my home's lack of a mudroom is a non-issue. All of my family's things have a place to go, which keeps clutter and disorganization at bay.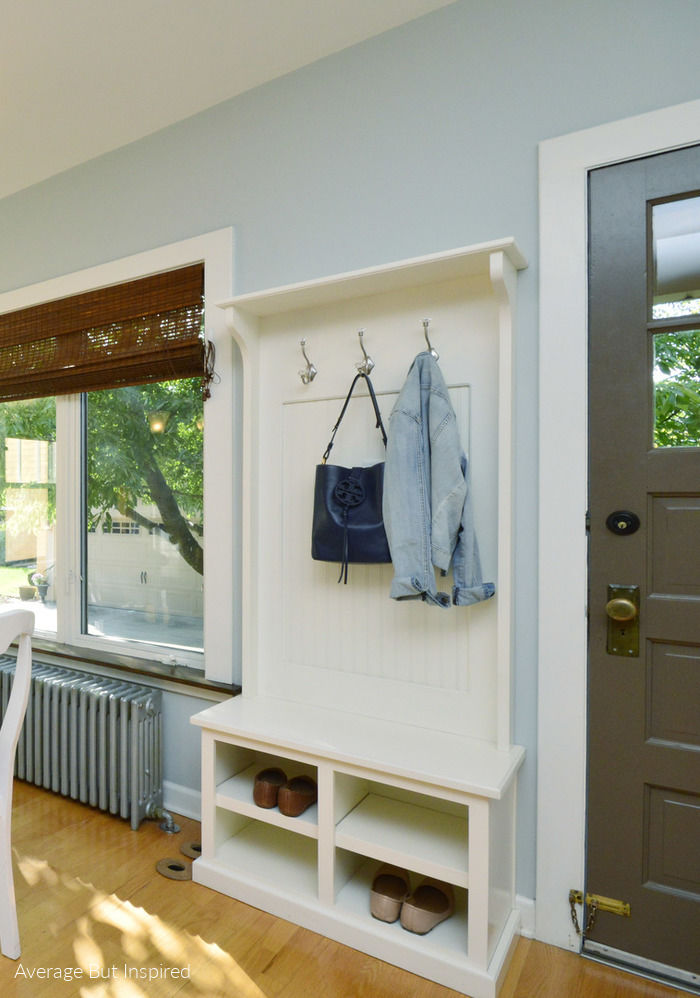 No Mudroom Ideas: Elements of a Faux Mudroom
So what do you need to create a fake mudroom? Here's where to start! (P.S. this is an old photo! I updated the pictures in this post after I originally wrote it!)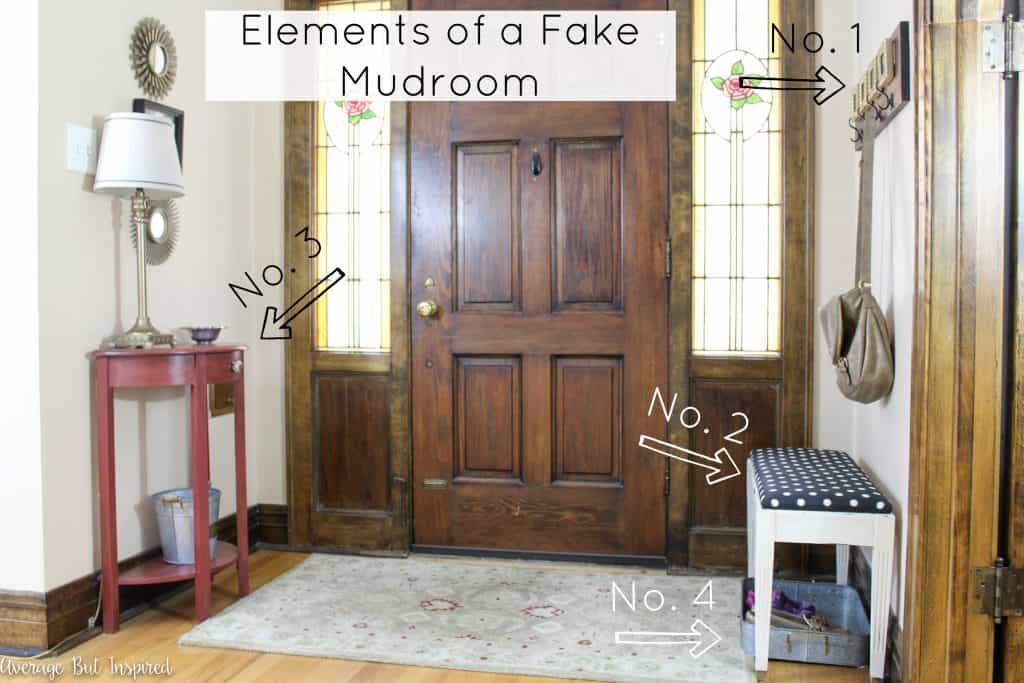 The product images in this post contain affiliate links. To read my full disclosure policy, please click here.
Faux Mudroom Idea No. 1 Wall Hooks
Wall hooks are so important in any fake mudroom! You must have a place for your family and visitors to your home to hang their bags and jackets, especially if your coat closet is small.
Hooks also give small children a place to hang their belongings instead of throwing them on the floor.
Check out these stylish and affordable wall hook options for your home. Click any of the photos to shop or for more info.


Fake Mudroom Idea No. 2 Bench
A sitting place is essential in a fake mudroom. It gives people a place to sit when they need to take their shoes off or put them on, and it serves as another drop zone, too.
My bench is an old piano bench with storage inside the seat, which is a total bonus! Benches with built in storage are a great way to get more functionality out of the piece.
Here are some of my favorite benches in stores now. Click any of the photos to shop or for more info.


No Mudroom Idea No. 3 Drop Zone Area
Having a place to drop your keys, bag, sunglasses, or whatever else is in your hands when you walk in the door is so important to maintaining order at the entry! A little console table in a fake mudroom is perfect for this job. You can find them in just about any shape or size, so no matter how small your space, you can make something work!
Here are some affordable entryway tables that I love! Click any of the photos to shop or for more info.


Create an Organized Entryway Idea No. 4 Baskets / Trays
I cannot stress the importance of baskets in a fake mudroom! I use one under the bench as a shoe tray, and it's great because my kids know exactly where to put their shoes when they come in the door.
I also have one under my table to put umbrellas in, and in the winter I stick a small one next to the bench for a place to deposit scarves, hats, and gloves (which I then put into my super small but super Organized Coat Closet!).
You can never have too many baskets, so take a look at these pretty and reasonably priced options that I think are perfect for any entryway! Click any of the photos to shop or for more info.


No Mudroom Idea No. 5 Hall Tree
If you have the space for it, a hall tree is an amazing all-in-one solution to the no mudroom problem. It combines storage and seating into one piece, and there are so many ready made options available in stores these days! I love the piece we have next to our back door!
Here are some other awesome hall trees that I found for you! Click any of the photos to shop or for more info!


I bet you have a lot of these things in your home already! If you struggle with containing clutter and maintaining organization at the entry points to your home, try and set up a fake mudroom. These no mudroom ideas will have your entryway organized in no time!