The holidays are upon us! This year, more than ever, it's important to plan ahead for gift giving. Because of that, I've compiled my favorite things from 2020 into a handy gift guide to help inspire your shopping.
All of these gift ideas for 2020 are things that my family and I discovered and loved during this strange year! It's funny how they share a common theme of keeping us comfortable at home. They're also all available online at the links I've included, so there's no need to go to a crowded store to shop!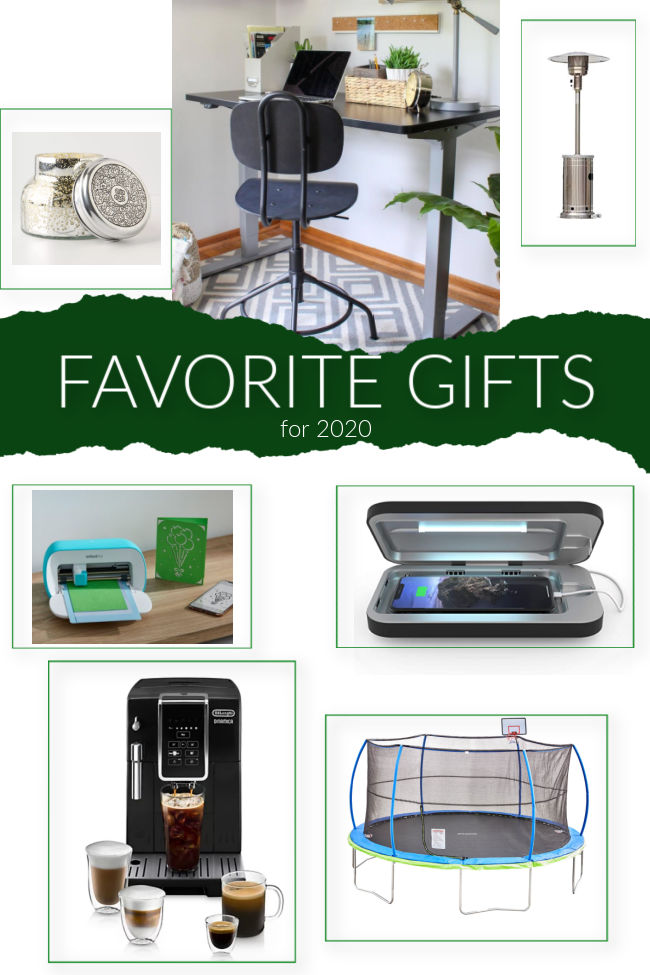 In addition to these gift ideas, you'l find links to my blogger friends' gift ideas for 2020, too! Those are located at the end of this post. Please make sure to visit their gift guides, too, for even more wonderful ideas to complete your list.
Favorite Things in 2020 Gift Ideas: Items to Keep You Comfortable at Home
Every one of these gift ideas is something I own or a service I use! I vouch for all of these products as excellent gift ideas. Many of the links in this post are affiliate links. To read my full disclosure policy, please click here.
This post contains affiliate links, which means that I earn a small commission at no added cost to you if you purchase product through said links. I only recommend products that I know and believe in.
Photo Credit: Amazon.com
If you're at all like me, you will LOVE the PhoneSoap phone sanitizer! This awesome device rids your smartphone of up to 99.99% of germs and bacteria . . . and we all know just how germy phones are!
This product has made me so happy over the past year. I love knowing that in under 10 minutes my phone is so fresh and so clean. It's the best!
Photo Credit: Cricut
I think I was the last person on earth to get a Cricut. I was worried it would be too confusing and too much of a space hog. I WAS SO WRONG!
Cricut Joy is the new small-scale cutting and writing machine, and it is so intuitive and user-friendly! It cuts over 50 materials and connects to either your laptop or phone via a Bluetooth connection.
This little machine has opened up a whole new world of DIY possibilities for me. If you or anyone on your list is a crafter or maker, he or she would be thrilled to get a Cricut Joy!
Photo Credit: Literati.com
During the time our libraries were closed, my kids and I discovered Literati, which is essentially a subscription book club. Every three months (you can set the duration you want - longer or shorter), my kids get a box filled with books and book-related goodies. They look at them and decide which they'd like to keep to read, and we send the rest back in the prepaid packaging.
The books are ALWAYS books they would never pick on their own, which I love. It is broadening their reading horizons.
Also, the prices are guaranteed to be the same or less than the current Amazon.com book prices, so you are not getting a bad deal price wise either.
While we do the kids Literati box, there is also a version for adults. This would be an awesome gift for the book lover in your life!
Photo Credit: Amazon
Instead of being cooped up indoors all fall and winter, get someone on your list an outdoor patio heater!
We invested in one early this fall and have really enjoyed being able to extend our patio season. This winter we plan to fire up our patio heater and a fire pit for extra coziness outside!
Photo Credit: Anthropologie
The signature scent of Anthropologie stores in a gorgeous candle was one of the best gifts I received this year! My cousin gave me this delightful surprise, and I am happy every time I light it.
Both the scent and the beautiful mercury glass jar are indulgent. This is a lovely gift that any lady would love to receive.
Photo Credit: Academy Sports & Outdoors
If you have kids and the space for it, a trampoline is an AMAZING gift!
We got one over the summer and sort of thought it might be a waste of money. We couldn't have been more wrong! Our kids jump ALL THE TIME!
It's such great exercise and an amazing way to get them outdoors. I can't say enough about the benefits of a trampoline!
Photo Credit: DeLonghi
For all of the coffee lovers who are working from home, or just spending more time at home....
This combination machine is a dream!
My husband got this for a big birthday earlier this year and it is incredible!
The price tag is steep at first, but without a daily trip to Starbucks, it's almost paid for itself.
It makes every type of coffee drink you could think of, including iced coffee (brews at a lower temperature). It also has a frother for when you want to play barista.
Photo Credit: Stitch Fix
Because I haven't been going shopping other than for the essentials, my wardrobe was really lacking. Granted, I'm just working from home, but I still wanted to feel somewhat put together!
I started up my Stitch Fix subscription again, and I couldn't be happier! I have mine set to every three months, and I love the clothing they've been sending me.
My 10-year-old daughter has also started getting Stitch Fix. She's very picky and since I can't take her to stores, this made complete sense! She has gotten a lot of clothing that she loves, and the price point for kids is extremely reasonable!
Stitch Fix also offers styling for men!
This is a great gift for anyone who might like a little fashion boost.
Again, we did a lot of working from home this year. This electric sit-to-stand desk made a HUGE difference for my husband!
He absolutely loves being able to adjust the height of this desk with the push of a button, and I actually find him standing at it more than sitting.
It comes in multiple color combinations and sizes, so if someone you know could benefit from a better working situation, check this out.
Photo Credit: Amazon
OK. . . I am not much of a game player, but for people who are, this game is super fun and funny!
My family LOVES this game! We have my sister and brother-in-law to thank for introducing us to it.
I really don't even know how to describe it, but it involves closing your eyes, listening to some dramatic instructions via an app on your phone, and a lot of lying. It is great for a group of people and is probably best for ages 8 and up.
Visit My Friends' Gift Guides for 2020, Too!
Green With Decor – My favorite things 2020
Charleston Crafted – My favorite things 2020
construction2style – Our favorite finds 2020
Bright Green Door – My favorite things 2020
Average But Inspired – My favorite things 2020
House by Hoff – My favorite things 2020
Lovely Etc. – Favorite things gift guide
Simple Nature Decor – Favorite 2020 holiday gift ideas for kids
White Cottage Home & Living – My favorite things 2020
Shining on Design – My favorite things 2020
Sincerely Sara Meadows – My favorite things 2020
Houseful of Handmade – My favorite things 2020
Old House to New Home – My favorite things 2020