Just about eight weeks ago we started the gut renovation of our upstairs hallway bathroom. This 1920s bathroom renovation is our attempt at a true-to-period remodel, and I am so excited to share it with you! It came out better than I envisioned, and my family is so happy with it!
Before and During the Bathroom Renovation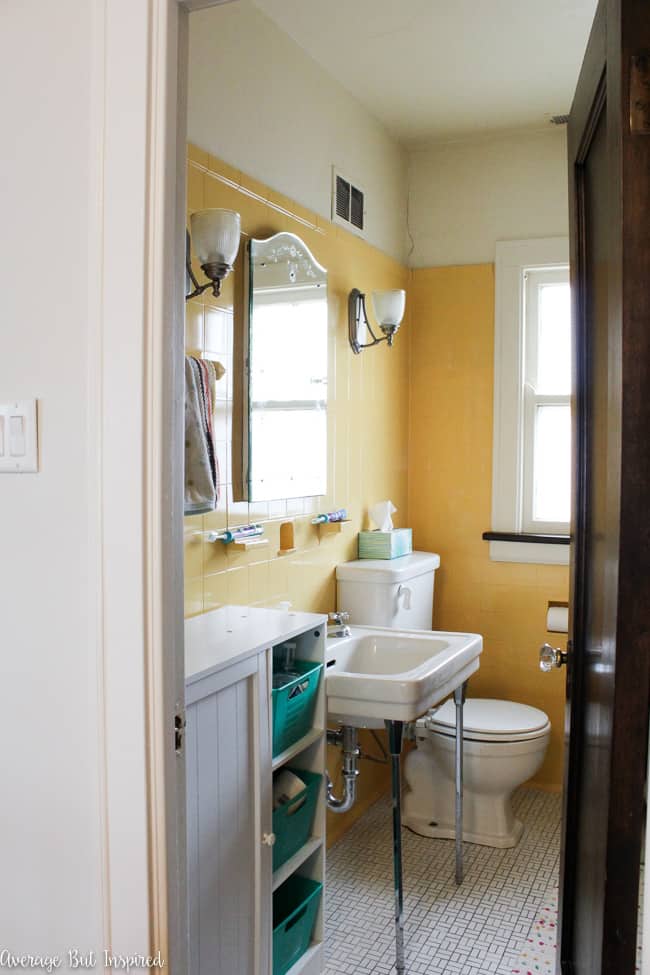 You can see all of the before photos of this bathroom in this blog post (with everything in it being original, except for the yellow paint a previous owner covered the wall tile with), and here's a picture of the space before it was gutted just to give you an idea of the dramatic improvement!
Because this bathroom backs up to our master bathroom, and because the master bathroom also needed to be re-done due to shoddy construction in the past, we decided to renovate both of these bathrooms at the same time. (More on the master bathroom renovation in the future.)
This was pretty darn hectic for me, at first especially. I had to pick out all of the finishes for two bathrooms really quickly (our contractor was able to start sooner than we had expected), order everything, and manage the chaos of construction, family, and work. I definitely had one mega breakdown during the process, but in the end, it was all worth it! (If you're going through a bathroom renovation anytime soon, check out my post on 5 Tips for How to Survive a Bathroom Renovation!)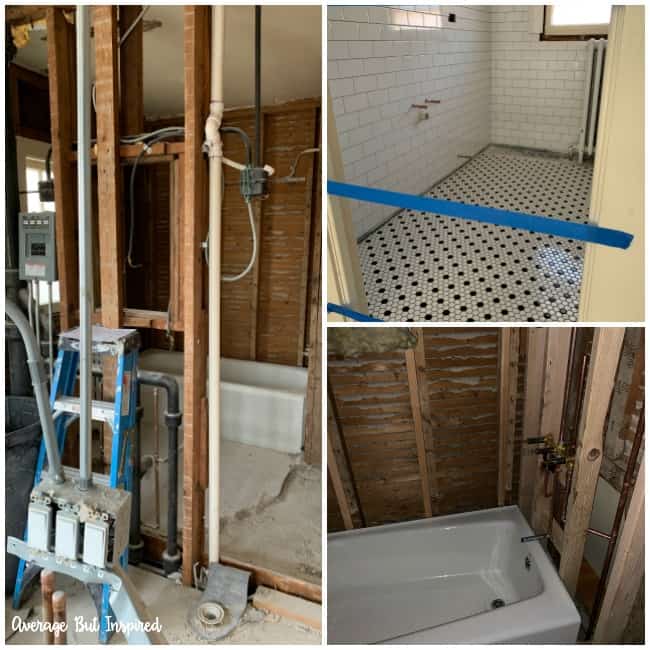 The True-to-Period 1920s Bathroom Renovation All Finished!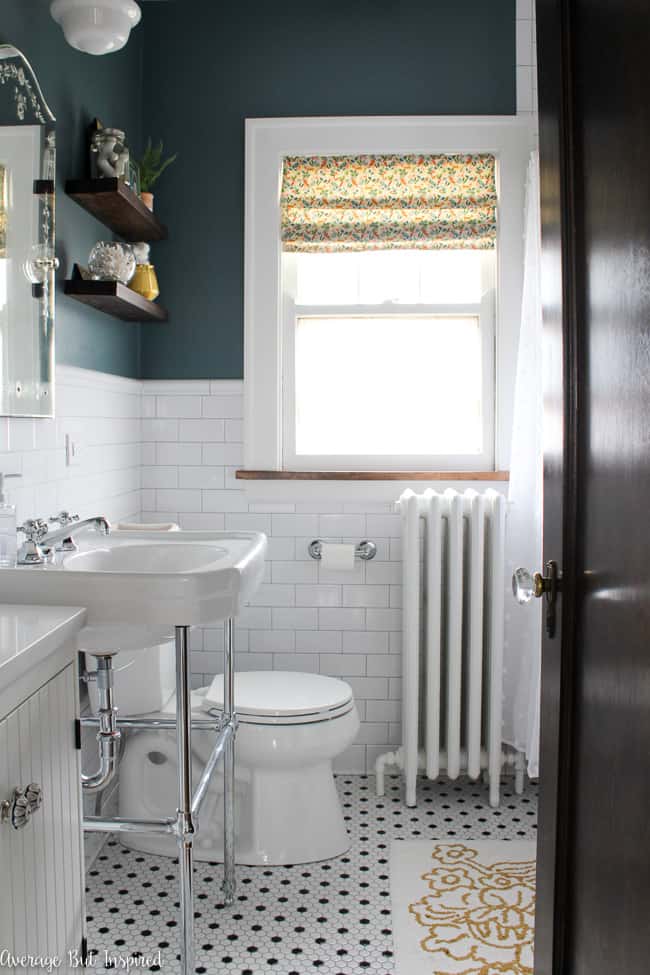 Did I mention how happy we are with this bathroom? 🙂
Bright, fresh, clean, and (most importantly to me), characteristic of the old home we live in. Let me show you around. I've linked to the products you'll see in this post, and many of them are affiliate links (you can read my full disclosure policy here).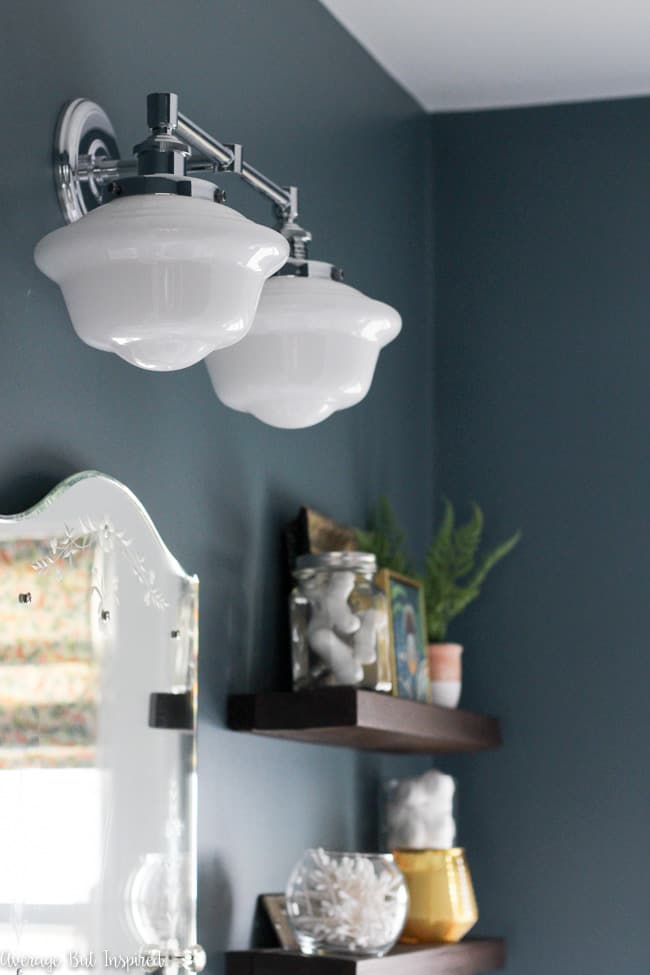 Light Fixture | Floating Wall Shelves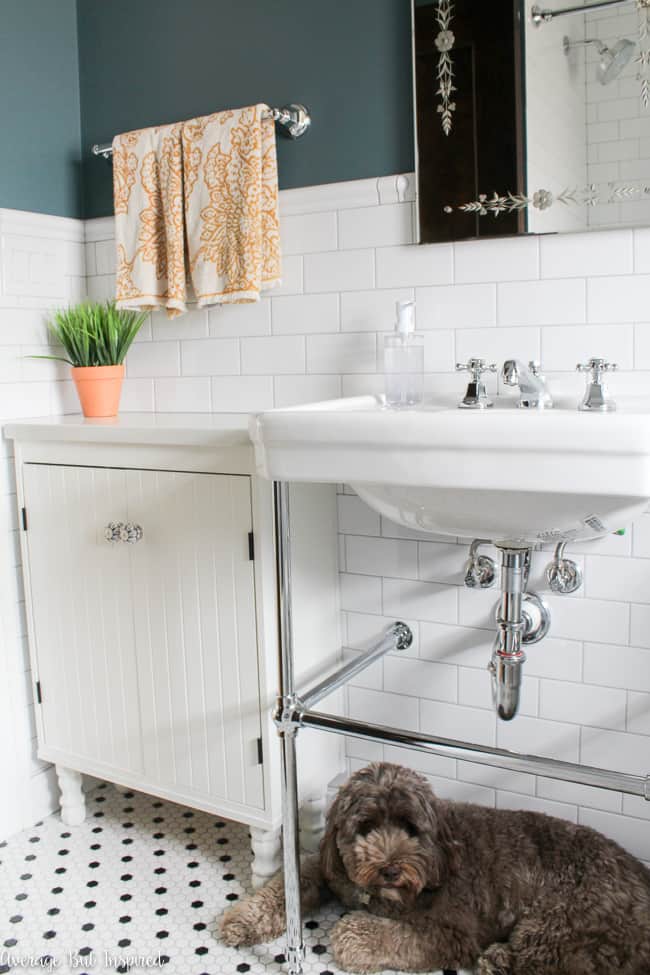 Porcelain Sink with Chrome Console | Faucet | Towel Bar
My husband really didn't want to install a sink that looked just like the original sink, but I forced him to let us do it. It was really important to me to have this space look as close to original as it could. While this sink is gorgeous to me, it, of course, has its drawback – there is NO storage space! And with two kiddos who come with a lot of "stuff," storage space is important.
Because of that, we "hacked" an IKEA Silveran Sink Cabinet (adding legs and a quartz countertop, among other things), and turned it into a vanity of-sorts right next to the console sink. The Silveran Sink Cabinet is extremely shallow depth at just 9″, so it was the perfect solution for this tight space!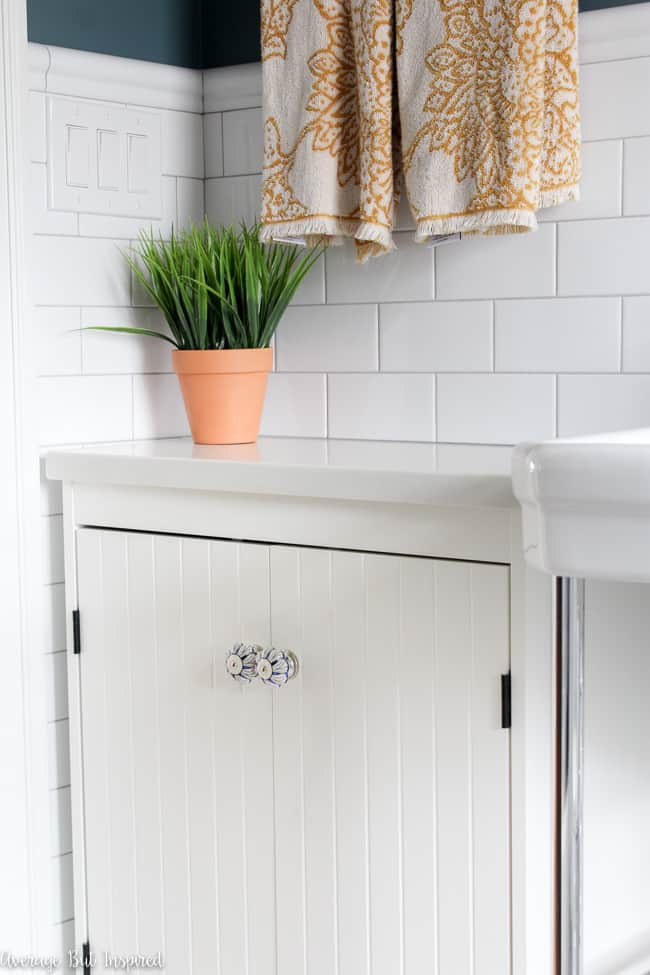 The period-style faucet also looks so close to original. It's weird, but using this sink makes me so happy.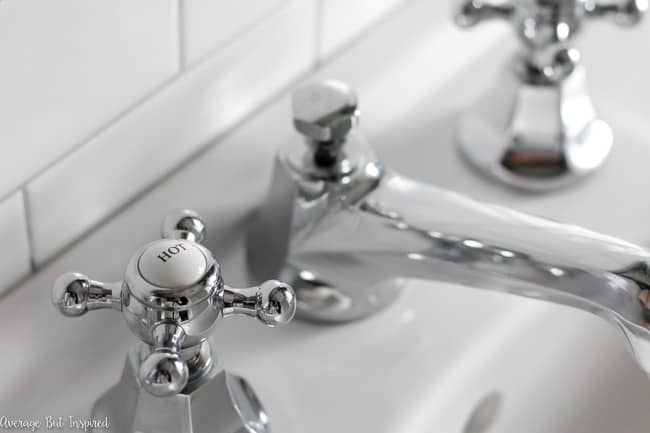 We managed to save the original medicine cabinet, which is so special to me because it was restored at some point and bears a photograph of the date stamp inside. I cleaned up the inside of it with spray paint and it's good as new! Look at that etching and beveled edges – I swoon!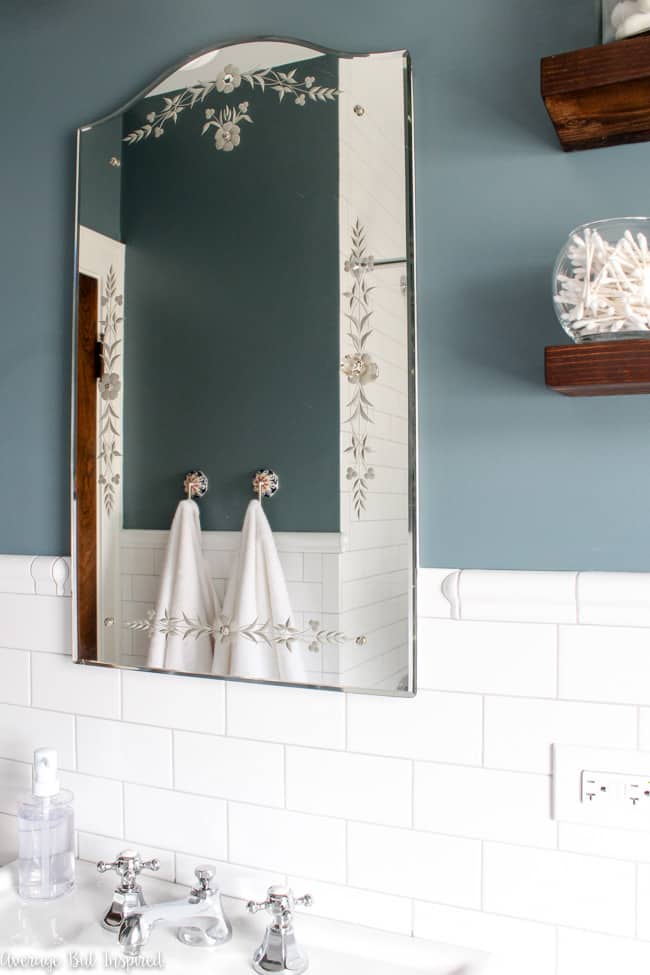 Can you believe this mirror is 92 years old? Incredible. It's an actual treasure and I'm thankful we were able to keep it in its home.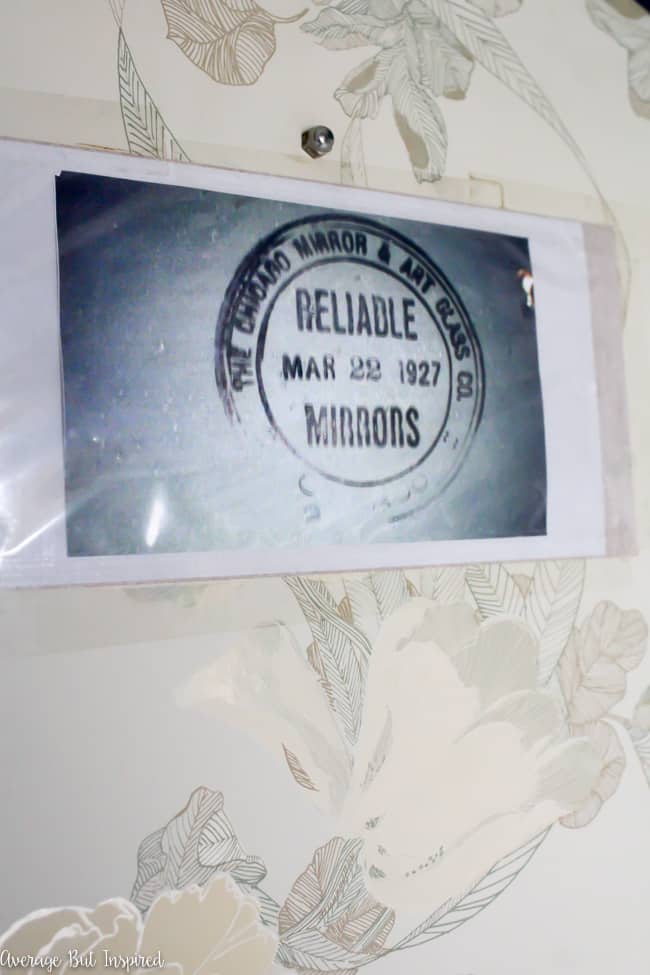 Over the toilet is where I got to have some fun. Floating shelves add functionality, but are also a place to display fun pops of personality. This is, after all, a kids bathroom, so there has to be some levity in the space.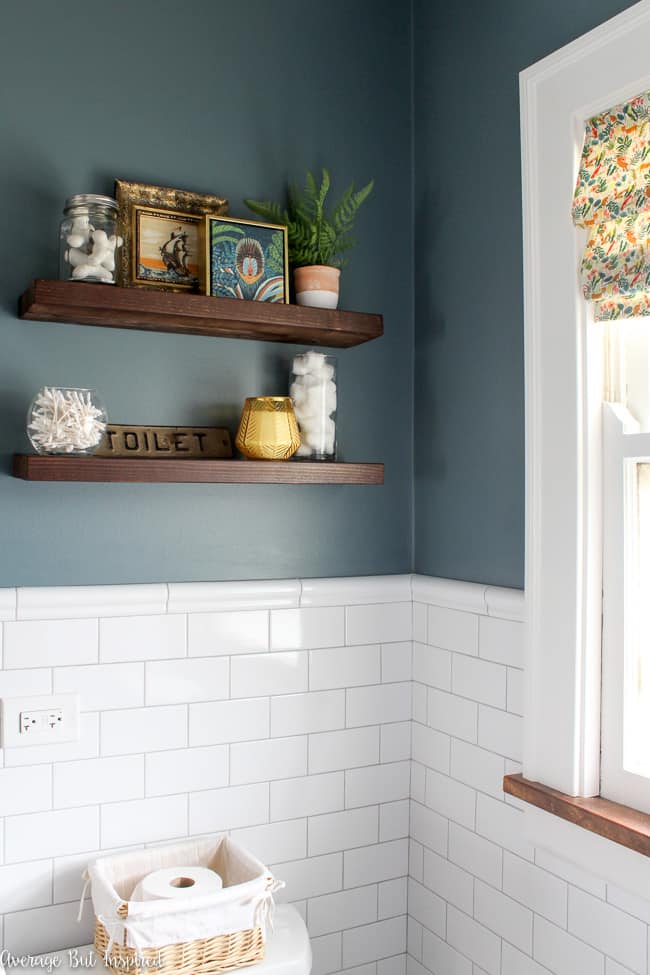 Notice the jar on the far left of the top shelf? Those are the original knobs from the bathtub! Like a crazy lady, I asked the contractor to save them for me. I didn't know what I was going to do with them, but I think this is a great way to display yet another piece of the original bathroom in this new space.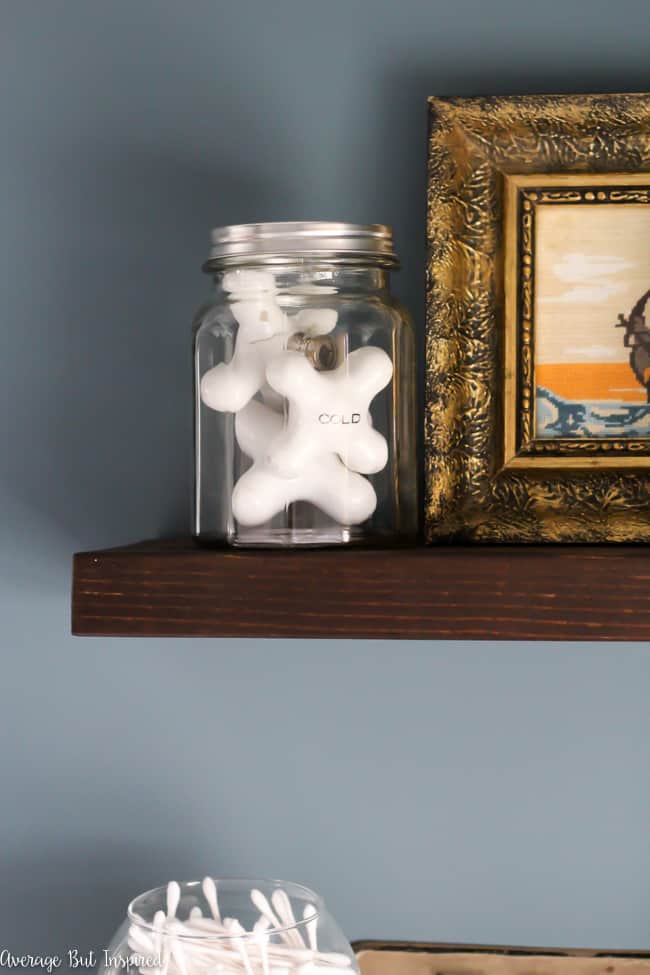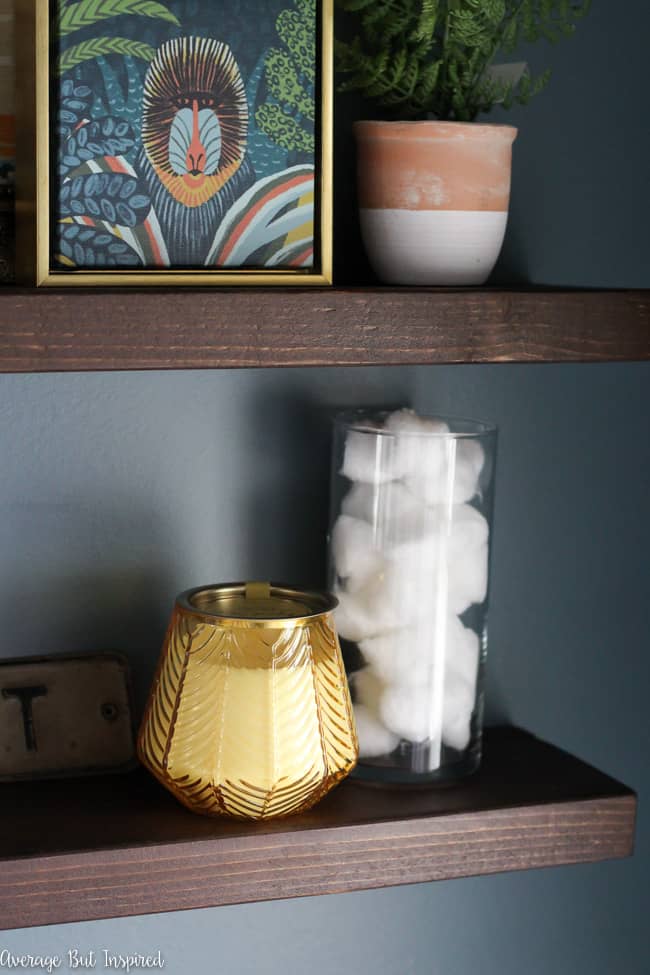 I made the faux roman shade for the window by mixing a few tutorials I found online (like this one from Home Stories A to Z and this one from Lantern Lane Designs). I should have made the no-sew version, but I got cocky and thought it would be no problem to sew. I was wrong; I am not a seamstress. But, the shade turned out cute anyway and I adore the Rifle Paper Co. fabric with little jungle animals mixed throughout that I found in this awesome Etsy shop.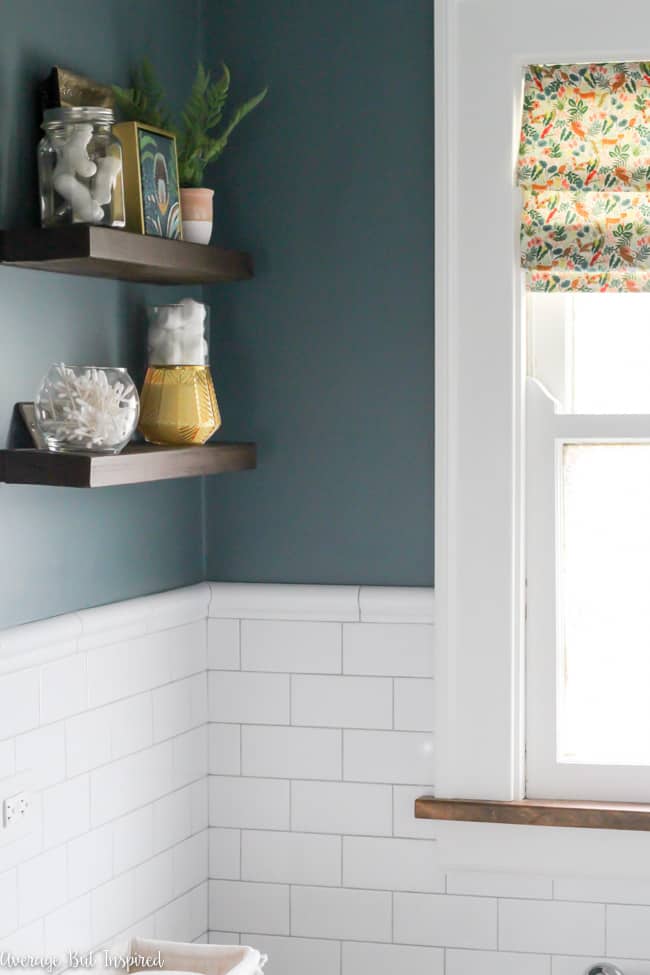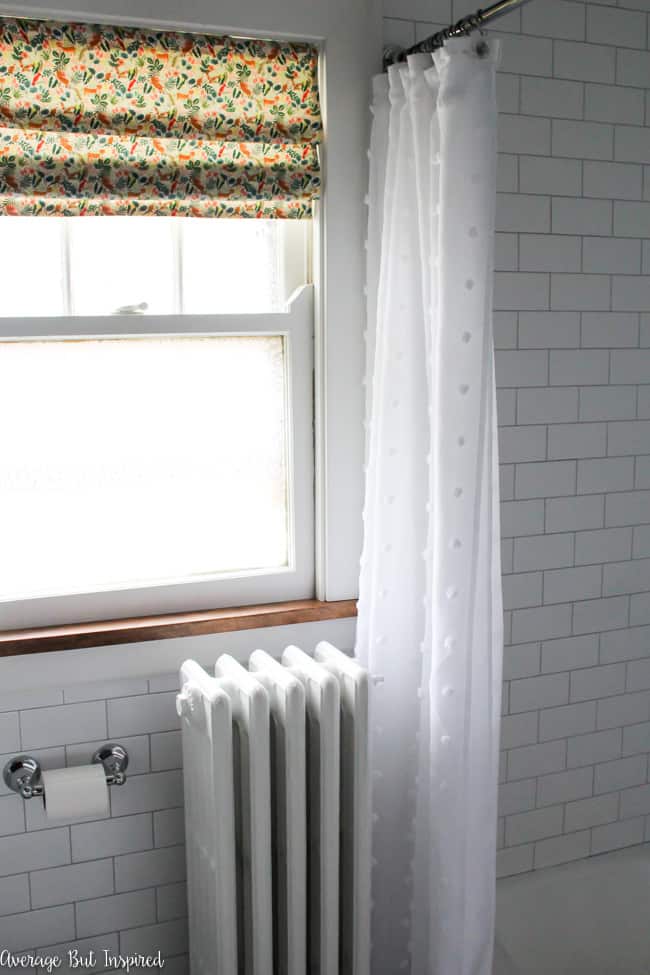 This fabric adds a nice bit of color to the space, and that's why I went ultra-white on the shower curtain (but with a little texture for some playfulness).
Fabric | Shower Curtain | Toilet Paper Holder
The shower faucet is the one place where my plan for 1920s originality was foiled. We purchased an authentic-looking three handle set and had the plumbing done for that, but the inspector said that type of fixture is not allowed (why???) and we had to get a single handle set. It made no sense to me and made me really upset, but I got over it in the end and tried to find one that looked sort of authentic with its cross-handle styling.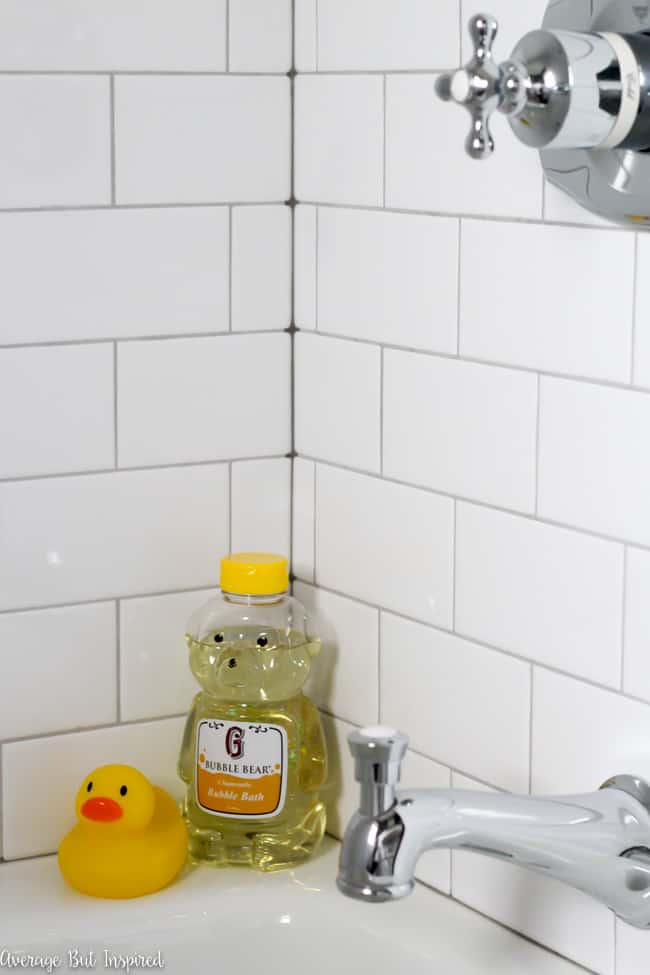 Valve Trim | Tub Spout | Shower Head
Finally, rounding the corner is where the kids' towels hang, from the most adorable painted towel hooks. I got them at Anthropologie, but they're not longer available. They have lots of other cute alternatives, however!

We purchased all of the tile at Floor & Decor, and I cannot say enough about their great pricing on ceramic tile. This white subway tile (and accompanying pieces, like bullnose tile, chair rail, and cove base tile) is bargain priced, and the mini-hex floor tile was significantly cheaper than I found it elsewhere.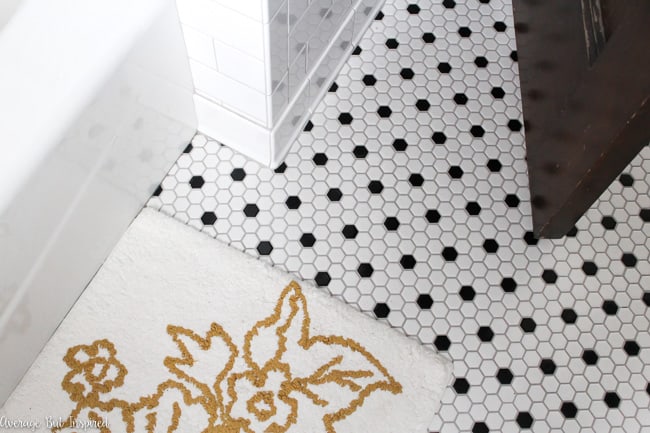 They also have a wonderful return policy, so I felt just fine over-buying, knowing that I could return what I didn't need. And no, this is not an ad for Floor & Decor at all – I was just really pleased with the tile we purchased for this bathroom! It gave us the 1920s look we wanted at a really amazing price.
So there you have it – our 1920s bathroom renovation is now complete! I hope you like it as much as we do. I can only hope that this new version of the bathroom lasts as long as the original version! (And PS we've subsequently moved from this home, so you can also check out my plans for a vintage modern bathroom makeover at my new home!)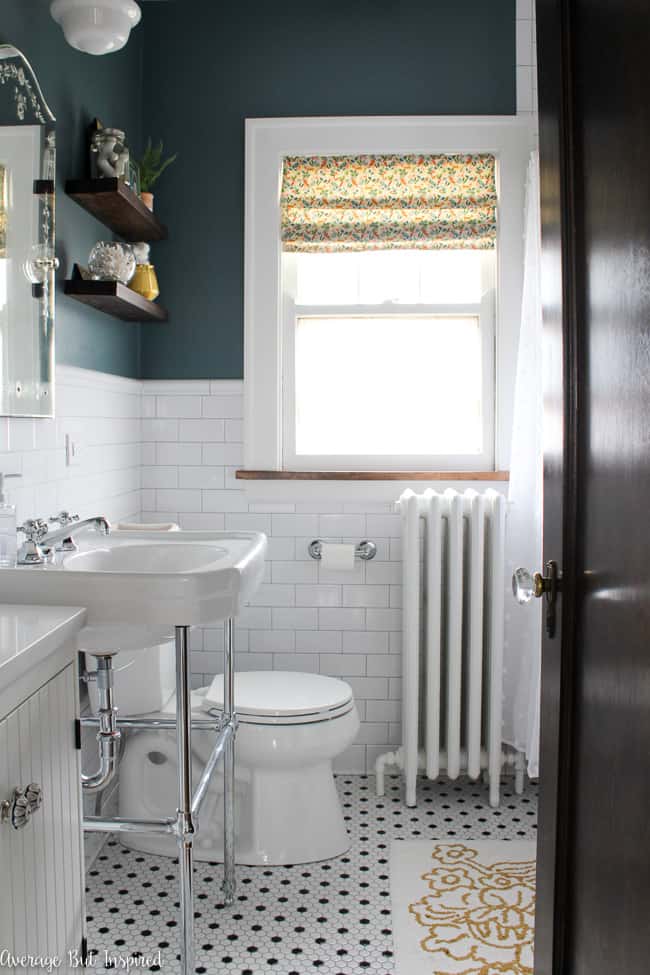 1920s Bathroom Source List and Shopping
If you are curious about any of the products we used in our 1920s bathroom renovation, click on any of the links below for more info or to purchase!
TILE
Black and white hexagon mosaic flooring
Light gray grout (Cobblestone)
THE BIG STUFF
FIXTURES
DECORATIVE ITEMS
White shower curtain with white polka dots
PAINT