Before you get mad and tell me it's not even Halloween yet, let me explain why I'm sharing a Christmas craft in October. I am moving (you can read more about that here), and as a result, a lot of my craft supplies are boxed up AND I can't decorate my house for fall or Halloween because of showings, etc.
Because of that, I'm limited in what creative muscles I can flex right now, and this easy Christmas craft was just right! It's a transformation of Dollar Tree printed chipboard tag ornaments into darling buffalo check decor tags that add a special touch to Christmas decorations!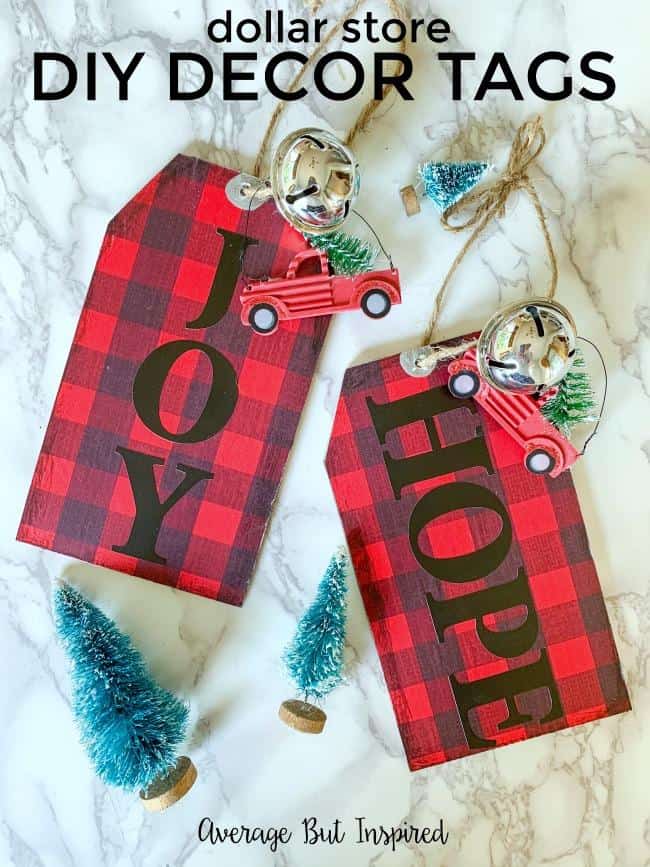 Large scale decor tags have been popping up all over the stores, and this project gave me a chance to put my own twist on the trend. Everything I used can be purchased at Dollar Tree, so you know it's also extremely budget-friendly!
Where To Use Large Decor Tags
Before I give you all the details on how to make your own decor tags, you might be wondering WHY you'd make these tags. What do you use decor tags for? The answer is – just about anything! They're actually really versatile and add a pop of interest anywhere you put them. Some favorite uses for decor tags are:
added to wreaths for a seasonal touch
in a tiered tray (these are all the rage over on Instagram and Pinterest. I might be the only person who doesn't have a tiered tray to decorate.)
hanging on a doorknob
hanging from a vase or planter
tied together as standalone door decor
grouped in a basket as part of a larger vignette
Hopefully those ideas spark an idea for you of where you could use similar decor tags in your own home!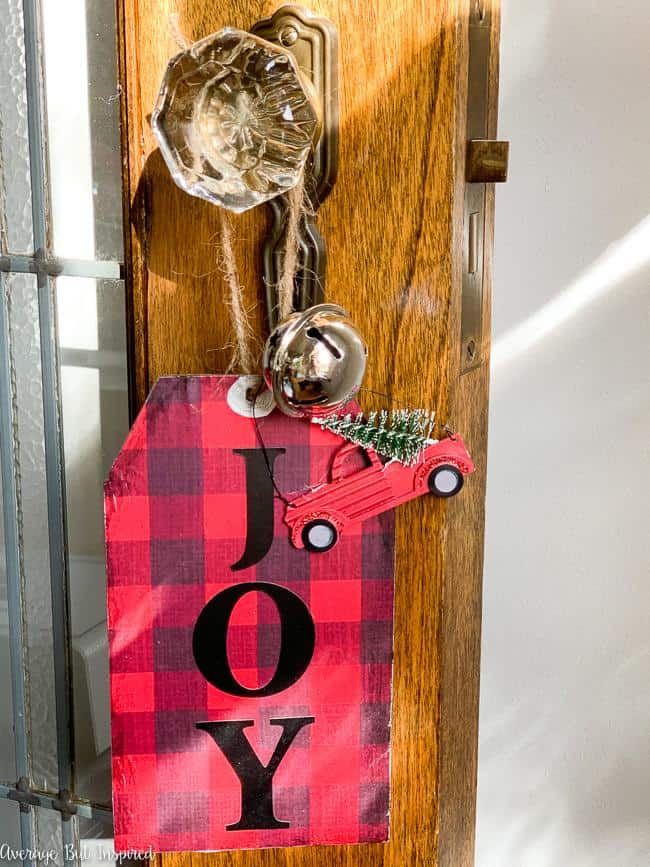 Supplies Used to Make Large Decor Tags
Now, let's get down to business! Here's what you need to make these cute Christmas decor tags.
This post contains affiliate links. To read my full disclosure policy, please click here.
Decorative chipboard tag ornaments (not currently available online, but the large size chipboard tags are available online)
Buffalo check wrapping paper (not currently available online)
Scissors
Paint brush
Red truck mini ornaments (4 pack) (not currently available online)
Black and silver acrylic paint
Fine grain sandpaper
How to Make Christmas Tags for Decor
To help you find in store the exact tags I used for this project, here they are!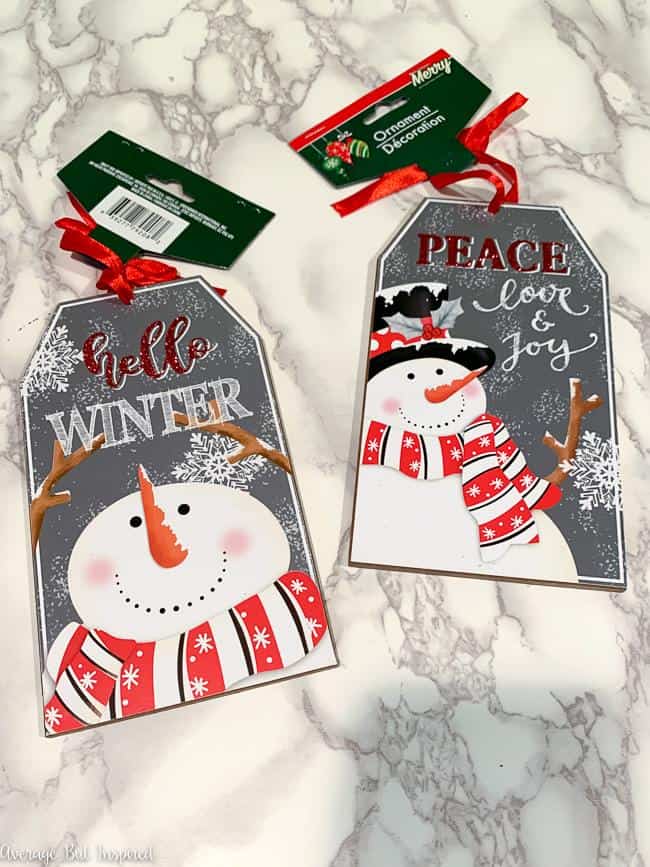 Flip them over to the flat backside (the fronts have some raised glitter on them), and cut wrapping paper to be slightly larger than the tags. Then, trace the tags onto the back of the wrapping paper.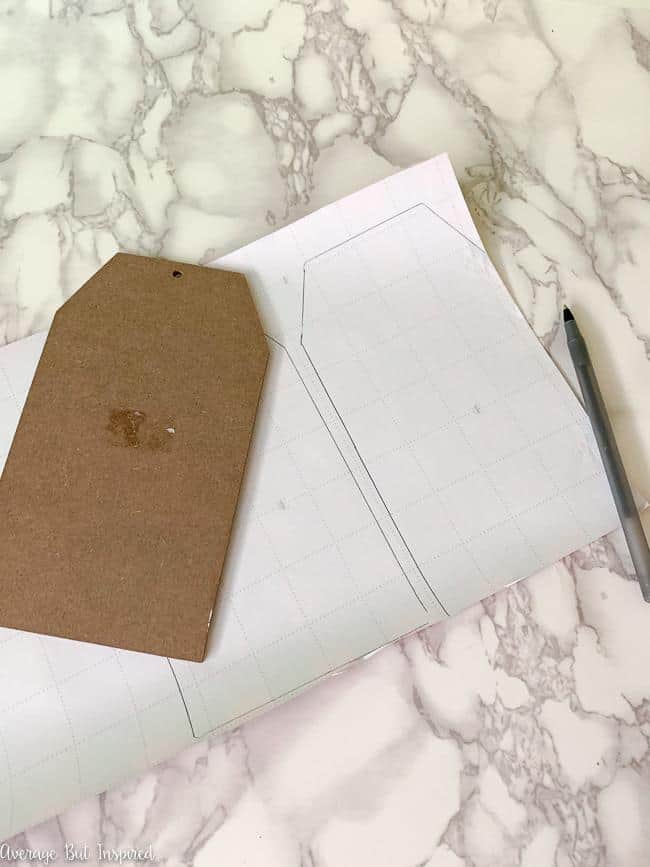 Cut out the tag shapes from the wrapping paper. Then, place a thin coat of Mod Podge over the entire chipboard tag.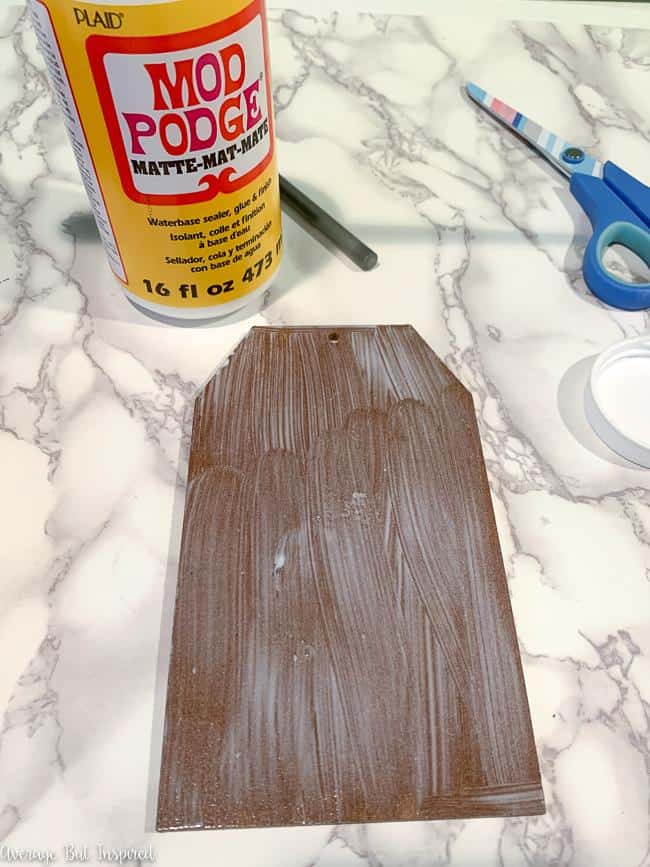 Carefully place the wrapping paper that you cut to the shape of a tag on top of the Mod Podge chipboard tag.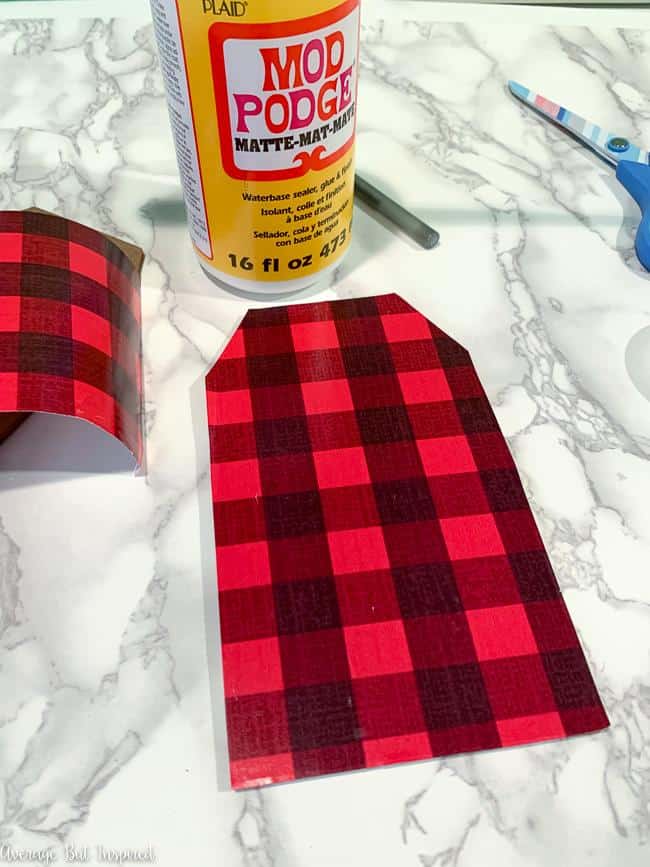 Carefully smooth out any wrinkles and make sure that the wrapping paper is flattened all over. Set the tag aside to dry. This will take about 20 minutes.
Once the tag seems dry, gently rub the edges of the wrapping paper with sandpaper. This will remove any wrapping paper that's sticking over the edge of the chipboard tag.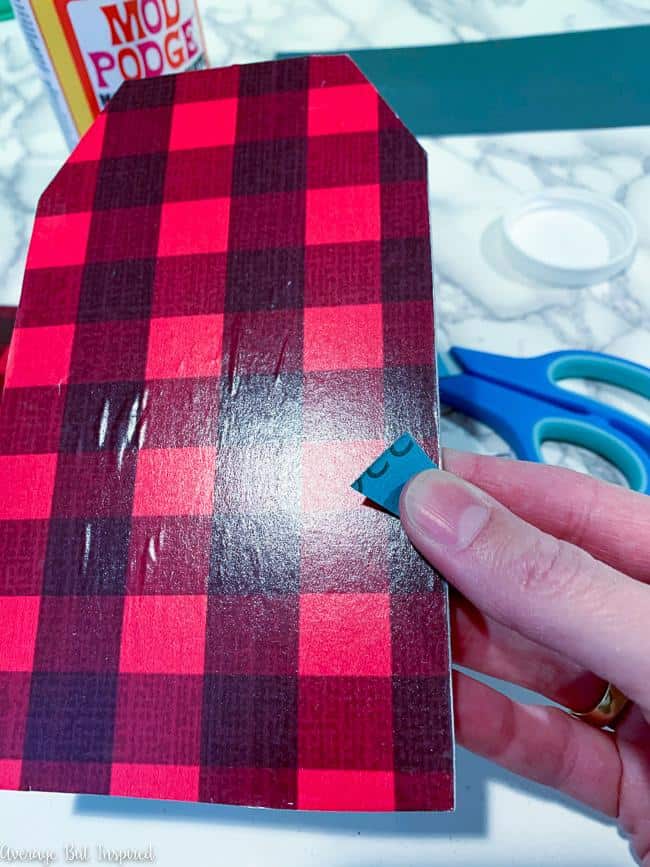 Next, apply a thin layer of Mod Podge over the top of the wrapping paper. This will help seal the wrapping paper onto the tag, and it will remove the shiny finish of the wrapping paper.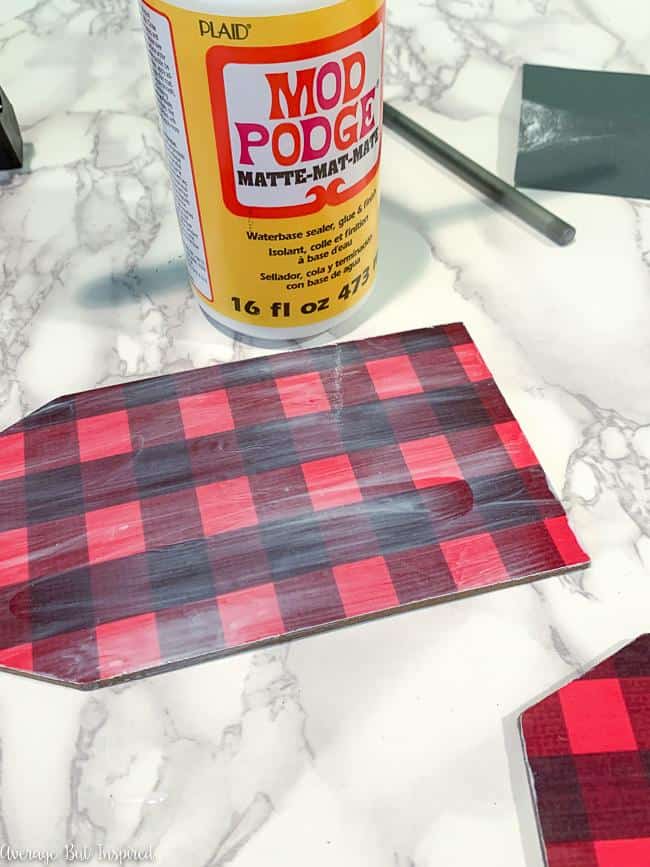 Set it aside to dry. As it dries, you will notice that the hazy finish disappears. Yay!
Once it's dry, gently brush a bit of black paint around the edges of the tag to give it an aged look.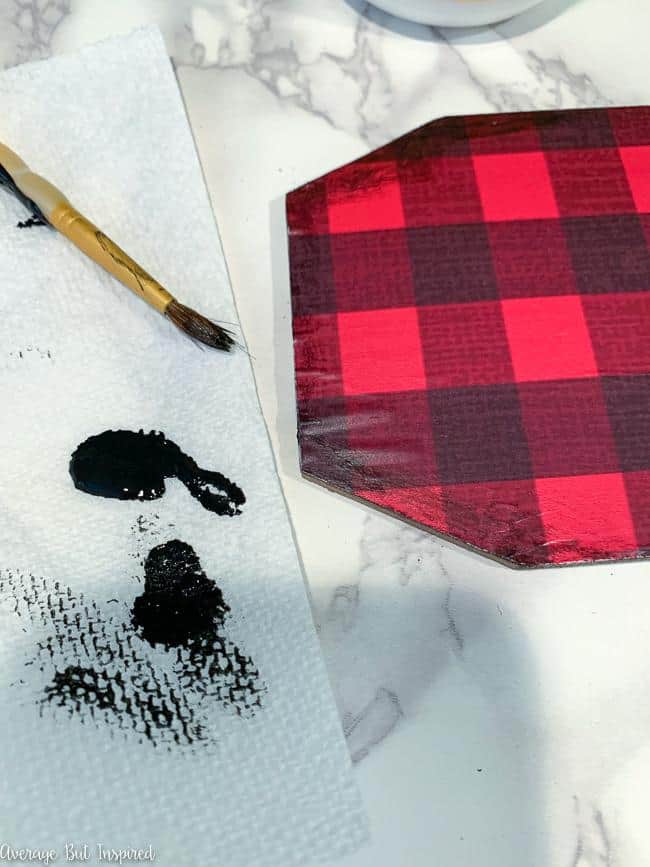 Then, apply the poster stickers to write out words that fit on the tags. I think four letters are the max that will fit with these poster stickers on these tags.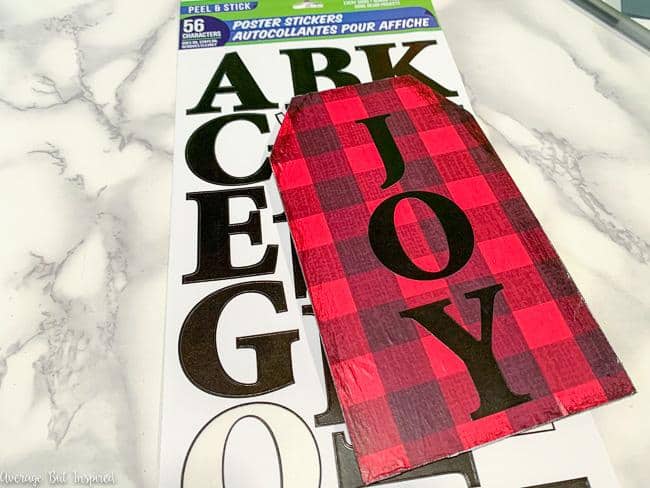 Use a pencil to poke a hole through the wrapping paper at the top, and then, for an added touch of authenticity, paint a silver circle around the hole.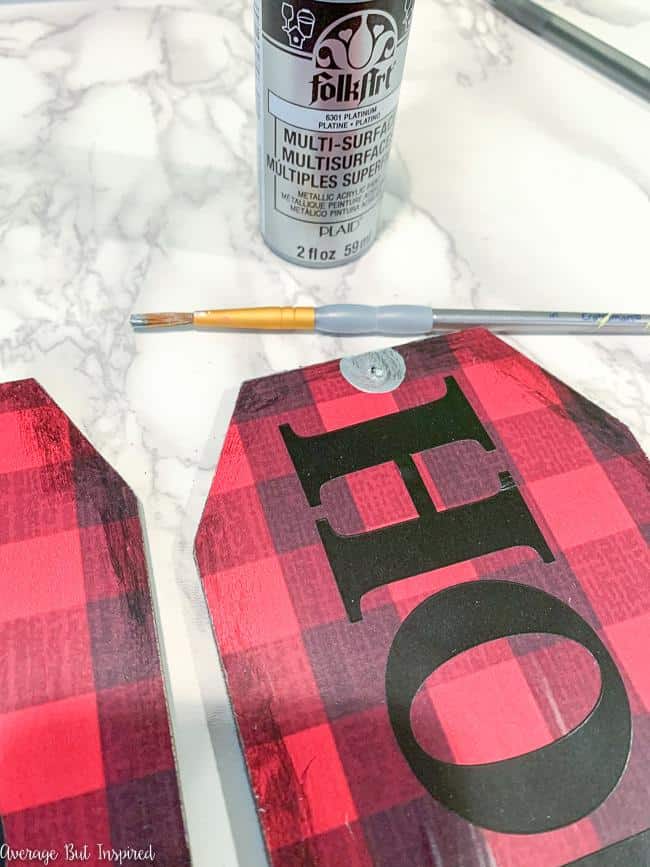 String twine through the hole, and add decorative elements to the twine. I used the cutest little red truck ornaments from Dollar Tree and silver jingle bells. But, you could get creative and add whatever embellishments you like!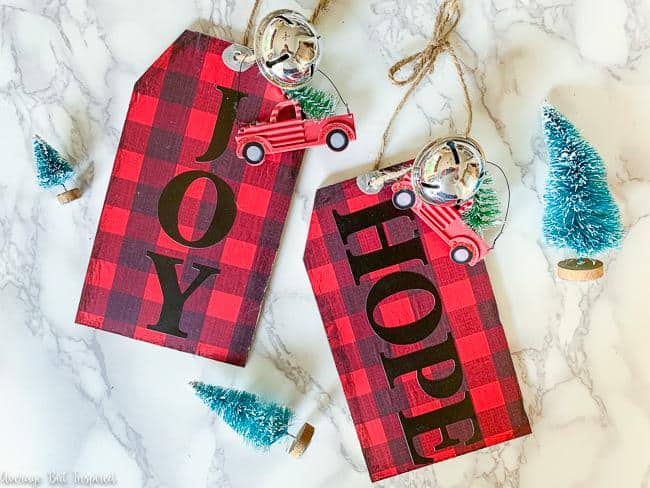 See how easy it is to upgrade the look of these Dollar Tree tags with just a few simple tweaks? You get a totally adorable look for hardly any money at all. I just love when decor works out that way!
-Bre
Here's Another Great Dollar Tree Christmas Craft! Check Out This Dollar Tree Christmas Cloche!