If you've got a blank wall and kids who love making art, then this pegboard for kids is just what you need!
With some inexpensive pegboard and some colorful paint, you can make an adorable art pegboard that gives your kids a place to create their masterpieces, and keeps all of their art supplies neat and tidy.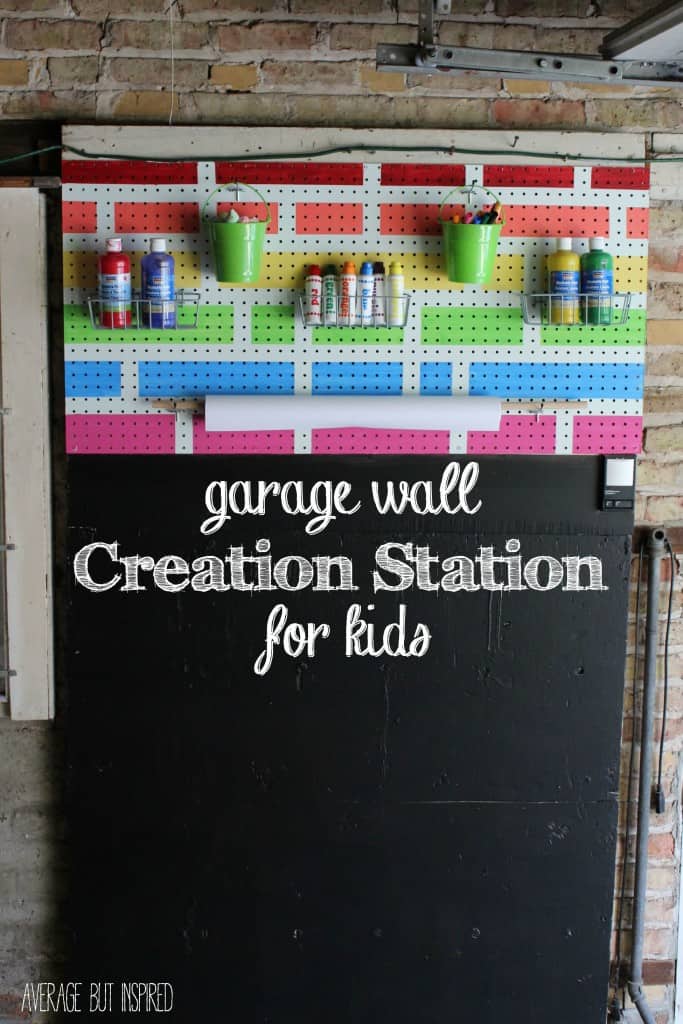 I chose to make my art pegboard station in the garage, but you could do this anywhere you have an empty wall!
Let me show you what I started with – a beat up piece of wood attached to my garage wall and a piece of pegboard that was so old it was literally crumbling upon being touched!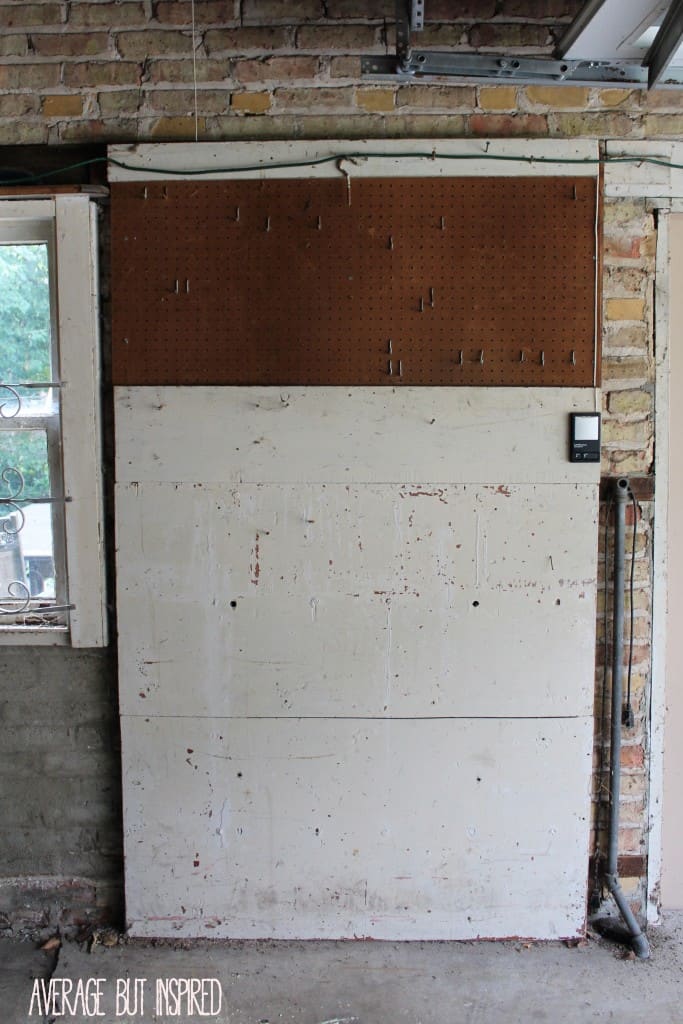 My garage was pretty nasty, and this eyesore was not doing anything for it. My kids LOVE playing outside, so that's how I came up with the idea to transform this neglected wall space into something fun and useable!
Supplies Used to Create an Art Pegboard for Kids
This post contains affiliate links.  To read my full disclosure policy, please click here.
Pegboard hooks
Pegboard accessories (like baskets, larger hangers, etc.)
Acrylic paints in various colors
Paintbrushes
Buckets
Screws
Drill
How to Make an Art Station Pegboard for Kids
Since I couldn't reuse the pegboard that was already installed, I purchased new pegboard and ATTACHED IT MYSELF! Yep, I found the proper screws, got out the electric drill, and put that baby up all by myself. I definitely high-fived my five-year-old daughter when I finished and shouted "GIRL POWER!"  (Note: since writing this post back in 2016, I have done a lot more with power tools!)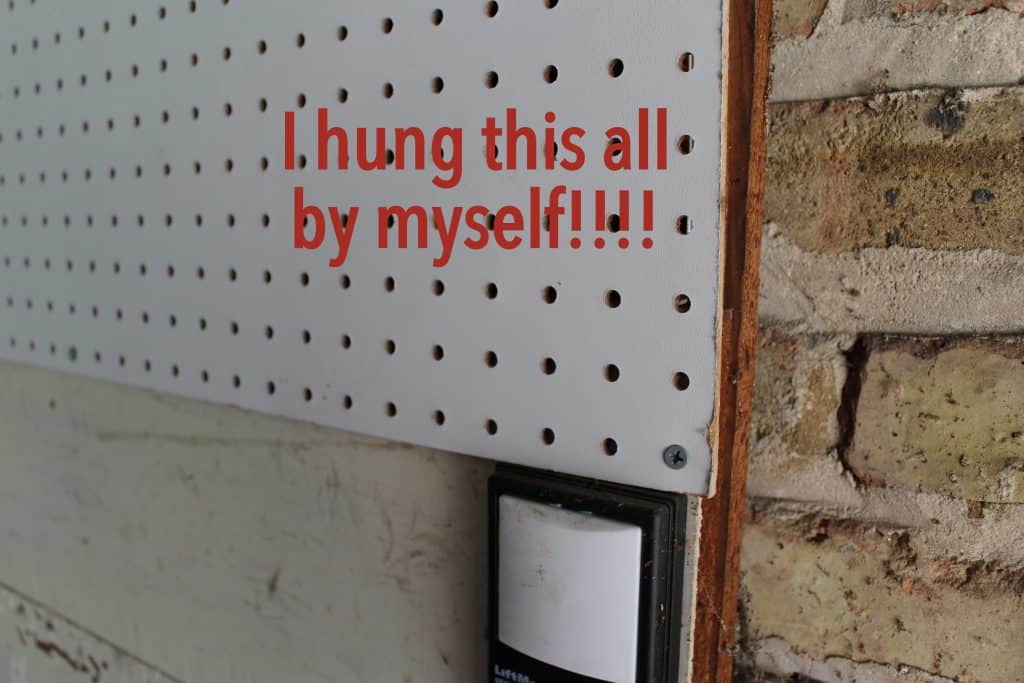 Since this is for my kids, I decided to go a little crazy with the paint colors. I taped off a design and got to work painting rainbow color stripes all over the pegboard.
Then I patched some holes in the wood below the pegboard and lightly sanded to even out the surface somewhat.  Then I painted that with chalkboard paint.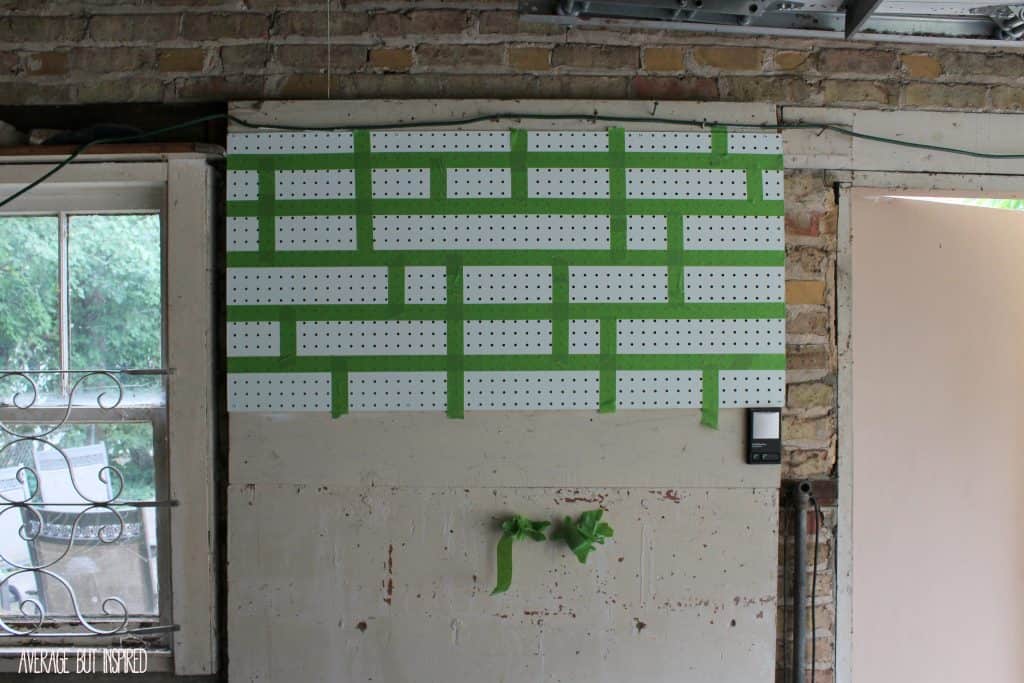 Once the pegboard paint dried, I removed the tape to reveal this fun pattern that my kids LOVE!  I added some pegboard accessories and filled them up with some of my kids' art supplies.
My favorite feature of the entire art station pegboard is the DIY banner paper roll that I made with pegboard hooks and a dowel!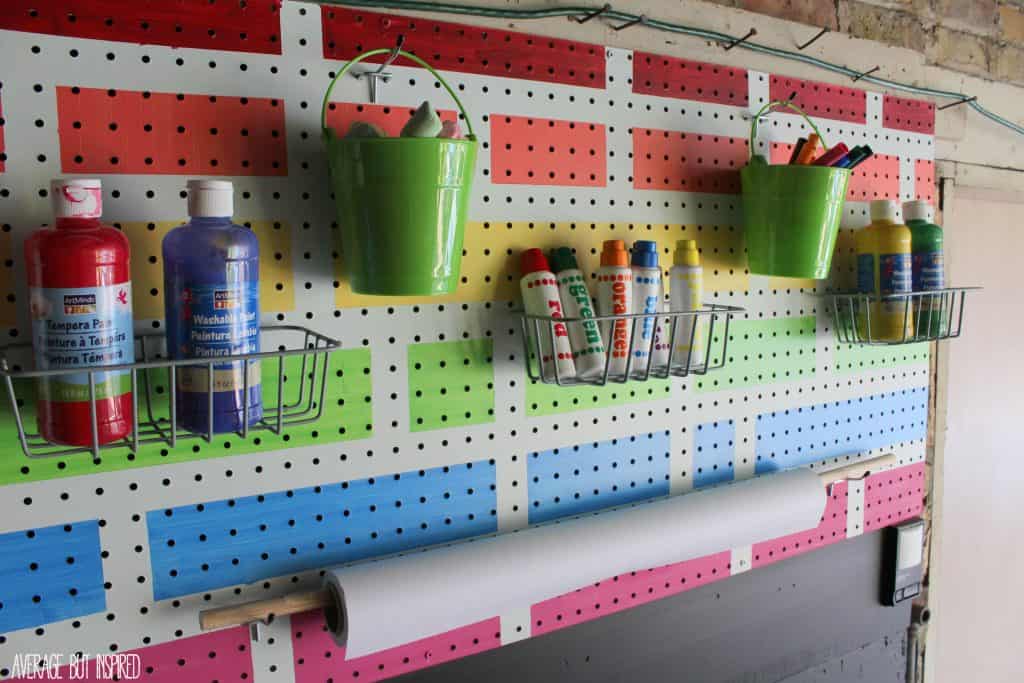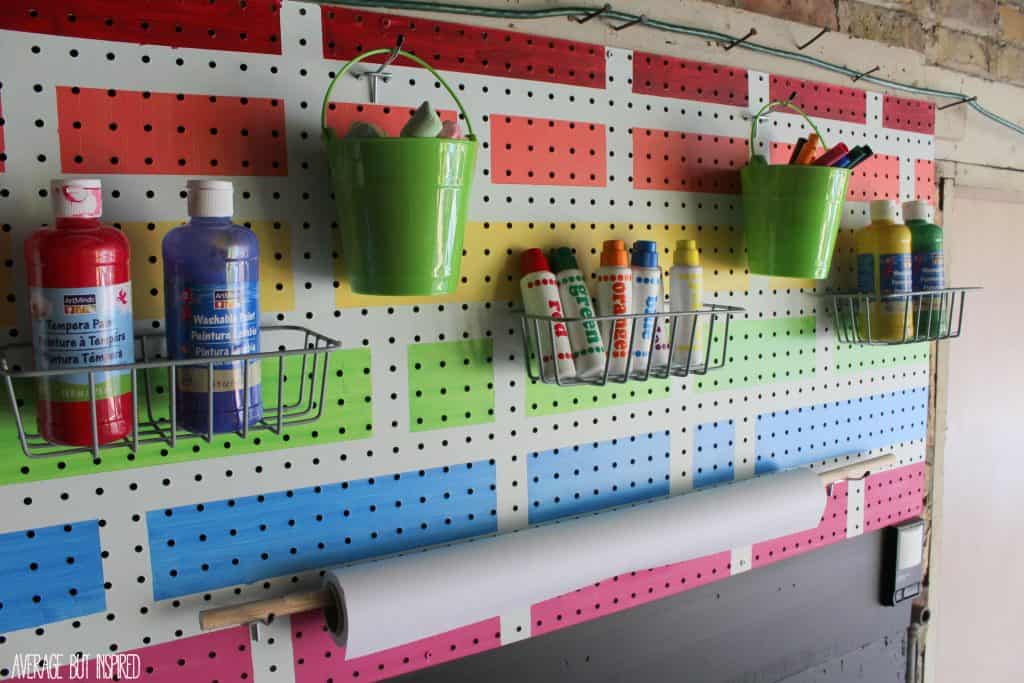 Let me just say that the kids love this pegboard art station!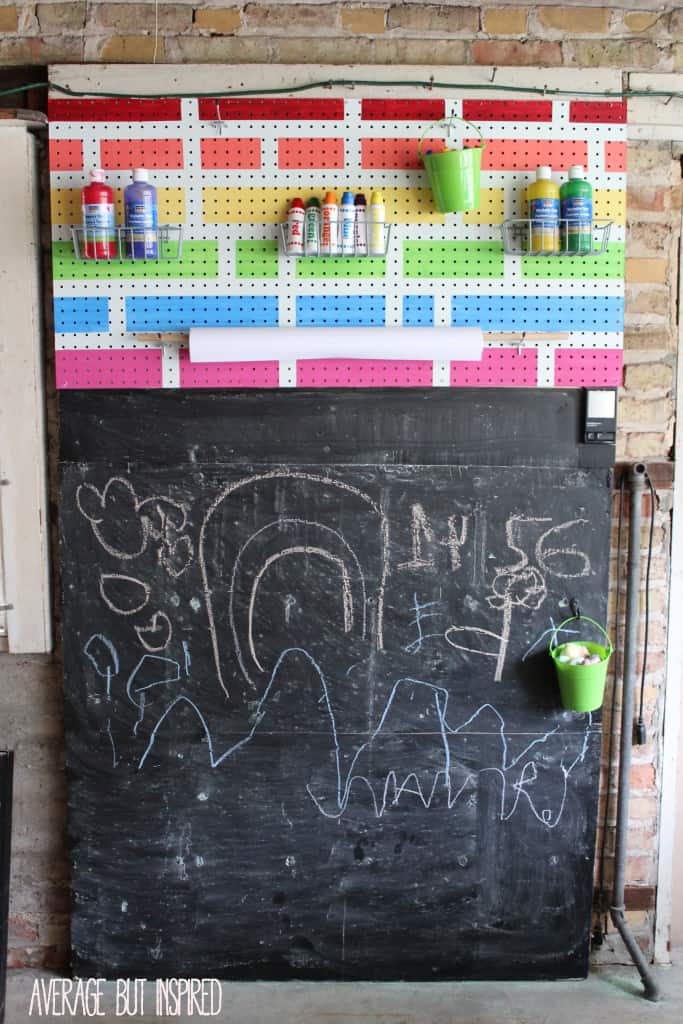 They even share and play nicely while using it!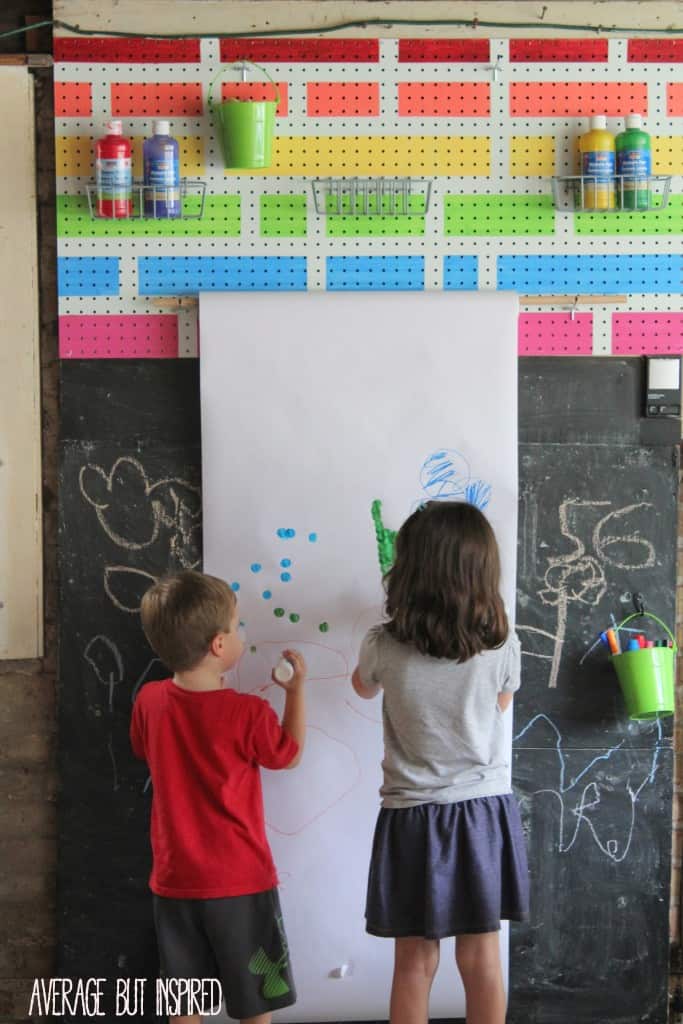 Since the supplies are higher than they can reach (intentionally – I didn't want them getting into the paint without supervision (PS those are my FAVORITE paint markers for kids!)), I added a little hook to the side of the chalkboard where they can hang a bucket of supplies during use. Once finished, I can just pop the bucket back up onto the pegboard.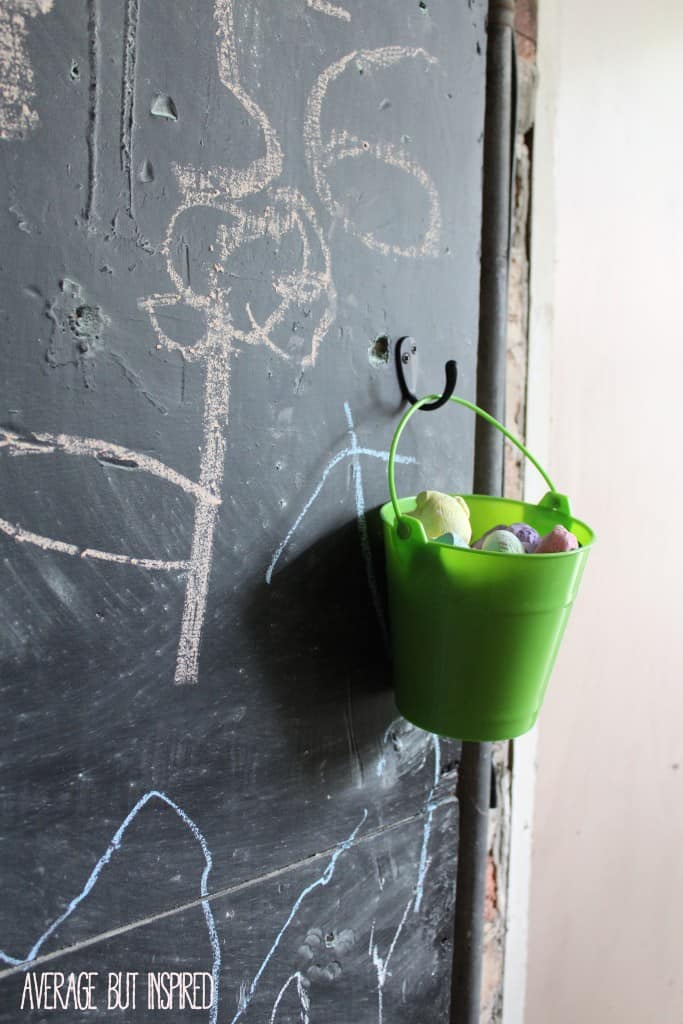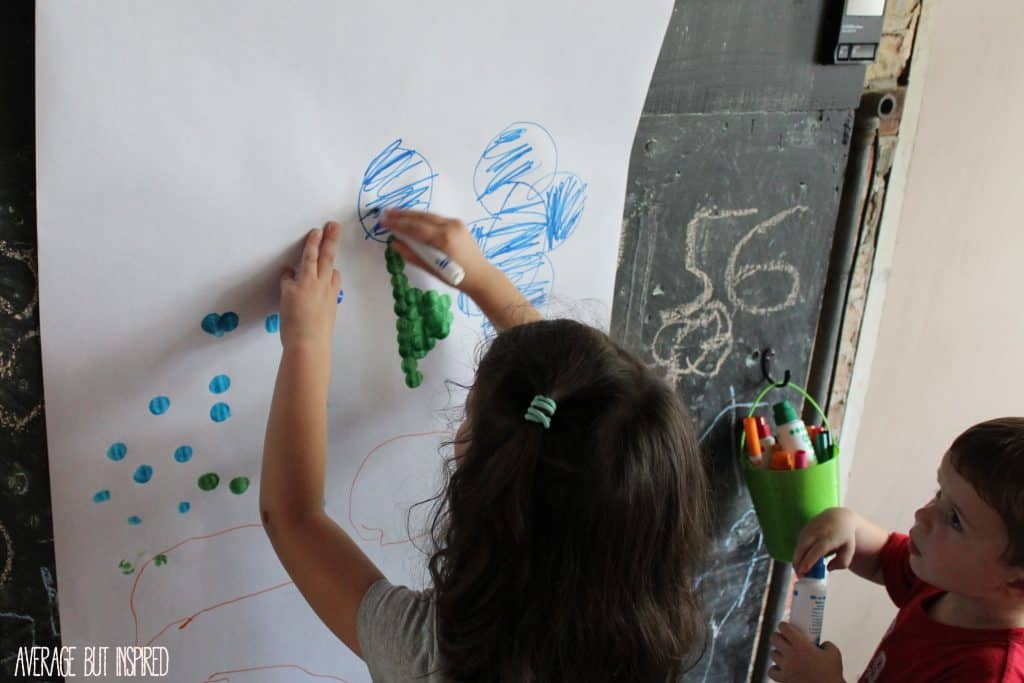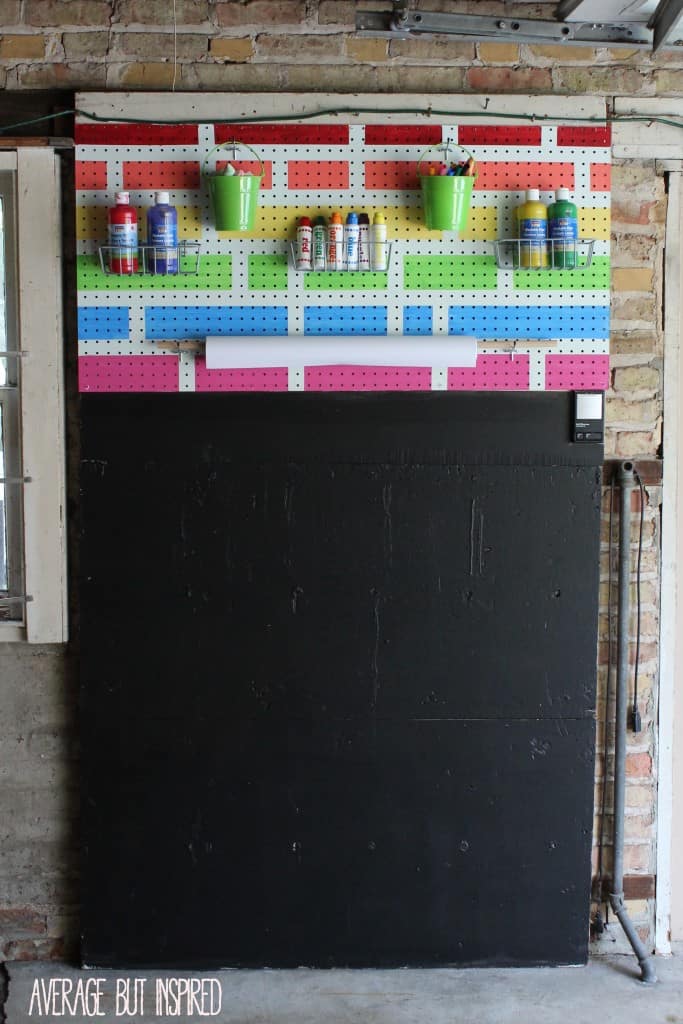 Not gonna lie – I kind of love pulling into the garage and seeing all that pretty color now. My husband – not so much.
This art pegboard for kids is a really great way to let your kids use their creativity whenever they feel like it.  It's nice for them to have a space of their own to create, and a way for you to keep their art supplies organized!  (Speaking of which, check out my Spinning Art Supply Caddy project if you're looking for another great kid art supply organization idea!)